aka Fallen Angel; Revenge
---
Crew
Director – Marc S. Greiner, Screenplay – Neil Goldberg, Producers – Stewart Harding & Stefan Wodoslawsky, Photography (some scenes b&w) – Georges Archambault, Music – Milan Kymlicka, Special Effects – Cineffects (Supervisor – Ryal Cosgrove), Production Design – Pierre Riopel. Production Company – Libra Pictures/Legend Entertainment/Allegro Films.
Cast
Alexandra Paul (Detective Laura Underwood), Vlasta Vrana (Detective Dan McCartney), Michelle Johnson (Vicky Mayerson), Anthony Michael Hall (Brian Cutler), Andrew Simms (Detective Jimmy Jaworski), Edward Yankie (Ron Jeffers), Eric Davis (Scotty Flanagan), Emidio Macchetti (Sam Chandler), Rebecca Downey (Rose Chandler)
---
Plot
Philadelphia police detective Laura Underwood investigates a series of murders wherein the victims, all men, have been forced to step off rooftops. As she investigates, she realises that each of the men were in the same class as her at school. The class is about to gather for its ten-year reunion. The woman behind the killings calls and begins to toy with Laura. Laura tries to discover the identity of the woman and stop her as she methodically kills the bullies who were responsible for her falling from a railway bridge years before.
---
This is a trashy Canadian-made thriller that vanished into the oblivion of direct-to-video and cable releases. The plot, concerning a driven cop who is drawn to identify with the killer – a woman who is avenging herself on the classmates that attacked her – is very similar to the darkly compulsive Cop (1987).
Unfortunately, unlike Cop, Eternal Revenge suffers from a crucial blandness of heart. Cop was dark and driven while this is dull. More to the point, Eternal Revenge suffers from a moral weakness of chin. In Cop, Lesley Ann Warren was avenging herself on a group of guys who raped her; here we find out that Michelle Johnson's avenging woman was not even raped as we are led to believe but that (with an astonishing blandness on the film's part) the guys merely harassed her and she fell off a railway overbridge in trying to get away. It is something that almost excuses them and makes Michelle Johnson's character into someone who is clearly unbalanced. As a film, it has a dullness of spirit – there is no anger to it. Indeed, as a film, it has nothing to say, all it is is just cliché.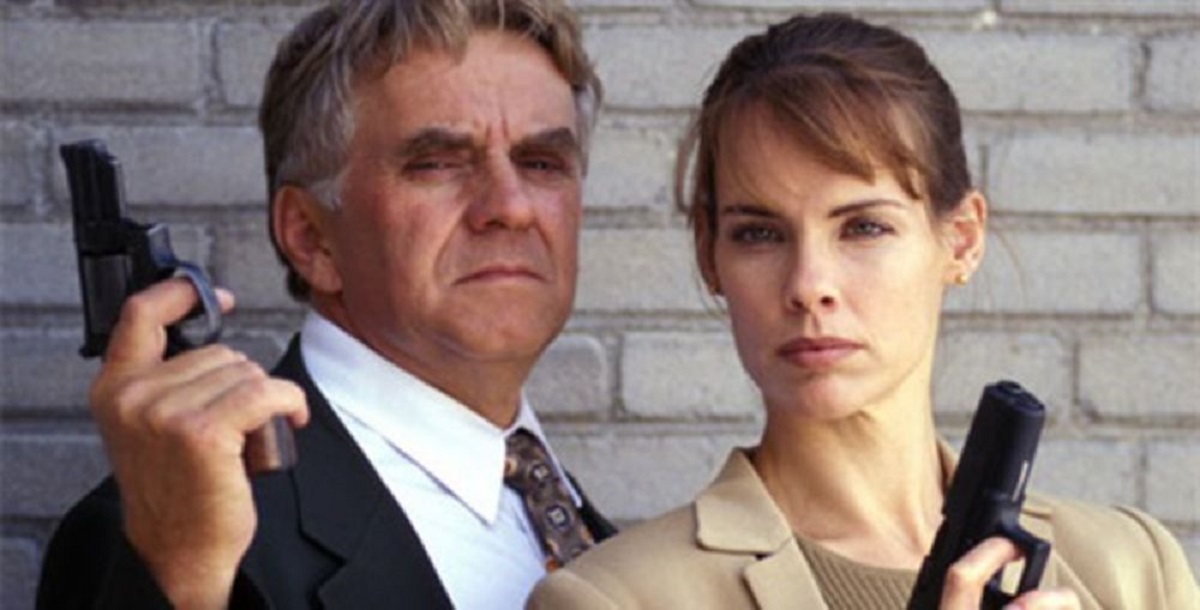 The film is also badly directed. Marc S. Greiner has no idea how to handle actors. There is a completely laughable opening scene where Alexandra Paul's detective goes into an apartment where wife Rebecca Downey is holding a gun on husband Emidio Macchetti for beating her, where Paul invokes the wife to kill the husband then takes the gun and offers to do the job herself, shoots at him, deliberately misses and threatens to return and do the job properly if he does not behave. Any police officer that did such a thing could guarantee being instantly suspended from the force.
Former Baywatch (1989-2001) babe Alexandra Paul fails to do a particularly good job of acting tough. Even worse, Michelle Johnson, who seems to be appearing in a lot of Canadian films these days, has a trashy role in the one-dimensional part of the avenging woman and plays campily. Like a number of Canadian films, this has an identity crisis and is posing at being set in America – the location is mentioned as being Philadelphia and there are American flags littered in the background.
---
---