---
Crew
Director/Screenplay/Photography – Gabriel Black, Producers – Gabriel Black & Izzy Martinez, Visual Effects – Gabriel Black, Daunier Estevez & Izzy Martinez. Production Company – Kranky Heads Production/Rain of Fire Productions.
Cast
Lina Maya (Susie/Pussy), Izzy Martinez (Davis), Kraig Million (Detective Jameson), Mitch Lemos (Andrews), Dave Jia (John), Nicole Thomas (Aki), Piankhi Iknaton (James), Carter Vincensse (Chris), Marquies Wilson (Tyrel), Eric Perez (Trent), Ricardo Matallana (Ray) Nicole Cummings (Cop#2)
---
Plot
Police detective Jameson has failed to get any leads on the gang that killed Susie's parents. Susie goes out following the gang with a camera, determined to find evidence herself. However, she is spotted and captured by the gang who takes turns raping her. A few days later, Susie makes a sudden return after the gang believed they left her for dead. Dressed in a vinyl catsuit, she calls herself Pussy and proceeds to slaughter her way through the gang.
---
Pussy Kills was a debut feature for Miami, Florida-based filmmaker Gabriel Black.
This is a film made on a low-budget but getting by on a certain energetic cod-grindhouse aesthetic. It is also a film that seems to wilfully aim for a certain trash movie label – you can bet the filmmakers were hoping in their choice of title that you immediately thought of the slang term for female genitalia rather than members of the feline species. Pussy Kills should not be confused with the horror film Halloween Pussy Trap Kill Kill (2017) that came out the same year.
Boiled down to it, Pussy Kills is not much more than a variant on I Spit on Your Grave (1978) with a woman on a bloody trail of vengeance against a gang of men. Unlike Camille Keaton in I Spit on Your Grave, Susie/Pussy is seeking vengeance for the death of her parents, although Gabriel Black also has her raped by the gang at one point – the crucial event that turns her into an avenger. (Unlike I Spit and its spinoffs and copies, Gabriel Black thankfully has most of the act take place off-screen).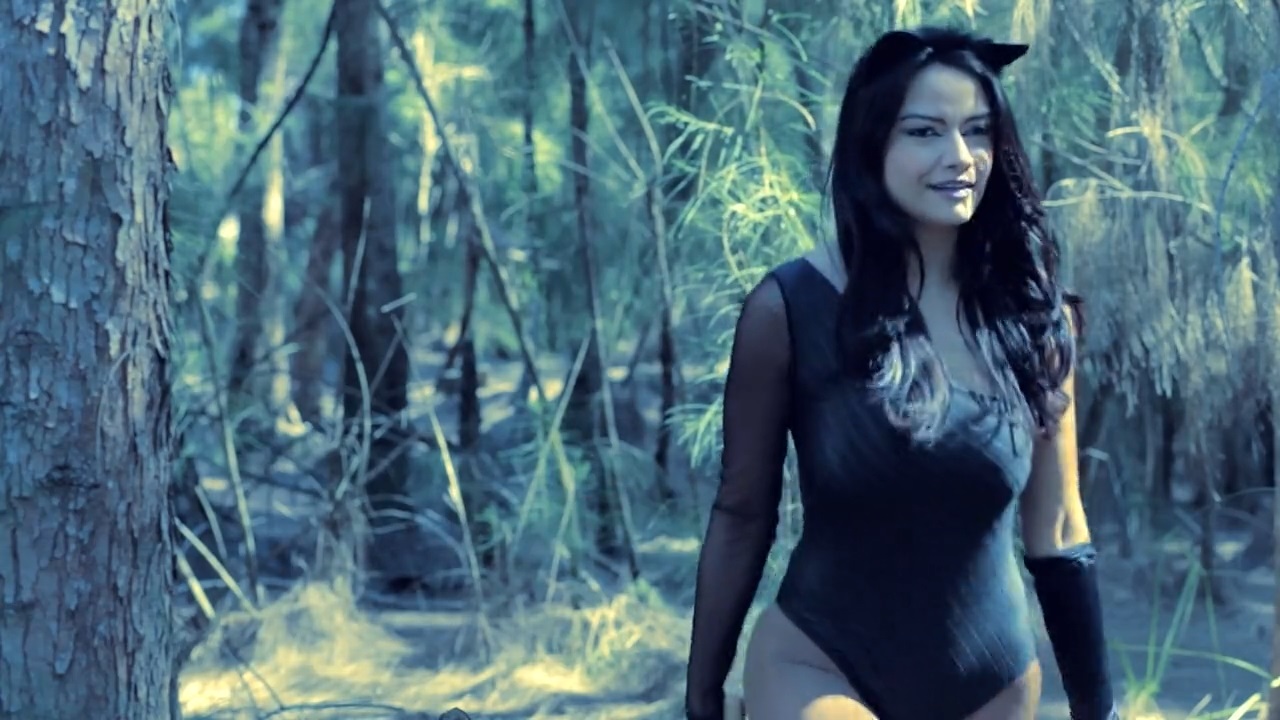 Black also for some reason has avenging angel Lina Maya wearing a catsuit – cat ears, fishnets and lowcut PVC top and hot pants – throughout. There is the suggestion that she was killed (something we never see) and has returned from the dead to take vengeance. This pushes Pussy Kills into the realm of something like The Crow (1994) or perhaps more closely resurrected from the dead female avengers like The Chosen One: Legend of the Raven (1998) and Evangeline (2013). The disappointment of the film is that this is raised and then forgotten about – Pussy turns out to be a wholly mundane character and displays no supernatural abilities. The left field twist at the end reveals that Pussy would appear to be a split personality for Susie.
Pussy Kills is a film that wants to appeal to a certain trash aesthetic but it feels like it doesn't have enough of the others essentials of good filmmaking beyond simply an enthusiasm for the genre. There is nothing to it as a plot beyond serial scenes of gangbangers being killed. And the film suffers a fatal, essential tameness – it wants to be bad ass and trashy but is a film so chaste that it has its heroine wear her absurd PVC catsuit even in the shower.
---