---
Crew
Director – Eli Roth, Screenplay – Joe Carnahan, Based on the 1974 Film Written by Wendell Mayes & the Novel by Brian Garfield, Producer – Roger Birnbaum, Photography – Rogier Stoffers, Music – Ludwig Goransson, Visual Effects – Rodeo FX (Supervisor – Martin Pelletier), Special Effects Supervisor – Louis Craig, Makeup Effects – Adrien Morot, Production Design – Paul Kirby. Production Company – Cave 76 Productions.
Cast
Bruce Willis (Dr Paul Kirby), Vincent D'Onofrio (Frank Kersey), Dean Norris (Detective Kevin Raines), Camilla Morrone (Jordan Kersey), Elisabeth Shue (Lucy Kersey), Kimberly Elise (Detective Leonore Jackson), Beau Knapp (Knox), Jack Kesy (The Fish), Ronnie Gene Blevins (Joe), Kirby Bliss Blanton (Bethany), Len Cariou (Ben), Andreas Aspergis (Belligerent Dad), Wendy Crewson (Dr Jill Klavens), Stephen McHattie (Chief of Detectives), Luis Oliva (Miguel Javier), Stephanie Janusaukas (Sophie)
---
Plot
Paul Kersey is a trauma surgeon in the ER room at Chicago General. On the night of Paul's birthday, he is called in to work. Back home, masked hoodlums break in searching for valuables and attack Paul's wife Lucy and teenage daughter Jordan. Paul is at work when they are brought in, Lucy dying on the table and Jordan left in a coma. In the aftermath, police can find no clues. After Lucy's funeral, Paul picks up an unregistered gun dropped in the ER by a gangbanger and starts to train with it. He is out on the street one night when he witnesses a carjacking and shoots both the hoods. This is filmed by a witness and uploaded to YouTube where it is seen by large numbers and Paul nicknamed The Hooded Avenger. Emboldened, he goes out and shoots other criminals and his vigilante antics are soon the talk of the city. Paul traces the thugs that attacked his family but in going after them, he exposes his own identity to them and the police.
---
Death Wish (1974) was the film that made Charles Bronson a star. Based on a 1972 novel by Brian Garfield, it took the naked anxieties of 1970s urban America about rising crime rates and fantasised about a red-blooded response to them – one man with a gun wiping out the low-life scum who attacked his family. The original was made by Dino de Laurentiis but thereafter the rights were taken over by Cannon Films who made a string of sequels with Death Wish II (1981), Death Wish 3 (1985), Death Wish 4: The Crackdown (1987) and Death Wish V: The Face of Death (1994), all starring Charles Bronson. Also of interest here is James Wan's Death Sentence (2007), which is based on Brian Garfield's novel sequel to the original, although the character is given a different name in the film version.
A remake has been in the works for a number of years now with names like Sylvester Stallone and Liam Neeson being touted in the lead role. The film finally wound in the hands of Eli Roth with Bruce Willis starring. Roth emerged on the genre scene with his first film Cabin Fever (2002) and Hostel (2005), which became the film at the forefront of the Torture Porn fad. Roth made the obligatory sequel Hostel Part II (2007) as well as The Green Inferno (2013) and Knock Knock (2015) and subsequent to this The House With a Clock in Its Walls (2018).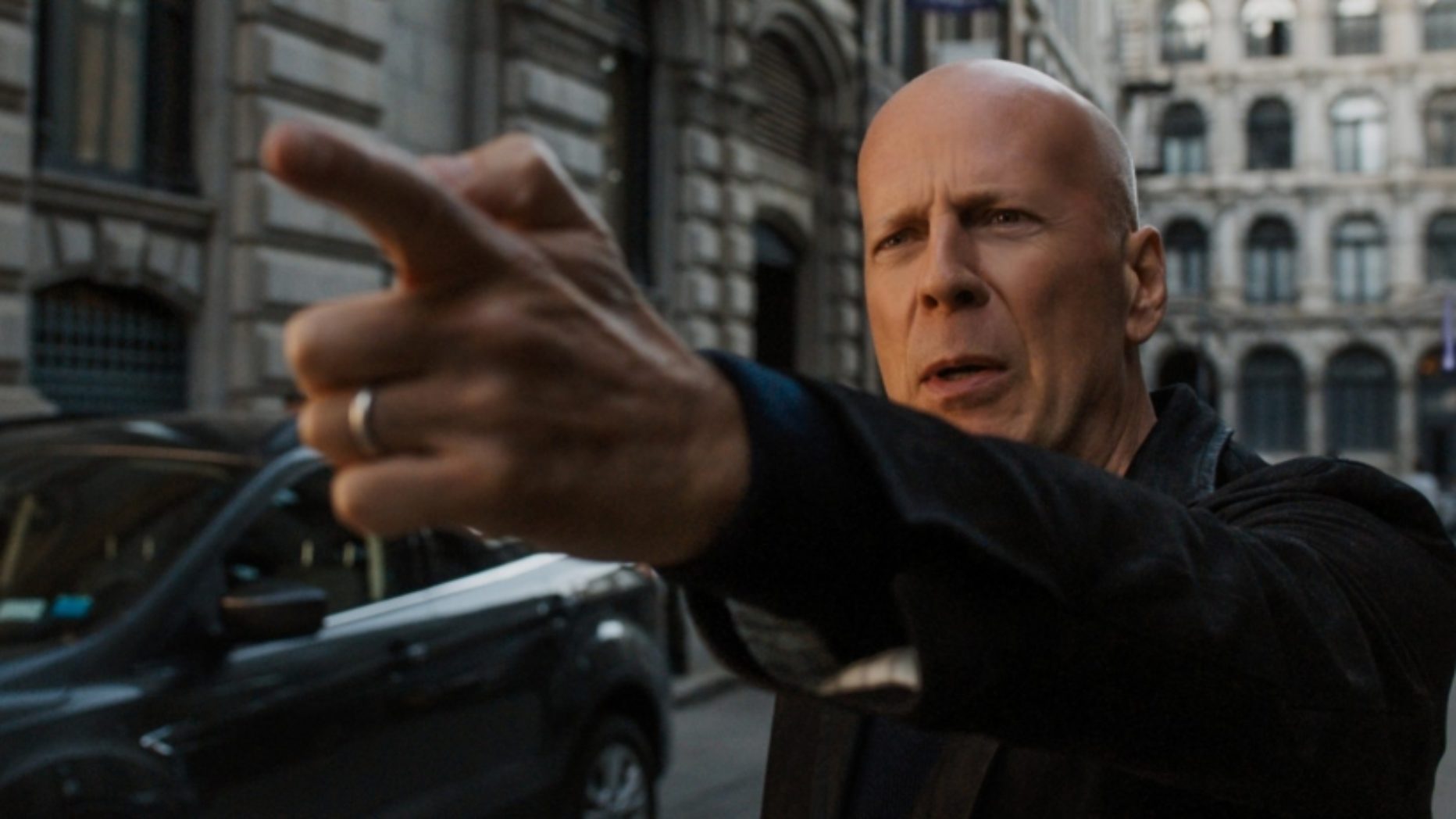 When Death Wish was made in 1974, the red-blooded vigilante fantasy it embodied seemed a naive but relatable response to the rising tide of urban crime. It felt like the fantasy of the strange uncle who lived on a farm, stockpiled guns and looked shifty-eyed at anyone sitting beside him on transit who didn't have white skin. It was still a point where such a caricature seemed harmless enough that you could laugh at it. It was also made in the era before the proliferation of semi-automatic weapons – as is the case here, Bruce Willis with his Glock seems easily in danger of being outshot by the heavily armed gangbangers he encounters and his surviving seems more a case of good luck than good sense.
However, since the end of the Bronson Death Wish films, something ugly has entered the discourse of American gun ownership politics. The poster boy is less a Bronson enraged by red-blooded vengeance than the championing of someone like George Zimmerman who can shoot an unarmed Black man and be justified on Stand Your Ground Laws. The NRA wields disproportionate political power to the point where they can fund attack ads on candidates who would even bring in moderate gun control laws. There has been a scourge of school shootings that occur on an average of once a weekly basis in 2018 despite a moribund lack of action at any kind of legislative level to do anything at all to curb this. Indeed, a demonstration of just how out of touch Death Wish 2018 is was the fact that the film's release had to be pushed back to March of 2018 because of the mass shooting by Stephen Paddock in Las Vegas that left 58 people dead five weeks before the original release date in November 2017.
The Death Wish films are fantasies aimed squarely and directly into the midst of the Second Amendment rights ammosexuals. Death Wish 2018 feels like something determined to rub our face in its message about the necessity of guns for defence. The opening scene plays out on a montage of Chicago street scenes with news announcers citing figures of deaths from street violence.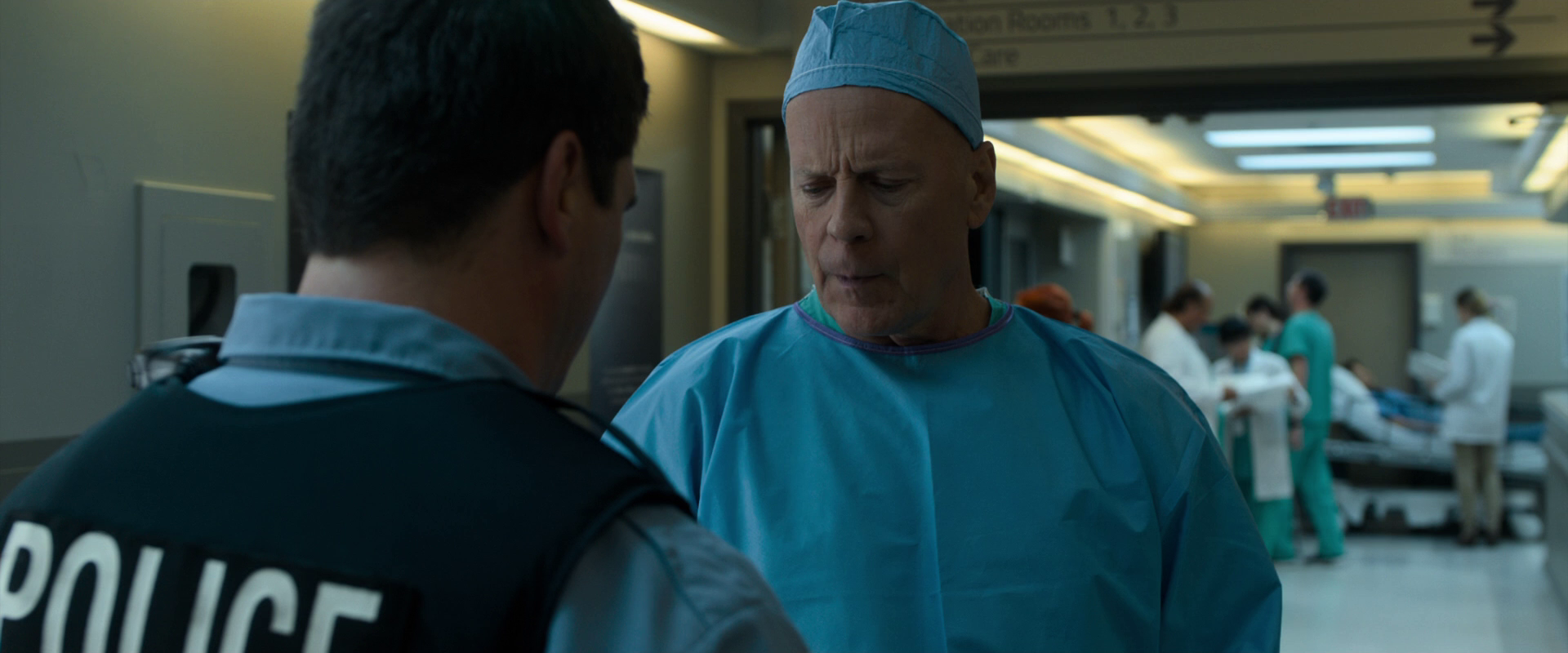 The film opens as a cop rushes his bleeding partner to hospital to be operated on by Bruce Willis, only for the officer to die and the partner to stand around saying "Now you're going to save the life of that animal?" Bruce's daughter Camilla Morrone demonstrates she has learned krav maga for self-defence in college. Bruce Willis's father-in-law Len Cariou picks up a shotgun to fire on poachers as though it is second nature. Even the gun store clerk is a hot, semi-flirtatious chick (Kirby Bliss Blanton) who openly boasts of the ease of getting a gun and how nobody really bothers to check gun safety registration (you kind of wonder if the film would have been so blase about including such a scene if one of the characters it views as worthy of extermination were standing at the counter instead of Bruce).
The message Eli Roth makes with screaming red neon underlines is not so much about Kersey picking up a gun as a form of empowerment as it was in the original but for Bruce Willis to wake up and see the true ugliness and necessity of violence in the world around him. It's an NRA masturbatory fantasy – that all that the world needs in order to clean up the scum baying at the doors of middle-class safety is just one good man with a gun. After Trayvon Martin and Michael Brown, do we really need to see another film about a rich white dude shooting poor people and minorities? Certainly, the script is careful to come down on the side of having Willis only shoot those who have engaged in violent crimes, nevertheless the idea of another white man with a gun defending his ground seems ugly and tone deaf to the way such things have played out in the real world.
Equally Eli Roth keeps throwing in scenes that have nothing to do with the main plot – one about a soccer dad who get angrily abusive on the sideline before it nearly ends in a physical confrontation between he and Bruce, and another scene where Bruce gets frustrated with a squeegee boy who insists on washing his car window when he doesn't want it while he is waiting at the lights. They are scenes that seem to exist as ugly interruptions amid the calm and peace of everyday life and are designed with no other purpose than to wind up the average man's blood pressure. We even get an extended scene that has no other purpose than for Dean Norris to regard the gluten-free bar he is eating as something inedible. In other words, this is less Death Wish than it seems like Falling Down (1993) in which Michael Douglas snaps and goes on a shooting rampage against those responsible for the petty frustrations in life.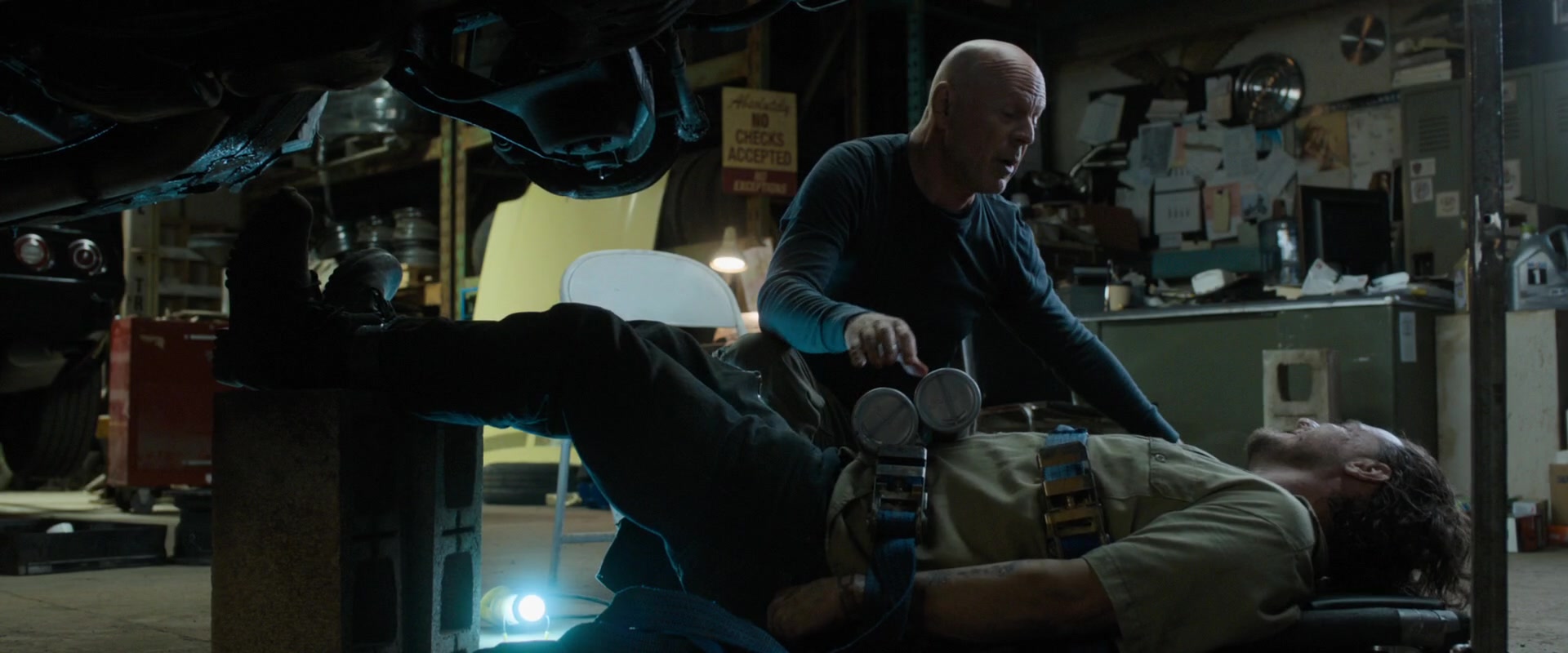 We also get a scene where Bruce Willis tortures Ronnie Gene Blevins, trapping him beneath the car he is working on, slicing open the sciatic nerve on his leg and then pouring brake fluid on it because "it is the maximum amount of pain that a human can suffer before going into cardiac arrest", and finally pulling the chain to release the car from its block and leaving him there with his brains splattered over the floor. It is worth remembering that Eli Roth was the director who created the Torture Porn film and this reads as no more than Roth gleefully inserting another torture scene. It is something that goes way beyond what Charles Bronson ever did – Bronson took glee in red-bloodedly shooting those who were guilty but this goes into an arena where Kersey is now justified in torturing them before doing so too.
Eli Roth has also served as producer on 2001 Maniacs (2005), The Last Exorcism (2010), The Last Exorcism Part II (2013), The Sacrament (2013), Clown (2014), The Stranger (2014), The Man with the Iron Fists 2 (2015) and Haunt (2019), plus the tv series Hemlock Grove (2013-5). He wrote/produced Aftershock (2012), The Man with the Iron Fists (2012), the remake of Cabin Fever (2016) and the anthology tv series Urban Legends (2022- ). He has also appeared as an actor in Don't Look Up (2009), Quentin Tarantino's Inglourious Basterds (2009) and Piranha (2010).
---
---