---
Crew
Director/Screenplay – J.S. Cardone, Producers – Scott Einbinder & Carol Kottenbrook, Photography – Steven Bernstein, Music – Tim Jones & Johnny Lee Schell, Music Supervisor – Alex Patsavas, Visual Effects Supervisor – Richard Malzahn, Visual Effects – Perpetual Motion Pictures, Special Effects Supervisor – Larry Fioritto, Makeup Effects – Michael Burnett Productions (Supervisor – Michael Burnett), Production Design – Martina Buckley. Production Company – Sandstorm Films.
Cast
Kerr Smith (Sean), Brendan Fehr (Nick), Johnathon Schaech (Kit), Izabella Miko (Megan), Simon Rex (Pen), Phina Oruche (Cym), Carrie Snodgress (Ina Hamm), Alexis Thorpe (Teddy)
---
Plot
Sean takes a week off from his job as an editor of film trailers for a low-budget production company and accepts a deal to drive a car across country so that he can attend his sister's wedding in Florida on the cheap. Travelling the Texas backroads, he reluctantly agrees to give a hitchhiker Nick a ride for gas money after he loses his wallet. Along the way, they pick up a strung-out girl Megan and Nick seems able to help her condition. The girl is pursued by a group of people in a car. Gradually, Sean learns that the pursuers are vampires and that the girl has been infected by the vampire bite. Sean then becomes infected after the girl bites him. The only way to stop the infection before it overtakes him is to join the similarly infected Nick's crusade to kill the head vampire.
---
The Forsaken is written and directed by the highly underrated J.S. Cardone. Cardone is a filmmaker who honed his talent on low-budget films like The Slayer (1982) and Shadowzone (1990) and with thrillers, usually set around desert regions and featuring people on road journeys, such as A Climate for Killing (1991), Shadowhunter (1993), Black Day, Blue Night (1995), Exit in Red (1996) and Outside Ozona (1998). Although, J.S. Cardone has directed eight films, The Forsaken was his first film to obtain a wide theatrical release. Subsequently, Cardone directed Mummy an' the Armadillo (2005), 8MM2 (2005) and Wicked Little Things (2006), as well as wrote Alien Hunter (2003), The Covenant (2006), Prom Night (2008) and The Stepfather (2009).
J.S. Cardone takes up the vampire hunter theme that became prevalent in a number of other films around the time such as Blade (1998), Vampires (1998) and the excellent Ultraviolet (1998) tv mini-series. This is something that always has the promise of a good action film hybrid. The Forsaken suggests a conceptual melding of Near Dark (1987) and The Hitcher (1986). J.S. Cardone creates an interesting scenario filled with intriguing ideas. Most of all, he keeps the film moving with a driving action edge.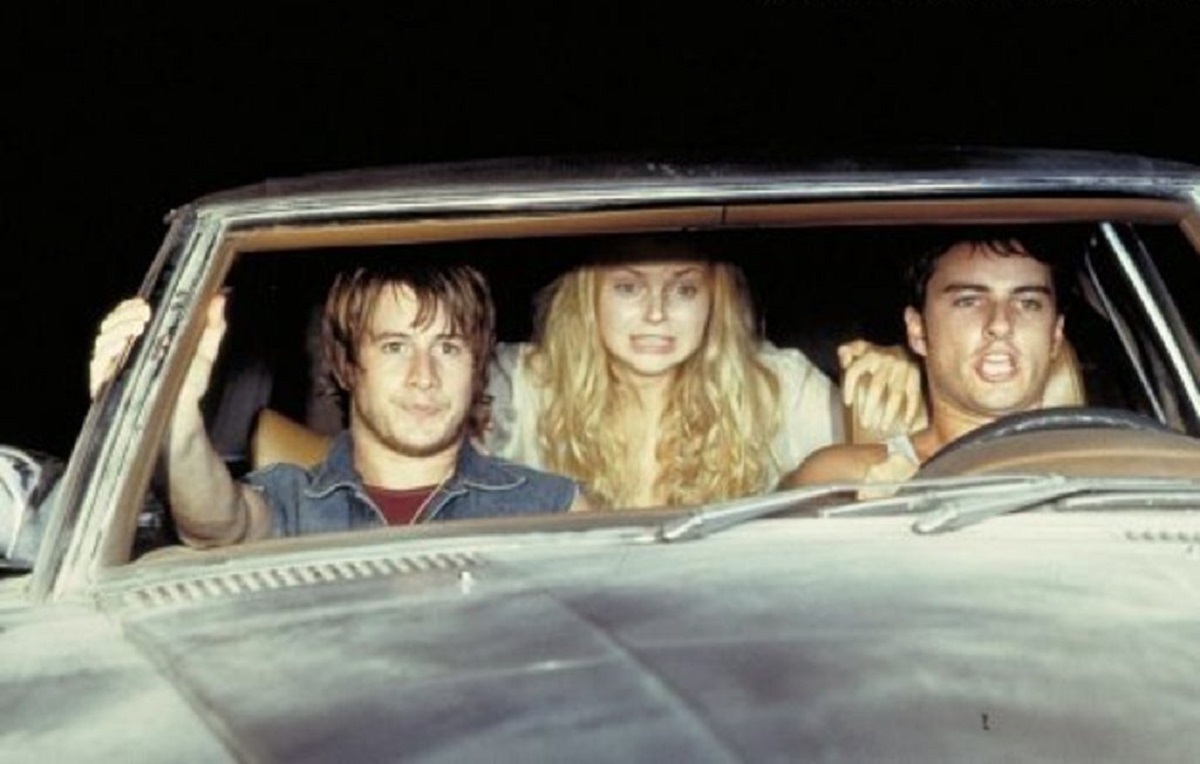 There may be one or two gratuitous explosions and car chases, but for the most part this is a vampire action film with a lean, kinetic drive. The film looms with a dangerousness that frequently explodes into violence – there is a very nasty scene where a cop is burned alive. Although, just as often, J.S. Cardone leaves the violence only subtly suggested – he does not need to show anything, just have Johnathon Schaech taunting the two Texan boys about the ordinariness of their lives and then cutting to the vampires turning up in their vehicle. This is the film that From Dusk Till Dawn (1996) should have been.
Some critics made snide comments even before The Forsaken opened about J.S. Cardone's assemblage of a good-looking teen cast – Kerr Smith from Dawson's Creek (1998-2003), Brendan Fehr from Roswell (1999-2002), Izabella Miko from Coyote Ugly (2001), Jonathan Schaech from The Time of Your Life (1999-2000) and Simon Rex from Felicity (1998-2002) – but in all cases each of them gives fine performances. Both Kerr Smith and Brendan Fehr deliver finely nuanced pieces of characterisation. Jonathan Schaech does the dark vampire magnetic sexuality reasonably well, although is often upstaged by the lethal Phina Oruche. The only part that seems a little pseudo is J.S. Cardone's attempt to invoke a faux nihilistic cynicism in one scene where Brendan Fehr slams his whole generation – it is an amusingly well written scene but seems out of place coming from such a driven character.
(Nominee for Best Supporting Actress (Phina Oruche) at this site's Best of 2001 Awards).
---
---