---
Crew
Director/Screenplay/Photography – Jonathan Cuartas, Producers – Jesse Brown, Patrick Fugit, Anthony Pedone, Ian Peterson & Kenny Oiwa Riches, Music – Andrew Rease Shaw, Visual Effects – Gosia Grzyb & Maciej "Sanki" Sankowsi, Prosthetics – Abigail Steele, Production Design – Rodrigo Cuartas. Production Company – Visit Films/Dualist Dualist/Film Exchange.
Cast
Patrick Fugit (Dwight), Ingrid Sophie Schram (Jesse), Owen Campbell (Thomas), Katie Preston (Pam), Moises Tovar (Eduardo), Judah Bateman (Turner), Anthony Pedone (Homeless Man)
---
Plot
Brother and sister Dwight and Jesse tend their ill younger sibling Thomas. Thomas gets sick unless he is able to regularly drink blood. And so Dwight brings back homeless people and kills them to drain their blood. This lifestyle and the need to keep Thomas away from the rest of the world has an effect on Dwight and Jesse.
---
My Heart Can't Beat Unless You Tell It To was a directorial debut for Jonathan Cuartas, a Colombian-American director from Miami. The film gained reasonable acclaim on the awards circuit.
The film comes with an ordinary everyday realism. The bulk of the show is set in a regular suburban house – one that seems so dreary and lived-in that the wallpaper has faded to a uniform dun brown – with a couple of scenes that venture out to a motel, the diner where Ingrid Sophie Schram works and the surrounding streets. The characters are about as ordinary and everyday as it gets – Patrick Fugit drives a pick-up truck, Ingrid Sophie Schram works as a waitress.
You eventually realise that what you are watching is a Vampire Film. This is something that you might not pick up on unless you watch closely – Owen Campbell survives on blood and without drinking will get sick, while he also burns in the sunlight and only comes out at night. However, the word' vampire' is never mentioned throughout and you could easily assume something else if you weren't attuned and saw these things pop up more as background details. This places My Heart Can't Beat Unless You Tell It To into the genre of kitchen sink vampire films along with the likes of Addicted to Murder (1995) and sequels, Blood & Donuts (1995) and Habit (1997), which focus on the vampire not as a predator or supernatural being but just an ordinary everyday figure trying to get by like everybody else.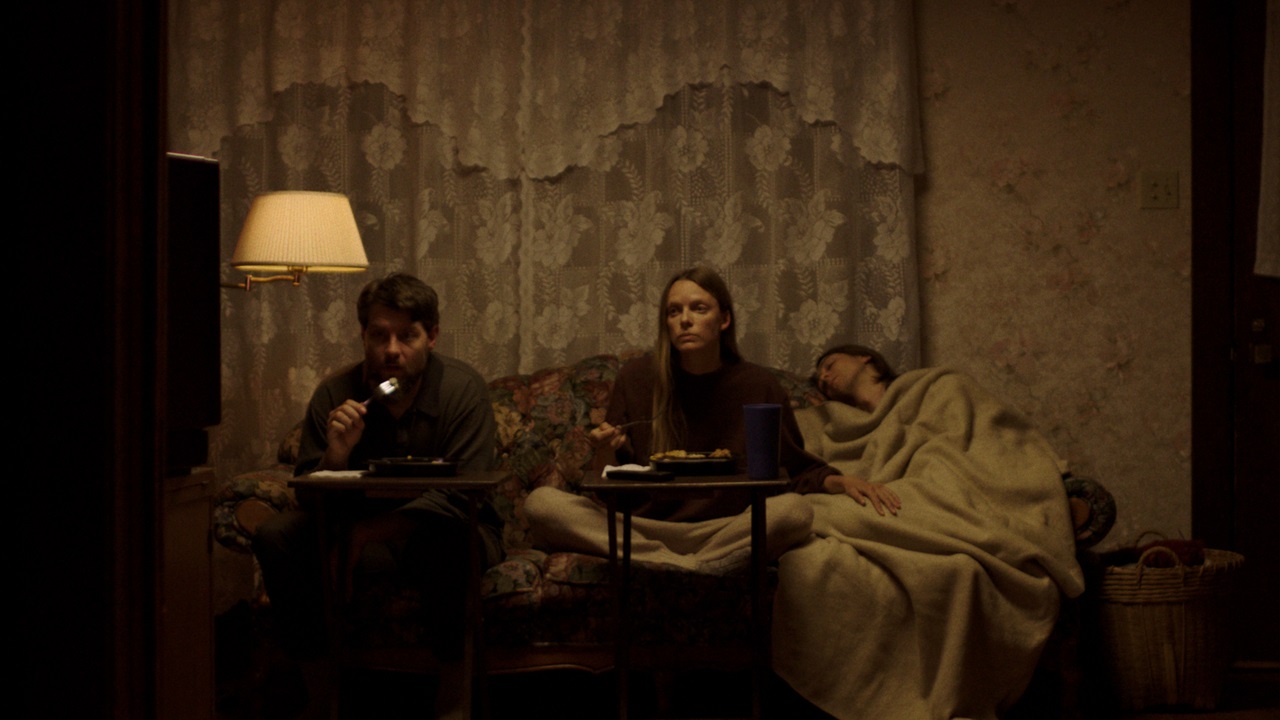 The nearest point of comparison might be The Hamiltons (2006) about a family who kept their vampire nature a close-guarded secret, although that was a far more middle-class, proactive family who enjoyed what they were doing. However, the king of kitchen sink vampire films is surely George Romero's Martin (1976) with John Amplas as a sickly youth who may be eighty years old and a vampire or just as easily a delusional individual. In terms of the plot, you could also draw a number of similarities to the Mexican-made We Are What We Are (2010) about a family of cannibals who are trying to figure out ways to procure the flesh they need.
Everybody gives subdued performances such that when the dramatics do occur they come with an undeniable effect. The entire film builds around some horrible choices – Sophie Schram targeting the hooker (Katie Preston) to which Patrick Fugit has becomes attached, Owen Campbell inviting a young friend over only for things to go wrong. It all works with some fine, perfectly toned performances and a seamless mood based around Jonathan Cuartas simply allowing the premise to tell itself.
---
Trailer here
---