---
Crew
Director/Screenplay – Brandeis Berry, Producers – Faisal Al-Saja, Thomas Beach, Christopher Biewer, Sean Haley, Carrie Edgeworth Haslam & Charles Sims, Photography – Travis Hoffman, Music – Deanna Lasker, Visual Effects Supervisor – Matthew B.W. Sheehan, Special Effects Supervisor – Jerry Constantine, Makeup Effects – Scott Merrill, Production Design – Vanessa Augustin. Production Company – Granfalloon Productions.
Cast
Zoë Bell (Brenda Grey), Joe Lando (Sheriff Jones), Christopher Biewer (Deputy Clyde Barnes), John Bobek (Matt Hanson), Tom O'Connell (Samuel Colton), Amy Paffrath (Kim Whitley), Derrick Redford (Jason Hightower), Alison Haislip (Claudia Mosley), Faisal Al-Saja (Travis Beecher), Yulia Klass (Melody Carter), Sherri Eakin (Cassie Daniels), Elizabeth Beckwith (Ms. Biggins), Sally Montgomery (Granny Castel), Michael St. Michaels (Bob), Donnabella Mortel (Jamie Castel), Marti Hale (Mary Kelley)
---
Plot
Residents of the sleepy town of Helena, Alabama are being attacked and devoured by a giant white alligator. Brenda Grey, the area's alligator expert, investigates and tries to push the new sheriff Jones to take the menace seriously. At the same time, a group of visiting college kids travel out to Beecher's Island to party, only to be trapped in the big house after the alligator starts killing people and the power and phone lines are ripped out. As she starts examining the bodies, Brenda believes that there might be some other agency also involved in the attacks.
---
We have had a variety of killer crocodile and alligator films over the years. They are not nearly as numerous as killer shark films but there have been a sizeable number with the likes of Alligator (1980), The Great Alligator (1979), Dark Age (1987), Killer Crocodile (1990), Crocodile (2000), The Hatching (2016) and Crawl (2019) and in particular a spate of films during 2007 with Black Water (2007), Croc (2007), Primeval (2007) and Rogue (2007).
In its story of a larger-than-average killer crocodile/alligator hunting in a small town, Freshwater reminds a good deal of Lake Placid (1999), which led to an inordinate number of sequels. Like that film, and indeed many of the abovementioned, Freshwater has difficulty fighting its own inherent risibility. I am not exactly sure why that is – many of the earlier killer crocodile/alligator films had the problems of poor effects but that has disappeared in the CGI era. However, when you get to the first attack scene where the giant white alligator appears on a pier and comes after a fisherman (Michael St. Michaels), the effect, which has been intended as that of a jolt, comes out as something that makes you feel like laughing instead.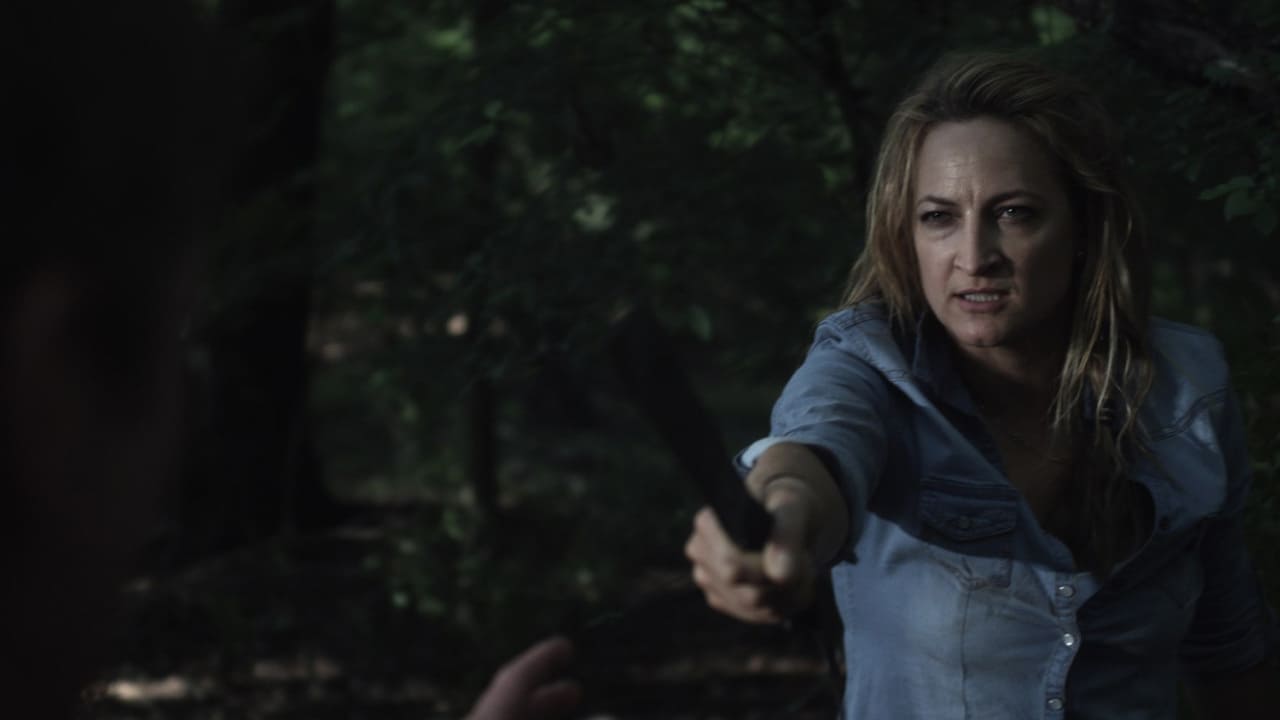 It is not that Freshwater is a particularly bad film. It is competently made on most levels, coming out around the level of the average slasher film. Nor are the crocodile effects, which are sparingly used, poor either. The film lacks any recognisable stars apart from former stuntwoman turned Tarantino starlet Zoë Bell, although even then she is second-listed after the little-known Joe Lando. (Several of the rest of the cast also double as producers or executive producers). Certainly, debuting director Brandeis Berry – I am not sure if that is meant to be a man or a woman – is sedate in their pace and never delivers any scene that goes for the throat, either in terms of suspense or outright schlock.
Nevertheless, Freshwater persists in sliding down into bad movie stakes. The reactions of the various cast as they keep discovering severed limbs comes out as unintentionally funny. The thing that causes the film to slide off into ridiculousness most of all is the big mid-film twist [PLOT SPOILERS] that reveals that some of the killings are not being done by the alligator so much as the psycho sheriff (Joe Lando) who also regards the gator as his best and only friend. His reasons are not explored a whole lot more than that and after that point the film fairly much slides off into absurdity.
---
---