---
Crew
Director – Jaco Bouwer, Screenplay – Tertius Kapp, Producers – Jaco Bouwer, Tertius Kapp & Jorrie Van Der Walt, Photography – Jorrie Van Der Walt, Music – Pierre-Henri Wicomb, Visual Effects – Motif Studios & Wim Van der Merwe, Makeup Effects – Cosmesis Advanced Prosthetics, Production Design – Rocco Pool. Production Company – Film Imitative Africa/kykNet Films.
Cast
Monique Rockman (Gabi), Carel Nel (Barend), Alex Van Dyk (Stefan), Anthony Oseyemi (Winston)
---
Plot
Two forestry workers, Gabi and Winston, are on a routine survey by canoe. One of Gabi's drones goes down and so she enters the forest to retrieve it – only to impale her foot in a trap. She limps to a nearby cabin where she takes refuge. The two men who set the trap, father and son Barend and Stefan, return and insist on tending her. She learns how Barend was a former microbiologist who moved here with his late wife, rejecting civilisation. Barend believes that the forest is inhabited by something alive and very ancient, older than civilisation. Gabi finds spores trying to infect her body and comes under attack by humanoid plant creatures. As it becomes evident that Barend is deranged, Gabi implores Stefan to come away with her.
---
Gaia was a South African horror film. It was the third film for director Jaco Bouwer and his regular writer Tertius Kapp who had previously made two films with Summer Festival (2019) and the horror film Rage (2020), as well as the horror tv series Die Spreeus (The Spreeus) (2019). The film was shot during the Corona Virus lockdown of 2020 and comes in a mix of English and Afrikaans.
In my determined effort to know as little about a film as possible before sitting down to watch (often as little as a one-sentence plot description as was the case here) in order not to pre-judge it, I went in knowing next-to-nothing about Gaia. My automatic assumption was that it would be a South African Backwoods Brutality film. It starts out seeming that way – the forestry works on a routine expedition; their having to go off course (on the pretext of retrieving a downed drone and not leaving litter in the forest); the two mud-covered men watching them who seem the typical hicks of Backwoods Brutality, albeit having gone so native that is your initial assumption as to what they are); before Monique Rockman pierces her foot in one of their traps and has to seek refuge at their cabin.
It soon becomes evident that we are not in for a Backwoods Brutality film at all. Certainly, the themes of Backwoods Brutality do play out throughout Gaia – the father and son are less in-bred hillbillies than they are people who have gotten away from it all to live closer to nature, while the father is wont to give speeches about his contempt for the corrupting influence of civilisation. With the introduction of the living forest, we have approaches something more of the Folk Horror territory of Ben Wheatley's recent In the Earth (2021), another film that was shot during Covid pandemic lockdowns of 2020 – although, if anything, I would argue that Gaia is a much more ambitious and successful film in trying to do the same things that In the Earth did.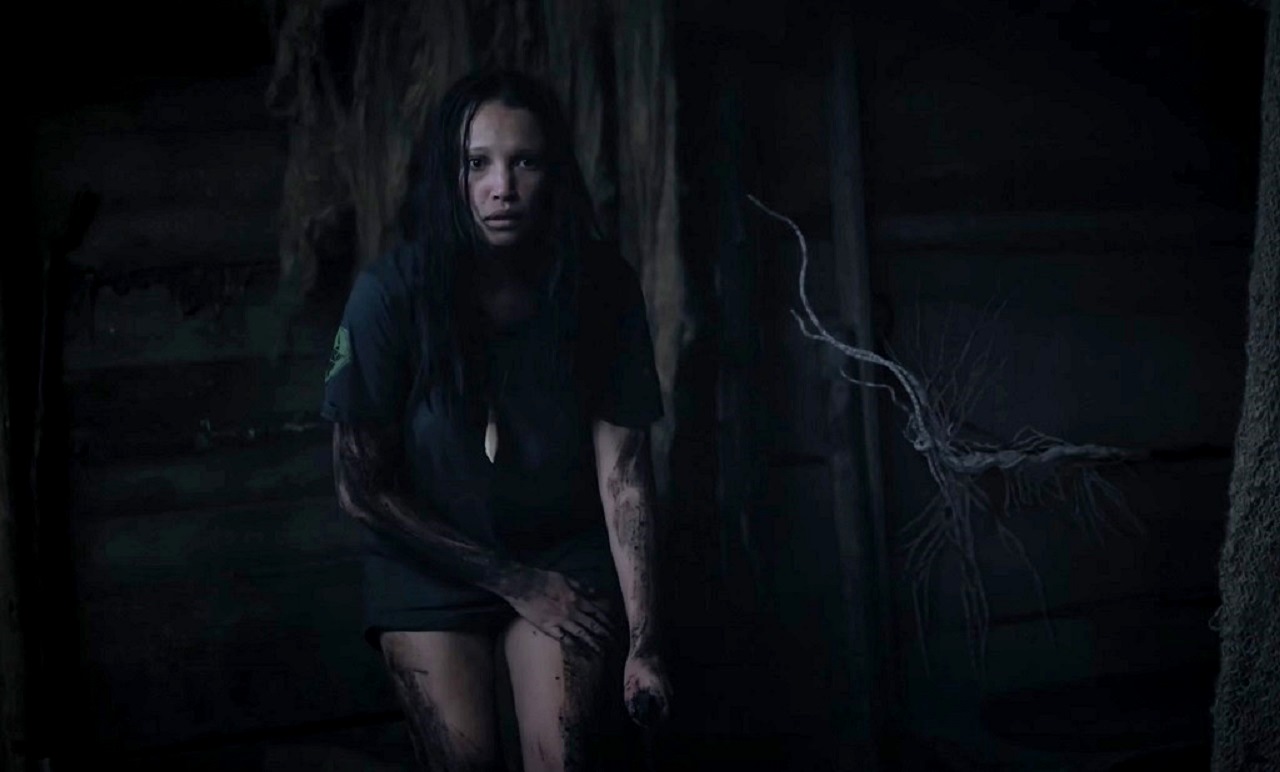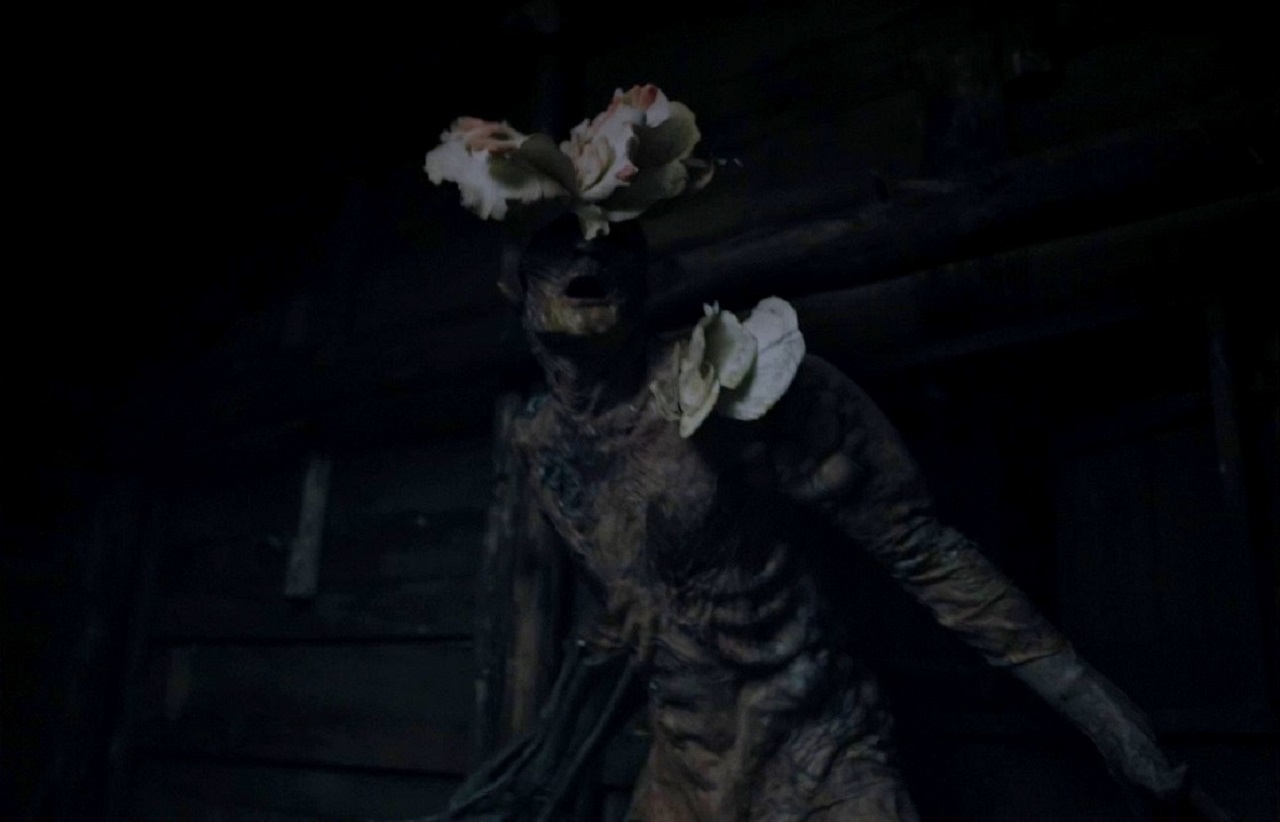 In no time, Gaia travels into a unique and disturbing space that proves to be quite unlike any horror film you have seen before. There are disturbing images of bodies found with plantlife growing out of them and turning into gardens. In one of the more intensely out there scenes, Monique Rockman is woken up as a swarm of spores drifts across her body and then finds plant tendrils invading through cracks in the cabin walls, before a plant being with split-open petals where the head should be bursts into the cabin trying to attack her.
The rest of the film is filled with these humanoid plant beings, of scenes with Monique Rockman waking up to find budding plant growth emerging out of her skin. It becomes quite a disturbing film. This is made all the more so by Carel Nel's deranged performance, which swings between practical-headed sympathy and maniacal rants about the evils of civilisation, in the midst of which Monique Rockman tries to escape and take son Alex Van Dyk, who has attached himself to her, back with her. It emerges as one of the most fiercely original horror films that one has seen in some time.
---
Trailer here
---