---
Crew
Director/Screenplay – Axelle Carolyn, Photography – Andres E. Sanchez, Music – Christopher Drake, Visual Effects – Legion VFX, Special Effects Supervisor – Alex Allard, Production Design – Tracy Dishman. Production Company – Storm King Productions/Blumhouse Television.
Cast
Barbara Hershey (Judith Albright), Nicholas Alexander (Josh Albright), Bruce Davison (Roland Benson), Katie A. Keane (Barbara Albright), Jill Larson (Trish Price), Fran Bennett (Ruth Cooper), Ciera Payton (Liesel), Shelley Robertson (Elizabeth Cooper), Stacey Travis (Ms Benson), Devin Kawaoka (Gary Price), Cissy Wellman (Imogen), Nancy Linehan Charles (Annette), Andrew Tinpo Lee (Dr Geoghegan)
---
Plot
While at her 70th birthday party, Judith Albright has a fall. She decides she does not want to be a burden on her daughter Barbara and grandson Josh and elects to sign into the Golden Sun Manor retirement home. However, once there, Judith finds that she has little freedom – that her cellphone is confiscated and she cannot go out unsupervised. She also sees sinister figures in her room, possibly something supernatural, and believes these are killing residents. After trying to alert people, the doctor gives her a diagnosis of dementia. In trying to return home, Barbara and Josh are told that paranoia is one of her symptoms. Increasingly, Judith comes to believe that the staff at the manor are up to something sinister.
---
The Manor was a full length film from Axelle Carolyn. The Belgian-born Carolyn started as an actress, appearing in several films for Neil Marshall with Doomsday (2008) and Centurion (2010). During this time, she also married Marshall with the two divorcing in 2016. She has also written two books on genre subjects with It Lives Again! Horror Movies in the New Millennium (2008) and FrightFest Guide to Ghost Movies (2018). In this time, Carolyn also directed two short films and made her full-length directorial debut with the ghost story Soulmate (2013), as well as the Grim Grinning Ghost episode of Tales of Halloween (2018). She also contributed episodes to The Haunting of Bly Manor (2020), American Horror Story (2011- ), Creepshow (2018-), The Midnight Club (2022), Mayfair Witches (2023- ) and other tv shows. The Manor is co-produced by John Carpenter's wife/producer Sandy King and was released direct to streaming by Blumhouse.
In the lead role, Axelle Carolyn has Barbara Hershey who once had a reasonable Hollywood name, appearing in films from Martin Scorsese and Woody Allen, as well as genre efforts like The Entity (1982). Seeing Hershey in the opening scenes here with white hair and celebrating her 70th birthday party takes you aback and you realise it has been a few years since one has seen her in anything. She still has the intelligence and charisma that holds centre stage in a show – this is certainly no film that plays into clichés of old people.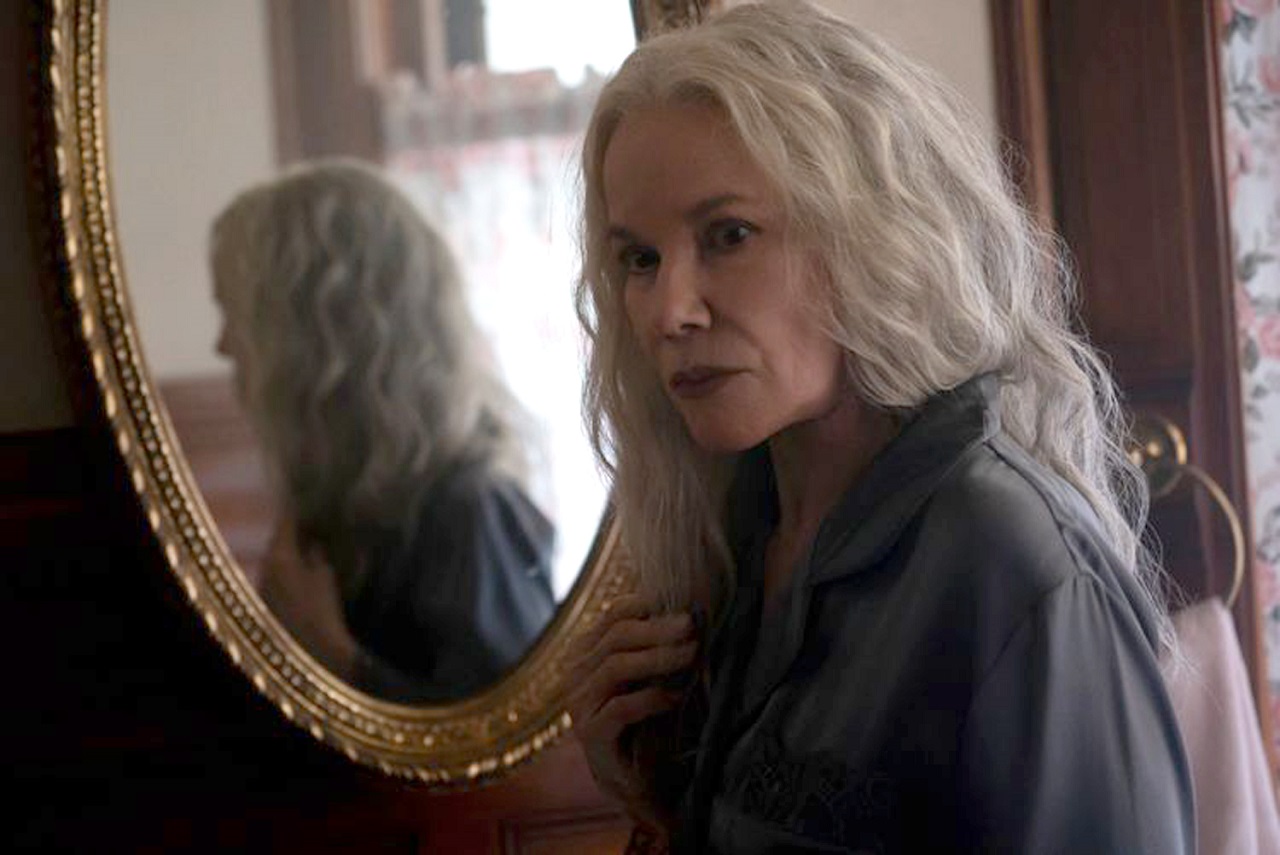 Just as much as its horror elements, this is a film about the disempowerment of the elderly. Barbara Hershey's frustration with the facility she is placed in comes from her entering as a functioning adult and then being treated like a child, her cellphone being confiscated, she forced to be accompanied when going outdoors, restricted in her visitors, while her complaints about what is happening are dismissed by the doctor as dementia and her family told to regard what she says as a delusion.
Axelle Carolyn introduces a series of uncanny jumps – in particular with sinister black figures appearing in Barbara's room and scuttling along the ceiling – and an undertow of paranoia. Eventually the film develops a bizarre Folk Horror explanation about [PLOT SPOILERS] – a secret group at the facility stealing lifeforce from the elderly to maintain their youth and something to do with worshipping a tree. This works okay, even if the ending arrived at seems one that repudiates the horror at the situation that has been built up throughout the film. It seems a hard stretch to believe Barbara going from someone shocked about the disappearances and the killing of those around her and trying to stop it to willingly joining in.
---
Trailer here
---