---
Crew
Director/Screenplay – Ben Wheatley, Producer – Andy Starke, Photography – Nick Gillespie, Music – Clint Mansell, Visual Effects – Milk Visual Effects (Supervisor – Murray Barber), Special Effects – Real Special SFX (Supervisors – Daniel Bentley, Dewi Foulkes & Daniel Snelling), Prosthetics Designer – Dan Martin, Production Design – Felicity Hickson. Production Company – Rook Films.
Cast
Joel Fry (Martin Lowery), Ellora Torchia (Alma), Reece Shearsmith (Zach), Hayley Squires (Dr Olivia Wendle), John Hollingsworth (James), Mark Monero (Frank)
---
Plot
During the midst of the pandemic, Martin Lowery travels out to remote Grantalow Lodge in search of colleague Dr Olivia Wendle. The ranger Alma agrees to take Martin on a two-day journey into the remote area of the woods where Dr Wendle is working on a research project to communicate with the plant intelligence that connects the forest. While camping, Martin and Alma are attacked and their equipment trashed and shoes stolen. They are then captured by Zach, a crazed individual living in the forest, who believes the forest is inhabited by a folk spirit Parnag Fegg and is engaged in worshipping it.
---
Director Ben Wheatley gained a cult name in the 2010s. He first appeared with the crime film Down Terrace (2008) and it was his next film Kill List (2011) that gained substantial word of mouth for its WTF twists. Wheatley held continued interest with the U is for Unearthed episode of The ABCs of Death (2012), the black comedy Sightseers (2012), the strange hallucinatory A Field in England (2013) and the J.G. Ballard adaptation High Rise (2015). On the other hand, the latter half of the decade was a more mixed one for Wheatley with both Free Fire (2016) and his remake of Rebecca (2020) meeting with critically mixed reception. Wheatley has also produced Aaaaaaaah! (2015), The Ghoul (2016), The Greasy Strangler (2016) and In Fabric (2018).
In the Earth was a film that Wheatley had planned for some time before but took the opportunity to shoot the film over the course of fifteen days during the midst of the Corona Virus pandemic lockdown of 2020. It is being promoted as a film about the pandemic but this is not the case. There is brief mention of the pandemic during the opening scenes at the lodge as well as a couple of scenes where we see Joel Fry being sprayed down with disinfectant but thereafter any mention is forgotten about.
Ben Wheatley's films have frequently delved into Folk Horror. This is the term coined to refer to horror films that concern themselves with pagan rituals, mysterious pre-Christian gods of nature and frequently religions involving human sacrifice to ensure the harvest. The genre took off in the late 1960s and was popularised by the cult hit of The Wicker Man (1973). What made Kill List was a WTF twist where the main characters suddenly find themselves in the midst of pagan ceremonies and we realise such rituals are all around them, while A Field in England had one foot in being a historical film of the Cromwellian era and the other in being a Drug Hallucination/Folk Horror film.
In Ben Wheatley's folk horror stories, there is the sense that everyday civilisation has definite borderlands and that beyond its confines lies an irrational world. This can be seen in Kill List, A Field in England, High Rise and here – indeed you could easily imagine that there is some kind of shared universe that connects Wheatley's films. It is a world governed by something very ancient, barely understood by our modern rationalism – here the entity in the forest defies both Hayley Squires' attempts to study it scientifically and equally Reece Shearsmith's attempts to worship and commune with it.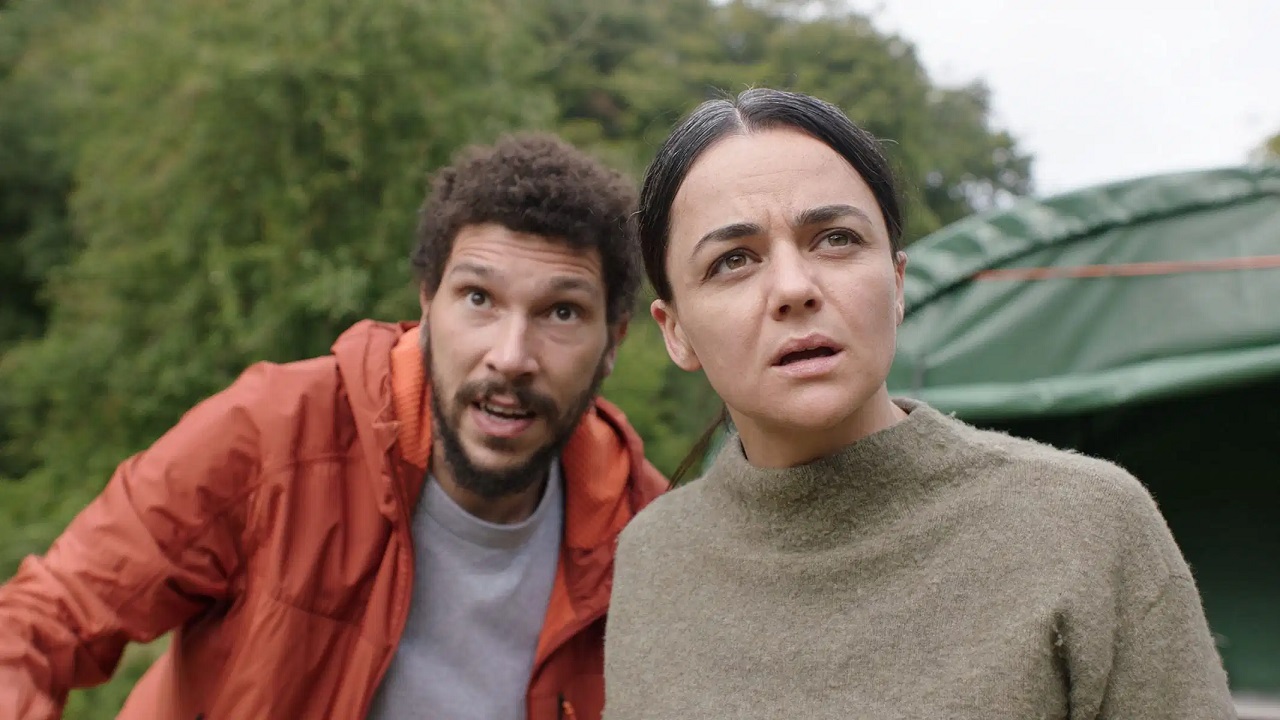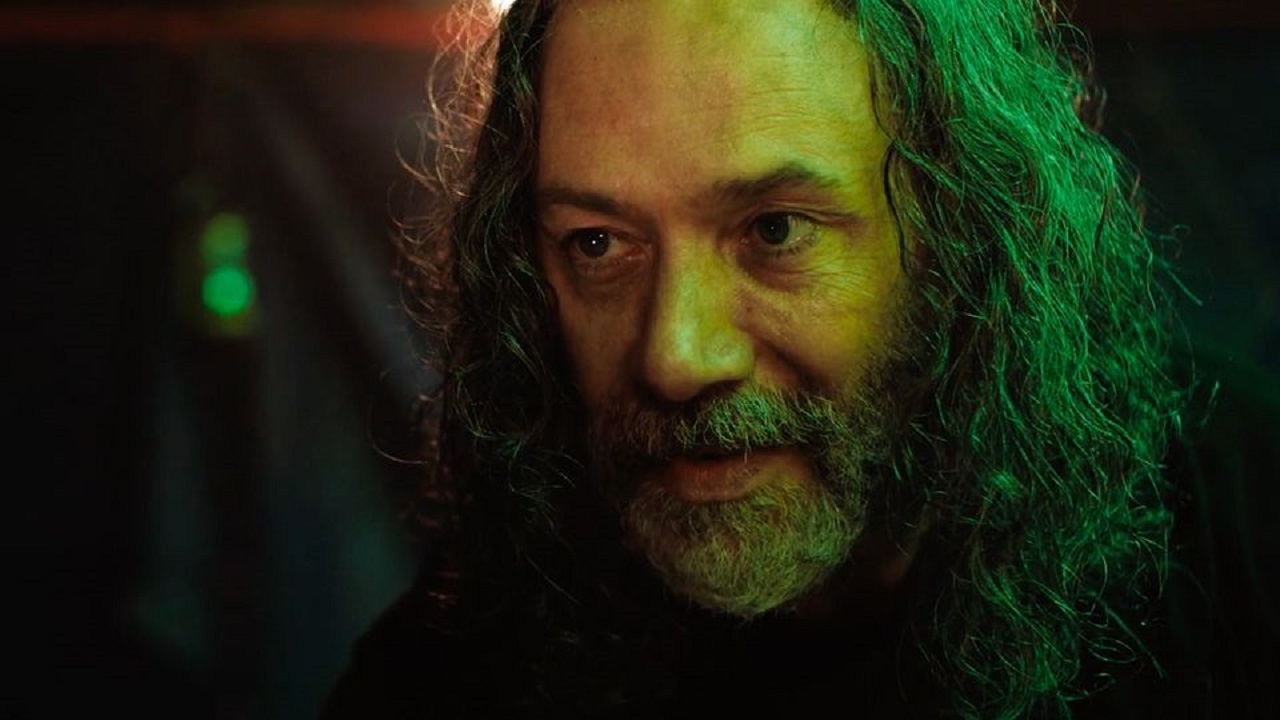 I deliberately make a point of reading as little as possible about a film before sitting down to watch so went into In the Earth knowing a minimum about it. You are never quite sure what is waiting in the forest as Joel Fry and Ellora Torchia set out, discover campers' tents trashed, before they come under attack and have their equipment and shoes stolen. Then comes the disturbing performance from Reece Shearsmith, a Ben Wheatley regular. (Just before this, I had been watching Shearsmith in the wonderful little anthology tv series Inside No. 9 (2014- ) and entirely failed to recognise it was him beneath the wild man guise until some way in). Shearsmith has some alarming scenes where he vies between a helpful friendliness and matter-of-factly insisting on the necessity of cutting off Joel Fry's toes to prevent infection – all of which proceeds to go wrong in the film's most horrific scene.
The film become even more interesting with the introduction of Hayley Squires as we come to see Joel Fry caught between two quite possibly equally obsessed individuals – Hayley Squires who is attempting to deal with the entity in the forest with scientific methods and Reece Shearsmith who opts for worship and communing with nature. This is a point where Ben Wheatley seems to be taking Folk Horror in some challenging directions, essentially saying that beyond the borderlands of modern society is something ancient and inimical and that science and worship are competing ideologies where neither seem adequate to deal with what is out there.
Unfortunately, Ben Wheatley reveals that he has no real third act. You want the film to take us deeper into the woods to encounter what is there. Instead, all that we get seems like a rehash of A Field in England where the characters do a lot of drugs and Wheatley gives us a series of trippy scenes. It is the substitution of a series of psychedelic scenes for anything of substance. If anything, it makes In the Earth resemble an earthbound 2001: A Space Odyssey (1968) – scientists/astronauts take a journey into uncharted territory; mysterious happenings concerning a monolith/standing stone; before a climactic journey into another headspace that is only represented by pretty psychedelic images. A far better version of what Ben Wheatley seemed to be trying to do here was conducted the same year by the intensely creepy South African-made Gaia (2021).
---
Trailer here
---