---
New Zealand/USA/Greece. 2018.
Crew
Producers – Tim League & Ant Timpson, Music – Karl Steven. Production Company – Timpson Films/Fantastic Fest/Faliro House/Visionchaos Productions/Legion M.
The Sinful Woman of Höllfall
Crew:
Austria. Directors/Screenplay – Severin Fiala & Veronika Franz, Photography – Martin Gschlacht, Music – Wolfgang Mitterer, Visual Effects – Klaus Krall, Martin Stegmayer & Philipp Zaufel, Makeup Effects – Nadja Frohlich, Julia Heppner, Selina Horowitz, Sophie Ilg, Jenny Marolf & Kariem Salieh, Production Design – Vesna Muhr.
Cast:
Marlene Hauser (Kathi), Luiza Opperman (Valerie), Birgit Minicmayr (The Mother), Karin Pauer (Trud)
Haunted by Al Karisi, The Childbirth Djinn
Crew:
Turkey. Director – Can Evrenol, Screenplay – Elif Domanic & Can Evrenol, Photography – Meryem Yavuz, Music – Volkan Akaalp, Visual Effects – Turker Tunker, Production Design – Elif Domanic & Busra Seftalicioglu.
Cast:
Naz Sayiner, Sureyya Kucuk
The Kindler and the Virgin
Crew:
Poland. Director – Agnieszka Smoczynska, Screenplay – Robert Bolesto, Photography – Jakub Kijowski, Music – Wojciech Makowski & Zuzanna Wronska, Makeup Effects – Katarzyna Gajda, Marcin Kedzierzawski, Wanda Kedzierzawski & Jan Strumillo, Production Design – Jagna Donesz.
Cast:
Andrzej Konopka (Kindler), Urszula Zerek (Virgin)
Beware the Melonheads
Crew:
USA. Director – Calvin Lee Reeder, Producers – Joshua Bunting, Robert Dehn, Carl Lucas & Nia Kingsley, Photography – Tyler Lee Cushing, Music – Nicholas Brawley, Visual Effects – Buzz Pierce, Special Effects Supervisor – Erik Albidress, Production Design – Stephanie Reese.
Cast:
Kannon Hicks (Arnold), Jilon VanOver (Chris), Sarah Navratil (Macie)
What Ever Happened to Panagas the Pagan?
Crew:
Greece . Director/Screenplay/Production Design – Yannis Veslemes, Producer – Faliro House, Photography – Christos Karamanis, Music – Felizol, Visual Effects Supervisor – Antonis Kotzias, Visual Effects – Ixor VFX (Supervisors – Andronikis Bisogiannis, Manolis Douvistas & Petros Naoumis) & Raw Lab (Supervisor – Ioanas Katzrakos), Special Effects Supervisor – Michalis Samiotis, Creature Designer – Yorgos Tassiulas, Makeup Effects – Giorgos Alahouzas & Roulis Alahouzas.
Cast:
Vangelis Mourikis (Panagas), Vassilis Kamitsis (Kalikantzaros – Goblin), Antonis Tsiotsiopoulos (Plakountas), Panos Papadopoulos (Peristeris)
The Palace of Horrors
Crew:
India. Director/Screenplay – Ashim Ahluwalia, Producers – Vinayak Nagesh & Andy Starke, Photography (b&w) – Avijit Mukul Kishore, Music – Deaf Leaf Orchestra & Jez Riley French, Horror FX – Jitendra Mhatre & Team, Production Design – Parul Sondi. Production Company – Rook Films/Future East Film.
Cast:
Mark O'Gleby (H.B. Gentry), Henry Throop (Henry James), Robin Das (Professor Ghosh), Niharika Singh (The Sadhbi)
A Nocturnal Breath
Crew:
Germany. Director – Katrin Gebbe, Screenplay – Katrin Gebbe & Silvia Wolkan, Producer – Anke Petersen, Photography – Moritz Schultheiss, Music – Stefan Will, Visual Effects – LigaOI Computerfilm, Visual Effects Supervisor – Constantin Zitzewitz, Makeup Effects – Tatjana Kraus, Production Design – Manuela Freigang.
Cast:
Thomas Schubert (Xavier), Lili Epply (Anni)
Cobbler's Lot
Crew:
Hungary. Director/Screenplay – Peter Strickland, Producers – Dora Nedeczky, Andy Starke & Esther Turan, Music – A Hawk and Hacksaw (Jeremy Barnes & Heather Trost), Special Effects – Barina Princz & Karoly Princz, Prosthetics – Rita Horvath, Production Design – Pater Sparrow. Production Company – Sparks.
Cast:
Karoly Hajduk (Tivadar), Fatma Mohamed (Princess Boglarka), Peter Jankovics (Botond), Laszlo Konter (The King)
---
Plot
Plot: The Sinful Woman of Höllfall:- As she travels to the river in the forest to launder clothes with the other washerwoman, Kathi is drawn into a sexual liaison with another girl Valerie. However, Kathi's mother warns her that her sinfulness will rouse the spirit of The Trub. Haunted by Al Karisi, The Childbirth Djinn:- A woman gives birth but is taunted by a djinn, which possesses the goat and her senile grandmother. The Kindler and the Virgin:- As he travels back with kindling, a man is pounced upon by a spirit that whispers in his ear, telling him that he will become all wise if he eats the hearts of three recently deceased corpses. Beware the Melonheads:- Young Aaron is befriended by one of the melonheads, children with unusually enlarged craniums who live in the woods near his house. What Ever Happened to Panagas the Pagan?:- It is Christmas of 1984 on one of the Greek islands. The drunken revellers discover disguised in their midst one of the Kalikantzaros – goblins that live in the realm beneath the ground – and set upon it with great cruelty. The Palace of Horrors:- In 1913, the American H.B. Gentry leads an expedition into the wilds of Bengal in search of the palace of a mad king who was known to collect half-human deformities, seeking to bring freaks back for the circus. In the ruined city, Gentry wants to enter a trapdoor that is kept locked but is warned that what is there cannot be beheld by human eyes. A Nocturnal Breath:- The Bavarian mountains, 1780. Xavier discovers that his wife Anni is possessed by a drude, a small creature that enters through her mouth. Cobbler's Lot:- The cobbler Tidavar becomes overwhelmed by desire for the Princess Boglarka after being commissioned to make a pair of asphodel slippers for her. He proposes to her father the king and is told he can win her hand if he returns with a loosestrife flower. Tidavar journeys to where the loosestrife flowers bloom but is tempted by the nymphs that live in the pool. Tidavar's younger brother Botond also desires Boglarka and goes and tells her that Tidavar has died.
---
Producers Ant Timpson and Tim League enjoyed reasonable success with their anthology The ABCs of Death (2012) in which 26 directors around the world were each given a letter of the alphabet and the freedom to make a short film that ended with a death. This was followed by a sequel ABCs of Death 2 (2014) with a different line-up of directors. Timpson and League then reteamed for a further anthology with The Field Guide to Evil.
The Field Guide to Evil could easily have been The ABCs of Death 3. There is the same format of bringing together offerings from a variety of international directors. Whereas the various segments of the ABCs of Death films come in at under five minutes each, the ones here are much longer – the opening episode The Sinful Woman of Höllfall runs for nearly half-an-hour in length. Here the directors have been given instructions to make a piece focusing on the folklore of their region –the particular country and legend is briefly explained in an introductory card at the start of each episode.
The first segment, The Sinful Woman of Höllfall, comes from Austrian duo Veronika Franz and Severin Fiala who enjoyed international acclaim with Goodnight Mommy (2014) and subsequently went on to make The Lodge (2019). This is by far the best segment of the film. Franz and Fiala create an atmosphere of folk horror that takes place in an uncertain time period and vies between sylvan beauty of the forest and stern religiose judgement of the peasantry. There is a considerable naturalness to the temptation and love scenes between the two girls. The episode develops an atmosphere of intense uncanniness in the scenes of Marlene Hauser lying terrified in bed as the figure of the Trub looms over her, it disturbingly flickering between the face of a woman and a creature that has a bloody maw where much of the bottom half of its face should be. This is an episode you could easily imagine being extended to feature length.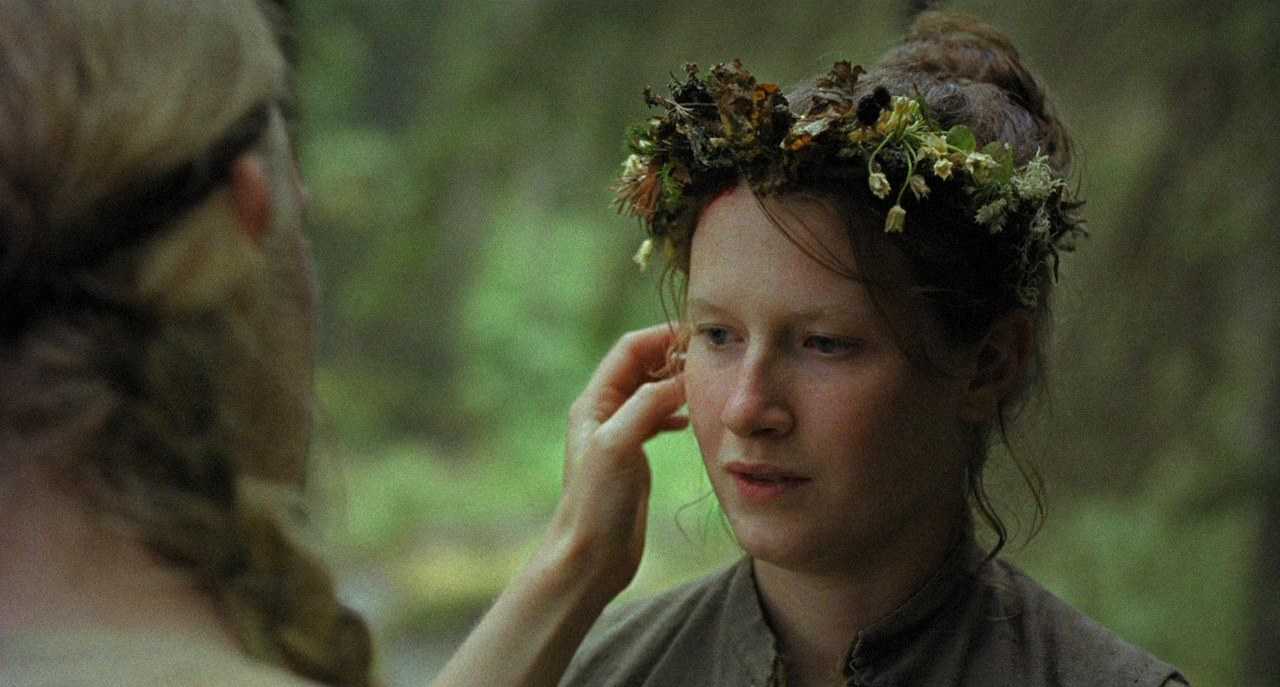 Haunted by Al Karisi, The Childbirth Djinn comes from Can Evrenol, the Turkish director who had a hit with Baskin (2015) and then went on to the internationally financed Housewife (2017). Evrenol makes surrealistic horror films that descend into nightmares even if they don't always make coherent sense. The relative briefness of the episode here works to his advantage. This goes from Naz Sayiner (who looks all of about fourteen) giving birth while tending a senile grandmother (no husband or father of the child appears anywhere throughout) before believing that she is being harassed by a djinn that possesses the goat and grandmother. This progresses to some alarming and effective scenes where she slits the goat's throat and the taunting grandmother snatches the baby and throws it down a well to arrive at a nasty bite of an ending.
The Kindler and the Virgin comes from Polish director Agnieszka Smoczynska who previously made the very strange mermaid film The Lure (2015). The time period is uncertain. Andrzej Konopka is returning home through the snow with a cart of kindling when a woman (presumably the virgin of the title, although not much else is clear who she is) pounces on his back and whispers in his ear that he can become all-powerful if he eats the hearts of three corpses. This segues into a series of grim scenes with him robbing graves and eating the hearts before an ambiguous ending where he is captured by authorities but his wisdom would seem to pay off.
Beware the Melonheads comes from Calvin Lee Reeder who had previously made the horror film The Oregonian (2011) and the strange and surreal road movie The Rambler (2013). This is the slightest and most easily forgettable of the episodes. It feels shot and directed like the average shot-on-digital B horror film from novices trying to make a break (films that I end up covering by the bucketload here) and fails to amounts to much.
'What Ever Happened to Panagas the Pagan? comes from Greek composer Yannis Veslemes who had previously directed the vampire film Norvigia (2014). Veslemes throws us into the folk rituals of Christmas celebrations – all drunken revelry in the streets among bearded men (no women apparently) that look a world away from any Western Christmas traditions – and then the discovery of a very strange-looking goblin creature in their midst. You have pity for the poor creature as it dragged away and set upon by the revellers who drink its blood. At the end, Panagas, not a terribly well defined character, ventures into the underworld where the goblin comes from and fails to return – an aspect that you feel could have been expanded more. Nevertheless, the wild paganistic world and Veslemes's often striking visual compositions make this another strong and effective segment.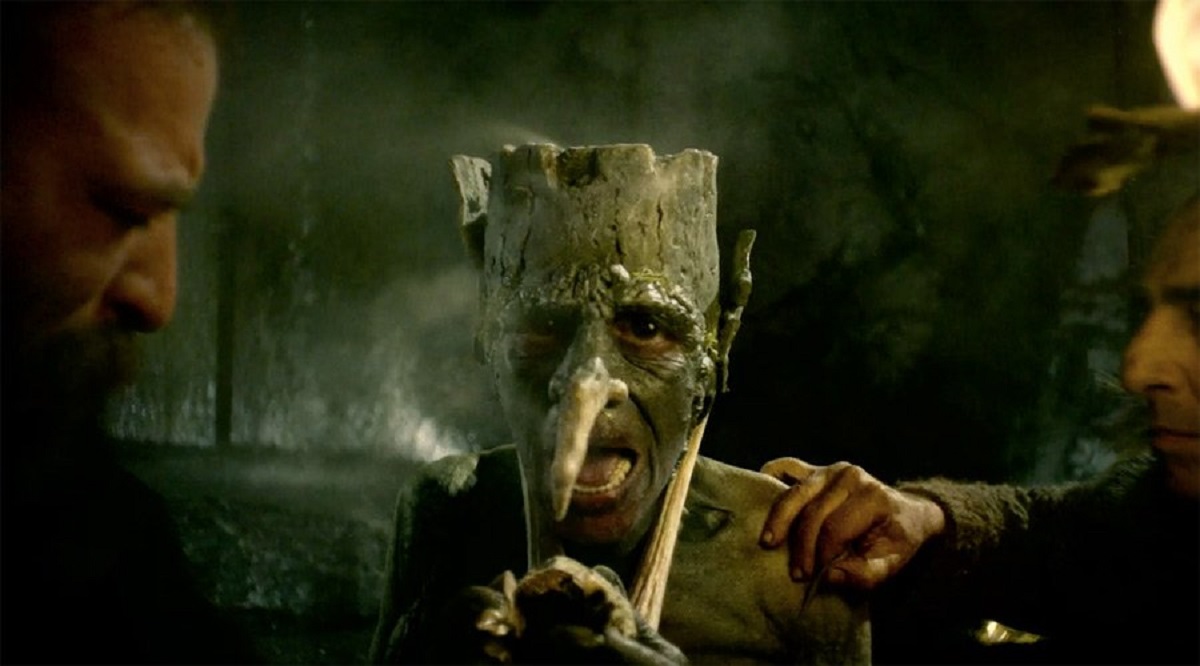 The Palace of Horrors comes from Indian director Ashim Ahluwalia who achieved some sensation with Miss Lovely (2012) about two Bollywood horror producers and the subsequent crime film Daddy (2017). Ahluwalia sets up a captivating journey to a lost city filled with freaks and deformities. The tone of the film, which is more that of a Western adventure film than anything made by Bollywood, is boosted considerably by the choice to shoot in black-and-white. The disappointment of the segment is the failure to let the build-up adequately pay off and dissipate (in a very Lovecraftian way) into something only briefly glimpsed before the narrator then proceeds to tell us how horrific it is.
A Nocturnal Breath comes from German director Karen Gebbe who had previously made the non-genre Nothing Bad Can Happen (2013) and the subsequent Pelican Blood (2019). This has similarities to The Sinful Woman of Höllfall and achieves an effectively uncanny mood with the scenes of Thomas Schubert finding wife Lili Epply lying on the floor paralysed into a contorted shape and a strange rat-like creature that crawls in and out of her gaping mouth. Another episode that creates an uncanny mood and you think would have benefitted from a longer running time.
The final episode 'Cobbler's Lot is from Peter Strickland, a British director who has made Berberian Sound Studio (2012), The Duke of Burgundy (2014) and In Fabric (2018). Though Strickland is British, the episode is shot in Hungary, adapted from a local fairytale, uses local actors and takes place in the Hungarian language. Strickland is fascinated with replicating/homaging filmic styles. Here he affects the style of s silent film – in the acting methods, makeup, camera effects and intertitle cards. (Indeed, the episode is less a work of horror than it feels like a fairytale told in one of the films that Guy Maddin is constantly homaging). A cutely appealing piece with a suitably horrific sting of an ending that comes in the way that the Grimm Brothers used to have horror elements in their fairytales before Disney sanitised them.
---
---