---
USA. 1972.
Crew
Director – B.W.L. Norton, Screenplay – Elinor Karpf & Stephen Karpf, Producers – Bob Christiansen & Rick Rosenberg, Photography – Earl Rath, Music – Robert Prince, Special Effects – George Peckham & Milt Rice, Makeup Effects – Ellis Burman & Stan Winston. Production Company – Tomorrow Entertainment Inc.
Cast
Cornel Wilde (Dr Marcel Boley), Jennifer Salt (Diana Boley), Bernie Casey (The Gargoyle), Grayson Hall (Mrs Parks), William Stevens (Police Chief), Scott Glenn (James Reeger), Woody Chambliss (Uncle Willie Leverett), John Gruber (Deputy Jessie)
---
Plot
Diana Boley flies into Texas to join her father Dr Marcel Boley, a renowned expert on demonic mythology. He immediately takes her on a drive to the middle of nowhere to visit an old timer who shows them what he claims is his prize exhibit – the skeleton of a gargoyle demon. As he starts to tell his story, something starts to attack outside and the old man is killed as the shed goes up in flames. Diana and her father flee with the demon's skull but the gargoyles soon come after them at the motel where they are staying, wanting back the remains of their dead. Diana is then abducted by the gargoyles and taken to their cave. They have been revived as part of a 600-year cycle and now hope to reclaim the Earth from mankind.
---
Gargoyles – not related or to be confused with the excellent animated tv series Gargoyles (1994-6) – is a classic tv movie that has gained a reasonable reputation, even what could be regarded as cult status. Back in its day, the film gained a following and still has good word of mouth today from those who saw its original airing or caught it in sporadic repeats. Gargoyles was almost certainly appealing to the new interest in the occult and demonology in the early 1970s that came about after the success of Rosemary's Baby (1968), something that went stratospheric the next year with The Exorcist (1973). That said, it is an entirely original film all of its own.
Director B.W.L. Norton makes it look more like a feature film of the era than a tv movie (it was theatrically released in some parts of Europe). Certainly, the film could well have done with more of a budget – a modern remake would clean things up to no end, although you suspect that that would also ruin the uncanny atmosphere by shoehorning everything into formula horror.
The gargoyle makeups look uneven today – many of them are clearly just stuntmen in costumes, while the film also seems to have the view that watching the gargoyles lope around in slow-motion is something eerie whereas today it is simply an overused effect. The creatures emerge down around the level of the average episode of Doctor Who (1963-89) and the chintzily cheap monsters of the week it was offering up during this era.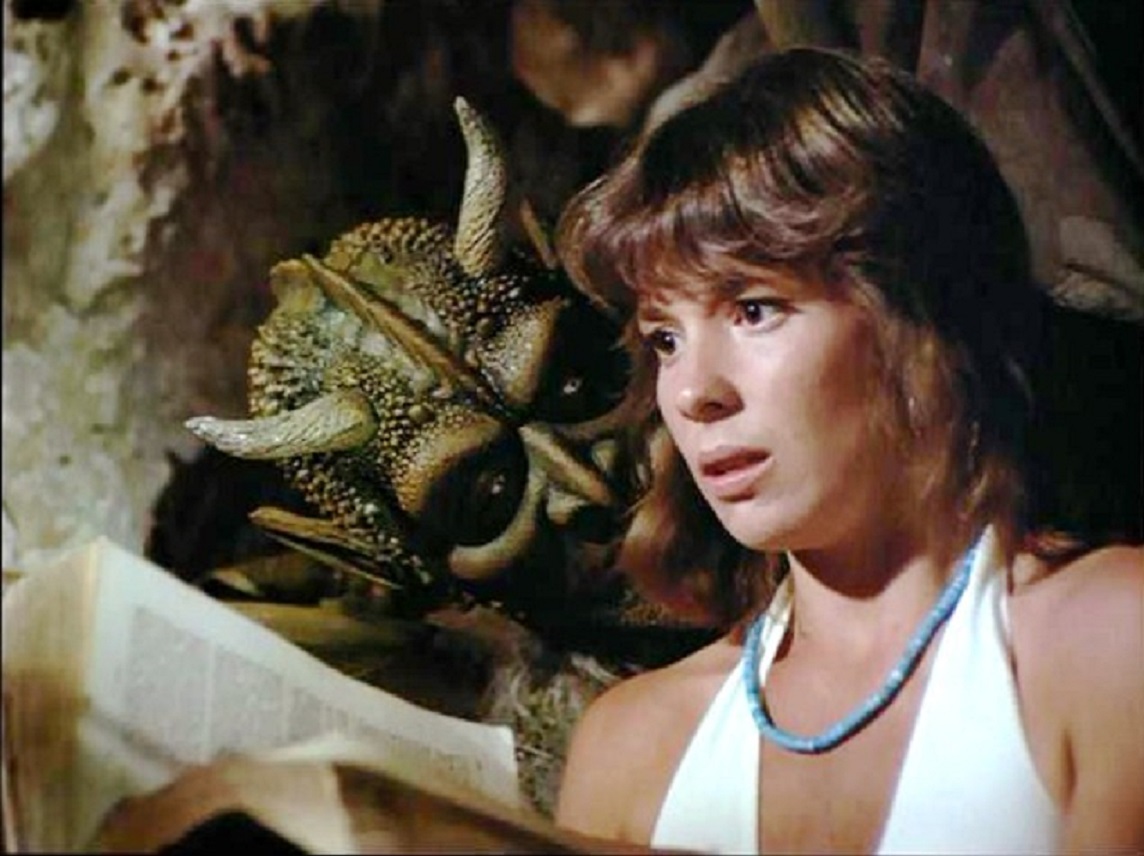 B.W.L. Norton creates an unusual atmosphere – the one thing that would have helped the film no end is a better lighting director as the relatively nondescript and ordinary lighting we get lets us see too much that the gargoyles are just ordinary men in costumes. Nevertheless, when it comes to the appearance of Bernie Casey's lead gargoyle with a full set of wings and piercing eyes, not to mention the scene with him abducting Jennifer Salt on horseback, the effect is genuinely eerie. Casey (or at least the actor dubbing his voice) gives the role an unusual gravitas, which creates uncommon sympathy for the gargoyles.
Cornel Wilde was a Hungarian immigrant who found a career as an actor in the 1940s, even being nominated for an Academy Award for A Song to Remember (1952). He became a matinee idol throughout the 1950s and in the 1960s for a time became a director/writer, most notably with the tough survival drama The Naked Prey (1966), as well as the interesting collapse of civilisation film No Blade of Grass (1970). Jennifer Salt was a minor actress of the era, making small appearances in Brewster McCloud (1971), Play It Again Sam (1972) and three films for Brian De Palma, most notably playing the lead in Sisters (1973), as well as becoming a regular on tv's Soap (1977-81). In more recent years, Salt has emerged on the other side of the camera as a producer on the tv series' Nip/Tuck (2003-10) and American Horror Story (2011– ), as well as writing the screenplay for Eat Pray Love (2010).
B.W.L. Norton was a last minute replacement director who had only previously made the action film Cisco Pike (1972). Norton made a handful of other theatrical films including More American Graffiti (1979) and the Disney dinosaur film Baby – Secret of the Lost Legend (1985). All his work subsequently has been in television, including genre efforts such as the alien invasion tv movie Them (1996), the clairvoyance tv movie A Deadly Vision (1997) and the plague outbreak film Thirst (1998).
---
Trailer here
Full film available here
---