---
Crew
Director – Philip Leacock, Screenplay – James Bridges, Based on the Novel by John Farris, Producer – Gil Shiva, Photography – Reg Morris & Don Wilder, Music – Lionel Newman, Production Design – Jack McAdam. Production Company – 20th Century Fox/Palomar Pictures International.
Cast
Ben Gazzara (Doremus Connelly), Elizabeth Ashley (Helen Connelly), Michael Douglas (Craig), Albert S. Waxman [Al Waxman] (Sheriff Hap Washbrook), Karen Pearson (Peggy), Christopher Pellett (Peter), Alan McRae (Harry Randall), Marian Waldman (Elsa Britton), Larry Reynolds ("Doc" Britton), Steve Weston (Enoch Mills), Michelle Chicoine (Amy)
---
Plot
Doremus Connelly returns to visit his ex-wife Helen and their daughter Peggy in Vermont. At the same time, Helen begins to receive phone calls that claim to be from her young nephew Michael who died fifteen years earlier, saying things that only the real Michael would know. At the same time as the calls occur, there are a series of deaths around the area that seem to be predicted by Michael's calls.
---
When Michael Calls was an entry from the Golden Age of TV Movies in the early 1970s. This was a period that produced some absolute classic genre works and never seemed to have been paralleled again.
I became intrigued by When Michael Calls after reading John Farris's The Fury (1976) – a much better book than the Brian De Palma film version The Fury (1978) – which left me interested to look out Farris's other works. I found a copy of When Michael Calls (1967) in a second-hand bookshop and read it some years ago, although when it comes to watching the film I can remember almost nothing about the book except that it came with a great and captivating opening hook – a family receive phone calls from a child that died fifteen years earlier.
This would normally push When Michael Calls into being a Ghost Story but I don't think I am spoiling any major surprises by telling you that it is a Rationalised Fantasy and that the seemingly supernatural opening hook has a mundane explanation. This pushes When Michael Calls into being a Psycho-Thriller, a genre that was popular during the day. I think I would have had no problem at all in seeing When Michael Calls as one of the 1960s psycho-thriller produced in the aftermath of Psycho (1960).
The main problem with the film is it has a director unsuited to the material. This is Philip Leacock who spent almost his entire career directing tv making occasional other genre tv movie efforts like the clairvoyance film Baffled! (1972), the pandemic film Killer on Board (1977) and the sensationalistic The Curse of King Tut's Tomb (1980) about Howard Carter's discovery of Tutankhamun's tomb. Here Leacock directs with the same unexceptional, middle-of-the-road hand he did everything else. This fatally kills the mood inherent in the story and leaves the twists and turns traipsing along with the predictability of a tv episode. You can only make comparisons and think how well When Michael Calls might have worked had it been shot in black-and-white as one of Hammer's psycho-thrillers with someone like a Freddie Francis in the director's chair – see films like Paranoiac (1963), Nightmare (1964) and Hysteria (1965).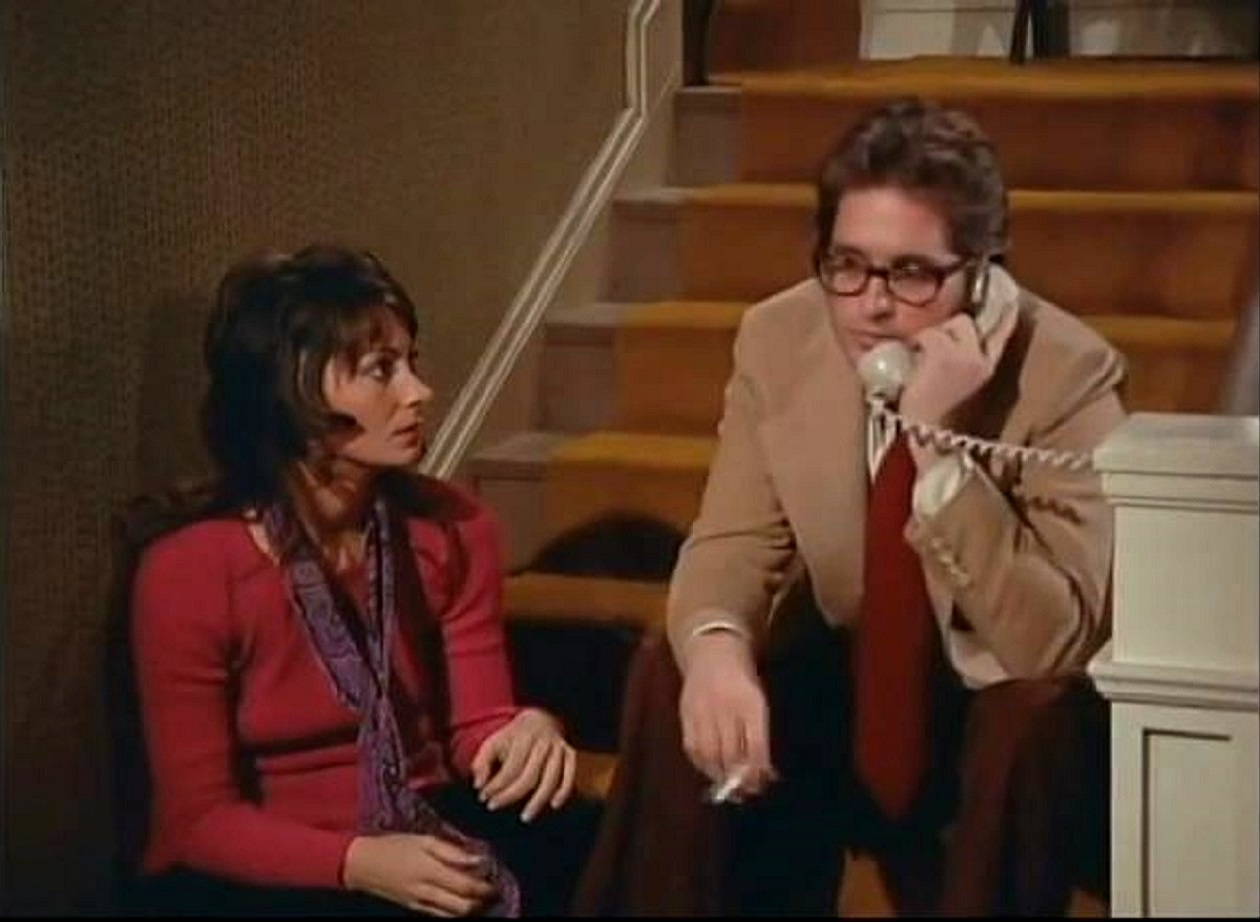 About the only thing that lifts the story out of the routine is [PLOT SPOILERS] seeing a young unknown Michael Douglas, seven months away from his breakout role in the tv series The Streets of San Francisco (1972-7), going all cold and psycho on us in the latter quarter of the film. Even then you feel like a more horror-identifying film would have turned this into a Split Personality film and played up the psycho aspect.
John Farris has published over 40 books since 1956 and is still at work today in his eighties. His most famous work was The Fury (1976), which was later filmed by Brian De Palma as The Fury (1978) with a script by Farris. Farris wrote three book sequels to The Fury in the 2000s. Other Farris works have been adapted to the screen as the non-genre Because They're Young (1960). Farris made his one and only directing/writing debut with the Grand Old Dame thriller Dear Dead Delilah (1972).
James Bridges also wrote screenplays for a number of other films including the A.I. film Colossus: The Forbin Project (1969) and the Clint Eastwood film Black Hunter, White Heart (1990). Subsequently, he gained attention as a director/writer with films that include The Paper Chase (1973), September 30, 1955 (1977), The China Syndrome (1979), Urban Cowboy (1980) and Perfect (1985).
---
Trailer here
---