---
Crew
Director/Screenplay – Austin Chick, Producers – Clay Florien & Aimee Shieh, Photography – Kat Westergaard, Music – Nathan Larson, Visual Effects – Leonid Studios (Supervisor – Ari Levinson), Special Effects Supervisor – Julie Hapney, Makeup Effects – Anthony Pepe & Brian Spears, Production Design – Jeanelle Marie. Production Company – Floren Shieh Productions/Foco Films.
Cast
Danielle Panabaker (Shae Marshall), Nicole LaLiberte (Lulu), Andrew Howard (Terry), Michael Stahl-David (Simon), Matthew Rauch (Officer Daniels), Liam Aiken (Tyler), Will Brill (Duncan), Carmine diBenedetto (Eric), Reyna de Courcy (Karen), Caroline Lagerfelt (Professor Sara Randolph)
---
Plot
Shae Marshall is working as a barmaid in New York City while attending university. Shae's older boyfriend Terry breaks up with her, wanting to reconcile with his wife. At work, the new girl Lulu commiserates with Shae and takes her for a night out on the town. They meet three guys and go back to their apartment. In the morning, one of the guys Simon accompanies Shae home but she declines his request to come in and so he forces his way in and rapes her. Afterwards, Lulu accompanies Shae to the police station to make a rape complaint. There Lulu sees an officer looking up her skirt and invites him to a hotel room, only to handcuff him to the bed and then take his gun and shoot him. She and Shae return to find the whereabouts of Simon from the other guys and end up shooting them. They then go and tie Simon up and torture and kill him. Next they take Terry at gunpoint into the woods. However, in the midst of this, Shae starts to pull back from Lulu's gleeful enjoyment of all the killing.
---
Girls Against Boys was the third film for the improbably named Austin Chick, which you kind of feel sounds more like the chat username for a woman from Texas. Chick has previously made the relationship drama XX/XY (2002) and the internet start-up drama August (2008), both non-genre vehicles.
Girls Against Boys falls into the rape-revenge sub-genre started by I Spit on Your Grave (1978) and several other films that have followed in its footsteps. (In a seeming homage, Chick casts Andrew Howard, who was the principal rapist in the then recent remake of I Spit on Your Grave (2010), as Danielle Panabaker's boyfriend who leaves her to go back to his wife). Although in that the abused woman on a killing spree against her attackers plot falls away after a certain time, what we have feels less like I Spit on Your Grave and more like Baise-Moi (2000) and its story of two girls on a killing spree eliminating the abusive men and jerks around them. Austin Chick launches into this with a rather black sense of humour at times – like a scene where Danielle Panabaker and Nicole LaLiberte eat breakfast in the guys' apartment, casually chatting about cereal brands, while a dead body lies on the floor behind them.
I was not aware of actress Nicole LaLiberte before watching this – she had had small roles in tv's Dexter (2006-13) and Twin Peaks (2017) and appeared in the horror film Fractured (2013) but had made no distinction in my memory. On the other hand, her performance here made me sit bolt upright and pay a heck of a lot of attention. Austin Chick throws in a jaw-droppingly sizzling opening scene where she strips to her underwear in a hotel room, then blindfolds and cuffs up police officer Matthew Rauch before shooting him with his gun. (We realise later that the scene appears out of chronological order). Chick later gives us an equally sizzling scene where Nicole is at the police station and flashes her underwear at Rauch as he sits behind the counter and then propositions him (after first ascertaining he is a married man) for sex right there and then.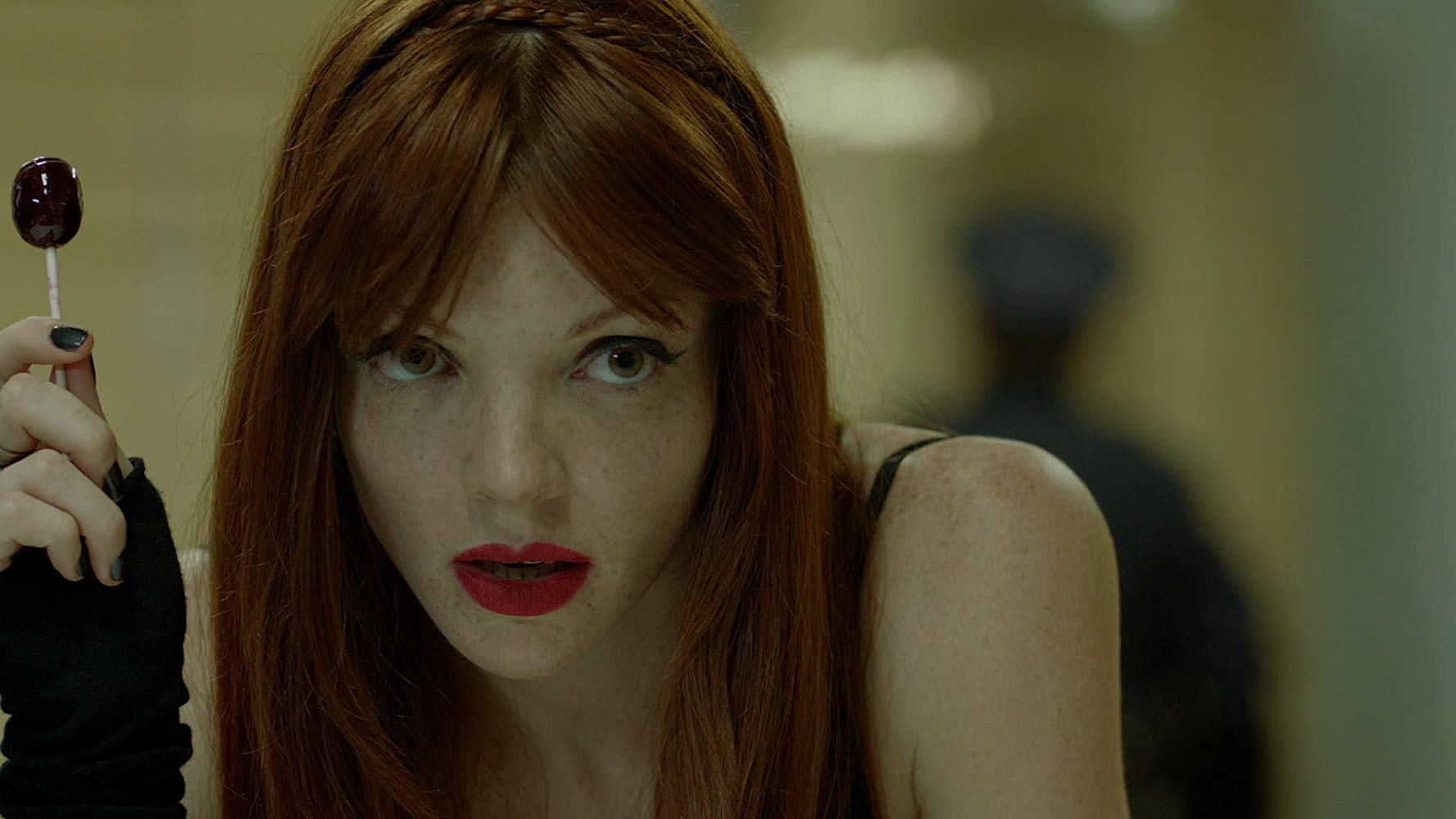 On the other hand, I did start to have problems with this. A series of sizzling hot scenes in a film about rape and revenge seems a little out of place. I get that Austin Chick is trying to show the dangerous lethality of Nicole LaLiberte's character – on the other hand, he seems to be trying awfully hard to get a certain red-blooded part of the audience worked up with the inclusion of these erotically charged scenes. And that is something that does seem just a tad insensitive if not tone deaf when you are making a film about rape. You just can't have turn-on scenes and scenes of sexual abuse sit alongside each other.
This also does come to the rather mixed messages the film sends up. It wants to be a rape-revenge film and then turns into a Baise-Moi-like film about two girls on a killing spree against asshole men. Then however it has Danielle Panabaker change her mind and decide that Nicole LaLiberte is a dangerous killer. Which also works okay. On the other hand, Danielle's motivations seem muddled. It is as though the film reaches its latter half and any upset she had about her rape is completely forgotten – she even meets classmate Liam Aiken and goes out on a date where in reality a rape survivor is someone traumatised by the experience for months even years after and frequently cannot re-engage in normal relations for a long time. Equally, the latter half has Danielle almost entirely forget the fact that she went along with Nicole and actively tortured and killed a guy and suddenly start to regard Nicole as a crazy without questioning or even examining her own motivations in participating in this.
Oh and the other thing that got me about the film was how in any real world setting the two girls would probably have been arrested within a matter of days. They use a gun to shoot people at several different locations meaning that CSIs would connect the bullets used in the murders. Furthermore, they leave their fingerprints all over the crime scene. And then they take the vehicle of one victim and drive it around town where they would be seen, especially after they park it outside a motel and check in.
---
---