---
USA. 1980.
Crew
Director – Armand Mastroianni, Screenplay – Scott Parker, Producer – George Manasse, Photography – Joseph Fell, Music – Alexander & Mark Peskanov. Production Company – Lansbury-Beruh.
Cast
Caitlin O'Heaney (Amy Jenson), Don Scardino (Marvin), Elizabeth Kemp (Nancy), Patsy Pease (Joyce), Lewis Arlt (Gamble), Tom Rolfing (Killer), Tom Hanks (Elliott)
---
Plot
A psychopath goes on a killing spree, murdering young brides-to-be and those connected with their weddings. The girl he loved rejected him for another man and he killed her just before her wedding ceremony. A detective, whose fiancee was the one the killer murdered, believes he has been given a chance to avenge her death and sets out to stop the killer as he fixates on the about-to-be married Amy Jenson.
---
He Knows You're Alone is an entry in the early 1980s slasher cycle that emerged following the twin successes of Halloween (1978) and Friday the 13th (1980). (For a more detailed overview of the genre see Slasher Films).
He Knows You're Alone is clearly derivative of Halloween – with similar long protracted scenes with the killer stalking women. It even has a soundalike score. It is also a singularly drab film. Director Armand Mastroianni lacks much in the way of style and only generates long periods of boredom and even greater degrees of predictability.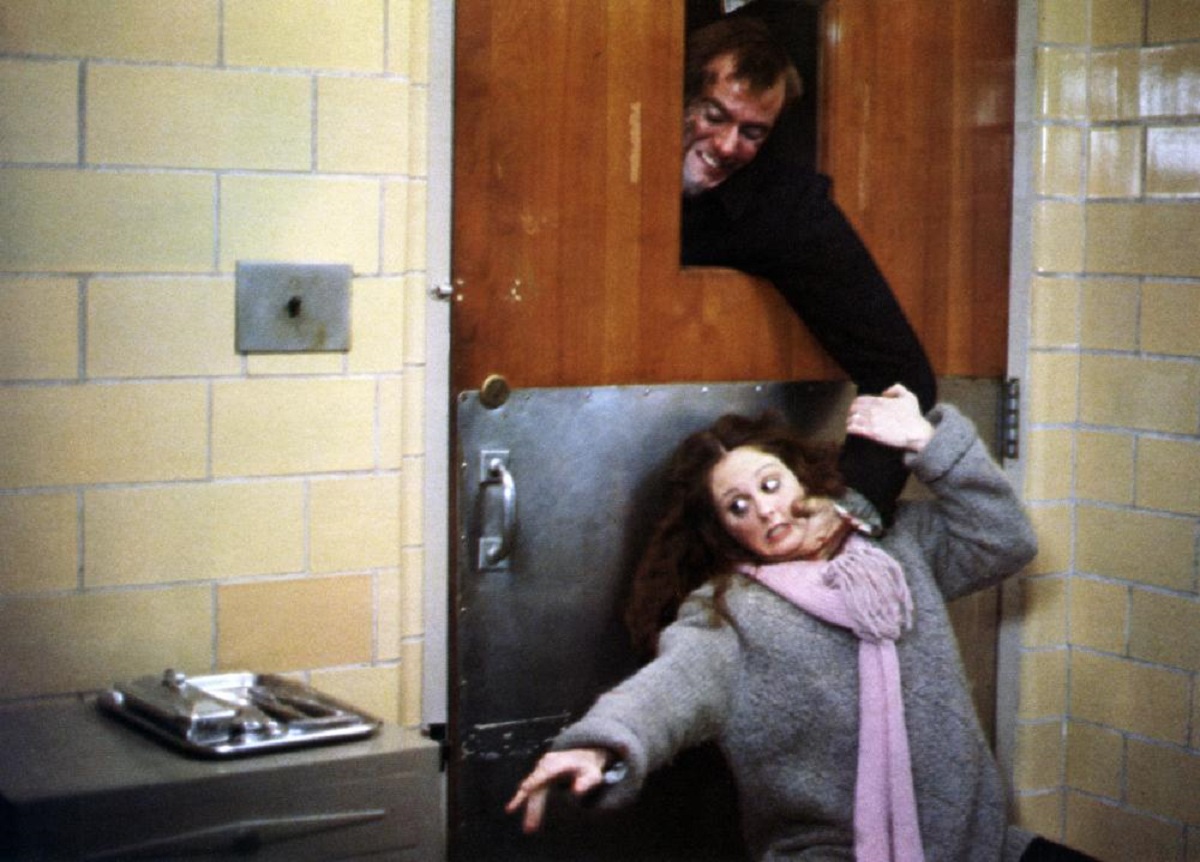 There were a couple of moments one liked – a killing timed to coincide with the scream of a victim on a movie screen, a scene later uncreditedly replicated in Scream 2 (1997); and the killer's pursuit of Caitlin O'Heaney about the town sinisterly seen reflected off shop windows and on in-store video cameras, which goes a little way near mimicking some of the eerie peripheral suspense of John Carpenter.
However, this is not enough to get the adrenalin pumping in an otherwise dreary and lacklustre effort. There is a particularly contrived twist ending that has the cycle about to start over again. Tom Hanks makes his acting debut in a role as one victim's boyfriend.
Armand Mastroianni is the American-born cousin of Italian star Marcello Mastroianni. He made his directorial debut here and has gone onto contribute a number of other genre efforts, including the psychic thriller The Clairvoyant/The Killing Hour (1982), the ghost story The Supernaturals (1986), the psycho-thriller Distortions (1987), Cameron's Closet (1988), and the medically related tv thrillers Virus (1995), Invasion (mini-series, 1997), Nowhere to Land (2000), Pandemic (2007), Black Widow (2008), Grave Misconduct (2008) and A Dark Plan (2009).
---
---