---
Crew
Director/Screenplay – Michael Bartlett, Producers – Michael Bartlett & Jon Manning, Photography – Ken Kelsch, Music – Alessandro Ponti & Andrew Poole Todd, Special Effects Supervisor – Kai Shelton, Production Design – Greg McMickle. Production Company – Cloudcover Films
Cast
Lindsay Haun (Kelly), Blake Berris (Jesse), Randy Schulman (Alan Dunne), R.J. Mitte (Tim), Diane Dalton (Sarah Dunne), Micah Nelson (Adam), Michelle Mariana (Rose), Moreen Littrell (Realtor)
---
Plot
Music critic Alan Dunne's wife Sarah returns home from hospital after a breakdown following the death of their son. To help her recover, he insists she come with him on an extended tour of Italy. While they are away, Alan leaves the house to be tended by Kelly who moves in with her handicapped brother Tim. Kelly's petty criminal boyfriend Jesse insistently wants to move in too. Jesse goes to the supermarket and returns with a lost child Adam that he just found there. Kelly thinks it is crazy when Jesse prepares to demand a ransom for Adam's return. Strange things begin to happen around the house as Jesse feels compelled to put on Alan's more conservative clothes and start changing his personality, while the tragedy that occurred between Alan and Sarah starts to replay itself.
---
House of Last Things was the third film for US director Michael Bartlett. Bartlett has followed a path decidedly different to most other directors – he attended the Julliard School and this led to positions with the Berlin Radio Symphony Orchestra and the Berlin Philharmonic. While in Germany, Bartlett made his first film, the surreal Concerto for the Right Hand (1987). In between directing several documentaries on music subjects for German tv, Bartlett made his second film, the psycho-thriller The Little Girl Who Fell from a Tree (1998). Neither of these had much exposure outside of film festivals. House of Last Things was his first film in English language. Barlett subsequently went on to make the strange and surreal The Berlin Bride (2019) about two men's relationship with a mannequin.
Running this site, one gets to view a huge amount of low and medium budgeted ghost stories. They have been coming out by the bucketload in the 2000s/10s. After awhile, most of them cease to be interesting and slot into the same tired tropes being shuffled around and very rarely with any distinctive atmosphere. House of Last Things is quite clearly another of these low-to-medium budget ghost stories but the surprise is that it is an interesting and original effort.
Michael Bartlett is clearly a fan of Nicolas Roeg's Don't Look Now (1973) – the hyper-enigmatic clairvoyance film that takes place in Venice where the plot plays out as a series of visual clues that map over onto every other part of the film. Bartlett copies the same visual games, albeit on a less sophisticated level than Roeg did. He has even sets part of the story in Italy (in actuality, the film never moved out of Oregon state to shoot) and gives us the same plot element about a couple going aboard to grieve over the death of a child.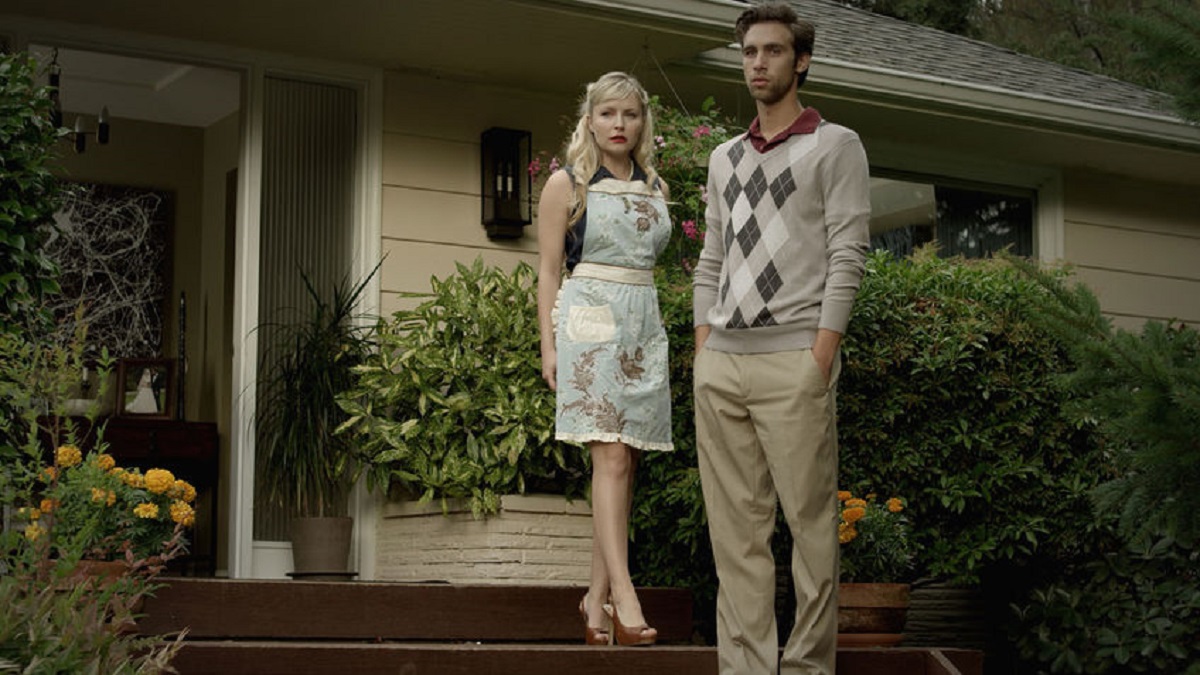 Despite the debt of inspiration that Michael Bartlett owes to Roeg, the same games prove fascinating here. There are all manner of images that keep looping back from one part of the film to the other. The bloodied golf ball that keep reappearing everywhere – even turns up in Italy; the yellow balloons that pop up all over the place; how Randy Schulman's menu turns into a comic-book and Blake Berris's comic-book later houses a musical score; the masked figure from the Rigoletto poster in the house turning up in the restaurant and so on. Bartlett also makes cuts between various points in time in rather interesting ways.
You are intrigued to see where Michael Bartlett is going with all of this. The film gets even stranger with what seems to be a detour into an incompetent plot to kidnap the boy. Things then start to get very weird when we get into the games of identity exchange – where tough petty criminal Blake Berris feels inspired to put on a pair of glasses and cast off his cut-up jeans for Randy Schulman's pastel sweaters and slowly mellow into the role of a responsible parent, all without thinking what he is doing. Later he even fails to recognise his own beat-up vehicle parked outside and has it towed away. By this point, House of Last Things seems to be getting into some very strange territory – something that resembles as much Don't Look Now as it does Roman Polanski's The Tenant (1976) in which Polanski played someone who moves into an apartment and slowly starts to adopt the previous tenant's habits and then entire identity.
The film lacks much in the way of recognisable names. There is lead actress Lindsay Haun who impressed a great deal as a child actress back in John Carpenter's Village of the Damned (1995) but vanished soon after. However, she has been making a comeback in the last few years, notably in tv's True Blood (2008-14), and impresses as someone capable and intelligent beyond her blonde Girl Next Door looks. The other recognisable name present is R.J. Mitte, the cerebral palsy suffering actor who played the son in tv's Breaking Bad (2008-13). The best performance in the film however comes from the unknown Blake Berris whose slide from petty criminal to settled-down parent is uncommonly convincing.
---
---