---
Crew
Director – Nicolas Roeg, Screenplay – Chris Bryant & Alan Scott, Based on the Short Story by Daphne du Maurier, Producer – Peter Katz, Photography – Anthony Richmond, Music – Pino Donaggio, Art Direction – Giovanni Soccal. Production Company – Casey/Eldorado.
Cast
Donald Sutherland (John Baxter), Julie Christie (Laura Baxter), Hilary Mason (Heather), Clelia Matania (Wendy), Massimo Serato (Bishop Alberto Barbarrigo), Renato Scarpo (Inspector Longhi)
---
Plot
Architect John Baxter is moments too late to save his daughter Christine from accidentally drowning in a stream on his English country estate. Afterwards, John takes up a restoration job on a cathedral in Venice so that he and his wife Laura can get over their grief. There he is haunted by strange visions and sees an elusive child in a red coat in the streets that he thinks may be Christine. Laura meets two sisters, one of whom is a psychic and talks of seeing Christine. Laura returns to England but afterwards John is certain that he sees her and the sisters travelling in a barge on the canals. Finally, he pursues and corners the child, but it proves instead to be a dwarf serial killer who has been terrorizing the city, and stabs him. As he lies dying, his visions prove to have been of his own death.
---
During the 1970s and for the better part of the 1980s, before tapering off in the 1990s, Nicolas Roeg emerged as one of the most fascinating, if flawed, directors in both arthouse and genre cinema. Nicolas Roeg began as a cinematographer for people like Roger Corman and Francois Truffaut, adding the distinctive colour schemes to works such as The Masque of the Red Death (1964) and Fahrenheit 451 (1966). Roeg then debuted as a director with the cult classic Performance (1970), co-directing with the equally interesting Donald Cammell, and went solo with Walkabout (1970), about two English schoolchildren lost in the Australian Outback. He has since made films such as The Man Who Fell to Earth (1976), Bad Timing: A Sensual Obsession (1980), Eureka (1982), Insignificance (1985), Castaway (1987) and Track 29 (1988), among others.
Thematically, Nicolas Roeg's films fall between visual and editing schemes conducted with a daring that few other directors dare, and considerable pretensions and even outright boredom. His work is characterized by elliptical non-linear editing and the use of random chiaroscuros of pictures edited into the narrative, a frequent fascination with sexual obsessions and a recurring portrait of cultural alienation. Nicoles Roeg's work in the 1990s and beyond (as he enters his seventies) has tapered off into a series of efforts that have only received minimal releases and the likes of the Samson and Delilah (tv movie, 1996), episodes of The Young Indiana Jones Chronicles (1992-4) and the little seen Puffball (2007), which seem only a shadow of his earlier work.
Nicolas Roeg loves to design films as intellectual puzzles – and the tapestry of precognisance and predestination that exists in Don't Look Now is he at his most scintillating. Don't Look Now is the centrepiece of the Roeg cult and is frequently regarded as his greatest film. The film is a game of elliptical, enigmatic visual clues that map over onto themselves in a densely laden weave. The opening where the daughter accidentally drowns is conducted in a particularly masterful series of synchronous intercuts – working at home in his country estate, Donald Sutherland 'feels' a child's bicycle running over and breaking a piece of glass; the splash of a ball in a puddle cuts to Sutherland accidentally spilling a glass in his study; a red globule of the alcohol spilt across the slide Sutherland is viewing cuts to the drowning Christine's red raincoat; the slow-motion bubbles and splashes of Sutherland's rescue attempts map onto a whorl-shaped staircase on the slide.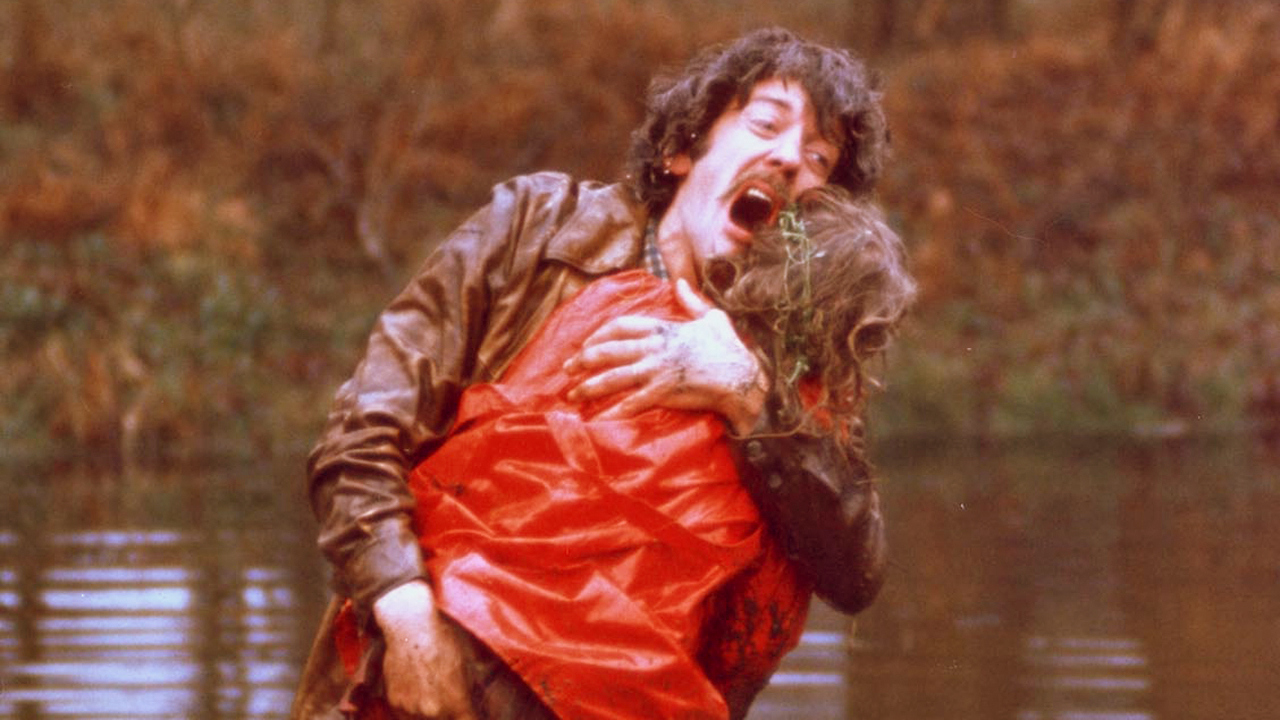 There are visual clues littered throughout the scene of things that will later feature in the film – Donald Sutherland's frenzied attempts to revive the body come to resemble the sexual contortions he and Julie Christie will engage in later; the church in the slide is the one he will visit in the film; in the slide one can also see seated the figure of the dwarf who will be mistaken for Christine; while the red colour of the spilt alcohol will turn up as a teasing clue throughout the rest of the film as everything from the coats of the daughter and dwarf to finally the spill of the dying Donald Sutherland's blood. Even the whorl shape will later become the pattern of tiles in the church restoration that Donald Sutherland will examine. Throughout the sequence, Julie Christie sits with symbolic import reading a book entitled Beyond the Fragile Geometry of Space, something that could equally serve as the title for an essay on the film.
The entire film is a game of these enigmatic clues. They lurk in every corner of the film – the red-coated figure that may or may not be Christine runs peripherally through the camera frame; as Donald Sutherland and Julie Christie dine in a cafe, a seemingly supernatural wind blows open the doors as a barge passes, the same barge that Sutherland later thinks he sees Christie on; a blind woman mutters otherworldly portents, her face is momentarily seen sinisterly laughing in a corona of light seconds before Sutherland's near fatal fall from a scaffold; dead bodies left by the killer are dragged from the Venetian canals and Roeg momentarily cuts to Christine's body in the stream.
In one visually dazzling scene, Donald Sutherland pursues the red-coated figure and the chase becomes a beautifully intricate mapping of purely visual clues, taunting the audience as much as Sutherland with the flickers of bright red amid the gloomy grey arched streets and lapping water – the red-coated figure momentarily seen passing through archways or reflected in the water of the canal, a square of red on Sutherland's multi-hued scarf, a red sweater hanging on a clothesline across a canal. Few films dare play such games for pure artistic dazzle. It is a surprise to learn that Don't Look Now comes based on a 1971 short story by Daphne du Maurier as it is difficult to imagine a written equivalent of the film.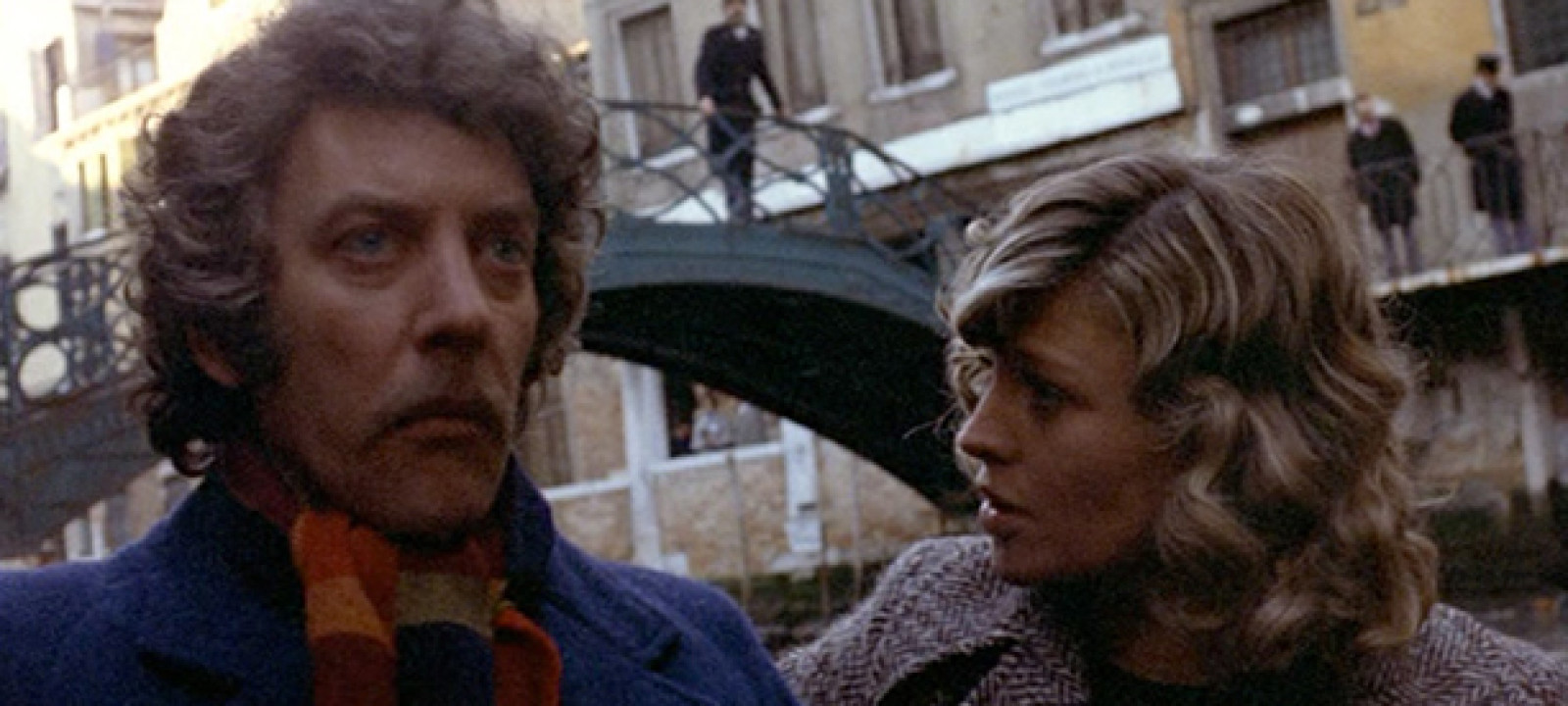 Nicolas Roeg crafts a picture of Venice like no other director before him. The location of the film is almost as though it were a character present in the drama. The tourist aspect of Venice is set aside for a vision of the city so old that buildings seem to be rotting, the stone tarnished and it a world of perpetual shadows. All the doom-laden ambience is beautifully summed up in one haunting moment of dialogue – "It's like a city in aspic, left over from a dinner party where all the guests are dead and gone." Indeed, Venice is almost made to literally operate on a geometry that is 'beyond space' – its narrow twists of road seem to map over onto each other and take people back where they came from.
As always, Nicolas Roeg throws in gratuitous sex sequences. In fact, it seemed that these were what made Don't Look Now into a major international hit, rather than Nicolas Roeg's intellectual game playing. Although the scenes seem tame today, they had a considerably upfront edge for mainstream audiences in 1973. There were a number of persistent rumours circulating that Donald Sutherland and Julie Christie had had sex for real. As always, Nicolas Roeg likes to conduct daring crosscuts and he audaciously interweaves the lovemaking with banally ordinary scenes of the two of them dressing to go out to dinner.
In the serious mistake categories, a remake of Don't Look Now was announced for 2005 but thankfully nothing further has been heard about this. The influence of Don't Look Now has been considerable. Although few films have sought to directly imitate Don't Look Now, its' influence can be felt everywhere from Lucio Fulci's The Psychic (1977) to Peter Weir's The Last Wave (1977), the Peter Straub adaptation Full Circle/The Haunting of Julia (1977), the obscure but fascinating The Appointment (1982), Paul Verhoeven's tongue-in-cheek The Fourth Man (1983), the New Zealand-made Heaven (1998), the supposedly true-life based The Mothman Prophecies (2002), The Ring (2002), the gay film Seeing Heaven (2010), Donovan's Echo (2011) and House of Last Things (2013). A number of other films such as Brian De Palma's blatantly imitative Obsession (1976) and Paul Schrader's The Comfort of Strangers (1990) draw upon Nicolas Roeg's vision of an oppressively doom-laden Venice.
Nicolas Roeg's other genre films are:– the sf film The Man Who Fell to Earth (1976) about an alienated alien visitor; the surrealist Dennis Potter collaboration Track 29 (1988); the wonderfully grotesque Roald Dahl children's adaptation The Witches (1990); the supernatural thriller Cold Heaven (1991); and Puffball (2007) about witchcraft and pregnancy. Roeg was also originally assigned to direct the remake of Flash Gordon (1980), which would have been most interesting to see.
---
Trailer here
---