---
Crew
Director – James Wan, Screenplay – Leigh Whannell, Story – James Wan & Leigh Whannell, Producers – Jason Blum & Oren Peli, Photography – John R. Leonetti, Music – Joseph Bishara, Visual Effects Supervisor – Raymond McIntyre Jr., Visual Effects – Pixel Magic, Special Effects Supervisor – Mark Gullesserian, Makeup Effects – Fractured FX, Inc. (Designer – Justin Raleigh), Production Design – Jennifer Spence. Production Company – Blumhouse Productions.
Cast
Patrick Wilson (Josh Lambert), Rose Byrne (Renai Lambert), Barbara Hershey (Lorraine Lambert), Steve Coulter (Carl), Leigh Whannell (Specs), Angus Sampson (Tucker), Lin Shaye (Elise Rainier), Ty Simpkins (Dalton Lambert), Andrew Astor (Foster Lambert), Lindsay Seim (Young Elise), Garrett Ryan (Young Josh), Jocelin Donahue (Young Lorraine), Hank Harris (Young Carl), Michael Beach (Detective Sendal), Danielle Bisutti (Mrs Crane), Tyler Griffin (Parker Crane)
---
Plot
Josh Lambert has returned from his venture into the afterlife to rescue his son Dalton. The police are investigating the murder of psychic Elise Rainier that happened during the incident. Josh's wife Renai is trying to cope as the hauntings continue in the house, although Josh is insistent that she should ignore these. Renai finds Josh to be increasingly cold and changed since he came back. At the same time, Josh's mother Lorraine and Elise's two assistants investigate with the aid of her colleague Carl. They contact Elise's spirit who leads them on a trail to investigate the agency behind the hauntings. Gradually the investigation comes up with the realisation that Josh's body has been taken over by the spirit of someone else and that the real Josh's spirit is trapped in the netherworld.
---
James Wan is a name of some considerable promise on the genre scene. Wan made his debut with the tortuous psychological thriller Saw (2004), made by he and co-writer Leigh Whannell on a miniscule budget. Saw became a hit that inspired numerous copycats and a body of inferior sequels that only placed increasing emphasis on pushing the envelope of gore and sadism. Wan subsequently went onto make the revenge film Death Sentence (2007), the ventriloquist's dummy horror Dead Silence (2007), the first Insidious (2010), the supposedly true-life haunting/possession film The Conjuring (2013) and its sequel The Conjuring 2 (2016), Aquaman (2018) and Malignant (2021), as well as produced Annabelle (2014), Demonic (2015), Lights Out (2016), The Nun (2018), Annabelle Comes Home (2019), The Curse of La Llorona (2019), the tv series Swamp Thing (2019), The Conjuring: The Devil Made Me Do It (2021), Mortal Kombat (2021) and the tv series Archive 81 (2022- ). Indeed, as Insidious Chapter 2 went into release, the substantial box-office hit of The Conjuring (also starring Patrick Wilson), released only two months before this, was still in theatres.
Like the first film, Insidious Chapter 2 is produced by Oren Peli and Jason Blum, the people behind the Paranormal Activity (2007) sequels. The sequel sees Wan reteamed with his Saw co-writer/actor Leigh Whannell who again writes the script and repeats the role of the bespectacled paranormal investigator as he did in the first Insidious. (Wan says he wanted to make the sequel to Insidious himself after seeing how the Saw sequels turned into something that bore little resemblance to his vision once out of his creative hands).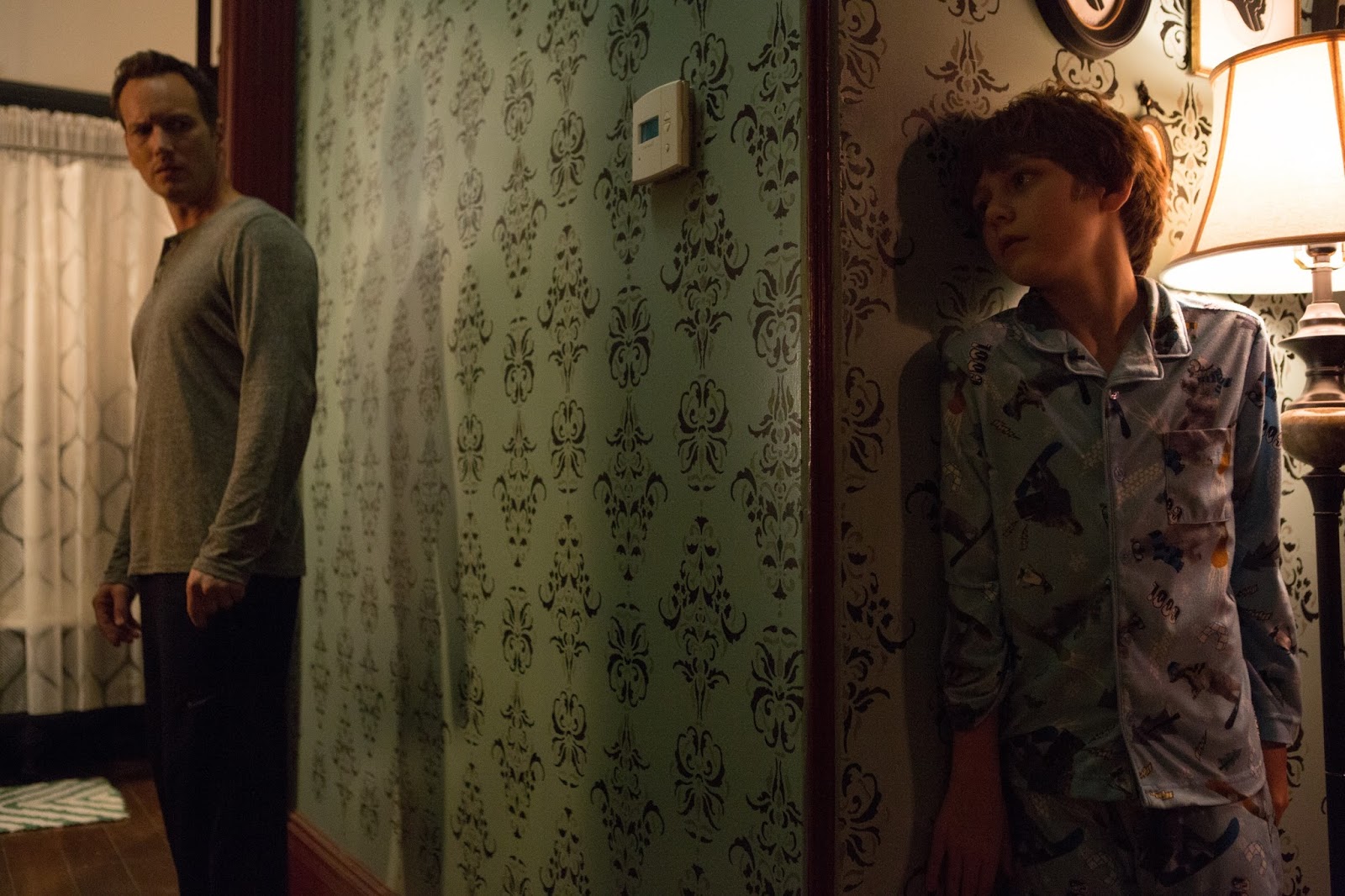 With everything he does, I become increasingly more impressed with James Wan as a director. He has an instinctive grasp of what makes a horror film work, both in terms of generating psychological dread and dark twists as in Saw or in creating eerie supernatural horror as here and in The Conjuring. Both of these Insidious films come with a constant profusion of genuinely spooky jumps that far outclass almost anything in 90% of the other horror films I would review in a year put together. The Conjuring did very much the same, although the material itself fell into more overly familiar cliche moves that Wan never managed to fully enervate, despite some intensely eerie individual scenes.
The film's uncanny atmosphere kicks in from the 1986 prologue with the young Elise visiting the young Josh and conducting a game of hot/cold as to whether there is a presence in the house – in a few brief minutes, Wan creates an atmosphere of something unsettling. Subsequently, Wan manages to deliver scene after scene of eerie and unearthly atmosphere with an incredible assurance – Rose Byrne following the woman in white through the house; the seance conducted in Elise's basement where you are constantly expecting something to happen at any moment; and a particularly spooky scene where one of the boys finds something in the closet is pulling the cord on the can he is talking into. Or the scene where the two investigators enter the Crane household and are greeted by a little girl who urges them to leave "If she sees you, she'll make me kill you."
Insidious Chapter 2 is less concerned with plotting than it seems to have been construed as a lean and effective horror show designed to spook you at every opportunity. The film creates a double (and at times triple) stranded plot following Rose Byrne in the house, Barbara Hershey's mother and the investigators searching for clues, and in the later sections a strand of plot set in the afterlife with people fighting to stop the menace.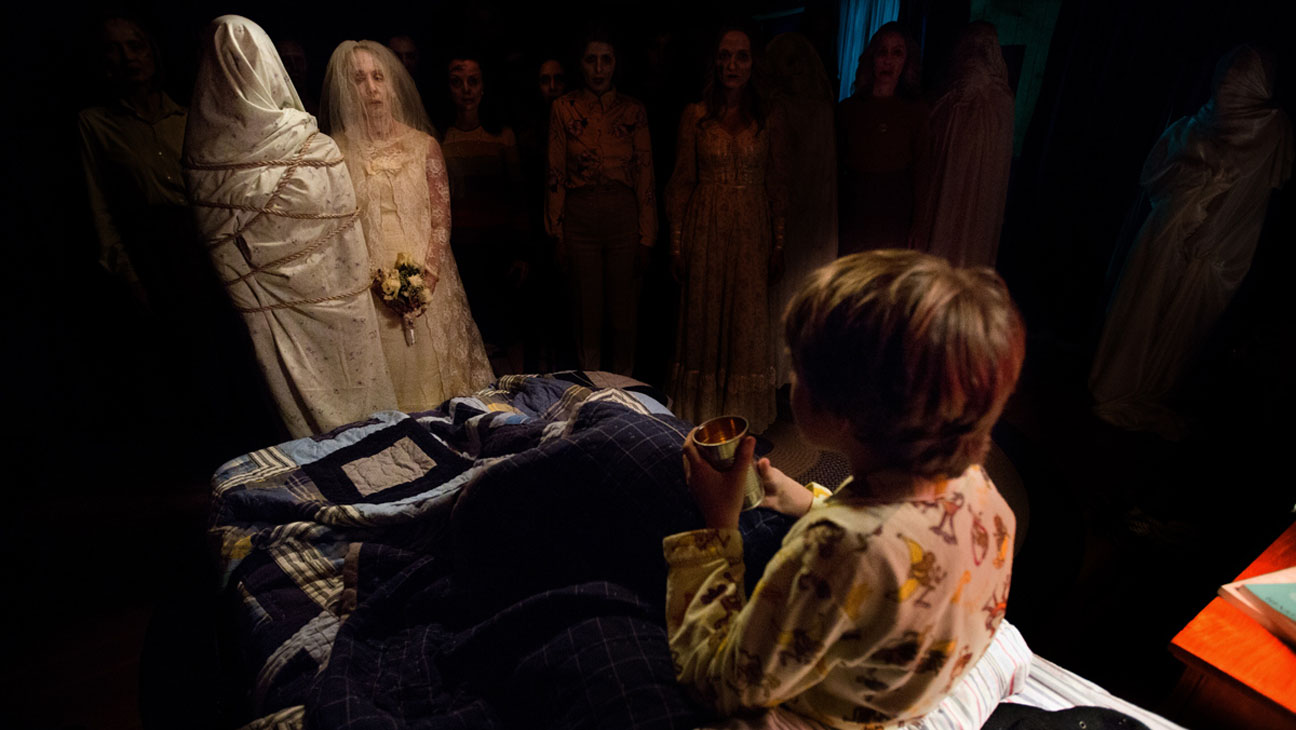 Some of the threads feel a little hard to follow – I felt confused at some points as to whether it was meant to be Parker Crane, his mother or both of them inhabiting Patrick Wilson's body. The film also goes out on a slingshot ending that proves more annoying than anything else where Wan, Blum and Peli clearly have the intention of turning Insidious into another franchise like their Paranormal Activity series or the series that Saw was spun out into. While the plot is a little ragged sometimes, you cannot deny that James Wan holds up and delivers on the eerie and spooky uncanniness front.
Leigh Whannell took over as director/writer for Insidious Chapter 3 (2015) and this was followed by Insidious: The Last Key (2018).
(Nominee for Best Director (James Wan) at this site's Best of 2013 Awards).
---
---