---
Crew
Director/Screenplay – Brett Simmons, Producer – Courtney Solomon, Photography – Jeff Dolen & Marco Fargnoli, Music – Bobby Tahouri, Visual Effects – Post Matters (Supervisor – Derek Bourque), Special Effects Supervisor – Ken Gorrell, Makeup Effects – Two Hours in the Dark (Supervisor – Gary Tunnicliffe), Production Design – Hannah Beachler. Production Company – After Dark Films/Signature Entertainment.
Cast
Devon Graye (Scott), Wes Chatham (Brian), CJ Thomason (Chris), Tammin Sursok (Natalie), Ben Easter (Johnny), Joshua Skipworth (Corey), Mike Cornelison (Farmer Comstock), Nick Toussaint (Alex)
---
Plot
Five friends are driving up to the lake in the midst of the cornbelt when birds slam into their vehicle windshield, causing them to crash. They make their way through the cornfields only to be attacked by scarecrows come to life. Coming to an old and seemingly abandoned farmhouse, they try to find a way to escape as the scarecrows close in. In the midst of this, their own dead are brought back to life to be sewn into masks and become scarecrows.
---
Husk was the third film of director Brett Simmons who had previously made the low-budget superhero mockumentary Unsung Heroes (2003) and the non-genre Mark of Love (2009), neither of which had enjoyed high-profiles. Simmons made the genesis of this film as a 27-minute short Husk (2005) and duly received funding to develop it as a feature film from the After Dark Films production company of Courtney Solomon, which has bankrolled a number of other medium-budget horror films.
I had no expectations of Husk before sitting down to watch. Almost as soon as the film opens, the line-up of handsome and good-looking young people clearly slated as victims gives the prospect of a standard teens in peril show. The set-up of the group being pursued through the cornfields by something sinister brings association to Children of the Corn (1984) and its interminable series of sequels, while the revelation of animate scarecrows pursuing them is something that has turned up in a number of other films – see the likes of Dark Night of the Scarecrow (1981), Scarecrows (1988), Night of the Scarecrow (1995), Dark Harvest (2004), Hallowed Ground (2007) and Messengers 2: The Scarecrow (2009), among others.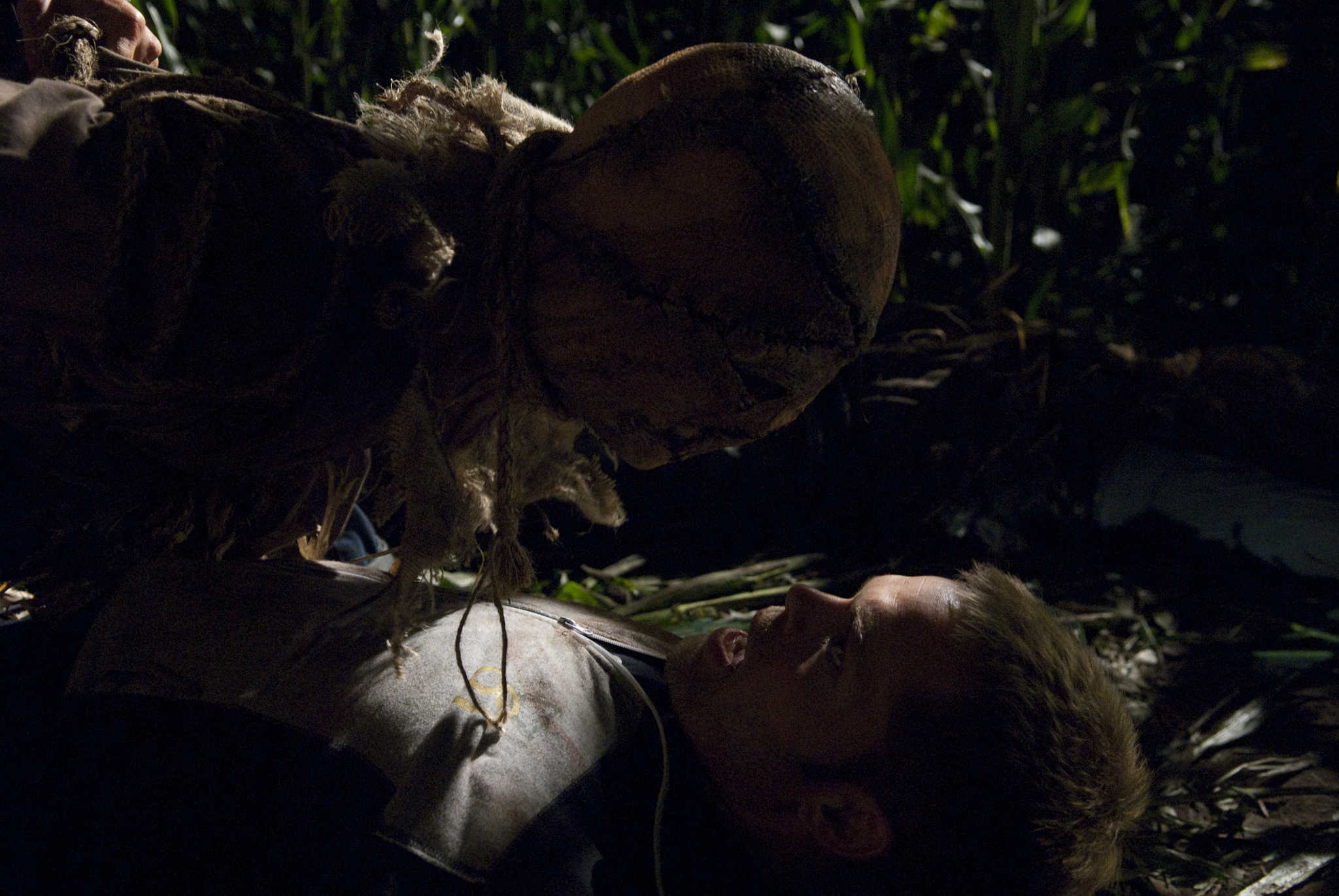 Brett Simmons manages to generate some reasonable tension out of these basics. On the other hand, the frustration of Husk is that there seems to be much going on in the way of sinister and supernatural happenings but for a long time into the film – well over the two-thirds mark – you have no idea why anything is happening. From what is eventually revealed – none of the explanations are very clear at all – the premise seems incredibly silly. This involves something to do with each member of the party being killed and then resurrected from the dead to become a scarecrow where they are sent shuffling into the house to sit down at a treadle sewing machine and sew themselves a burlap bag mask. Somehow this all ties back to two brothers, one of whom was favoured by the father over the other, and how this led one to kill the other, causing his blood spilling at the foot of the scarecrow and taint the cornfield.
There is also a peculiar set of rules that involves the force in the cornfield somehow being able to hop between scarecrow bodies. You pull back from the film's intent seriousness of approach to think how ridiculous everything that transpires is on a conceptual level. You feel like it is something that could only have worked in a film that took itself with far more of a cartoony unserious approach.
Brett Simmons subsequently went onto make the horror films The Monkey's Paw (2013), Animal (2014) and You Might Be the Killer (2018).
---
---