---
Crew
Director – Brett Simmons, Screenplay – Thommy Hutson & Catherine Trillo, Producers – Andrew Gernhard, Thommy Hutson, Chris Miller, Zach O'Brien, Colin Theys & Ember Truesdell, Photography – Scott Winig, Music – tomandandy, Makeup Effects/Creature Effects – Gary J. Tunnicliffe, Production Design – Jeanette Drake. Production Company – Chiller Films/Synthetic Cinema International/Flower Films.
Cast
Elizabeth Gillies (Mandy), Amaury Nolasco (Douglas), Thorsten Kaye (Carl), Paul Iacono (Sean), Keke Palmer (Alissa), Joey Lauren Adams (Vicky), Jeremy Sumpter (Matt), Parker Young (Jeff)
---
Plot
Jeff takes his stepsister Alissa and three other friends on a hiking trip into the woods. They take a detour and become lost and then night falls. They are then attacked by a creature. Fleeing, the group seek refuge at a cabin in the woods, finding that it is inhabited by three others who are all also hiding from the creature. Barricaded into the house from the creature as it tries to break in, tensions rise between the party as they bicker over finding a means of escaping or fighting back.
---
Animal was the fifth film from Brett Simmons. Simmons first appeared with the superhero mockumentary Unsung Heroes (2003) and the non-genre Mark of Love (2009). He then found a home in the horror genre with Husk (2011) and has stayed there since with The Monkey's Paw (2013), Animal and You Might Be the Killer (2018).
Animal is a fairly generic Backwoods Horror/Monster Movie. The plot assembles all the cliches of the genre – the group of teens/twentysomethings on the trip into the wood who become lost and attacked by something (a monster instead of the usual degenerate hillbillies or hockey-masked maniacs). This then switches over a different cliche – one that we have had ever since Night of the Living Dead (1968) – of the group trapped at siege in a house/cabin and bickering amongst themselves over the best course of survival.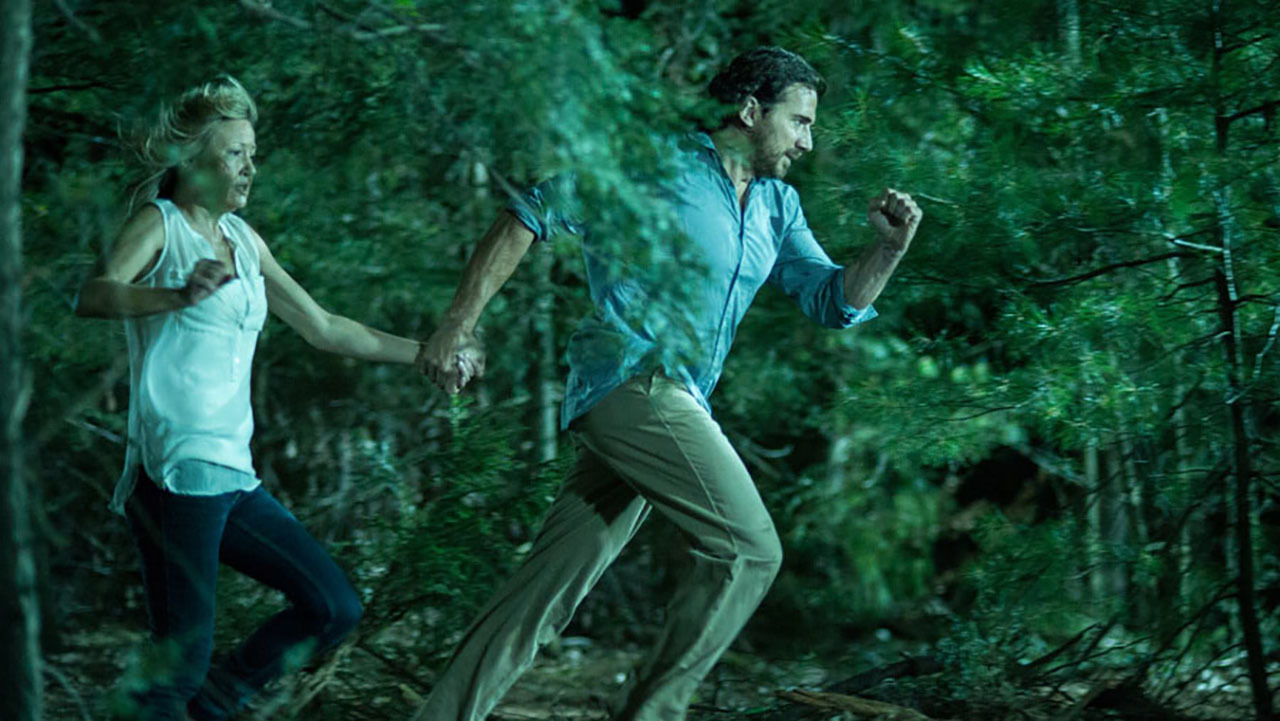 Brett Simmons delivers some okay tension. There's one good jump where group leader Parker Young sends the others off and prepares to stay and fight the creature only to turn and find it right behind him. There is some passable tensions at the cabin, even if there is nothing that makes you jump out of your seat in any way. The creature effects are frequently unconvincing. Indeed, the monster is so generic we never even get any explanation of its origin.
The characters are okay, although the most ridiculous scene in the film is one where Paul Iacono has a meltdown and tries to tell Parker Young's girlfriend that Parker had a reciprocated gay crush on him in the midst of her grief shortly after his death.
---
---