---
Crew
Director – Victor Garcia, Screenplay – Gary J. Tunnicliffe, Producers – Aaron Ockman & Joel Soisson, Photography – David A. Armstrong, Music – Frederik Wiedmann, Visual Effects – Glowgun (Supervisor – Chad Goei) & Gene Warren III, Makeup Effects Design – Mike Regan & Gary J. Tunnicliffe, Makeup Effects – Two Hours in the Dark Inc, Production Design – Ermanno Di Febo-Orsini. Production Company – Neo Art & Logic/Dimension Films.
Cast
Nick Eversman (Steven Craven), Steven Brand (Ross Craven), Tracey Fairaway (Emma Craven), Stephan Smith Collins (Pinhead), Jay Gillespie (Nico Bradley), Devon Sorvari (Sarah Craven), Sebastien Roberts (Peter Bradley), Sanny Van Heteren (Kate Bradley), Daniel Buran (Vagrant), Camelia Dee (Street Walker), Sue Ann Pien (Hooker), Adele Marie Ruiz (Mexican Girl)
---
Plot
The families of Steven Craven and Nico Bradley gather to remember the two who disappeared after a trip to go partying across the border in Mexico. All that they left behind was a series of camcorder recordings that show how they panicked after a girl was found injured, possibly killed, in their hotel room. Steven's sister Emma presses to look at the tapes. She then finds a copy of the puzzlebox that has been left in their belongings. After she manages to open it, Steven reappears. He tells the horrifying story of how they were given the puzzlebox by a vagrant who promised that it offered ultimate pleasures. Nico insisted on opening the box, summoning the Cenobites. Steven made an escape but a skinned Nico followed, demanding that Steven brings bodies for him to devour so that he could regain his form. The Cenobites now gather around the house, come to claim the souls of their families.
---
Clive Barker's Hellraiser (1987) was one of the classic horror films of the 1980s. It was the one moment of fierce originality and imagination in Barker's uneven directorial career – see also Nightbreed (1990) and Lord of Illusions (1995). Hellraiser and its star Doug Bradley developed an enormous cult following. There were several Hellraiser sequels made – Hellbound: Hellraiser II (1988), Hellraiser III: Hell on Earth (1992) and Hellraiser: Bloodline (1996), all of which received theatrical releases. From Bloodline onwards, the rights to the series were purchased by Dimension Films.
Beginning with Hellraiser: Inferno (2000), Dimension Films partnered up with Neo Art & Logic, a company that has made a great many cheap video/dvd released sequels to other franchises, including several Children of the Corn sequels, the Mimic sequels, The Prophecy sequels, two Dracula 2000 sequels, Feast (2006) and sequels, and Pulse (2006) and sequels. Neo Art & Logic made four Hellraiser sequels with Hellraiser: Inferno, Hellraiser: Hellseeker (2002), Hellraiser: Deader (2005) and Hellraiser: Hellworld (2005). Throughout the series, there has been a slow decrease in quality the further the material has gone from Clive Barker's basics and the more that other parties have sought to keep recycling the essentials.
Amid the persistent news that Hellraiser is about to be remade as part of the 00s/10s vogue for recycling every horror film from the 1970s/80s, which finally emerged after twenty years of announcements that went nowhere as Hellraiser (2022), we suddenly get Hellraiser: Revelations. This is what is called within the industry an 'ashcan production' – a film that is made with no necessary intention of furthering the series but instead of furthering the copyright holders' claim by not allowing an option to lapse when some other party shows interest thus forcing the other party to have to pay to obtain the rights. The most famous example of this was the Roger Corman produced version of The Fantastic Four (1994), which was made when interest in the rights was sought by those behind the eventual big-budget film Fantastic Four (2005), with the film being produced as cheaply as possible and not even intended to be released.
Hellraiser: Revelations was greeted was a great deal of cynicism by the fans of the series. Clive Barker even went so far as to denounce the film on Twitter in the much re-tweeted comment "It ain't my Hellraiser." The film has been handed over to Spanish director Victor Garcia who seems to specialise in cheap sequels to other big-budget genre films with the likes of 30 Days of Night: Blood Trails (2007), Return to House on Haunted Hill (2007) and Mirrors 2 (2010), as well as several original films Arctic Predator (2010), Gallows Hill (2013) and An Affair to Die For (2019).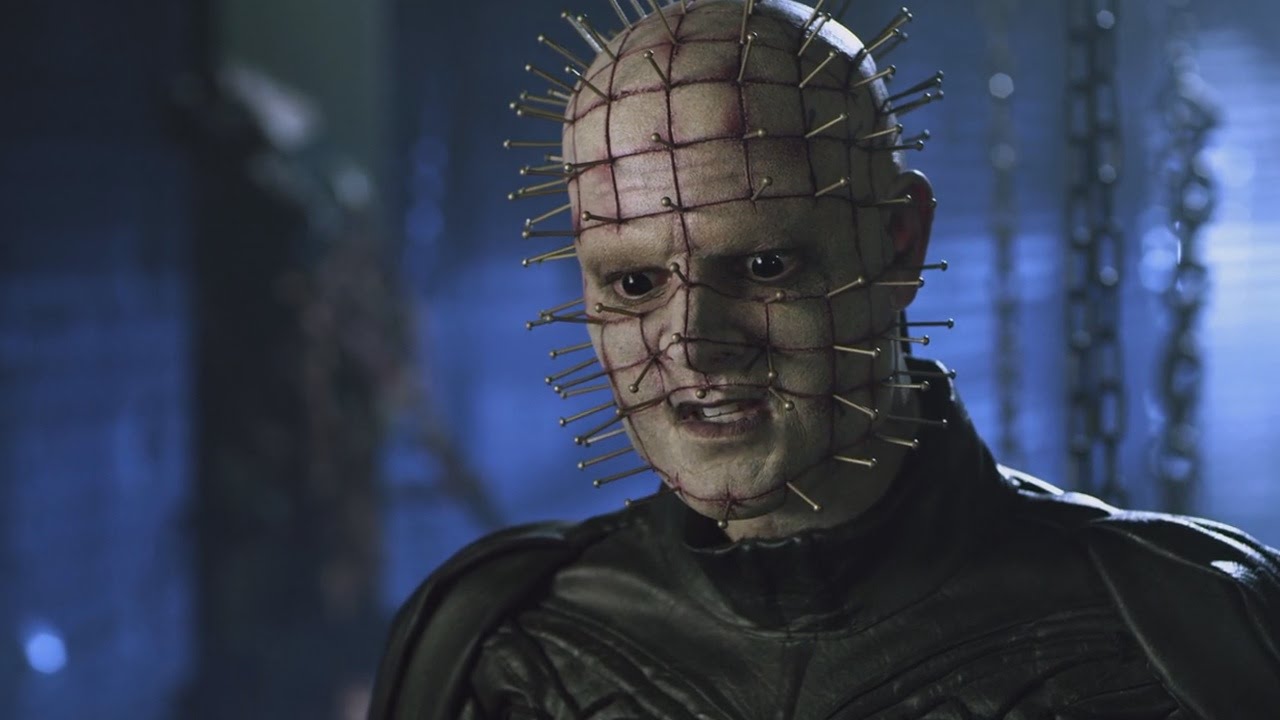 Hellraiser: Revelations was granted a mere $300,000 budget and a two-week shooting schedule. It is the first film in the series not to feature Doug Bradley as Pinhead. His replacement in the role by Stephan Smith Collins has the ignominy of giving us a Pinhead who looks more cuddly than filled with gravitas and dignity. Moreover, Collins has no feel for the mellifluous inflection that Doug Bradley gave to Clive Barker's lines. It is this casting that most of the negative reaction to the film was directed at.
All of which leads to expect the worst from Hellraiser: Revelations. The odd thing is that despite Clive Barker's reaction, the cynicism behind its making and the cheapness lavished on the film, Hellraiser: Revelations is a halfway decent Hellraiser sequel and certainly better than most of the other entries that Neo Art & Logic turned out. Indeed, when you look closer, you find that Clive Barker's denunciation was based only on a viewing of the trailer and not of the complete film itself. Certainly, if you look in terms of how badly the other sequels in the series pollute his original ideas, Barker has more reason to be upset with works like Hellraiser: Deader than anything here.
Hellraiser: Revelations is undeniably cheaply made. Most of the film appears to take place in the single location of someone's home. There is a sequence in the middle of the film where they try to replay the resurrection of Frank from Hellraiser as Jay Gillespie devours a hooker, which comes out looking painfully impoverished in the attempt to copy what Image Animation did so memorably in the original.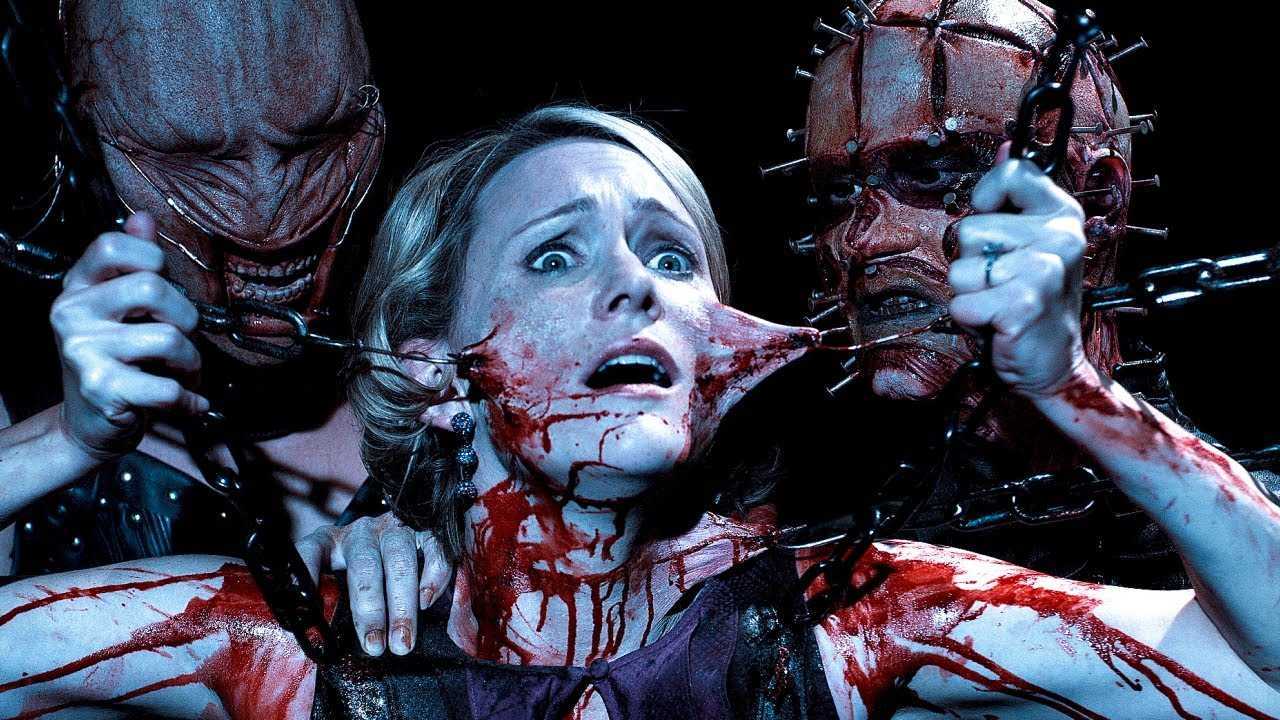 Despite what Clive Barker might say about Revelations not being his Hellraiser, the reality of it is that it follows the original far closer than any of the other Hellraiser sequels ever did. Like the first film, Revelations follows the quest for ultimate pleasure through the discovery of the Lament puzzlebox, with the opener then being torn apart after summoning the Cenobites and ending up in Hell, followed by the friend who brings victims to devour so that they can reconstitute their body.
I was particularly impressed with the way that Revelations manages to work this into an effectively original story of its own – in particular, making a considerable surprise out of a play on the twist at the end of Hellraiser where Frank stole Larry's skin (an aspect none of the other sequels have ever developed). The film even goes so far to mention the fact that Clive Barker borrowed the name of the Cenobites from a 17th Century monastic order, which gives Revelations impeccable bonus points.
Hellraiser: Revelations eventually almost becomes a Hellraiser film that feels like it has been rewritten by way of a Brett Eason Ellis novel about the children of privilege taking an anarchic pleasure in attacking the world they come from. All of which makes for something undeniably original.
Hellraiser: Revelations was followed by a further cheap sequel Hellraiser: Judgment (2018).
---
---