---
Crew
Director – Brett Simmons, Screenplay – Covis Berzoyne, Brett Simmons & Thomas P. Vitale, Producers – Griff Furst, Isaiah LaBorde, Brett Simmons & Thomas P. Vitale, Photography – Andy Strahorn, Music – Andrew Morgan Smith, Visual Effects – Trick Digital (Supervisor – Adam Clark), Special Effects Supervisor – Isaiah LaBorde, Makeup Effects – Most Monster (Ben Miller & Megan Thobe), Production Design – Matthew Whittle. Production Company – Curmudgeon Films/Vital Signs Entertainment.
Cast
Fran Kranz (Sam), Alyson Hannigan (Chuck), Brittany S. Hall (Imani), Jenna Harvey (Jamie), Bryan Price (Steve the Kayak King), Patrick Reginald Walker (Brad), Jack Murillo (Freddie), Catt Bellamy (Drew), Savannah DesOrmeaux (Nancy), Peter Jaymes (Bob), Olivia Brown (Carol), Jesse Gallegos (Ted), Isaiah LaBorde (The Wood Carver), Carol Jean Wells (Heather), Clara Chong (Alice)
---
Plot
Sam calls his friend Chuck, the manager of a comic-book store, from a summer camp where he is being pursued by a maniac killer. Chuck gets Sam to calm down and realise that he himself is the killer. He gradually remembers what happened and explains the story of how he brought in a group of counsellors to train before reopening the family summer camp, Camp Clear Vista. While telling campfire horror stories, Sam told one about the mask carved from a tree where an evil spirit had been bound by an Indian medicine man that is reputed to be hidden in the grounds of the camp. The others then insisted on having a treasure hunt to find it. The mask was found and placed on Sam. While wearing it, he was driven to kill the other counsellors. Chuck now tries to explain to Sam how the events are following the rules of the slasher film and that he is fated to be killed by a Final Girl.
---
You Might Be the Killer was the sixth film from director Brett Simmons. Simmons first appeared with the superhero mockumentary Unsung Heroes (2003) and the non-genre Mark of Love (2009). He then found a home in the horror genre with Husk (2011). He has stayed there since with The Monkey's Paw (2013), Animal (2014) and You Might Be the Killer.
The slasher film has undergone some clever and witty deconstructions and parodies in the last few years with films like Behind the Mask: The Rise of Leslie Vernon (2006), The Final Girls (2015), Last Girl Standing (2015) and the tv series Scream Queens (2015-6), among others. (For a more detailed overview of the genre see Slasher Films).
You Might Be the Killer starts in with a captivating hook where Fran Kranz is pursued through the woods in what seems a standard slasher set-up, before he takes refuge in a cabin and calls up his friend Alyson Hannigan to ask advice. Interspersed between various flashbacks that explain what happened, she asks him some probing questions and gradually pares things away to the point that she gets him to realise he is covered in blood, wearing a mask and wielding a strange ritual knife whereupon she raises the question inherent in the title as to whether he "might be the killer?"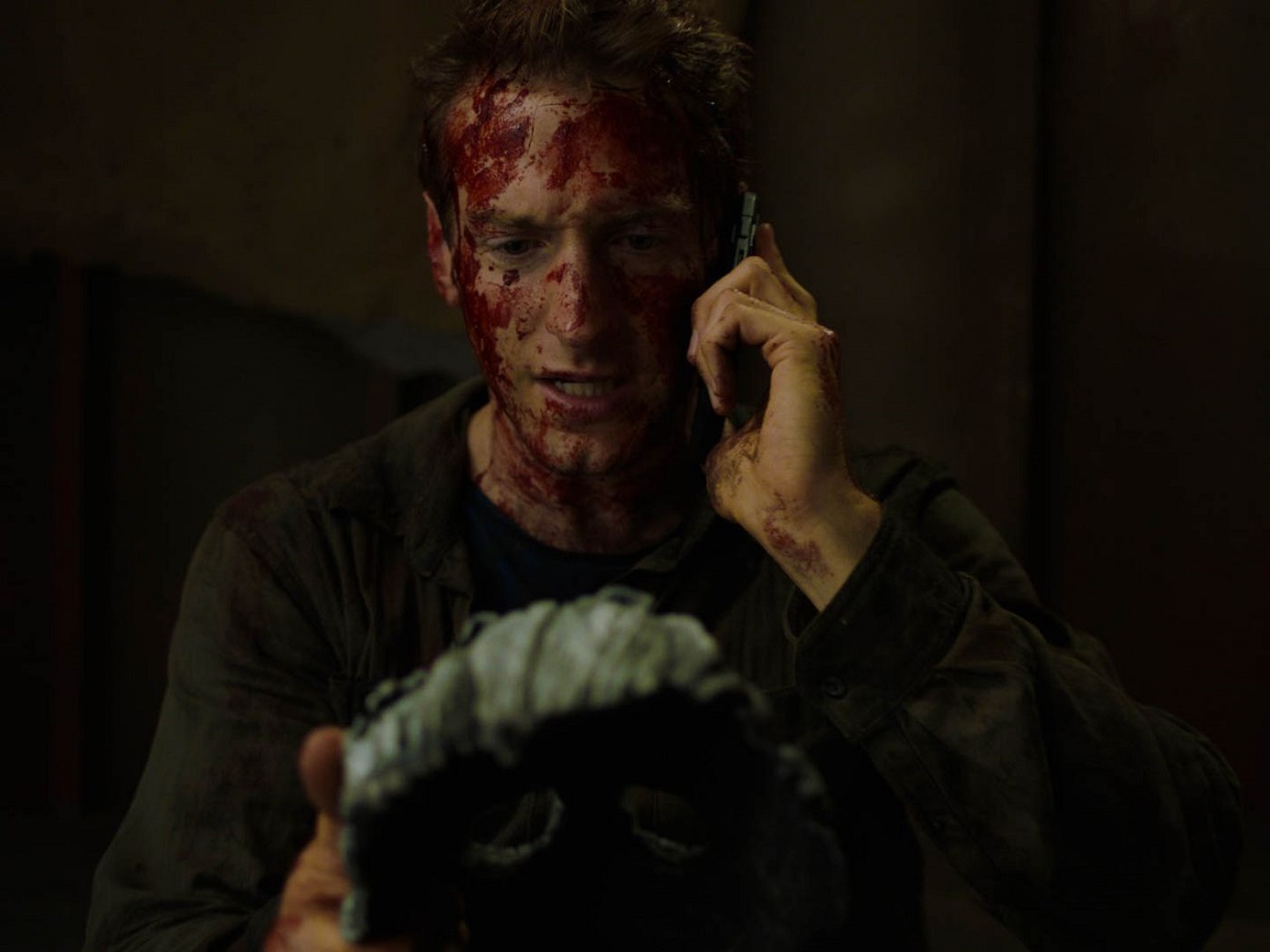 The script comes with an undeniable degree of genre savvy wit. When Fran Kranz describes the killer as ugly, Alyson Hannigan responds "Freddy ugly or Matt Cordell ugly?" making reference to Freddy Krueger of A Nightmare on Elm Street (1984) fame and Matt Cordell of Maniac Cop (1988) and sequels. The score mimics the famous one for Friday the 13th (1980) with its "ki-ki-ki" chanting, which is joined here by whispers of "Put it on, put it on, put it on" and "Do it, do it, do it." Several of the girls throughout have been named after the actresses who played Final Girls in 1980s slasher films – Jamie Lee Curtis, Heather Langenkamp, Carol Kane.
On the other hand, after a promising start, the film is killed by a lame follow-up. A good deal of this is due to the film being dependant on a plot device involving a possessed mask. This essentially makes You Might Be the Killer into no more than a slasher movie version of The Mask (1961) in which people are driven to kill after being possessed by a South American Indian mask. This is given a nominal explanation but most of the rest of the film contorts around finding opportunities for Fran Kranz to put on and take off the mask. For completely arbitrary reasons, the script taps into the Scream (1996)-like explanation that he will be killed off by a Final Girl, although offers no real explanation as to why real life is suddenly operating by slasher movie rules.
---
Trailer here
---