(J'ai Pas Sommeil)
---
Crew
Director – Claire Denis, Screenplay – Claire Denis & Jean-Pol Fargeau, Producer – Bruno Pesery, Photography – Agnes Godard, Music – Jean-Louis Murat, Production Design – Arnaud de Moleron & Thierry Flamand. Production Company – Arena Films/France 3 Cinema/M6 Films/Pyramide Productions.
Cast
Katarina Golubeva (Daiga Batas), Richard Courcet (Camille Moisson), Alex Descas (Theo Moisson), Beatrice Dalle (Mona)
---
Plot
Lithuanian immigrant Daiga Batas arrives in Paris but has difficulty getting a job because she is unable to speak French. Elsewhere, Martinican immigrant Camille Moisson leads a life of casual abandon, dallying with gay lovers and occasionally singing in drag at a nightclub. His brother Theo argues with his estranged French wife over his wanting to return to Martinique to live and take their son. Camille and his lover are responsible for what the media have dubbed the Granny Killings in which they target and kill old women and take their money.
---
I Can't Sleep is a prophetic title – watching the film is rather like induced insomnia. Director Claire Denis has an acclaimed arthouse reputation and it is this background and the very French way of making films that turns this into a sleepwalk. French cinema has a habit of allowing the camera to just sit and observe the pace of natural life and for the first half of the film here virtually nothing happens.
The film is based on a series of real-life killings conducted by Martinican immigrant Thierry Paulin between 1984 and 1986. Paulin was a drag performer who murdered elderly women, taking their money and leading a lavish, drug-fuelled lifestyle with his gay lover. He was arrested for murdering eighteen victims, although is believed responsible for twenty-one. However, before he could be brought to trial and convicted, Paulin died in jail in 1989 from AIDs related illnesses.
However, these appear almost incidental to the film. Instead, we observe Katarina Golabeva's arrival in Paris, her attempt to find lodgings; Richard Courcet's hustlings; and Alex Descas's marital struggle of war over his son. Virtually none of this has any relevance to the Granny Killings. It is about an hour before there is any significant plot development in the film. In comparison, an American film would turn Katarina Golabeva's discovery of Richard Courcet as the killer that comes near the end into the suspenseful centre of the film.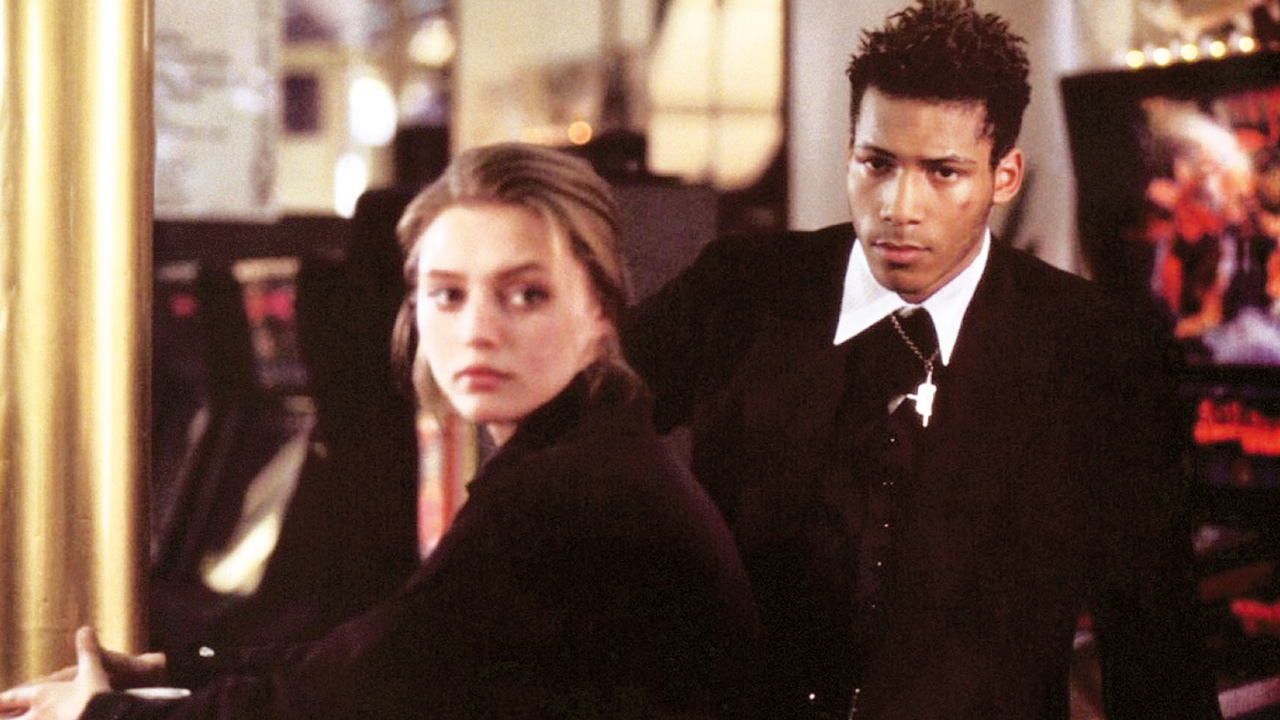 In fact, in an American thriller everything that happens in this film would take up only about ten minutes of plot time. Claire Denis fails to milk the pursuit for anything – one can understand that that is not the sort of film she is trying to make – but the climax of the film is arrived at indifferently. Certainly, Daiga's story and Theo's marital struggle is of no importance to it whatsoever. All the actors in the film at least play well.
Claire Denis has received modest arthouse acclaim for her other directorial efforts that include the likes of Beau Travail (1999), The Intruder (2004), 35 Shots of Rum (2008), White Material (2009), Bastards (2013), Let the Sunshine In (2017), Both Sides of the Blade (2022) and Stars at Noon (2022). Her only other ventures into genre material have been the horror film Trouble Every Day (2001) and the space expedition film High Life (2018).
---
---