aka Dead Connection
---
Crew
Director – Nigel Dick, Screenplay – Larry Golin, Story – Jonathan Tydor, Producers – Gregg Fienberg & Steve Golin, Photography – David Bridges, Music – Rolfe Kent, Special Effects – Martin Breslin, Makeup Effects – Thomas E. Suprenant, Production Design – Gary Steele. Production Company – Polygram/Propaganda.
Cast
Michael Madsen (Matt Dickson), Lisa Bonet (Catherine Briggs/Prescott), Gary Stretch (Richard Welton), Carmen Argenziano (Lieutenant Stern), Damian Chapa (Louis Donato), Tim Russ (Detective Chuck Roland), Clarence Landry (Ike Pointer), Shawne Rowe (Nicky)
---
Plot
Detective Matt Dickson investigates the murders of two teenagers whose bodies have been left in a motel room. He discovers that the killer has conducted other similar killings always signing in under the names of famous boxers. He teams up with journalist Catherine Briggs. As the two of them search boxing clubs in pursuit of the killer, Dickson becomes involved with Catherine. However, she has not been truthful about who she is, which places her life in danger as the killer comes hunting Dickson.
---
Final Combination is a moderately well made thriller. It has a reasonably budgeted polish and it stars the warmly charismatic Michael Madsen, an actor capable of far greater things than the B-budget and/or supporting heavy roles he usually gets consigned to. The film seems promising on all accounts except one – and that is that it has one of the stupidest scripts ever written in recent years.
Some of the scenes and dialogue in the film and truly inane. There is the scene where Michael Madsen is working undercover with some dope dealers when ex-girlfriend Brenda Swanson happens by and insists on having a domestic and the dialogue is twisted wholly out of shape in order to contrive to have her blow his cover by mentioning he is a cop. There is an equally awful scene where Michael Madsen and Lisa Bonet meet for the first time in a bar and he bold-facedly demands she buy him a drink – it is dialogue that seems capable of being uttered by human mouth.
In the most amazing scene of all – one had to stop and rewind the tape in disbelief – the asthmatic Madsen takes a puff of his inhaler and in the very next move, indeed within the space of the same shot, takes a drag off a fellow cop's cigarette. One is not able to detect any trace of irony in such a shot – the filmmakers do not seem to realise its incongruity.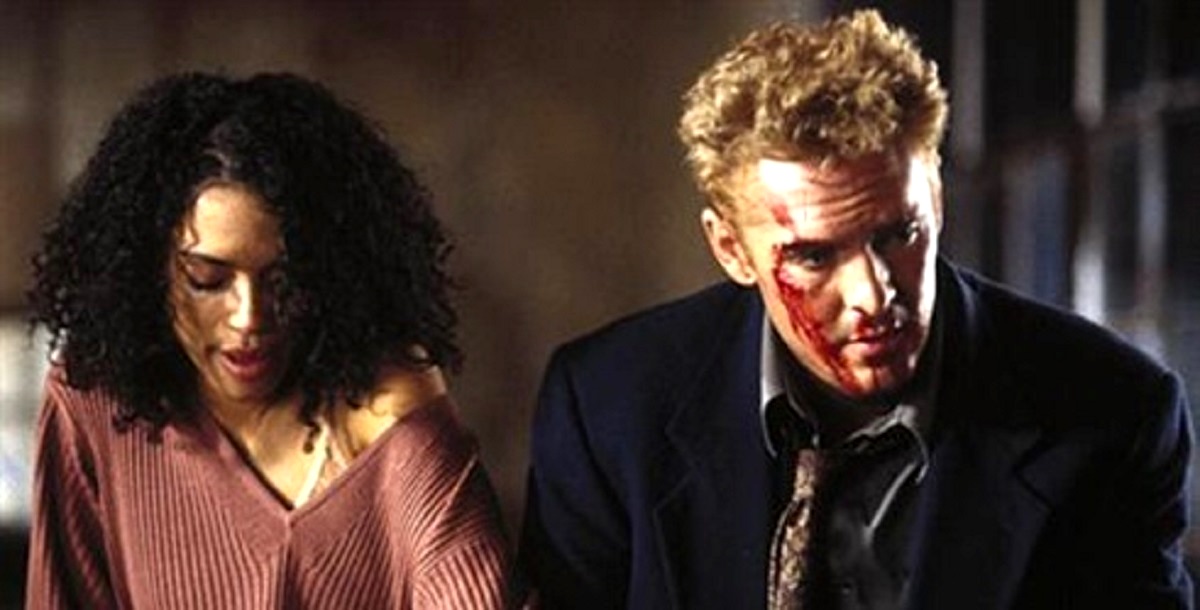 The script at least holds a couple of effective surprise – when the truth of Lisa Bonet's identity becomes apparent and the discovery of the killer in Michael Madsen's apartment. However, this is balanced by the script's brainlessness in every other regard. Moreover, the script explains nothing at all about the killer. There is no explanation of why he is obsessed with boxing – indeed, the boxing angle is of no consequence to the story, excepting perhaps in that the role of the psycho is cast with former British boxing champion Gary Stretch.
For that matter, the film's title – Final Combination – bears no relevance to the story at all – it makes it sound more like a film about safecracking. The alternate titling Dead Connection sounds equally random – like something to do with mediums or telephone calls.
---
---