---
USA/France/Germany. 2012.
Crew
Director – Morgan O'Neill, Screenplay – Paul A. Leyden & Morgan O'Neill, Producers – Susan Downey, David Gambino & Joel Silver, Photography – Kramer Morgenthau, Music – Mark Isham, Visual Effects Supervisor – Erik Henry, Visual Effects – Mr. X Inc. (Supervisor – Dennis Berardi), Special Effects Supervisor – Guillaume Murray, Makeup Effects Supervisor – Adrien Morot, Production Design – Martin Whist. Production Company – Warner Brothers/Dark Castle Entertainment/StudioCanal/Studio Babelsberg Motion Pictures GmbH
Cast
John Cusack (Detective Mike Fletcher), Jennifer Carpenter (Detective Kelsey Walker), Dallas Roberts (Carl Anthony Gemeaux), Mae Whitman (Abby Fletcher), Sonya Walger (Shelly Fletcher), Gary Anthony Williams (Darrell Kennedy), Mageina Tovah (Brittany), Katherine Waterston (Lauren), Michael Trevino (Tab), Andrew Johnston (Chief), Cindy Sampson (Crystal), Koenia Solo (Emma), Lita Tresierra (Divine Evons), Maxim Roy (Nurse Unit Manager)
---
Plot
Buffalo, New York. Police detective Mike Fletcher takes time off to spend Thanksgiving with his family. He is obsessed with making the case for a serial killer who is preying on prostitutes. While girls are going missing, he is stymied by a lack of any bodies found. The person he is looking for is Carl Anthony Gemeaux who keeps the abducted women prisoner in his basement. Mike's teenage daughter Abby sneaks out to visit her boyfriend at the diner where he works. After they argue, she leaves, only to be abducted by Carl. Imprisoned in a cellar with all the other missing girls who worship Carl as 'Daddy', she learns that their purpose is to become pregnant by him and create a baby factory. As she tries to find a means to escape, Mike obsessively follows Carl's trail.
---
The Factory is an effort from Dark Castle Entertainment, the company that was at one point formed between Robert Zemeckis and Joel Silver (Zemeckis having since departed). Dark Castle put out films such as House on Haunted Hill (1999), Thir13en Ghosts (2001), Ghost Ship (2002), Gothika (2003), House of Wax (2005), The Reaping (2007), The Hills Run Red (2009), Orphan (2009) and Seance (2021). What had once started as a company producing horror films for theatrical release has in recent years become a general production company mostly putting out action films with the likes of RocknRolla (2008), Ninja Assassin (2009), Whiteout (2009), The Losers (2010), Splice (2010), Unknown (2011) and Bullet to the Head (2013).
Into the 2010s, Dark Castle has only put out a single other horror film with the dull The Apparition (2012) and that was it until and Seance (2021) nine years later. The Factory is one effort that seems to befallen the company's uncertainty of direction where it has been intended seemingly as another of their horror films but since shooting in 2010 sat on a backshelf, receiving limited theatrical screenings in 2012 and being dumped to dvd in 2013.
It is immediately apparent why The Factory failed to get a theatrical release. None of Dark Castle's other horror films have particularly set the world alight but even among these The Factory is a dog. What does not seem to have occurred to director/co-writer Morgan O'Neill, an Australian actor who previously wrote-directed the hitman film Solo (2006), is that the plot with the detective doggedly pursuing a serial killer is a tired one. Indeed, this type of film belongs more in the mid-1990s and the spate of post-The Silence of the Lambs (1991) thrillers. Nobody seems interested in making this police procedural story for theatrical release any more. One suspects the reason for this is that police procedural has become supplanted by tv shows like CSI: Crime Scene Investigation (2000-15) and its various spinoffs and copycats like NCIS: Naval Criminal Investigation Service (2003– ) and Criminal Minds (2005-20).
The Factory also makes the claim in the opening scenes that it is based on a true story, although the promotional materials fail to offer any details as to which case. Nor does a search of crime files find any record of a killer who harvested babies from abducted women and in all likelihood that is a purely fictional claim. Certainly, any real-life crime story where a detective went out on a limb to rescue his own abducted daughter from the clutches of a killer would have made international headlines had it happened.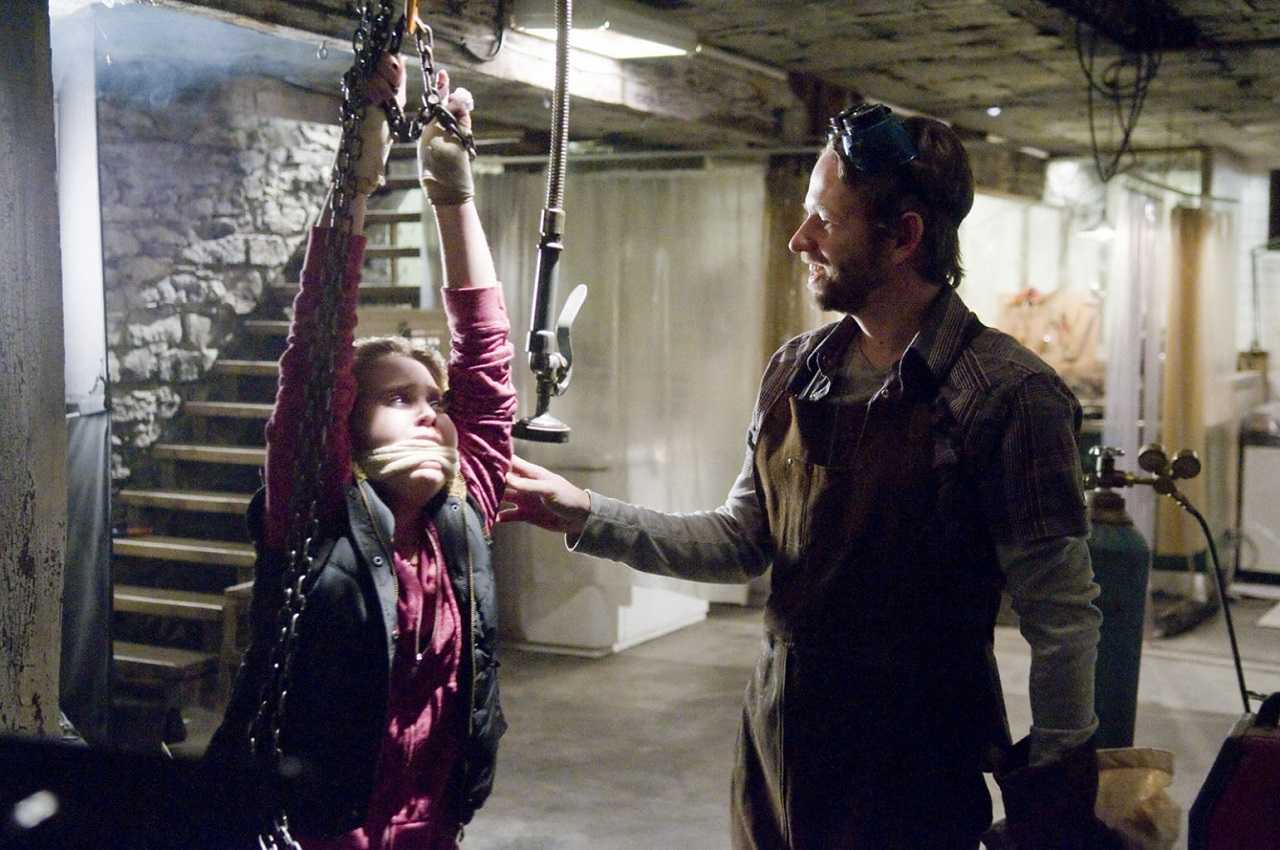 Watching The Factory, it looks exactly like a weaker episode of CSI. Morgan O'Neill and Paul A. Leyden seem only minimally invested in the plot. John Cusack, almost always a great actor in this reviewer's book, wearily plods through the lead role but he is too bright an actor, constantly brims with a natural curiosity, to do the whole worldweary, close-to-burnout detective that the part is written as. Unlike a work such as Se7en (1995) or tv's Millennium (1996-9), the film never gets inside his psychological drive in any way – despite the fact that this is a character who has gone out on a determined personal limb after the abduction of his own daughter.
There is nothing to the film that makes a thriller like this interesting – no tension generated by the director, no twists and turns in the script (excepting one – see below), no character drive, while the trail of clues the detective follows is only conducted in the most perfunctory of ways. The one aspect that seems mildly interesting is the character of the killer Dallas Roberts who abducts prostitutes to impregnate them and ends up leaving them with a brainwashed loyalty to him. Roberts gives the part a certain white trash flintiness that works okay. Although one cannot help but feel that a far more interesting and adventurous film would have told everything as an abduction and imprisonment thriller from the point-of-view of one of the girls.
The part that kills the film off altogether is the revelation towards the end [PLOT SPOILERS] that John Cusack's partner Jennifer Carpenter is one of Dallas Robert's Factory Girls who just happened to be allowed to leave his clutches, joined the police force and by a whopping coincidence ended up assigned to the very same case where she is tracking her own abductor. This is left field twist revelations of the worst order and one that causes the entire house of cards that the film is based on to collapse into absurd improbability. Not to mention an ending that makes the film's claim to be based on true events into an outright nonsense.
---
---