---
Crew
Directors – Jim Klock & William Mark McCullough, Screenplay – Chad Ridgely & A.J. Via, Producers – Jim Klock, Darrell Martinelli & Chad Ridgely, Photography – Emily Adams & Darrell Martinelli, Music – Brooke deRosa, Special Effects Supervisor – Chris Hubbart, Makeup Effects – Carrie Mercado. Production Company – Indican Pictures/Full Auto Films/Code 3 Films.
Cast
Michael Buonomo (Dave Barnes), Chad Ridgely (Jack), Doug Burch (Mr Kipper), Aikido Burgess (Jackson 'Black Jack' Porter), Jim Klock (Otto Frank), Melissa Saint-Amand (Tara), Mike Capozzi (Pharms), William Mark McCullough (Santa), Amber Jean (Barbie)
---
Plot
Dave Barnes starts a new job at Mr Brewer's hardware store on Christmas Eve. He is shown around by the assistant manager Jack and introduced to the rest of the eccentric staff. He is asked to help move a metal bin in the back room only for them to open it and discover a dead body inside. Along with the body is a bag containing a large sum of money. This promptly sets everybody present into a heated argument about whether to take the money or hand it over to the authorities. This quickly escalates as people produce various weapons with the intention of taking the money or forcing the others to agree to share it. Various people are then killed by a series of accidents, while a drug-crazed Jack turns psychopathic and begins eliminating the others.
---
Massacre on Aisle 12 was a low-budget film shot in Georgia. The film has been put together by its directing and writing team who also double as the leads (and have all had extensive acting and comedy credits elsewhere) – co-director/co-producer Jim Klock plays the military-obsessed veteran Otto; his co-director Mark McCullough plays the film's booze-soaked store Santa; while co-writer Chad Ridgely plays the assistant manager Jack who becomes a drug-induced killer in the latter half of the film.
The filmmakers have a capable cast on hand and all of them create distinctive characters and spend the film putting them through comedic spins with an undeniable energy. Some of the humour – especially the racial terms thrown at Aikido Burgess or referring to Doug Burch as a homo – was a little too derogatory for my liking. And yet, despite its energy, there was never much to the film that left me laughing or even vaguely amused. The comedy is all stuff that travels in broad and in the end fairly predictable directions.
Massacre on Aisle 12 readily sells itself with the Horror Comedy label. Although more so than a horror comedy, it feels like a type of thriller that was popular in the 1940s and 50s involving a group of people in a contained locations squabbling and killing one another over a treasure or inheritance. Horror to me is something that plays on the grotesque, the horrific, the spooky, the uncanny and so forth and there is none of that here.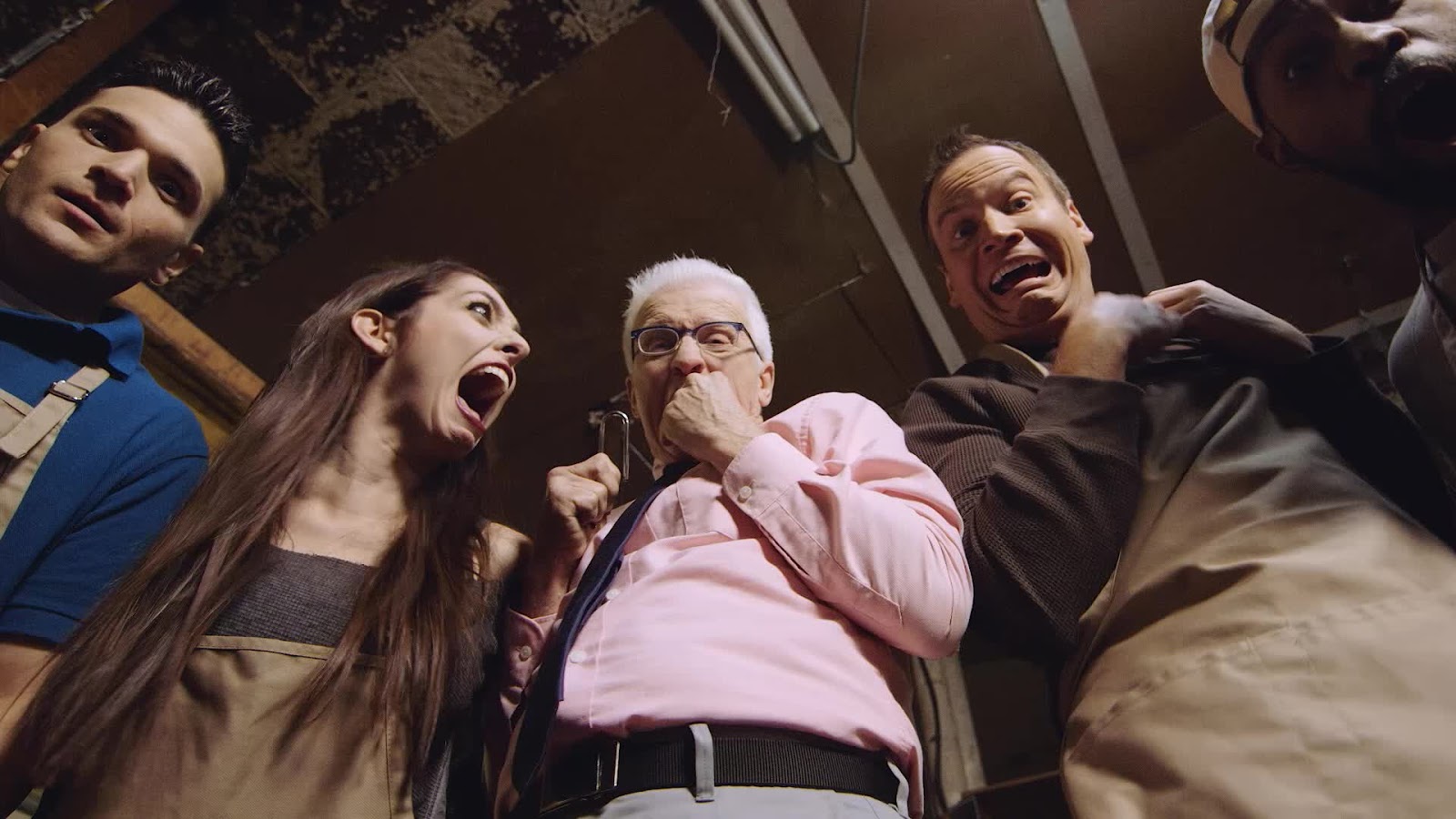 Certainly, there are some novelty deaths and the film approaches the horror comedy direction more during the latter half, especially with the scenes of a maniacal, drug-elevated Chad Ridgely charging through the store killing people. During these scenes, the film hits a note of black comedy that heads in the same direction as Sam Raimi's Crimewave (1985).
Co-director/co-star Jim Klock and co-writer/co-star Chad Ridgely went on to respectively direct and write a further horror comedy with 6:66 P.M. (2017), featuring many of the same cast members as here. Jim Klock is former police officer and narcotics detective from Virginia who has accrued a number of credits as an actor since the early 2000s. As director he has made the crime films Murder Eleven (2013) and River Guard (2016) and began to specialise in the horror genre with Murder on Aisle 12, 6:55 P.M. (2017), Red Letters (2019) and Slayed (2020). This has been the only filmed directed by William Mark McCullough.
---
---