---
Crew
Director – Cody Calahan, Screenplay – James Villeneuve, Producers – Chad Archibald & Cody Calahan, Photography – Jeff Maher, Music – Steph Copeland, Visual Effects – Immix Media Ltd. (Supervisor – George Lewis), Makeup Effects – Shaun Hunter, Prosthetics – Hunter FX, Production Design – Amanda Vernuccio. Production Company – Breakthrough Entertainment/Black Fawn Films/Radioactive Pictures/Particular Crowd.
Cast
Evan Marsh (Joel), Amber Goldfarb (Carrie), Ari Millen (Bob Nice), Julian Richings (Fritz), Robert Maillet (Mike), Sean Baek (Hideo), David Koechner (Zachary), Alexa Rose Steele (Sarah), Kristopher Bowman (Detective Doyle), Mark Gibson (Detective Hollands), John Fray (Officer Tony), Gord Rand (Jack Portwood)
---
Plot
Minnesota, 1983. Joel is a writer for the horror film magazine Vicious Fun and a wannabe scriptwriter. He has an unrequited crush on his roommate Sarah. One evening, he follows Sarah's date Bob to a bar, trying to find evidence that Bob is really a married man. Joel proceeds to get drunk and then wanders into an after hours gathering at the bar, only to discover it is a support group for serial killers. He is successfully able to pass himself off as one of them by using his script idea about a killer taxi driver but is exposed when Bob turns up. However, he is saved by Carrie, one of the group who proves to be operating on behalf of a secret organisation and is engaged in eliminating serial killers. The two of them are then hunted by the others in the support group.
---
Cody Calahan is a rising Canadian director who specialises in horror. He has made the social media horror Antisocial (2012) and its sequel Antisocial 2 (2015), the evil twin film Let Her Out (2016) and The Oak Room (2020). In between this, Calahan has also produced a number of other genre films with the likes of Sweet Karma (2009), Exit Humanity (2011), Monster Brawl (2011), Septic Man (2013), Ejecta (2014), Hellmouth (2014), Bite (2015), The Sublet (2015), Bed of the Dead (2016), The Heretics (2017) and I'll Take Your Dead (2018).
Vicious Fun is a departure from Calahan's previous films and is a Horror Comedy. A few years ago, I came up with the idea of script set around a support group for serial killers. However, I could never figure out a way to move past the basic set-up – ie. you have the group gathered and then what happens? I suspect the film's writer James Villeneuve had the same problem with his script. The film is sharp and witty when it gets the various serial killers together in a room discussing their problems and the amusement that comes in watching Evan Marsh's attempts to fit in and be one of the group. However, the script soon abandons the support group and simply turns into one with Evan Marsh and Amber Goldfarb being pursued by the other killers.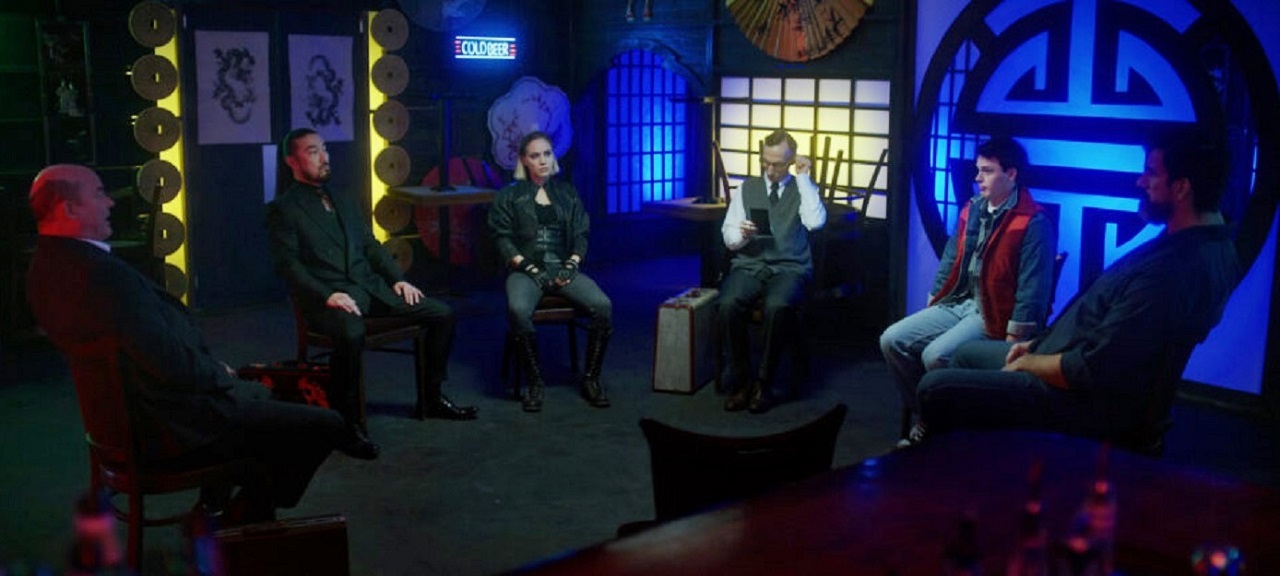 The rest of the film is never quite as interesting as the opening hook. Cody Calahan does deliver a series of scenes with the killers eliminating their way through the police station and twisting things around on Evan Marsh, which comes with an undeniable dark sense of humour and lashings of gore that makes for fun watching. Although I kept wanting him to push these elements to something more like say the level of Sam Raimi's Crimewave (1985). Not too many details are given, for instance, about Amber Goldfarb's background or the organisation she works for where you feel that this should have been fleshed out more.
The film is well served by its cast. Evan Marsh does the gloopy innocent to perfection, never more funnier than when he is trying to explain everything that happened to the police oblivious to the fact he is just incriminating himself further. On the other hand, after such a clueless performance I couldn't quite buy him as the kick-ass action type he becomes in the concluding scenes.
The film has a fine Canadian supporting cast with seasoned locals like hulking Robert Maillet offering a surprisingly soft-hearted slasher-type killer and Julian Richings who does creepy weird to perfection after spending his career in such parts. Ari Millen, who was Tatiana Maslany's male clone in Orphan Black (2013-7), is in the type of role that he seems to have been born to play as a shifty serial killer.
---
Trailer here
---