aka Zombie Spring Breakers
---
Crew
Director/Screenplay – Andy Edwards, Producer – Elisar Cabrera, Photography – Ewan Mulligan, Music – Chris J. Nairn, Visual Effects – Fugitive Studios (Supervisor – Stuart Pitcher), Makeup Effects Design – Daniel Martin, Production Design – Lucy Attwood. Production Company – Soda Pictures/Templeheart.
Cast
Ed Kear (Big Jim), Jordan Coulson (Alex), Cara Theobold (Ellie), Emily Atack (Liz), Algina Lipskis (Zara), Homer Todiwala (Az), Matt King (Karl), Michael Wagg (Torval), Matt Kennard (Rupert), Marcia Do Vales (Maria), Alex Felton (Todd), Seb Castang (Antonio)
---
Plot
Best friends Alex, the obnoxious horndog Big Jim and the nerdy Az head to the resort island of Ibiza off the coast of Spain for a vacation. Jim is disgusted that Alex has invited his ex-girlfriend Ellie along, she having come only because she purchased the ticket before they broke up. Around the world, there are reports of zombies, although Jim is sceptical of these. On the island, the nightclub owner Karl keeps zombie dancers and feeds the boys he has tired of sleeping with to them. While Alex, Jim and Az are partying there, one of the zombies gets loose and the club is overrun in short course. The group flee back to where the girls are at the villa only to find it surrounded by zombies.
---
In Britain, Lad Culture is something that seems to infect men under the age of thirty and involves a lot of beer-drinking, soccer and sexism. It is a culture that is kept alive by magazines such as Loaded, Maxim and Stuff that seem to think it is witty to celebrate such in ironic quote marks. We have seen the Lad Culture spill over onto film in the works of Guy Ritchie, Nick Love and one previous British genre entry Lesbian Vampire Killers (2009). Ibiza Undead is a Lad Film take on the zombie comedy. In the US, the film was retitled Zombie Springs Beakers even though Spring Break is not a tradition celebrated in Britain.
Ibiza Undead is not dissimilar to the also British-made Shaun of the Dead (2004), albeit like a more crass version of Shaun of the Dead where the younger, adolescent characters seem only obsessed with finding pussy or getting drunk. The character of Ed Kear's Big Jim seems to go through the entire film without a single line of dialogue in which he manages to slip in some reference to getting wasted and "bangin' bitches". It should be pointed out that Kear's gregarious performance is the most energetic one in the film.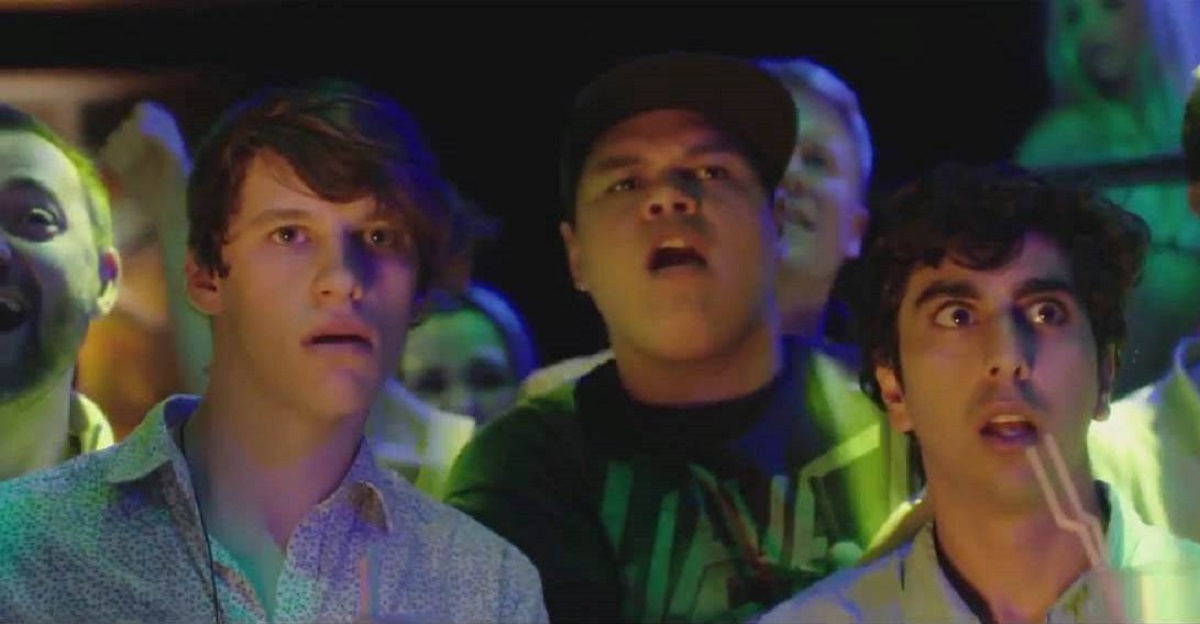 Alas, this and the entire film becomes like the socially maladroit member of a social gathering who cannot seem to say anything without it being loud, vulgar and frequently offensive. If that is one's idea of amusement then by all means, but for me it merely became tiresome and led to me soon switching off. There is the odd scene that finds some amusement – like the one where the group sit about debating whether to kill Matt Kennard or simply chop off his infected hand. And certainly this is by no means as crass as the Australian offering Me and My Mates vs. the Zombie Apocalypse (2015).
Outside of that, Ibiza Undead is average as a zombie film – nothing standout, nor anything particular subpar. By the time it gets into the midst of the attacks in the second half, the crassness of the characters settles into the somewhat tolerable. One of the film's more amusing ideas is the assumption – one shared by George Romero in Night of the Living Dead (1968) – that people would automatically use zombies as figures to make fun of, mutilate and enslave. Here we see zombies chained up as strippers and placed in stage shows where their limbs are gorily severed by bikinied girls wielding chainsaws.
---
---