---
Crew
Director – Leslie Goodwins, Screenplay – Bernard Schubert, Story/Adaptation – Leon Abrams & Dwight V. Babcock, Photography (b&w) – Virgil Miller, Music/Lyrics – Oliver Drake & Frank Orth, Music Director – Paul Sawtell, Special Photographic Effects – John P. Fulton, Art Direction – John B. Goodman & Martin Obzina. Production Company – Universal.
Cast
Lon Chaney [Jr] (Kharis), Virginia Christine (Princess Ananka), Peter Coe (Ilzor), Dennis Moore (Dr James Halsey), Martin Kosleck (Ragheb), Kay Harding (Betty Walsh), Addison Richards (Pat Walsh), Ann Codee [uncredited] (Tante Berthe), Kurt Katch (Cajun Joe), Holmes Herbert (Dr Cooper), Napoleon Simpson (Goobie)
---
Plot
As excavation works plan to drain the swamp where Kharis and Ananka are buried, archaeologist James Halsey arrives to try and uncover the whereabouts of the mummies. Unknown to Halsey, his assistant Ilzor is a priest from the cult of Akran. Ilkon revives Kharis with tana leaves. Ananka also rises from the swamps and is found wandering with no memory of who she is. Kharis comes after her, killing all in his way.
---
The Mummy's Curse was the fourth and final of Universal's Mummy films (not unless you count the Mummy's encounter with Abbott and Costello). (See below for the other Mummy titles). Like Universal's Frankenstein series, the Mummy films had quickly become trapped in a series of repetitive plot moves – Egyptian cultists revive Kharis, Kharis hunts for Ananka's modern day reincarnation, kills everybody in the way, Kharis is dispatched by the boyfriend of Ananka's modern day reincarnation.
The Mummy's Curse at least starts out promisingly. It aims for a flavour of Louisiana – one inhabited by Blacks, Cajuns and Asians (it was unusual to see minorities represented on screen at all during that time period). Even if the bayous are all studio sets and the Cajun accents atrocious, there is an interesting sense of verisimilitude created. These make it a film that is almost on the verge of being interesting.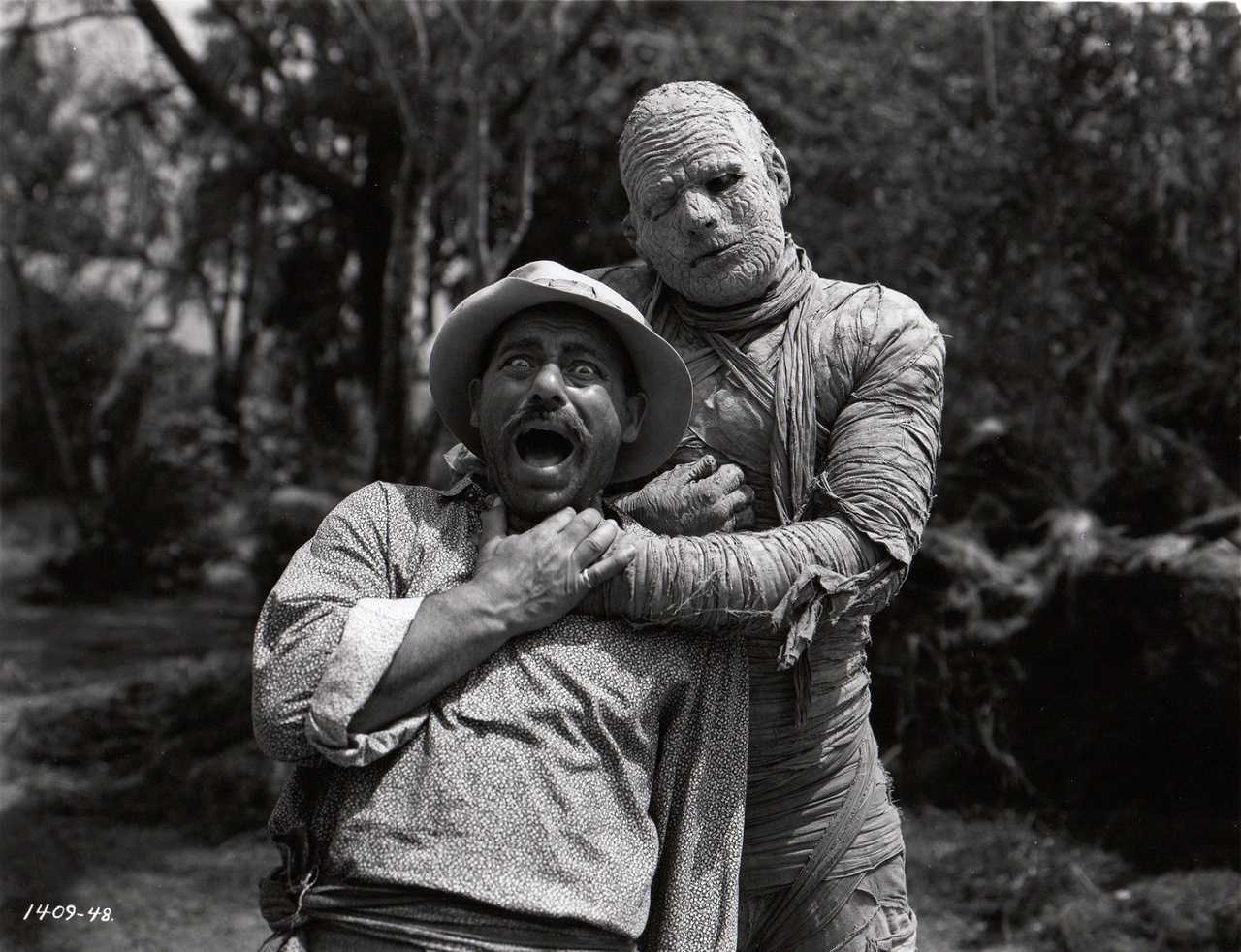 As is the particularly evident with the scenes of Virginia Christine's revived amnesiac princess, the film could have been ethereally mysterious but has befallen a pedestrian director. The cliché elements eventually take over and routinenness dominates. There are some bizarre continuity lapses – despite being set twenty-five years after the previous entry, The Mummy's Ghost (1944), the period is still the 1940s.
The other Universal Mummy films are:– The Mummy (1932), The Mummy's Hand (1940), The Mummy's Tomb (1942), The Mummy's Ghost (1944) and Abbott and Costello Meet the Mummy (1955).
Director Leslie Goodwins had a film career between the 1930s and 1950s, moving into television in the 1960s. He was mostly a specialist in comedy, including the popular Mexican Spitfire series. His other genre works include the Old Dark House comedy Murder in the Blue Room (1944), while the Mexican Spitfire Sees a Ghost (1942) takes place in a supposedly haunted house but opts for a mundane ending.
---
---