---
Crew
Director – Jason Axinn, Based on the Screenplay by George A. Romero and John A. Russo, Producers – Robert Feldman, Kevin Kasha, Michael J. Luisi & Ralph E. Portillo, Music – Nima Fakhrara, Animation – Demente Animation Studio, Production Design – Will Sweeney. Production Company – The Long Game/Hemisphere Entertainment/NOTLDA.
Voices
Dulé Hill (Ben), Josh Duhamel (Harry Cooper), Katharine Isabelle (Barbara), James Roday Rodriguez (Tom), Katee Sackhoff (Judy), Nancy Travis (Helen Cooper), Jimmi Simpson (Johnny)
---
Plot
Barbara and her brother Johnny drive from Pittsburgh to place a wreath on their mother's grave. While there, Johnny is attacked and killed by a stumbling man. Barbara flees as she is attacked by other stumbling figures. She takes refuge at a nearby farmhouse where she is joined by Ben, along with Harry Cooper and his family who have taken shelter in the cellar. On the radio and tv, they learn how the dead everywhere are rising from their graves and attacking and devouring the living. Ben takes charge and barricades them into the house. He and Harry Cooper argue over the best means of survival as the dead surround the house, trying to break in.
---
Night of the Living Dead (1968) is one of the genuine landmark genre classics. It was the first ever Zombie Film, or at least modern zombie film in the flesh-eating as opposed to voodoo sense. It made the name of director George Romero, who made a highly successful follow-up with Dawn of the Dead (1978) and several other sequels over the years. Romero also oversaw a remake with Night of the Living Dead (1990).
The film fell into public domain due to someone's failure to renew the copyright notice. As a result, there have been an inordinate number of unofficial remakes – Night of the Living Dead 3D (2006) and Night of the Living Dead (2014) and a host of sequels and assorted hangers on in name only. Indeed, Night of the Animated Dead was earlier preceded by Night of the Living Dead Reanimated (2009) where the original was reworked using animated clips and artwork from various contributing artists.
This is a new animated version from Jason Axinn. Axinn emerged from directing commercials and episodes of web series such as Chaotic Good Online (2009), Space Guys in Space (2012), Inside the Legend (2012) and Starpocalypse (2013-4). He made his feature-length debut with the strange To Your Last Death (2019).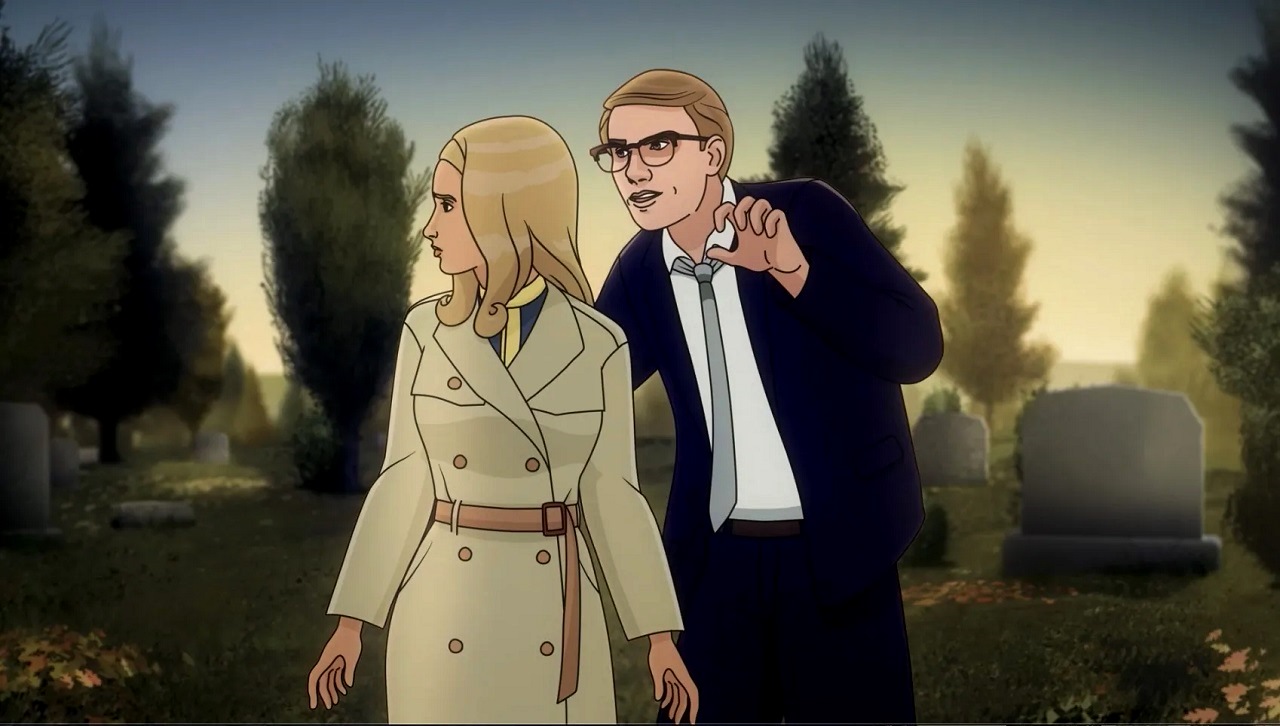 Night of the Animated Dead resembles Night of the Living Dead on almost every point. It is not quite a shot-for-shot remake but certainly comes close to being scene for scene. I don't have enough time in my day to be able to run both films alongside one another for a fully detailed comparison so I am mostly relying on memory to make comparisons. What should also be said is that there is no credit for screenplay or adaptation other than 'Based on the Screenplay by George A. Romero and John A. Russo', leading you to the assumption that what we have is a word-for-word duplication of the original screenplay. Axinn even goes so far as to retain the 1968 setting according to a calendar seen in the background.
There is a slight expansion and addition in some areas. The film briefly flashes back to tell what happened to Ben just before he arrived at the farmhouse where we see him fleeing from a zombie-overrun convenience store and taking the pick-up truck. There are, unless my memory is faulty, slightly more scenes between Harry and his wife in the cellar, while here she is portrayed as far more shrewish and brow-beating of him.
Where Jason Axinn ups the game is in giving the story quite a degree more Splatter and Gore. During the opening graveyard scene, we get to see the zombie actually bash Johnny's head against a grave and kill him, whereas Romero never shows Johnny's death. Axinn also adds a good deal more in the way of seeing zombie heads splattered, fingers cut off, heads smashed in with a tire iron and shotgun blasts going right through bodies, along with the splattered heads of Tom and Judy after they are killed.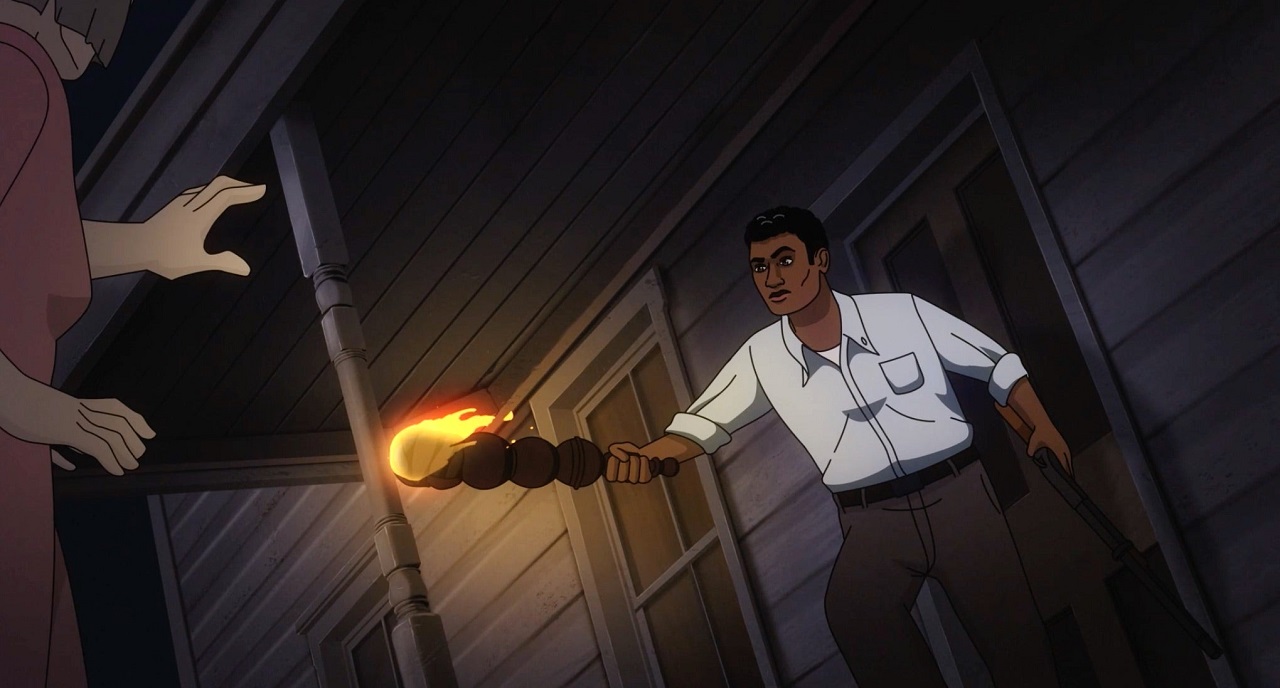 I am of the opinion that horror does not work that well in Animation – at least blood and gore driven horror where the drawn equivalent becomes just pools of red and a few squiggles for entrails that holds nothing against seeing the same in live-action. Night of the Animated Dead also lacks the stark nightmare quality of the original – for one, it is in colour instead of black-and-white. The limited animation also means that the pace of scenes moves far more slowly – a scene will often be static with only a single moving element. Ben is a much more anonymous character, lacking in the harsh decisiveness of Duane Jones's performance.
The main problem that this faces is simply that there have been four prior versions of Night of the Living Dead, as well as distaff copies such as Re-Animated and the various cuts that offer extra footage. The original is so imprinted in the consciousness of anybody who has been around the horror genre long enough that you can almost cite it word for word. What does a new version that retells the story in animation but sticks to the same plot on just about every point have to add to that? Precious little, I am afraid. We need more original works, not ones stuck in the past recycling the same moves over and over.
---
Trailer here
---