---
Crew
Director – Johannes Roberts, Screenplay – Ernest Riera & Johannes Roberts, Producers – Rory Aitken, Alexandra Aja & Ben Pugh, Photography – Maxime Alexandre, Music – Joseph Bishara, Visual Effects – Automatik VFX Ltd. (Supervisor – Sebastian Barker), Special Effects Supervisor – Bharat S. Patel, Makeup/Creature Effects Design – Dan Martin, Production Design – David Bryan. Production Company – 42/Fire Axe Pictures/TSG Entertainment.
Cast
Sarah Wayne Callies (Maria Harwood), Jeremy Sisto (Michael Harwood), Sofia Rosinsky (Lucy Harwood), Suchitra Pillai (Piki), Logan Creran (Oliver Harwood)
---
Plot
Michael and Maria Harwood are an American couple living in Mumbai. Maria is deeply depressed over the death of their son Oliver who was drowned after the car she was driving went off a bridge and she was unable to free him. She takes an overdose of pills but is saved by Michael. In the aftermath, the maid Piki tells Maria of a village in South India where if a person spends the night in a temple and spreads the dead one's ashes outside, the dead will come and one can say a final goodbye. The only thing that one cannot do is open the door of the temple while they are there. Maria travels to the temple and does as instructed. As night comes, she hears Oliver's voice outside the door but when he goes to depart, Maria opens the door to plead with him to stay – but there is nothing there. Returning to the city, she soon finds strange things happening around the house – the daughter Lucy insisting that Oliver is there and something is playing the piano, the plants outside dying; and a force urging Maria to sit and read to Oliver's empty bed. She realises that her opening the door has brought Oliver's spirit back as something that is becoming increasingly more malevolent.
---
Johannes Roberts is a British director who emerged during the 2000s/early 2010s with a series of B-budgeted films, including Sanitarium (2001), Alice (2002), Darkhunters (2004), Hellbreeder (2004), Forest of the Damned (2005), F (2010), Roadkill (2011) and Storage 24 (2012). There came a point in there somewhere where Roberts went from making B movies to those that were quite good.
The Other Side of the Door was Roberts' first major release and was produced by Alexandre Aja, the director of The Hills Have Eyes (2006) and Piranha (2010), among others. Roberts subsequently went on to the modest acclaim of the theatrically-released 47 Meters Down (2017), which he followed with The Strangers: Prey at Night (2018), 47 Meters Down: Uncaged (2019) and Resident Evil: Welcome to Raccoon City (2021), as well as the standout Suicide Bid episode of V/H/S/99 (2022), as well as the standout Suicide Bid episode of V/H/S/99 (2022).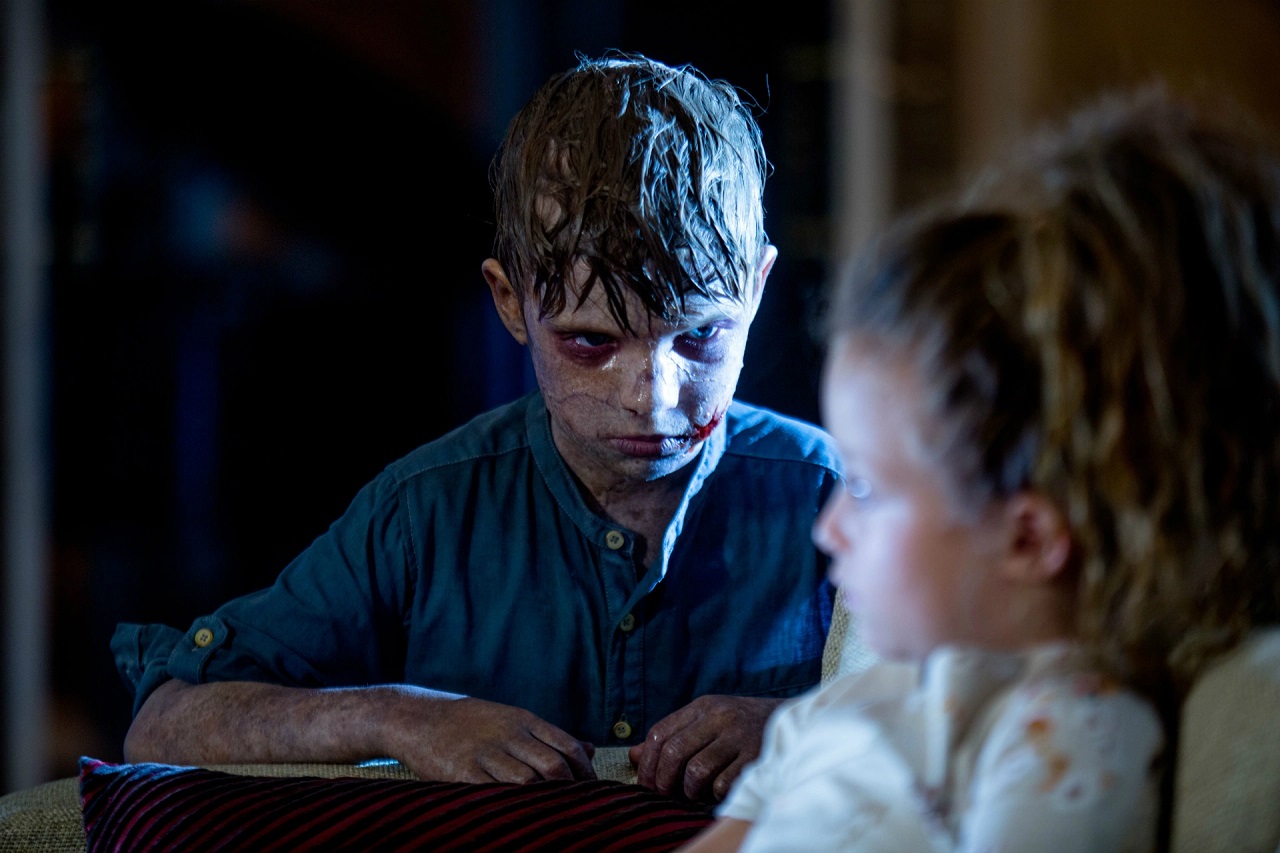 The plot is a variant on Pet Sematary (1989) about the parent resurrecting a child but with very bad consequences due to having crossed a taboo line. Johannes Roberts does an undeniably effective job of creating spooky scenes – of young Sofia Rosinsky sitting at a piano as various keys play themselves; Sarah Wayne Callies entering Oliver's room as a copy of The Jungle Book (1894) falls to the floor and a chair abruptly moves across to the bedside indicating for her to read a bedtime story; a scene where Sofia Rosinsky sits and the shadow of Oliver appears outside the window and progressive lightning flashes reveal him moving closer and then abruptly standing right next to her; Sarah Wayne Callies approaching Sofia Rosninsky standing by the bed with her back turned before Sofia emerges out of the bathroom and she finds it is something else standing by the bed. Young Sofia Rosinsky gives quite a good performance, especially when she becomes possessed by Oliver.
On the downside, the film falls into a certain brand of horror movies that regard foreign cultures as alien and sinister. In these, there is usually a plot about a white Westerner in a foreign country where existing local customs are shown with sinister overtones. Other examples of this might include The Believers (1987), Ghost House (2017) and Death of Me (2020). Here there is the use of the Aghori, traditionally a Hindu sect whose rituals involve smearing ash from funerary cremations over their body, who here are treated as sinister figures constantly spooking or jumping unexpectedly out at Sarah Wayne Callies.
---
Trailer here
---