---
Crew
Director – Kevin Chicken, Screenplay – Kevin Chicken & Dusan Tolmac, Producers – Fiona Campbell & Cordelia Plunket, Photography – Jim Marks, Music – Dan Bewick, Visual Effects – Raised By Wolves, Prosthetics – KM Effects Ltd (Supervisor – Andreas Franz Designer – Kristyan Mallett), Production Design – Charlie Whiteway. Production Company – Kew Media Group/Global Chicken Inc/Family Values/Perfect Skin Productions.
Cast
Natalia Kostrzewa (Katia Mutaschek), Richard Brake (Bob Reid), Jo Woodcock (Lucy Dalton), Sartaj Garewal & Cameron Jack (Detectives), Kate Arneil (Eileen Reid), Kasia Koleczek (Magda), Perry Jacques (Magda'a Boyfriend)
---
Plot
Katia Mutaschek is a Polish girl who came to London for an au pair job that did not last. She is currently couch surfing while looking for work. She goes to stay with Lucy Dalton, an Australian that she befriended in a club. Lucy introduces Katia to her tattooist Bob Reid, an American expatriate. Lucy has to return to Australia after her mother falls ill and leaves Katia alone in the apartment with money to pay the rent. Instead, Katia takes the money and goes out partying. She gets drunk and encounters Bob at the bar. He takes her back to his studio and she comes around to find that she is chained up in a cell out the back. Bob announces that he is going to make her his new tattoo subject and turn her body into a work of art.
---
Perfect Skin was a directorial debut for Kevin Chicken who had previously worked as an editor and commercials director in England. (In interviews, he is clear to insist that Kevin Chicken is his real name).
The theme of tattooing has had some fascination in genre cinema before. There have been efforts such as The X Files episode Never Again (1997), which had Rodney Rowland driven to kill by a tattoo of Betty Boop (voiced by Jodie Foster); a similar plot in the subsequent Canadian film Comforting Skin (2011); and The Tattooist (2007) about cursed tattoos. There was also the uniqueness of the narrative frame in The Illustrated Man (1969) where a man's tattoos come to life to tell stories. There have been a number of films dealing with the dark fascination surrounding tattoos such as the erotic psycho-thriller Tattoo (1981) and the German Tattoo (2002) about the killing of people for their tattoos. Serial killers have also been depicted as tattooed to suggest perverse threat in films like Strangeland (1998) and Red Dragon (2002).
As its lead, Perfect Skin has imported Richard Brake, an actor who has been working since the 1990s and gained fame as the lead bad guy in Rob Zombie's 31 (2016) just before this was made. (In actuality, this is less Brake being an imported American star than him coming home – you assume he is American but he was actually born in Wales and his family emigrated to the US while he was at a young age). Brake plays the part with an unnerving friendliness. He's someone you expect to do something bizarre at any moment – and to confirm it, Kevin Chicken gives us perverse images of Brake strung upside down via hooks pierced through the skin on the back of his legs.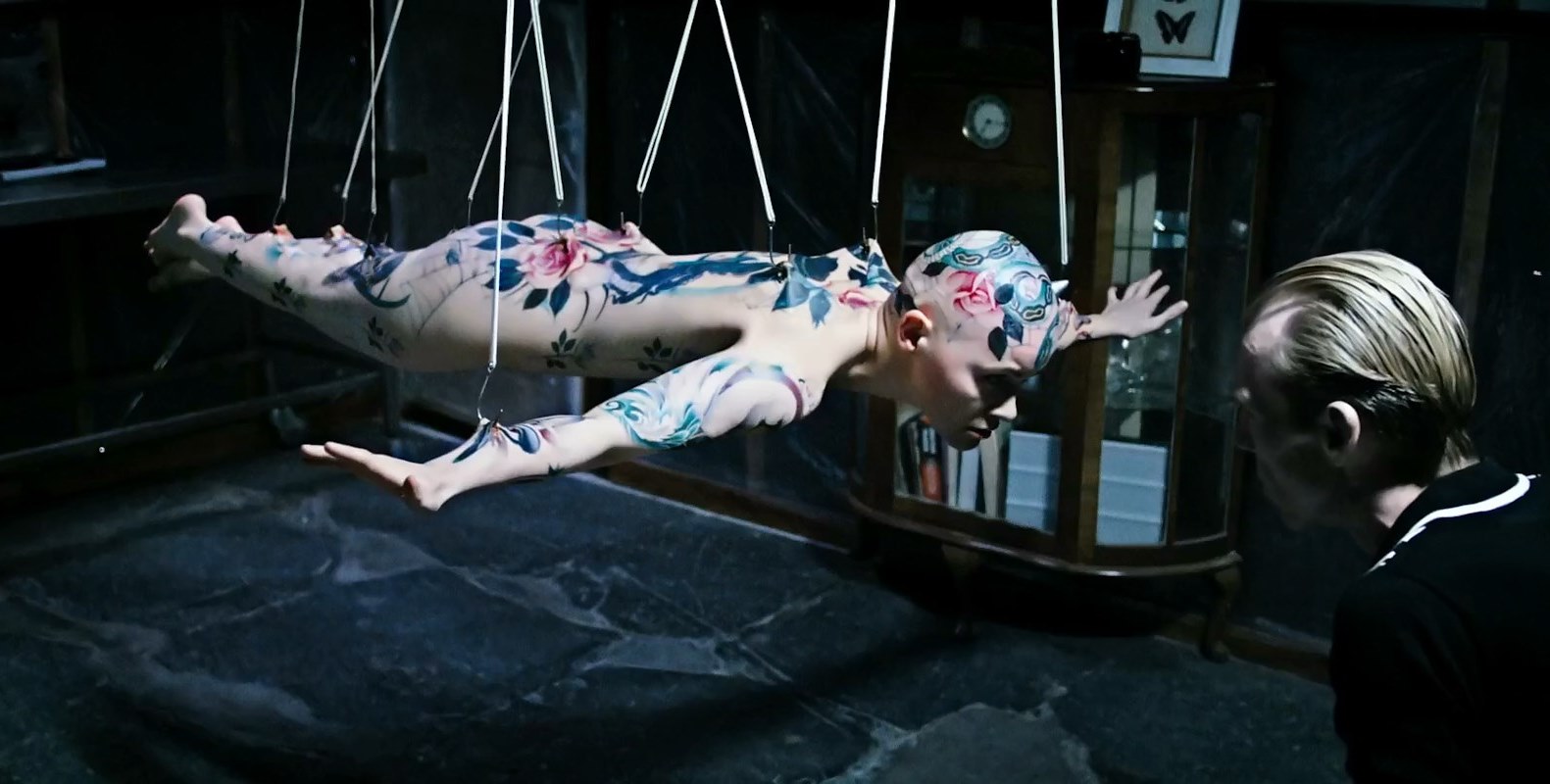 The plot set-up is very similar to The Collector (1965), one of the formative Imprisonment Thrillers that had Terence Stamp abduct Samantha Eggar in an effort to make her love him. This is almost identical but for the addition of a twist where Richard Brake has decided to use Natalia Kostrzewa's body as a tattoo canvas. These scenes give Perfect Skin an undeniably fetishistic undertow. The tattoos we see – I have no idea whether they are real ink or just makeup effects – are striking and beautiful. And the scene where Natalia Kostrzewa finally emerges with head shaven and a pair of horns is striking – especially when we contrast it to when we were first introduced to her as a regular everyday girl at the start of the film.
On the other hand, the criticism could be made that the film delves into the world of body modification but only puts it to the ends of a standard imprisonment thriller that plays out in fairly predictable ways. Certainly, if you compare Perfect Skin to the Soska Sisters' American Mary (2012) on a similar theme, it pales into quick forgettability.
---