---
Crew
Director/Story – Panos Cosmatos, Screenplay – Panos Cosmatos & Aaron Stewart-Ahn, Producers – Nate Bolotin, Martin Metz, Daniel Noah, Adrian Politowski, Josh C. Waller & Elijah Wood, Photography – Benjamin Loeb, Music – Jóhann Jóhansson, Visual Effects – Umedia VFX (Supervisor – Nicolas D'Andrade), Animation – Banjo Studio (Animation Director – David Garcia), Special Effects Supervisor – Eric DeWulf, Makeup Effects – Oriane de Neve, Production Design – Hubert Pouille. Production Company – SpectreVision/Umedia/XYZ Films/Wallimage.
Cast
Nicolas Cage (Red Miller), Andrea Riseborough (Mandy Bloom), Linus Roache (Jeremiah Sand), Ned Dennehy (Brother Swan), Bill Duke (Caruthers), Olwen Fouere (Mother Marlene), Richard Brake (The Chemist)
---
Plot
The Shadow Mountains, 1983. Red Miller is a logger who lives in a cabin with his girlfriend Mandy Bloom who draws fantasy art. While she walks to work, Mandy is seen by Jeremiah Sand, the leader of The Children of the New Dawn cult. Sand summons the Black Skulls biker gang to abduct Mandy and then gives her a hallucinogen. After she taunts him, Sand has Mandy set on fire as an imprisoned Red is forced to watch. Tearing himself free, Red forges a battle-axe and sets forth to wreak vengeance against those responsible.
---
Panos Cosmatos is son of the late George Pan Cosmatos, director of works such as The Cassandra Crossing (1976), Of Unknown Origin (1983), Leviathan (1989) and in particular, the Sylvester Stallone hits of Rambo: First Blood Part II (1985), Cobra (1986) and Rambo III (1988). Panos made his directorial debut with the mind-bending science-fiction film Beyond the Black Rainbow (2010), which gained a reasonable reputation on the arthouse circuit even if it critically divided everybody who saw it. Mandy was Panos Cosmatos's second film.
I must confess that I was in the group who didn't get Beyond the Black Rainbow. It felt like it was a host of directorial and cinematographic pretensions (in particular those of someone who had watched too many 70s/80s science-fiction films) in search of a plot. Mandy attained a critical acclaim, being regarded as one of the indie hits of 2018. Equally, I ended up having mixed feelings about the film for fairly much the same reasons I did Beyond the Black Rainbow.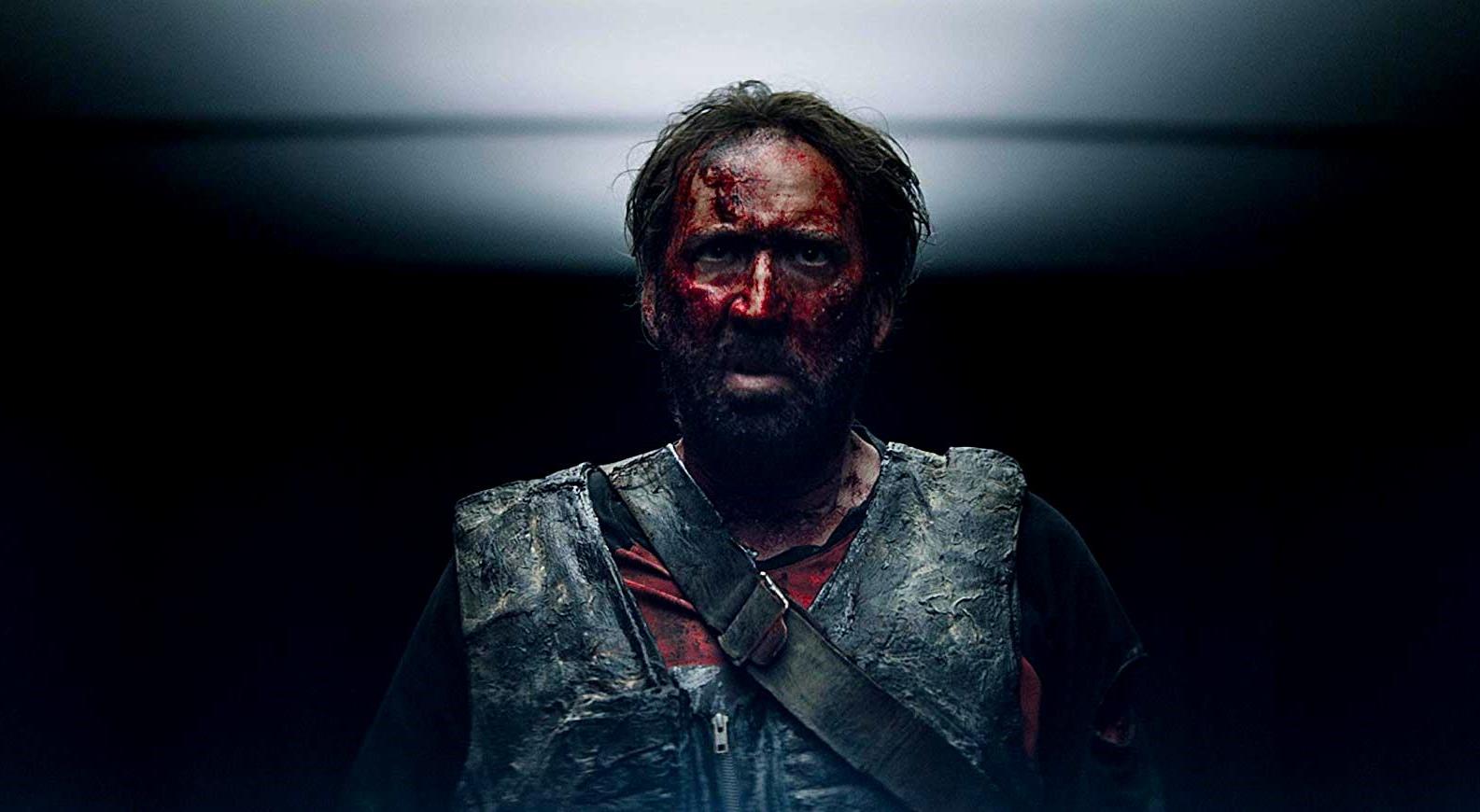 Just as in Beyond the Black Rainbow, Panos Cosmatos spends much of the film homaging the style of other eras. The film has the aesthetic of a 1960s LSD film where it feels like Cosmatos is reaching for esoteric spaces. Walls are outfitted in psychedelic patterns and murals that recall 1970s fantasy artists like Frank Frazetta and Boris Vallejo – the art even seems to optically merge with the real skies at a couple of points. In the acid trip sequences, we get weird ghosting effects where Andrea Riseborough and Linus Roache's faces turn direct to the camera and seem to blur into one another.
Mandy becomes a film that you appreciate on a primal level more so than you do one of plot or drama. Cosmatos tricks out every scene in the film with blood red lighting schemes and a thunderously over-emphatic score – he even indulges in effects like Nicolas Cage driving down an avenue of trees where all the trees outside the car appear to have been lit in blood red light. Everything that happens seems to take place on some epic level of primal rites – be it images of Nicolas Cage covered in blood, stripped to the waist, the gouts of blood as Cage slits throats.
Where other vigilantes like Charles Bronson in Death Wish (1974) or Robert De Niro in Taxi Driver (1976) start practicing with guns to take on attackers, Nicolas Cage forges an entire battle-axe. Recovering from his wounds, his natural reaction is to drink an entire bottle of alcohol. Linus Roache doesn't do anything as simply as pick up a phone and call the biker gang, he has to bring out a massive horn and use it to call them across the lake, while the bikers themselves don't simply wear leathers but are transformed with black leather and spikes into something resembling an H.R. Giger alien.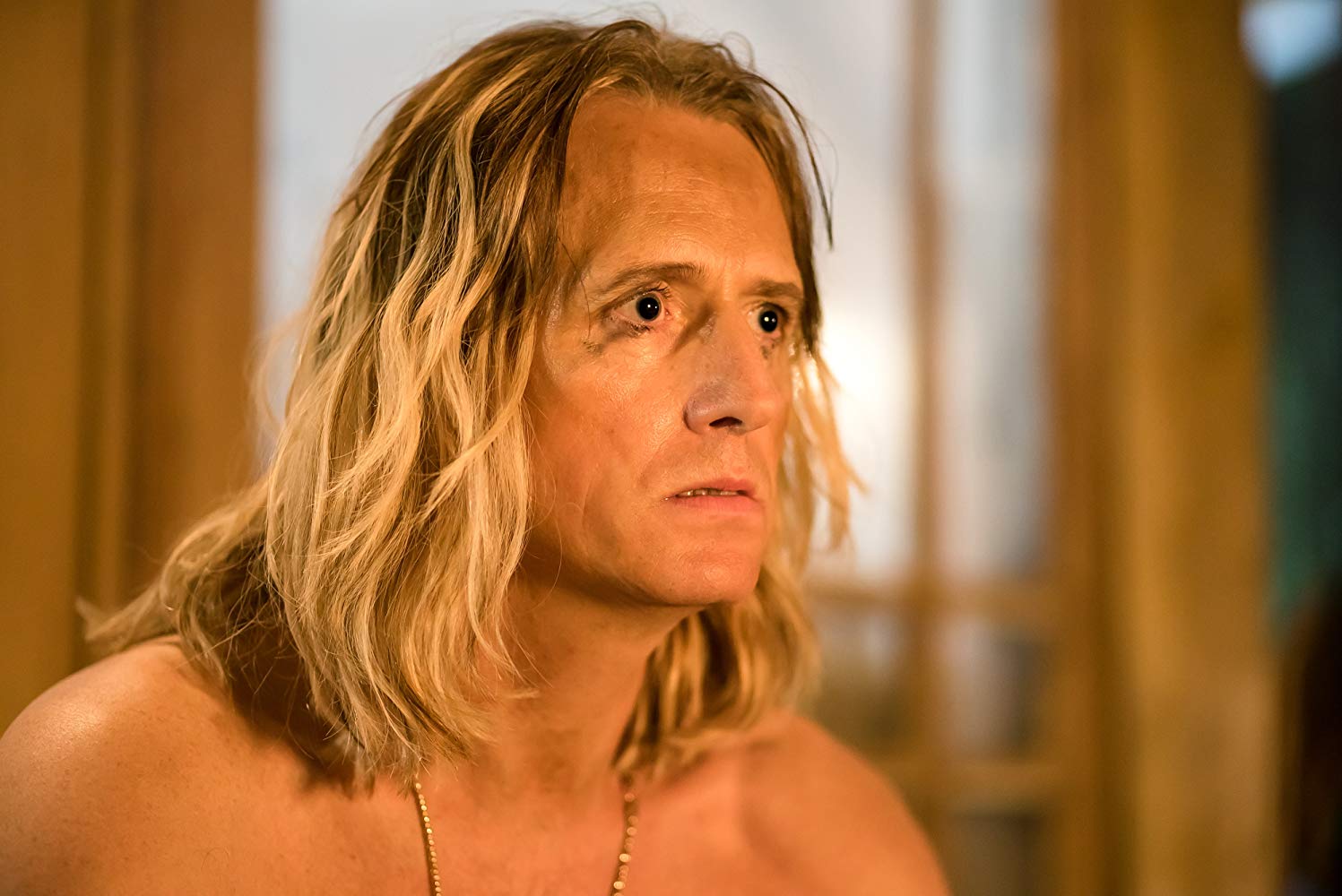 By contrast, the dialogue scenes have a weird banality that often resemble the exchanges in a David Lynch film. Nicolas Cage and Andrea Riseborough have a discussion about their favourite planets where he opines that his favourite astronomical body is Galactus (of Marvel Comics fame). Later she tells a bizarre story about her childhood where her father forced them to kill starlings. After being imprisoned and stabbed by one gang member, Cage's indignant response is "That was my favourite shirt" and then remonstrates his attacker "You're a vicious snowflake" before killing him. Later he is referred to as "A Jovian warrior sent forth from the eye of the storm."
It is all kind of interesting but it seems more about Panos Cosmatos indulging directorial/cinematographic effects than it is necessarily in the aid of well-honed vision. On a level of pure plot, Mandy is nothing more complicated than a revenge film – you could compare it to works like The Last House on the Left (1972), Death Wish, Mad Max (1979), Death Sentence (2007) or the various versions of Marvel's The Punisher, where people go on rampage eliminating gangs in revenge for the slaughter of a loved one(s). All of these come without the need to amplify everything to level of cod-Wagnerian opera. Contrasted to these, Mandy emerges as a fairly regular revenge film buried under a mountain of directorial pretensions.
---
---