---
Crew
Director – M.J. Bassett, Screenplay – Isabel Bassett & M.J. Bassett, Producers – Kyle Ambrose, Delon Bakker, M.J. Bassett, Kwesi Dickson, Molly Hassell & Jay Taylor, Photography – Brendan Barnes, Music – Jack Halama & Scott Shields, Visual Effects – Cinegestix (Supervisor – Hilton Treves), Special Effects Supervisor – Gerhard Van Der Heever, Makeup Effects – The Creature Shop, Production Design – Waldemar Coetsee. Production Company – Hassell Free/Mannequin Pictures/The Electric Shadow Company/Raven Entertainment/Showmax.
Cast
Megan Fox (Samantha O'Hara), Philip Winchester (Joey Kasinski), Greg Kriek (Mike Barasa), Brandon Auret (Elijah Dekker), Jessica Sutton (Asilia Wilson), Kenneth Fok (Bo Yinn), Isabel Bassett (Tessa), Adam Deacon (Zalaam), Sisanda Henna (Pata), Tamer Burjaq (Masakh), Calli Taylor (Chloe)
---
Plot
Samantha O'Hara leads a team of mercenaries as they conduct a raid on a rebel camp to rescue the daughter of an ambassador who is being held hostage. Although it is outside her mission parameter, Samantha is persuaded to free the other girls that are held there too. They make an escape under heavy fire from the rebels who proceed to shoot down the helicopter come to extract them. Fleeing on foot, the group take refuge at a farmhouse only to find it is used to farm lions for an international game trafficking operation. As they settle in for the night, they discover that a wounded lion that escaped from the facility is loose in the area, killing every human it encounters. Caught between the lion and the pursuing rebels, they are forced into a desperate game of survival.
---
A few years ago, Michael J. Bassett was a genre director on the rise with films like Deathwatch (2002), Wilderness (2005), Solomon Kane (2009) and Silent Hill: Revelation (2012). In 2016, Bassett underwent gender reassignment to become a woman and has been credited as M.J. Bassett on everything directed since 2018. Since then, Bassett has done assorted work in US tv and Rogue was her second feature film listed as M.J. Bassett following the non-genre Inside Man: Most Wanted (2019). Bassett co-writes the script with her daughter Isabel who also plays the role of the ambassador's daughter's best friend.
Rogue – not to be confused with Greg McLean's standout killer crocodile film Rogue (2007) – is an Animals Attack Film. This is a genre that peaked in the 1970s and has seen various incarnations since. There have been sporadic films about killer lions and tigers with the likes of Savage Harvest (1981), Prey (2007), Prey (2016) and Beast (2022), as well as the high-profile The Ghost and the Darkness (1996). The best in this mini-genre was Burning Bright (2010) about a brother and sister trapped inside a house with a tiger.
As the end credits make apparent, Bassett and daughter seemed to be interested in making a statement about the farming of big cats. Around the same time, Bassett also made Endangered Species (2021) about a family on vacation in Africa being terrorised by an endangered rhinoceros, which was also co-written with Isabel and features her in an acting role.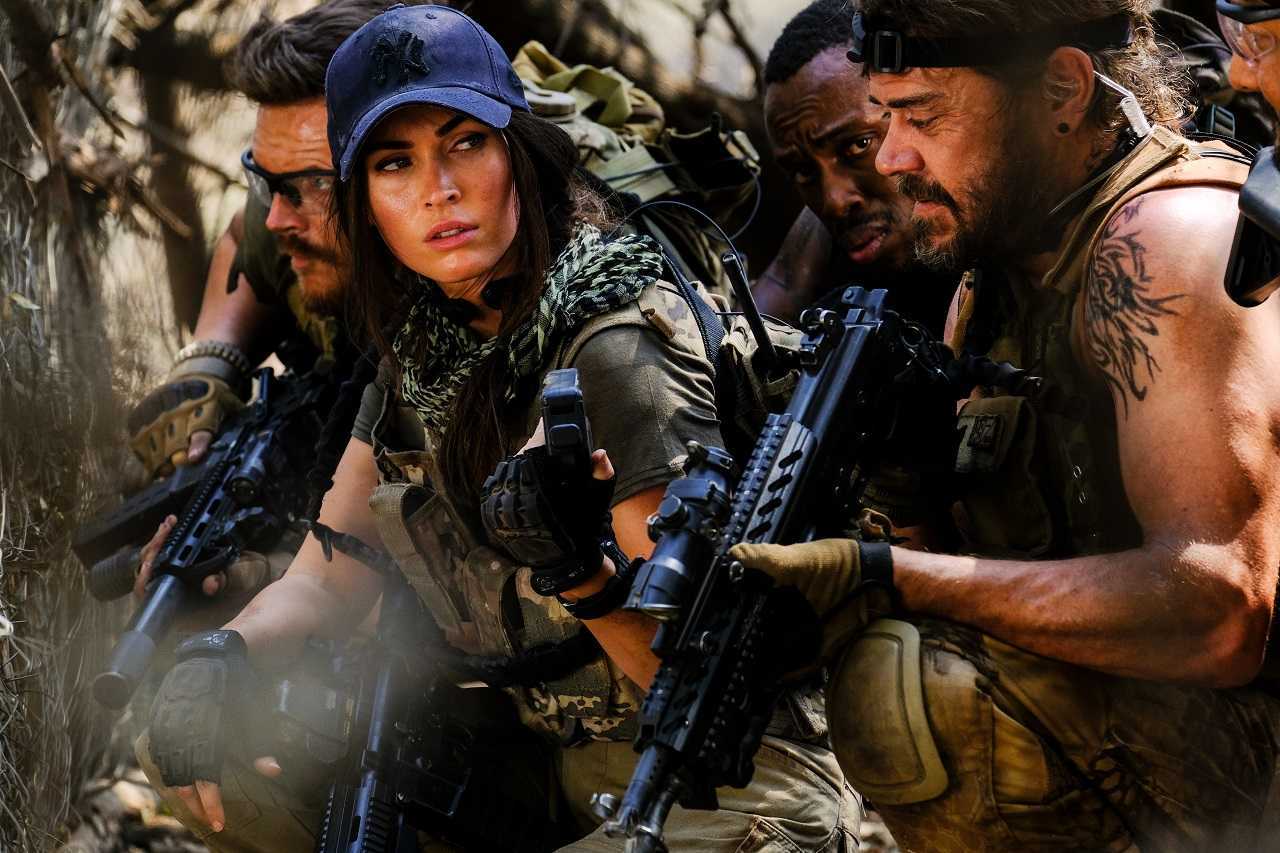 Rogue doesn't reveal itself as being an Animals Amok film for some way in – it is a good 40 minutes before Bassett has the lion attacking the cast. At first, Rogue seems to be shaping up to be a military action film with much in the way of furious gunplay between soldiers and rebels, all conducted on a modest budget. (And all very nicely shot on location in South Africa). And certainly the lion attacks, as well as the assorted shootouts and action scenes, have been slickly produced and edited.
There is little that one can fault with Bassett in terms of her action direction. On the other hand, the main issue I had with the film is that all it consists of is 105 minutes of shooting and lion attacks. Slick and all as they are set up, there is not a single one of the scenes that stands out in memory afterwards. The entire film feels like a fast-paced kinetic ride with some peaks and troughs but nothing else that stands out. The other big issue I had with Rogue was that the characters get such little individuality – all them wear near-identical military combat gear such that it is frequently difficult to tell one character apart from another especially when it gets dark.
The film's only recognisable face is that of Megan Fox who gained attention a few years ago as a result of Transformers (2007). She appeared in a couple of other films – Jennifer's Body (2009) and Teenage Mutant Ninja Turtles (2014) – and was subject to a good deal of celebrity buzz and then forgotten five minutes later. I never joined the Megan Fox cult and always found her cold and standoffish. I would have thought that the role she has here as a soldier would have been one where her coldness might have played into it but alas she is just as stony-faced and standoffish as ever.
---
Trailer here
---