---
Crew
Director – Karyn Kusama, Screenplay – Diablo Cody, Producers – Daniel Dubiecki, Mason Novick & Jason Reitman, Photography – M. David Mullen, Music – Stephen Barton & Theodore Shapiro, Music Supervisor – Randall Poster, Visual Effects – Technicolor Creative Services Vancouver (Supervisor – Erik Norby), Special Effects Supervisor – Rory Cutler, Makeup Effects – Howard Berger & Greg Nicotero, Production Design – Avinder Grewal. Production Company – Fox Atomic/Dubiecki-Novick-Reitman/Dune Entertainment.
Cast
Megan Fox (Jennifer Check), Amanda Seyfried (Anita 'Needy' Lesnicki), Johnny Simmons (Chip Dove), Adam Brody (Nikolai Wolf), Kyle Gallner (Colin Gray), Josh Emerson (Jonas Konelle), J.K. Simmons (Mr Wrobleski), Chris Pratt (Roman Duda), Amy Sedaris (Needy's Mom), Cynthia Stevenson (Chip's Mom), Carrie Genzel (Jennifer's Mom)
---
Plot
Teenager Anita 'Needy' Lesnicki has been placed in a psychiatric institution. She is locked in solitary after becoming violent to the warders. She recalls the circumstances that led to her being there. Not so long ago, she was a nerdy high school student in the small town of Devil's Kettle. Her best friend was popular and bitchy cheerleader Jennifer Check. Jennifer dragged Anita to a local bar for a performance by the visiting indie band Low Shoulder. Jennifer started coming onto the band's lead singer Nikolai, only for the bar to be caught in a freak fire. They made an escape where Nikolai persuaded Jennifer to come away in their van, despite Anita's fears for her safety. Jennifer then turned up in Anita's house in the middle of the night, bloodied and vomiting up black ichor. While the whole town reeled in grief at the fire, Jennifer appeared unconcerned. She started selecting various guys from school, coming onto them and then tearing their throats out. Jennifer told Anita what happened that night – Low Shoulder were intending to use her as a virgin sacrifice in an occult ceremony in order to further their careers but she somehow survived after they stabbed her. Anita realised that because Jennifer wasn't a virgin, she instead became possessed by a demon than needed to keep devouring flesh to stay alive.
---
In 2007, there were two major hit films, the massive CGI effects spectacular of Michael Bay's Transformers (2007) and at almost the complete opposite extreme the effects-less and spectacle-free indie hit of Juno (2007), a quirky comedy about teenage pregnancy. Both films also brought to attention two newcomers, both women, in Diablo Cody and Megan Fox. Both were making their first film and both gained a great deal of fascination in the public eye. Diablo Cody was a former advertising copyrighter who turned stripper (and wrote a book about it), before abruptly winning an Oscar for Juno and becoming one of the hottest writing sensations in Hollywood. Megan Fox was a former teen model who had recurring roles in several sitcoms and two supporting film roles, before becoming a major red carpet sensation as a result of Transformers – although this was less due to any noticeable acting ability than one scene where Michael Bay had her bent over a car hood in a crop top dripping with sweat, which turned her into every teenage boy's instant object of lust.
Diablo Cody and Megan Fox, it should be said, exist at almost opposite ends of the spectrum. Where Diablo Cody is the stripper turned A-list screenwriter of considerable smarts, Megan Fox fame exists solely in terms of her ability to openly strut her sexuality. Where Juno became a hit because of Diablo Cody's ear for the quirkiness of teenage speech, Megan Fox has only attracted attention for airhead gaffes and putdowns of fellow film crew members. These two names have combined here on Jennifer's Body, which is Diablo Cody's second screenplay (it also comes co-produced by her Juno director Jason Reitman).
The director is another woman, Karyn Kusama who made the interesting Girlfight (2000) and previously entered genre territory with the big screen adaptation of Aeon Flux (2005) and would later go on to the horror film The Invitation (2015) about a sinister dinner party and the Her Only Living Son of the all-woman horror anthology XX (2017), followed by the underrated crime film Destroyer (2018). She has also produced Leap of Faith: William Friedkin on The Exorcist (2019) and the tv series Yellowjackets (2021- )..
What made everybody sit up and take notice of Diablo Cody with Juno was her ear for dialogue. She writes with an authentic-seeming voice of teen cynicism – sort of a post-postmodernist awareness of the world that holds both at once a curious innocence and a worldweariness with the media-saturated and commercialised culture around them. Here at one point Amanda Seyfried dismisses the story that Low Shoulder helped out at the fire, only to be turned on by classmate "Rumour? It's true, it's on their Wikipedia." Her dialogue has a playfully quirky ear for oddball colloquialisms. One has no idea if the terms Cody throws in are in actual use by real world teens but they come with the flavour of sarcastic authenticity as if they should be.
It was of surprise to some after writing the Oscar-winning Juno that Diablo Cody next turned to the horror genre, but it is no particular surprise to those in the know – Cody is clearly a horror fan, with Juno containing scenes debating the merits of cult horror films like The Wizard of Gore (1970) and Suspiria (1977). (Cody subsequently signed up to write the screenplay for Evil Dead (2013) remake, although did not end with credit on the finished film). The major difference between the two is that while Juno was a surprisingly sweet film beneath its quirkiness, Jennifer's Body is far more of a black comedy. "Are you PMS'ing or something?" Amanda Seyfried asks Megan Fox, to be dismissed "PMS isn't real, it was invented by the boy-run media to make us seem like we're crazy."
Megan Fox rapidly became a celebrity whose media (over)exposure attained a critical mass where the amount of coverage devoted to her every word rapidly overburdened the exceedingly small amount of talent she displayed. Expect in the very near future (a matter of months, one predicts) that the Megan Fox phenomenon will go the same way of recent other celebrities du jour such as J-Lo, Paris Hilton, Mariah Carey, Britney Spears and Lindsay Lohan where the amount of fascination accrued by their lives hits a critical boredom threshold that then starts to feed into a scathing cynicism. The Megan Fox threshold appeared to start after she mouthed off at director Michael Bay in interviews, whereupon a scathing indictment by two anonymous crew members from Transformers: Revenge of the Fallen (2009) attesting to Fox's bitchy egotism, constant boredom and self-absorption mysteriously appeared on Bay's website, followed her being fired from the next Transformers entry Transformers: Dark of the Moon (2011). This celebrity negative mass may well be why Jennifer's Body – which after all was sold to audiences on the Megan Fox name – ended up under-performing at the box-office when it opened.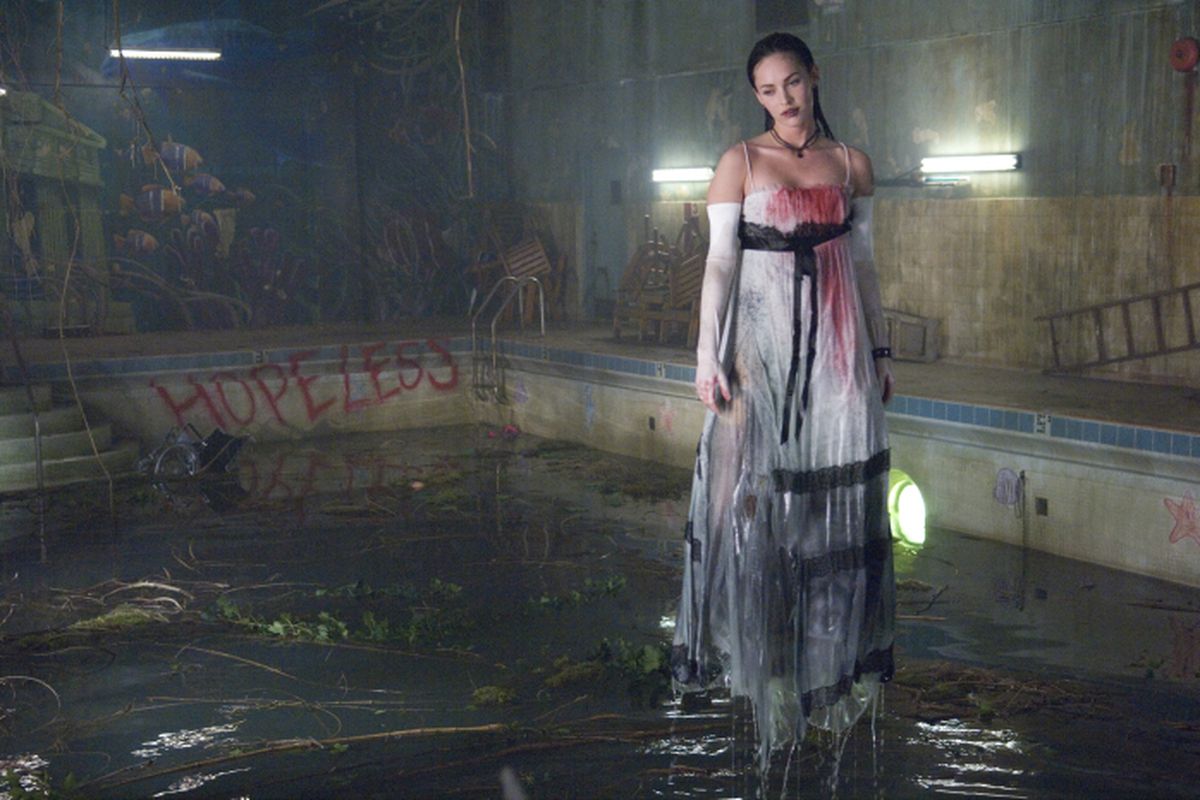 All of that said, Megan Fox gives something resembling a performance in Jennifer's Body. The Transformers films tended to regard her as no more than a blow-up doll that Michael Bay shuffled around and posed accordingly (which may well have been the reason for her aforementioned boredom and bitchiness). Here she is inflated with something like a character. One is not sure to what extent this is due to Karyn Kusama and Dablo Cody's writing, but it certainly is a case of the character conceived and the Megan Fox personality being in perfect synch – something perfectly designed to play to Fox's bitchiness, airheadedness and even reputed bi tendencies. She is outfitted with some side-splittingly hilarious lines, like when Kyle Gallner asks her out: "There's a midnight showing of Rocky Horror at The Bijou," to which she replies "I'm not into boxing movies."
Almost completely overshadowed by Megan Fox is the fine and rising Amanda Seyfried. The shock jolt we get when we go from the psychotic and deranged Seyfried in the opening asylum wraparound, before abruptly cutting to her as a mousily bespectacled teen in the flashbacks in striking. Both Seyfried and Diablo Cody go some way to making sure that Needy is not a stereotypical nerd and it is her quiet performance that impresses far more than the headline name of Megan Fox.
Also highly effective is Karyn Kusama. She directs with more than reasonable style. When it comes to the horror scenes, she displays a stylish grasp of staging without ever reaching for cliche horror shots. She proves judicious with the use of special effects, never allowing the creature effects and gore scenes to take over the film and become set-pieces in themselves. With an admirable modesty, Kusama takes a backseat and allows the characters/performances and Diablo Cody's script and dialogue to carry the show. The results work rather appealingly.
(Winner for Best Original Screenplay, Nominee for Best Supporting Actress (Amanda Seyfried) at this site's Best of 2009 Awards).
---
---