aka 6 Souls
USA. 2010.
Crew
Directors – Mårlind & Stein, Screenplay – Michael Cooney, Producers – Emilio Diez Barroso, Neil Edelstein, Darlene Caamano Loquet & Mike Macari, Photography – Linus Sandgren, Music – John Frizzell, Visual Effects – Asylum (Supervisor – Marc Varisco), Pacific Title and Art Studio (Supervisor – Mark Freund), Special Effects Supervisor – Ken Gorrell, Makeup Effects – KNB EFX Group, Inc. (Supervisors – Howard Berger & Gregory Nicotero), Production Design – Tim Galvin. Production Company – Nala Films.
Cast
Julianne Moore (Dr Cara Harding Jessup), Jonathan Rhys Meyers (David Bernburg/Adam Saber/Wesley Crite), Jeffrey DeMunn (Dr Harding), Frances Conroy (Mrs Bernburg), Nate Corddry (Stephen Harding), Brooklyn Proulx (Samantha Jessup), Joyce Feurring (Granny Holler Witch), Brian A. Wilson (Virgil), John Peakes (Dr Charles Foster), Steven Rishard (Detective Danton), Katiana Davis (Little Girl Holler/Familiar)
---
Plot
Cara Jessup, a Philadelphia psychologist specialising in multiple personality disorders cases (a phenomenon she denies exists), is called in by her psychiatrist father to consult on a case. An Adam Saber has been brought in after being found in the street confused. As Cara interviews him, he demonstrates the ability to change back and forward between the wheelchair-ridden David Bernburg. Determined to prove that this is merely in his mind, Cara begins an investigation, discovering that David was a handicapped teenager who was brutally murdered. When she brings David's mother in, Adam demonstrates an uncanny knowledge of things that only David could have known. Cara is reluctantly forced to believe that Adam is being inhabited by the souls of the dead, especially after he manifests the personalities of people she knows who have just died. Her investigation into the mystery leads her to the activities of a cult of backwoods hill witches.
---
Shelter is the English-language debut of Mårlind & Stein, a directing duo that hail from Sweden. Mårlind & Stein (in reality Måns Mårlind and Bjorn Stein) gained reasonable attention with their Swedish-made film Storm (2005) set in a world that blurred between videogame and reality, and the historical tv mini-series Snapphanar (2006). They are clearly directors of promise and subsequently went on to make Underworld: Awakening (2012) and then created the hit international detective series Bron/Broen (The Bridge) (2011-8) and directing/writing the thriller mini-series Midnight Sun (2016). Screenwriter Michael Cooney had previously directed Jack Frost (1997) and Jack Frost 2: Revenge of the Mutant Killer Snowman (2000) about a killer snowman, as well as written the screenplay for Identity (2003).
Shelter attracted a reasonable budget, a more than reasonable cast line-up and seemed promising … before it disappeared. It was initially released in several countries around the world throughout 2010 and a US release date was announced for February 2011. However, less than a month before it was due to appear, The Weinstein Company abruptly yanked the film from theatrical release with no reason given.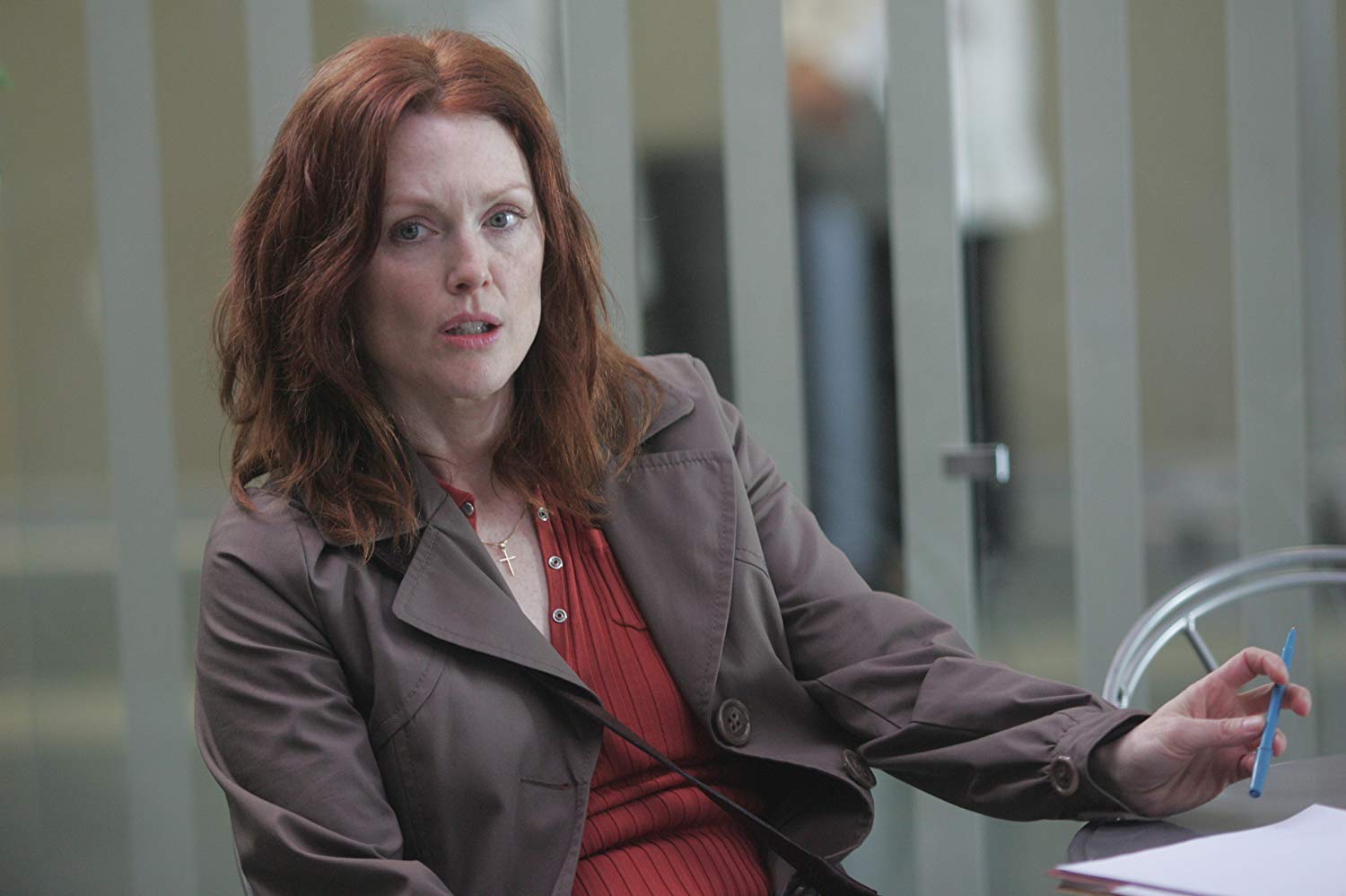 I had no idea what to expect of Shelter before I started watching it. It gave the good impression of being a serial killer thriller or psycho-thriller set around multiple personality disorder. Multiple personality themes are always excellent material for a thriller, not to mention a juicy role for any actor to sink their teeth into. Shelter holds an undeniable grip from the opening scene with Julianne Moore sitting before a roomful of sober men detailing a report she has written denying the existence of multiple-personality disorder interpretation in the case of a killer.
The film continues to hold its grip in the scenes when she interviews Jonathan Rhys Meyers and her father (Jeffrey DeMunn) shows her how he can make him switch personalities by a simple phone call. There is a decided jolt as DeMunn first makes the phone call and the camera remains focused on Julianne Moore's face and all that we hear from the other room is ominously loud slams and bangings, or the scene where she returns to the room and Jonathan Rhys Myers claims to see a number on a blank card and the camera pulls away as he suddenly stands up from his wheelchair.
It is here that Shelter shows its smarts and the fact that it has read up on its modern psychological theory, in telling a multiple-personality disorder tale and yet deconstructing this enough to acknowledge the fact that modern psychology tends to discredit multiple-personality disorder as a phenomenon, before going on to place Julianne Moore in the place of a sceptic, not unakin to Laura Linney in The Exorcism of Emily Rose (2005), who is forced to believe throughout.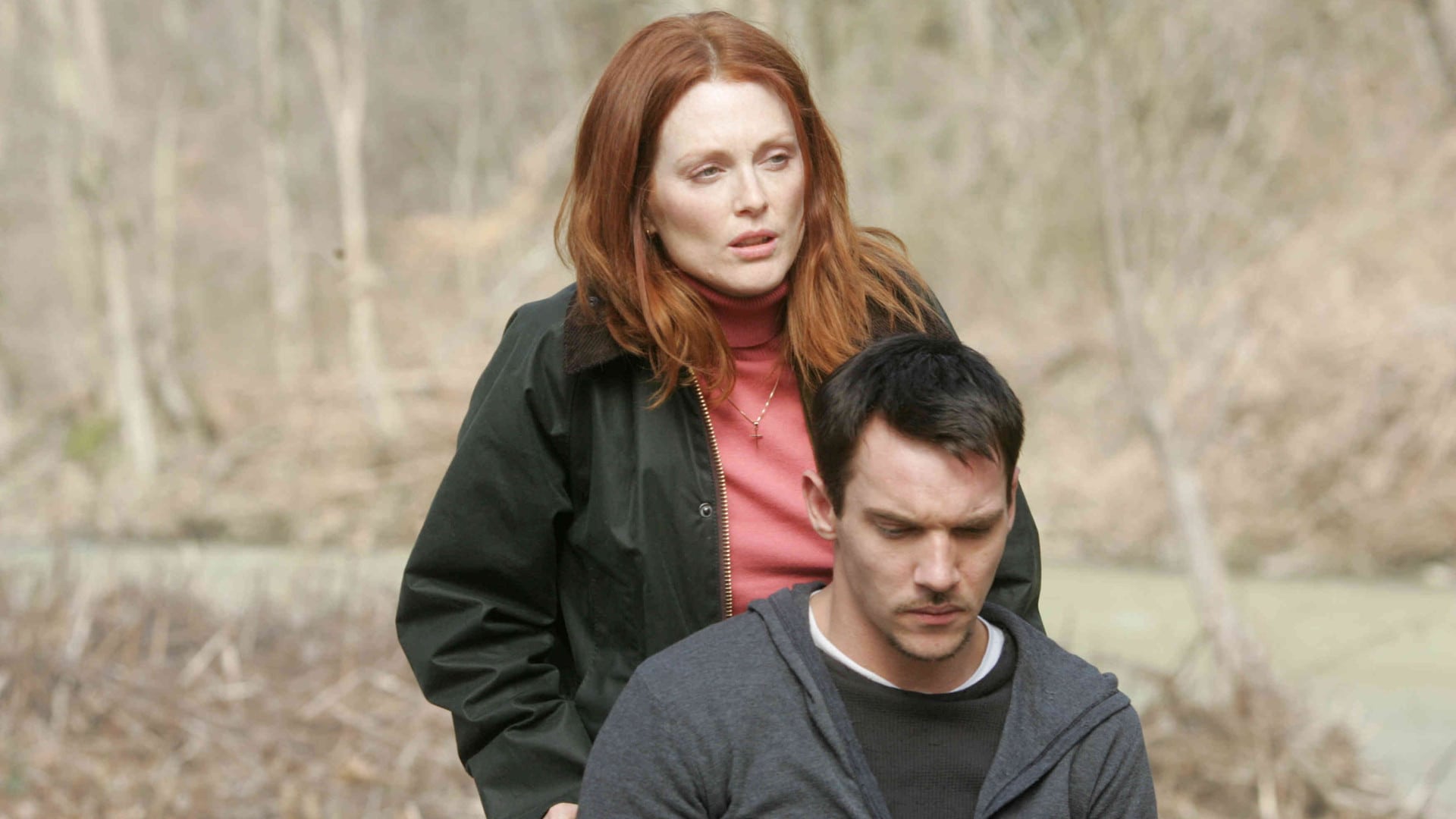 All of this stands Shelter in good stead. Unfortunately, the film fritters its potential away. Not long in, Shelter abandons its story about a psychologist examining a case of multiple personality disorder and becomes … something else. The three dots in the last sentence are not there to indicate suspense but rather that it is not ever clear exactly what Shelter is a film about. It involves something to do with Jonathan Rhys Myers becoming taken over by the spirits of the dead, although why this happens or how he seems able to know in advance who will become the next personality is never explained. There is a muddled explanation that involves something about him also being an evil preacher from the early 20th Century whose soul was stolen by the Hill Witch but how this connects up with him having become evil and manifesting the personalities of people who have just died is not made clear. Certainly, well before the one-hour point, Shelter has abandoned any attempts to make a thriller about multiple-personality disorder.
Mårlind & Stein do a competent job in the direction. They produce one of two jolts and a number of amped shocks based on loud noises or shadows moving across the screen. Julianne Moore turns in a performance that is well above average, the level of consummate professionalism one expects of her, even if the role she is given is nothing out of the ordinary. Jonathan Rhys Myers does okay with all the sinister smiling, although the dramatic personality shifts are not as much of an acting tour-de-force as other actors playing multiple personality disorders – Joanne Woodward in The Three Faces of Eve (1957), Sally Field in Sybil (1976), Edward Norton in Primal Fear (1996), Toni Collette in tv's The United States of Tara (2009-11), James McAvoy in Split (2017) – have made it into. For all that, Shelter manages to be uninteresting. The turn to the supernatural is too confusingly delineated and ultimately surprisingly dull, while the twist ending arrived at is a groan-worthy cliche.
---
---