---
Crew
Director/Story – Tripp Rhame, Screenplay – Ben Jacoby, Producer – Beth Marshall, Photography – Mark Carroll, Music – Jerome Dillon, Visual Effects – Dzignlight Studios & Foster House Productions, Visual Effects Supervisors – Eric Deren & Nate Foster, Special Effects Supervisor – Bob Shelly, Makeup Effects – Andre Freitas. Production Company – Spitfire Studios.
Cast
Chelsey Cripp (Sarah), Riley Smith (Eric), Michael Steger (Matt), Lyndon Smith (Skye), Elimu Nelson (Dave), Brittany Ishibashi (Bree), Isabella Watts (Anna Harris), Rajinder Kala (Reverend Kane), David Yow (Deputy Wilson), Mark Ashworth (Deputy Clayton), Robert Kelly (Captain)
---
Plot
Matt and his pregnant wife Sarah have brought a house in rural Georgia. They are joined for the weekend by friends Dave and Bree. They are also unexpectedly joined by Sarah's penniless twin brother Eric and his girlfriend Skye. Eric tells everybody how he has been touring the country, shooting ghost hunter videos in supposedly haunted locations. He persuades them to accompany him as he shoots a video at a nearby old abandoned jail where the murderous reverend known as Cannibal Kane was burned alive. The group enter the ruins of the facility and soon find some supernatural force is keeping them there. Sarah declined to join the expedition but after dropping them off, her vehicle breaks down on a country road and she is picked up by locals who may be members of a ritual cult.
---
Bleed was a directorial debut for Tripp Rhame, who is part of the Atlanta, Georgia-based Spitfire Studios where he spent over a decade directing commercials before branching out here.
Bleed is the sort of low-budget offering that one sees a good deal of running this site. It is earnestly put together by those involved and maintains a basic professionalism. It is also an eminently forgettable film. It takes place in the sort of location (usually an abandoned hospital or asylum) that we have seen in an inordinate number of Found Footage films in the last few years (even though Bleed is not a Found Footage film).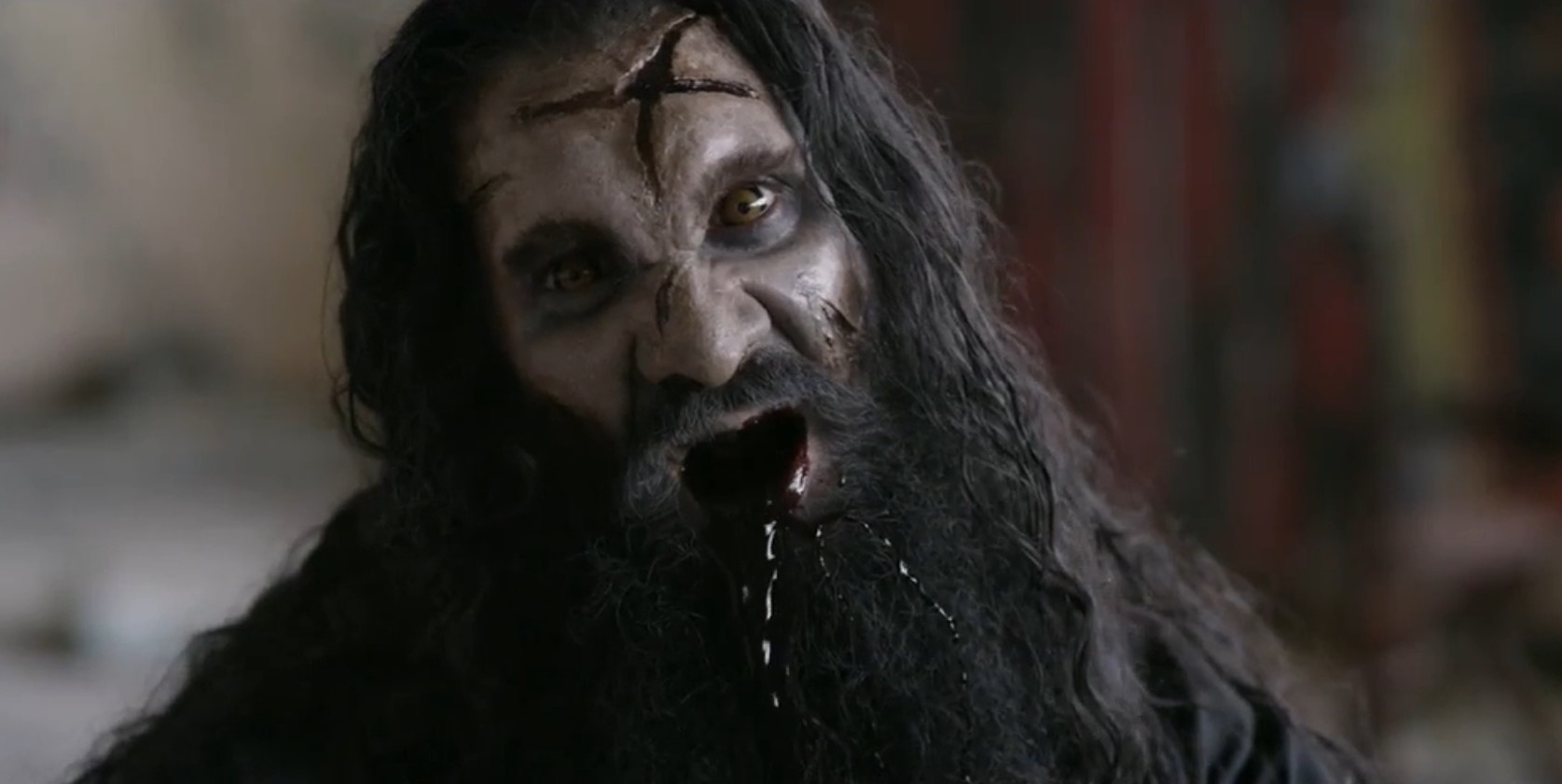 After he ventures into the haunted prison (which is less an abandoned building than a set of ruins that look like they have been all but demolished), Tripp Rhame keeps delivering one horror effect after another. While he keeps the film busy with this, the downside is that none of this does anything to cause you to jump or even slightly tense up in your chair.
More to the point, Rhame has created a film that feels like an assemblage of horror tropes – ghost hunters armed with video cameras venturing into a haunted abandoned building; the ghost of a killer preacher (who looks like a Rob Zombie wannabe); backwoods occultists wanting the heroine's baby – shuffled around without any originality or anything new to add to the mix. We spend the bulk of the film running around the location before a reversal of expectation that holds zero impact and a downbeat ending of equally negligible effect.
---
---