aka Necronos: Tower of Doom
---
Crew
Director/Screenplay/Photography/Makeup Effects – Marc Rohnstock, Producers – Lars Rohnstock & Marc Rohnstock, Music – Ramon Kaltenbach & Martin Rudel, Visual Effects – Martin Rudel & Mario Zimmerschitt, Special Effects Supervisors/Creature Design – Marc Rohnstock & Mario Zimmerschitt. Production Company – Infernal Films.
Cast
Thomas Sender (Necronos), Timo Fuchs (Goran), Manoush (Witch), Saskia Neumuller (Michelle), Mari Zimmerschitt (David), Alexander Andreszka (Mike), Tanja Karius (Lucy), Mike Weishaupt (Devil), Denissa Schmidt (Tina), Toni Reckert (Ted), Patrick Bender (Eddi), Thomas Kercmar (King), Kim Sonderholm (Anders Larsen)
---
Plot
After being executed in the Middle Ages, the black sorcerer Necronos returns in the present-day. There he seeks to find a pure one to conduct as sacrifice to The Devil. He sends out his demonic servant Goran to abduct people and bring them back to torture and kill or else feed to those he keeps as zombies in the dungeons. He asks a witch to divine the whereabouts of the chosen one. After first abducting Lucy, they realise it is her sister Michelle who is the virginal pure one and set out to snatch her.
---
Necronos was the third film for German director/writer Marc Rohnstock who had previously made Dungeon of Evil (2005) and Graveyard of the Living Dead (2008) and the subsequent The Curse of Dr Wolffenstein (2015). The film received English-language distribution via Troma.
Necronos is a film out there on a wild edge. Marc Rohnstock is determined to push an envelope and the film positively wades in gore and assorted dismemberments while offering up plentiful nude bodies. It feels like a film that was made by an amateur horror fan who was still learning the basics of the trade but determined to throw in everything he loved about the genre and twist it up to 15 on the dial.
If anything, Necronos appears to be a low-budget homage to the European witch persecution film that popped up in the 1970s after the popularity of Matthew Hopkins – Witchfinder General (1968). In particular, one is thinking of the German Mark of the Devil (1970) and sequel Mark of the Devil Part II (1972) or some of Jesus Franco's offerings like The Demons (1972).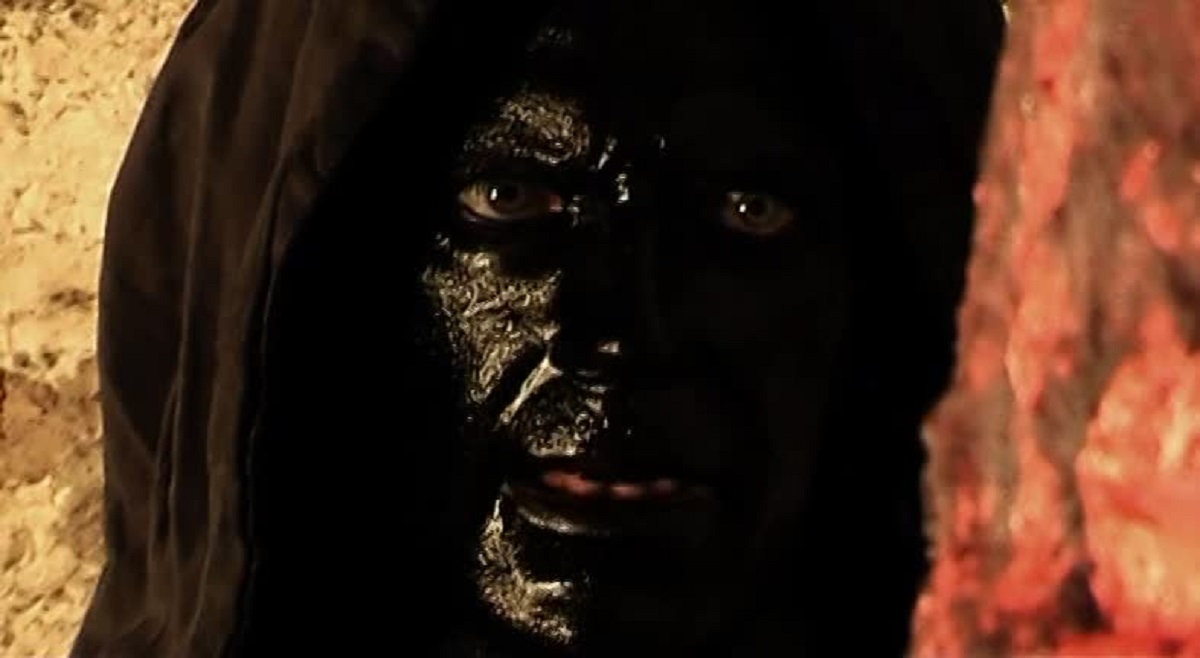 Within minutes of opening, Necronos is knee-deep in blood and gore. There is a lengthy parade of beheadings, limb severings, spilling of entrails, victims being boiled alive, brains cut open and torn out, body parts ground up in a grinding machine and a scene where a sword is shoved up a nude woman's vagina to emerge out of the top of her head. In between that, there are copious nude bodies – every woman who appears in the film with the exception of virginal Saskia Neumuller gets their clothes off at various points.
Most of what consists of a plot could be condensed into about fifteen minutes and the rest is serial scenes of sadism and gore that are repetitively dragged out to a two hour seven minute runtime. Most of the plot consists of scenes of random people being abducted and killed. There is slightly more plot when it comes to the scenes abducting first Tanja Karius and then her sister Saskia Neumuller who is the chosen one.
It is all rather tedious. Marc Rohnstock directs without much style. His only concern throughout is the procession of gore and splatter and to a lesser extent nude bodies. If that is all one likes from their horror, then Necronos would be a masterpiece. On the other hand, the repetitive plot and clear low-budget make the film fairly deficient in all other areas.
---
Trailer here
---