---
USA. 2012.
Crew
Directors – Mårlind & Stein, Screenplay – Allison Burnett, John Hlavin, J. Michael Straczynski & Len Wiseman, Story – John Hlavin & Len Wiseman, Producers – Gary Lucchesi, Tom Rosenberg, Len Wiseman & Richard S. Wright, Photography (3D) – Scott Kevan, Music – Paul Haslinger, Visual Effects Supervisor – James McQuade, Visual Effects – Celluloid Visual Effects Berlin (Supervisor – Michael Landgrebe), Faction Creative (Supervisor – Chris Van Dyck), Fido (Supervisor – Kaj Steveman), Furious FX (Supervisor – David Lingenfelser), Look Effects (Supervisor – Max Ivins), Luma Pictures (Supervisor – Vincent Cirelli), Mokko (Supervisor – Alain Lachance), Ntropic (Supervisor – Andrew Singara), OIV-Oyster Technologies India, Rodeo (Supervisor – Sebastien Moreau), Spin VFX (Supervisor – Jeff Campbell), Special Effects Supervisor – Joel Whist, Prosthetics – Masters FX (Supervisor – Todd Masters), Production Design – Claude Paré. Production Company – Lakeshore Entertainment/Sketch Films.
Cast
Kate Beckinsale (Selene), Michael Ealy (Detective Sebastian), India Eisley (Subject 2/Eve), Stephen Rea (Dr Jacob Lane), Theo James (David), Charles Dance (Thomas), Sandrine Holt (Lida), Kris Holden-Ried (Quint)
---
Plot
After centuries of their secret war, the existence of the vampires and Lycans has come out into the open, to which humanity has responded with all-out extermination of both species. Selene and Michael Corvin attempt to flee to safety aboard a freighter only to be cornered at the docks and he shot. She comes around twelve years later after having been placed in cryogenic suspension at Antigen Labs. She makes an escape with the aid of a mysterious young girl. She meets another vampire David who takes them to refuge with the few remaining vampires that live in secrecy beneath the city. There Selene realises that the girl is her own daughter, a vampire-werewolf hybrid that has been cloned from her tissue. The lair is then raided by Lycans and the girl snatched. Selene goes into action to rescue her from the Antigen laboratory where Dr Jacob Lane is preparing to dissect her as a vital part of a Lycan conspiracy.
---
The Underworld series is one, like the Resident Evil series, that continues to keep producing entries despite nobody in the world seeming to like them. Both series are predicated on pounding action and a maximum of stylish poses, usually involving a heroine in skintight costuming going up against creatures in slow-motion twirls, and a minimum of rationale and connecting plot. Some of the poses and action set-ups on either film could be interchanged without making any difference. Both series continue to churn these content-free sequels out oblivious to the almost universal degree of dislike that exists out in the fanboy blogosphere that the films seem to be pitching themselves to. Somewhere there must be enough fans that enjoy these films for the producers to keep making more but they seem remarkably silent about it.
Underworld was the creation of Len Wiseman, previously a production assistant at Centropolis Effects who managed to get together a $22 million budget to make his directorial debut with Underworld (2003). This was an okay effort for what it tried to do, where Wiseman served up a slick series of Gothique action poses – if not exactly something that set the world alight in terms of original ideas. Underworld did earn a not immodest $51 million in box-office return and this prompted the funding of the much bigger-budgeted sequel Underworld: Evolution (2006), which is the point where Len Wiseman and the series discovered CGI and turned everything into an overblown effects spectacle. Len Wiseman departed the series to direct Live Free or Die Hard (2007) and the remake of Total Recall (2012), leaving the next entry, the lacklustre prequel Underworld: Rise of the Lycans (2009), under the tutelage of creature effects creator Patrick Tatopoulos. This was a point where the Underworld series should have had the good grace to retire – its indifferently sketched mythos had so little substance that audiences could not care less about its back history. Subsequent to this however, the series churned out one further sequel with Underworld: Blood Wars (2016).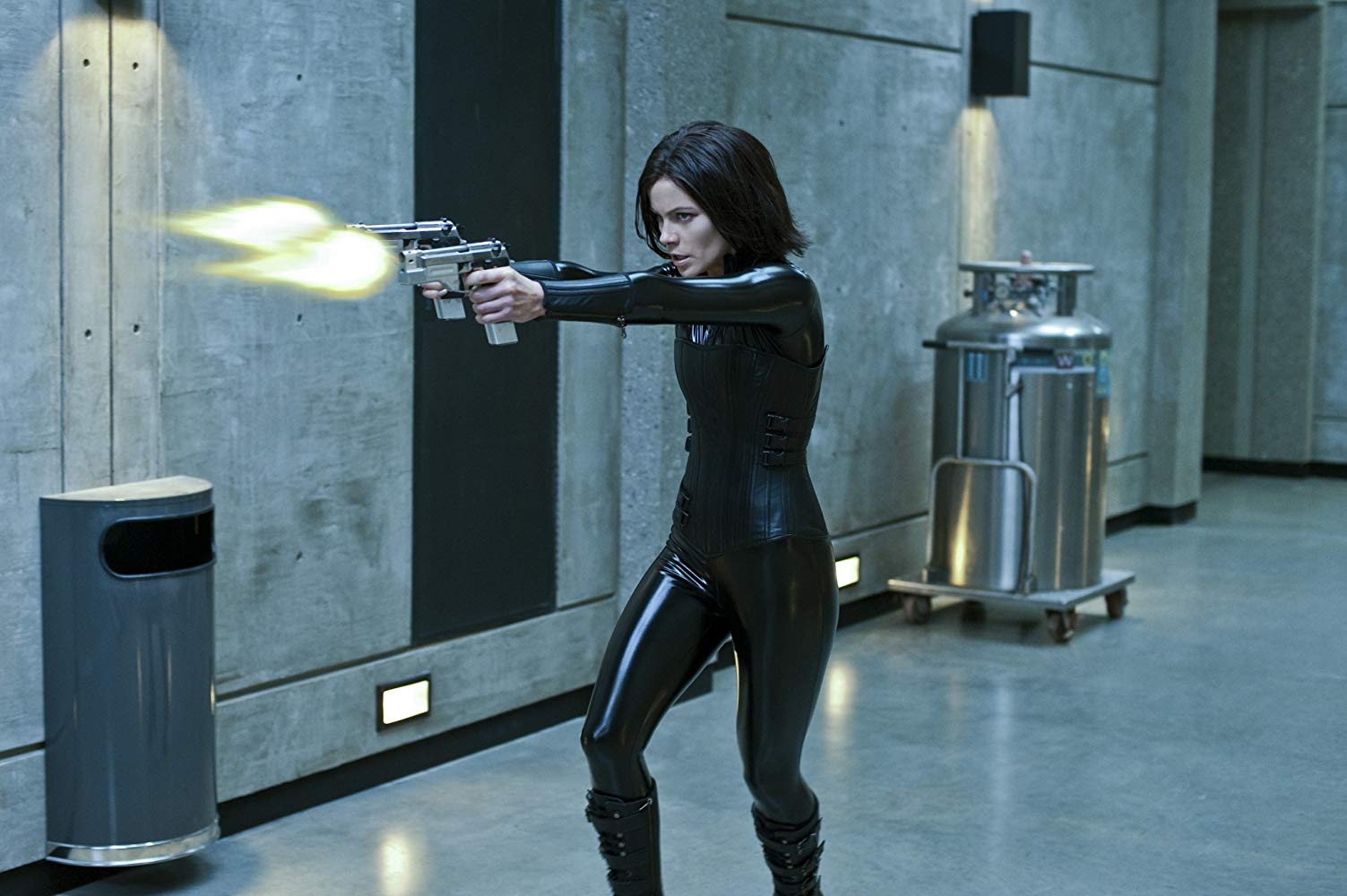 With Underworld, Len Wiseman is present as co-writer and co-producer, while the directorial reins have been handed over to the Swedish duo known Mårlind and Stein (Måns Mårlind and Bjorn Stein) who had previously directed the film Storm (2005) set in a world that blurred between videogame and reality and the historical tv mini-series Snapphanar (2006) in Sweden, before coming to the US to make the confused horror film Shelter/6 Souls (2010) and then returning to Sweden to create the hit international detective series Bron/Broen (The Bridge) (2011-8) and directing/writing the thriller mini-series Midnight Sun (2016).
For a film that regards scripting as an unnecessary evil, the production has managed to bring on board some reasonable writers, including Allison Burnett, the writer of Autumn in New York (2000), Untraceable (2008), the remake of Fame (2009) and Gone (2012), and especially J. Michael Straczynski, a cult name as creator/writer of the science-fiction tv series , co-creator of The Wachowskis' tv series Sense8 (2015-8), who was also nominated for a host of awards for his script for one of Clint Eastwood's best films, the crime drama Changeling (2008) and contributed to the scripts for Ninja Assassin (2009), Thor (2011) and World War Z (2013).
Underworld: Awakening is fairly much business as usual for the series. The script shifts the concept around somewhat – rather than a secret war across the ages, the vampire-Lycan war has come out into the open and been discovered by humanity. This follows the trend in other vampire films and tv of the moment – works like The Breed (2001), Perfect Creature (2006), tv's True Blood (2008-14), Daybreakers (2009), Priest (2011) and to some extent the Twilight series – which have tried to go beyond the questions that vexed earlier eras regarding first the discovery and combating of vampires and then how they might live in the modern world to the question of how vampires and humanity might co-exist together. Disappointingly, the script (such as it is) does almost nothing with the concept except having humanity massing all effort to exterminate both vampires and Lycans. Even so, very little of this is depicted – it is only there as prologue, while the rest of the film takes place a few years later where all of this is peripheral.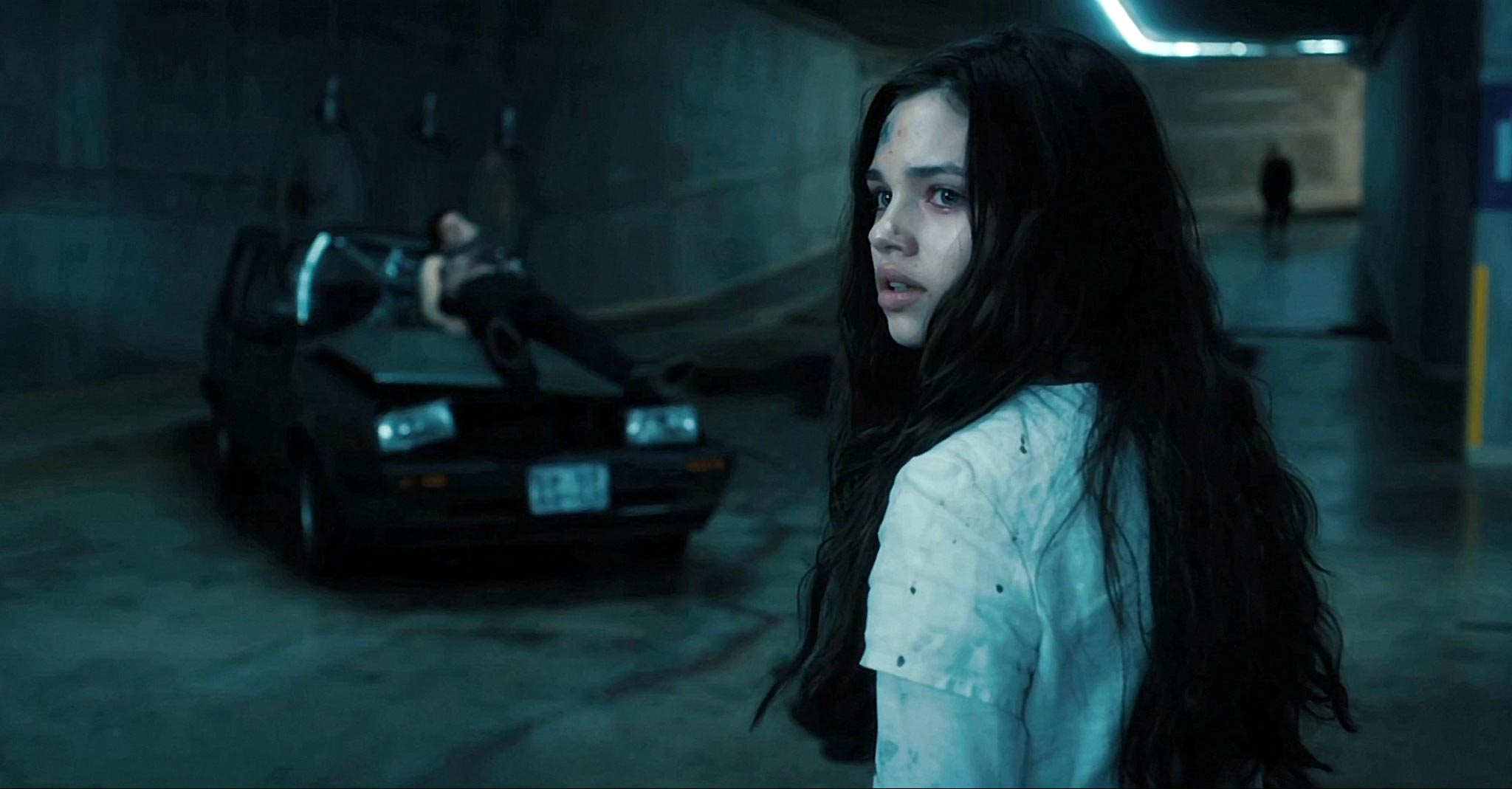 The rest of the story seems to be, as most of the other Underworld films are, generated from the cliches of the genre – the vampires as a hunted underground; Kate Beckinsale defying the tradition-bound vampire hierarchy; cloning and genetic experiments to produce species hybrids (despite much urgency about the experiments being conducted on India Eisley, the film never deigns to tell us what they are designed to achieve); even the basic concept from Breaking Dawn Part 1 (2011) of the heroine finding she has/is about to give birth to a crossbreed child that is bringing both the werewolves and vampires to the point of war. Despite the calibre of writers on the script, all of this feels presented in a tired way that has been done before and is entirely lacking in any originality of ideas.
Underworld: Awakening occasionally does better in terms of the action scenes. The hiring of Mårlind and Stein has added an injection of originality that has (to some extent) revitalised the series. Len Wiseman made the poses and action scenes seem stylish in the first film but these were subsequently drowned out by the various visual effects houses in Underworld: Evolution and Rise of the Lycans. Mårlind and Stein seem to be trying to return somewhat to the first Underworld, albeit with a healthy dose of poses borrowed from the Resident Evil series to make Underworld: Awakening move as though it were the equivalent of a videogame up on the big screen (as opposed to an effects heavy vehicle). Alas, polished and all as the individual action sequences are, one strains to even remember anything memorable about any of them an hour after watching the film.
The other thing that Underworld: Awakening does surprisingly well is the 3D. This is a process that has made me extremely cynical about movie-going in the last year in the way that it has been badly used and has become a de rigeur process for a substantial number of films, most of which offer almost nothing with the 3D glasses on that could not have been gleaned by a 2D watching. To their credit, Mårlind and Stein do a fair job within the 3D framework of offering some nice depth perspective shots of caves where stalactites come down in the foreground or a lab entrance location that does visually appealing things with rainfall from an overhang contrasted against a set of steps. On the other hand, there is nothing so outstanding about this that it justifies paying an extra $3 for the ticket price.
(Nominee for Best Makeup Effects at this site's Best of 2012 Awards).
---
Trailer here
---