---
Crew
Director – Gregg Bishop, Screenplay – Ben Collins & Luke Piotrowski, Based on the Short Film Amateur Night Written by David Bruckner & Nicholas Tecosky, Producers – Gary Binkow, Brad Miska & Jude S. Walko, Photography – George Feucht, Music – Kristopher Carter, Visual Effects Supervisor – Erick Geisler, Makeup Effects – Renonda Anderson, Production Design – Boontawee "Thor" Taweepasas. Production Company – Chiller Films/Studio 71.
Cast
Chase Williamson (Jonah), Hannah Fierman (Lily), Justin Welborn (Mr. Nyx), Michael Aaron Milligan (Mac), Hayes Mercure (Rand Wilson), Brittany Hall (50n/40w Bartender), Randy McDowell (Elliot), Lindsey Garrett (Eva)
---
Plot
Jonah is about to get married and his brother Mac takes him and his two best friends to Garden City for a stag weekend. After the first bar they visit proves a washout, Mac is told of the secret location of Club 50n/40w and they head there. The others agree to pay for Jonah to experience something unique. This turns out to be a performance by a girl Lily who has an unearthly and mesmerising song. After realising that Lily is kept locked up, Jonah makes the impulsive decision to free her. They get away with her, only for Jonah to discover that she is a supernatural creature that kills and feeds on others, luring them with her song. She has now decided to mate with Jonah and pursues, eliminating all in her way to be with him.
---
Siren is a modestly effective horror film. It is actually a remake – or more correctly a feature-length expansion – of Amateur Night, a segment that originally appeared in the Found Footage anthology V/H/S (2012). Amateur Night concerned four guys who pick up a woman and take her to a motel room, only for her to prove to be an unearthly creature. This was regarded as the standout segment of the show by general word of mouth.
The segment's director David Bruckner has bowed out of directing the full-length film and the directorial reins are handled Gregg Bishop who had previously made the horror films The Other Side (2006) and Dance of the Dead (2008), as well as the Dante the Magician segment of V/H/S/ Viral (2014). (Curiously, I had made the comment at the time that Dante the Magician was one segment that could easily have been expanded as a feature film). Screenwriters Ben Collins and Luke Piotrowski subsequently went on to write Akiva Goldsman's Stephanie (2017) and The Night House (2020) and the remake of Hellraiser (2022) for David Bruckner.
Siren differs somewhat from Amateur Night – though it is Hannah Fierman in the same role in both versions, there is no equivalent of the scene where the four take her to a motel room. Also whereas Amateur Night was shot in the Found Footage format, Siren uses regular dramatic camera set-ups. The running time has been padded out with a backstory about her being captured and kept imprisoned by Mr Nyx (Justin Welborn giving the best performance of the show). Though explanation of her nature was given in Amateur Night, here it is implied that she is a siren of myth (or possibly some type of demonic entity as suggested by the prologue) who fixates on Chase Williamson after he frees her.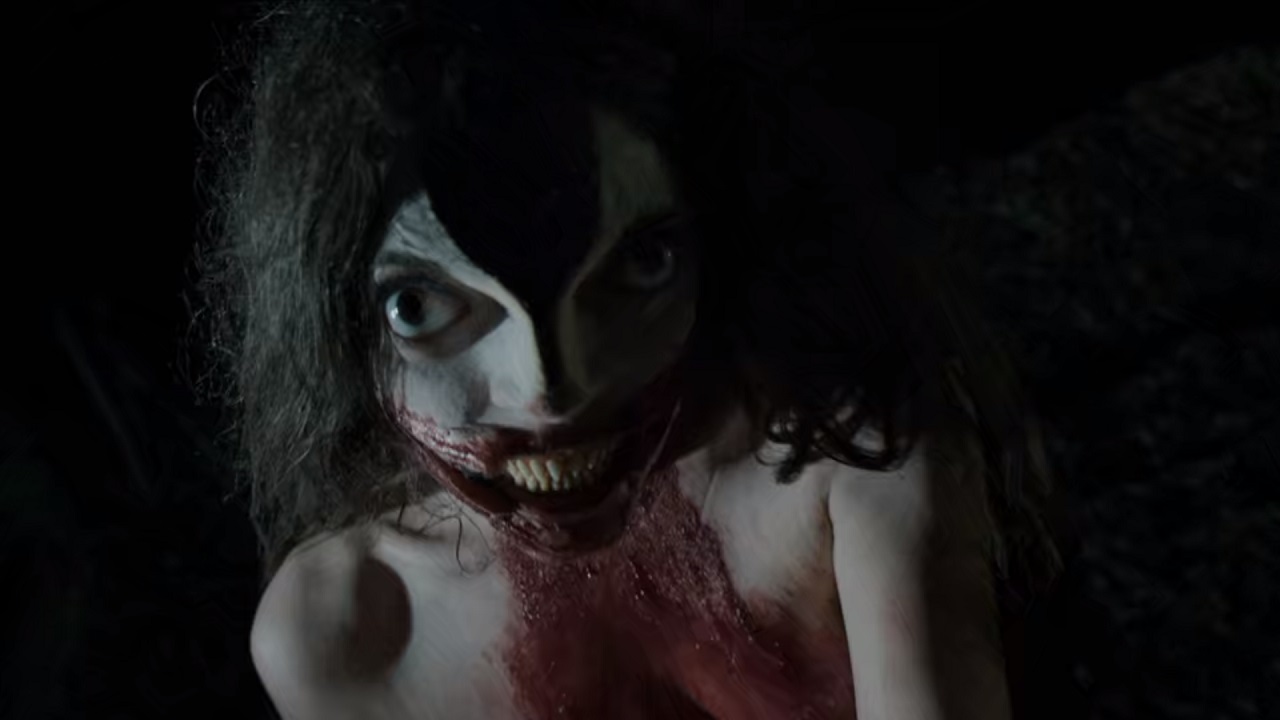 Siren is a modest and effective vehicle. It is driven by Gregg Bishop who provides a series of wild images and outre twists every few minutes. The four guys are effectively drawn and we know nothing good is about to happen as they are inveigled to a secret club. Once they are at the venue, the sights they encounter become increasingly more out there – many of the patrons are facially disfigured or have missing limbs; we see acts that involve a woman being whipped on stage; glimpses of figures in rooms conducting strange sexual rituals while wearing tall peaked hoods; one of the group insisting on ordering a drink that has worms in it, which comes with the strict warning that it could kill him. And then there is the ever so outlandish moment where Justin Welborn asks the three friends to pay the price, which proves to be their favourite memory of their mother and is extracted by a woman (Brittany Hall) whose removes her wig to reveal hair that writhes likes snakes.
Once the film unleashes its siren, Gregg Bishop continues to throw wild and way out jumps at us – Chase Williamson peeking out from a bathroom stall as the siren attacks a man outside while wielding a huge, long tail; and especially the scene where she snatches Chase Williamson and abruptly flies off into the air, taking him to a ruined area and then it would appear raping him.
The most well directorially sustained sequence is one where Chase Williamson tries to escape through a gas station diner using headphones to block his ears from her song, a sequence that takes place in slow-motion with him running through the diner while in the background and periphery of the frame we see the bodies of other patrons being flung across the room and hear muffled cries and thumps, before she comes up to where Chase hides down behind the counter and pulls out his earplugs to say "I like you."
---
---