---
Crew
Director – Akiva Goldsman, Screenplay – Ben Collins & Luke Piotrowski, Producers – Adrienne Biddle, Jason Blum, Ellen Goldsmith-Vein & Matt Kaplan, Photography – Antonio Riestra, Music – Nathan Whitehead, Visual Effects – Legion (Supervisor – Matthew T. Lynn), Special Effects Supervisor – Zachary Knight, Makeup Effects – Illusion Industries Inc., Production Design – Jennifer Spence. Production Company – Blumhouse/The Gotham Group.
Cast
Shree Crooks (Stephanie), Frank Grillo (Man/Dad, Eric), Anna Torv (Woman/Mom, Jane)
---
Plot
A worldwide catastrophe has occurred during which young Stephanie has been abandoned alone in her home by her parents. She fearfully hides from unseen monsters that seem to be in the house. Her parents then return, apologising for having abandoned her. As they settle back into a normal life, they appear concerned about something that has affected Stephanie.
---
Akiva Goldsman is a name I dread whenever it comes across the credits of a film. His is a name that crops up in material I have to review here with depressing regularity. I have no problem calling Goldsman the single worst screenwriter at work in Hollywood today. Goldman has laid a swathe of atrocities across the genre with his scripts for the likes of Batman Forever (1995), Batman & Robin (1997), Practical Magic (1998), I, Robot (2004), I Am Legend (2007), Angels & Demons (2009), Insurgent (2015), The Dark Tower (2017) and Rings (2017), as well as his having produced Hancock (2008), Jonah Hex (2010) and several films, Deep Blue Sea (1999) and Mindhunters (2004), for the perpetually dreadful Renny Harlin, the tv mini-series adaptation of Arthur C. Clarke's Childhood's End (2015), Guy Ritchie's King Arthur: Legend of the Sword (2017) and the remake of Firestarter (2022). Stephanie was Goldsman's second outing as director. His first directorial film was the universally derided Winter's Tale (2014). (See bottom of the page for a full list of Akiva Goldsman's credits).
With the black mark of Winter's Tale against him and in consideration of Goldsman's ability to turn everything he writes and produces to shit, I had little expectation for Stephanie. Not to mention that Blumhouse saw fit to withdraw Stephanie from its initially announced theatrical release and quietly dumped it to dvd with no promotion. There is not even a trailer available – the one listed below is just a scene from the film. (In fact, the film ended up being widely pirated online before it was even released to dvd). All of which made watching the film quite a surprise in that Akiva Goldsman actually confounds all of one's expectations and delivers a halfway watchable effort.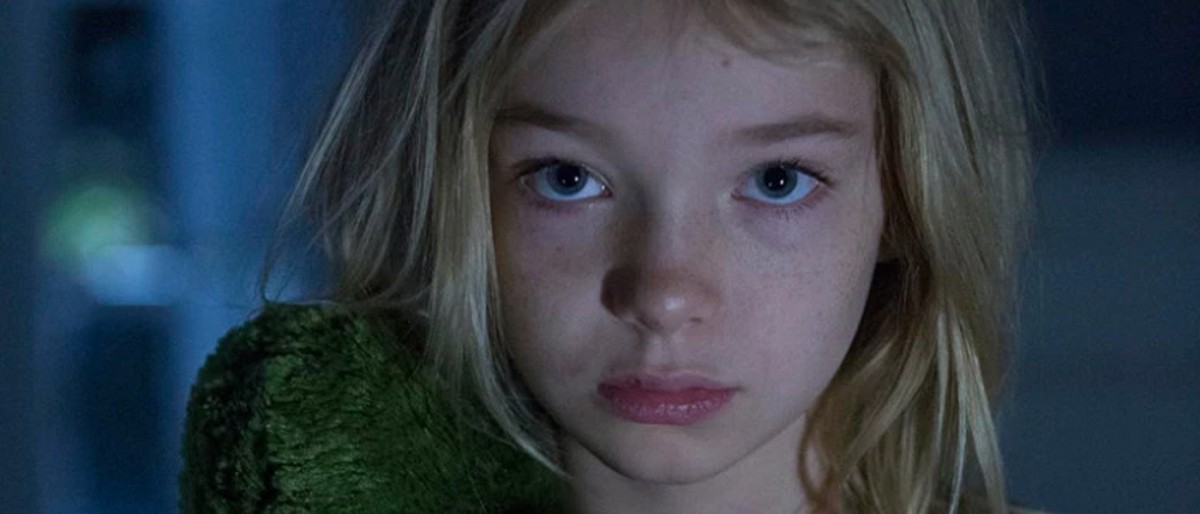 The opening is particularly captivating as you watch young Shree Crooks wandering about the house. You tense up expecting something horrible to happen as she goes into the kitchen and reaches up to a top shelf to get a jar, only to knock it down and leave it smashed on the floor as she walks around in bare feet and then tries to make a smoothie, obliviously reaching her hand into the blender to clear it when it clogs up. Things become increasingly mysterious as we see suggestions of shadows moving around the house, as a ball bounces down the stairs all by itself and the teasing hints offered by news clippings pinned to the wall that have headlines like "Invasion!".
As Shree Crooks makes food for an absent family, revels in there being nobody to stop her as she repeatedly says "shit", you wonder what exactly is going on. (Not to mention who it is that mysteriously cleans the fallen food off the floor when she returns to the kitchen later). There are suggestions of something supernatural – the hand of the dead body that moves; the shadowy figures in the dark; the toy whose head turns behind her as she exits the room.
This is resolved about the thirty-minute mark when mother and father Anna Torv and Frank Grillo return and life slots back into normality. Even then, there are hints of disquiet – like when Anna Torv changes her top and we see a never-explained line of holes pierced across her stomach. Even when things return to normal, Goldsman keeps littering cryptic hints and suggestions of what has happened – you gather that there has been a catastrophe of some type that is reaching dangerous proportions in other places but not what is happening. Goldsman does an admirable job of making the film on an economy budget where the action is contained to a single suburban home and among only three actors.
On the other hand, Stephanie becomes less interesting once we start to learn more about what is going on. [PLOT SPOILERS] The set-up is intended as a conceptual reversal twist where we see that it is not mysterious creatures haunting Stephanie but that some entity of unknown origin has taken hold of her and granted her vast psychic powers (and appears to have done so to children all around the world).
The latter third as the parents debate about what to do resembles something of Village of the Damned (1960). Nevertheless, Goldsman does deliver one or two memorable images during these scenes – Shree Crooks coming down the stairs battering the body of Anna Torv between the walls of the stairwell like a limp ragdoll; or her wandering through the orchard dragging the bodies of her parents behind her, before causing the entire neighbourhood to collapse in on itself.
Akiva Goldsman's other films of genre interest are:– Batman Forever (1995), Batman & Robin (1997), Lost in Space (1998), Practical Magic (1998), I, Robot (2004), The Da Vinci Code (2006), I Am Legend (2007), Angels & Demons (2009), Insurgent (2015), The 5th Wave (2016), The Dark Tower (2017), Rings (2017) and Transformers: The Last Knight (2017). He made his directorial debut with the fantasy Winter's Tale (2014). Goldsman has also produced two genre outings for Renny Harlin – a director almost as bad as Joel Schumacher – the monster movie Deep Blue Sea (1999) and the serial killer thriller Mindhunters (2004) – as well as the comic-book adaptation Constantine (2005), the superhero film Hancock (2008), the paranormal investigators tv series Fringe (2008-13), the supernatural Western comic-book adaptation Jonah Hex (2010), Paranormal Activity 2 (2010), Paranormal Activity 3 (2011), Paranormal Activity 4 (2012), the tv mini-series adaptation of Arthur C. Clarke's Childhood's End (2015), Guy Ritchie's King Arthur: Legend of the Sword (2017), Doctor Sleep (2019), The Map of Tiny Perfect Things (2021), Firestarter (2022) and the tv series' Star Trek: Discovery (2017– ), Titans (2018– ) and Star Trek: Picard (2020– ).. Goldsman also won an Oscar for writing A Beautiful Mind (2001).
---
---