---
Crew
Director – David Bruckner, Screenplay – Ben Collins & Luke Piotrowski, Producers – David S. Goyer, Keith Levine & John Zois, Photography – Elisha Christian, Music – Ben Lovett, Visual Effects – Crafty Apes (Supervisor – Leslie Chung) & Labyrinth Cinematic Solutions (Supervisor – Siddhartha Jayakar), Special Effects Supervisor – Drew Jiritano, Entity Effects Design – Patrick Horvath, Makeup Effects – Josh Russell & Sierra Russell, Production Design – Kathrin Eder. Production Company – Phantom Four Films.
Cast
Rebecca Hall (Beth Parchin), Sarah Goldberg (Claire), Vondie Curtis-Hall (Mel), Stacy Martin (Madelyne), Even Jonigkeit (Owen Parchin), David Abeles (Gary), Christina Jackson (Heather), Samantha Buck (Becky McLachlan), Patrick Klein (Bob)
---
Plot
Beth Parchin is reeling in the aftermath of her husband Owen's unexpected suicide where he shot himself in a boat on the lake beside their home. Beth then thinks she begins to hear noises and see figures around the house and believes that she is being haunted by Owen. She has a dream about being drawn to a house on the other side of the lake, which is the same as theirs but mirror reversed. After finding a photo of another woman on Owen's phone, she starts to dig and find mysterious things – that Owen may have built their house according to a mystic pattern and started constructing an identical one in the nearby woods, and that Owen may have slept with and possibly killed multiple other women.
---
The Night House was the second feature film from director David Bruckner. Bruckner first appeared as one of the three directors on the mass insanity film The Signal (2007) and then made the Amateur Night episode of the horror anthology V/H/S (2012), which was later adapted into the feature film Siren (2016), and The Accident episode of the anthology Southbound (2015). He made his full-length directorial debut with the Folk Horror film The Ritual (2017) and subsequently went on to the remake of Hellraiser (2022).
Bruckner is in good company with The Night House, which is produced by David S. Goyer, the high-profile screenwriter of Blade (1998), Dark City (1998), The Dark Knight (2008) and Man of Steel (2013) among others, and produced via Goyer's Phantom Four production company. The screenwriting team of Ben Collins and Luke Piotrowski had previously written Siren, Akiva Goldsman's Stephanie (2017) and stayed with Bruckner for Hellraiser. The film originally appeared at the Sundance Festival in 2020 but due to the Corona Virus pandemic was held back from theatrical release and not seen by the wider public until August 2021.
The ghost story and haunted house film has become overly creatively exhausted throughout the 2000s/2010s where most of its possibilities have been repeatedly churned through by an inordinate number of principally low-budget films. (For a more detailed listing see Hauntings and Ghost Stories). That said, David Bruckner creates a spookiness that consistently holds your attention. There's a particularly eerie scene where Rebecca Hall is drawn to the house across the lake, which seems to be a mirror-reversed version of the one she lives in, and sees herself asleep on the couch, only to wake up where her double was on the couch just as she enters the house.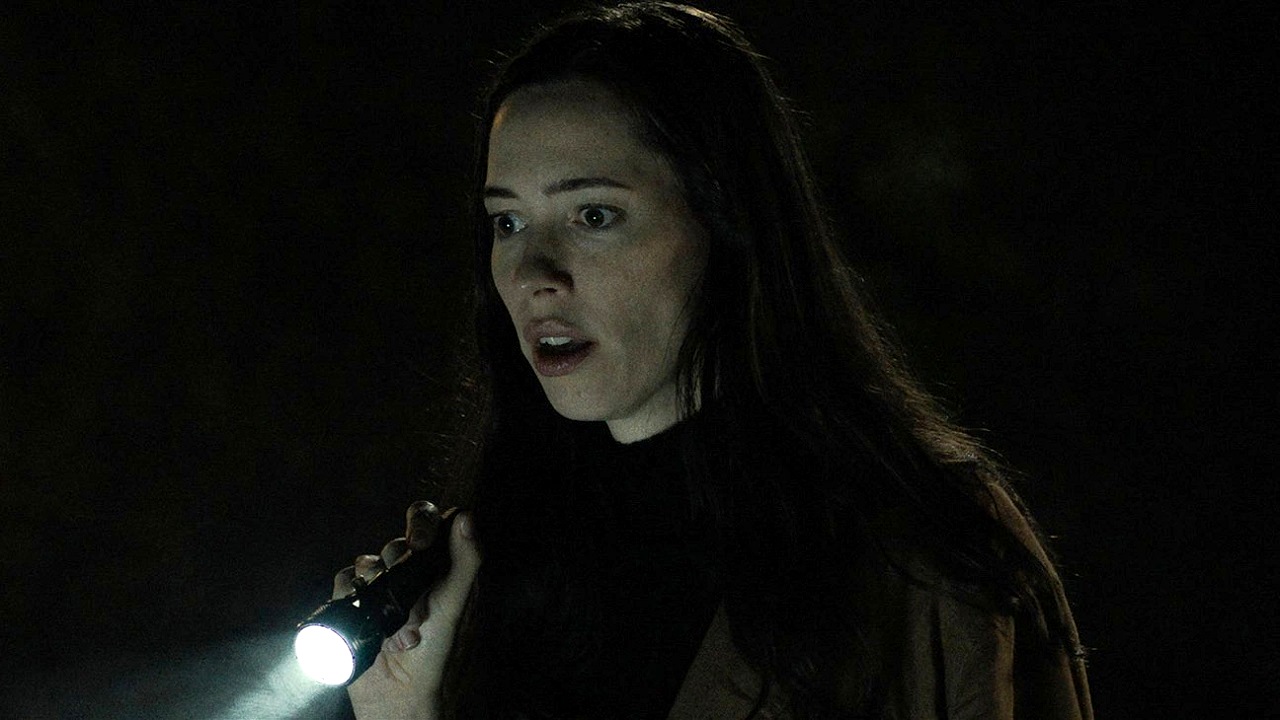 The film's shining light is Rebecca Hall – she also takes an executive producer role. She owns the part – be it the scene facing a parent (Samantha Buck) come to ask about her son's grade with an explanation of her personal time, or the work drink scenes where she deals with everything with a mix of gallows humour and responses inappropriate to the situation, or in a bookshop confronting the woman (Stacy Martin) with whom she thinks her husband was sleeping. It is a great performance that might have been a throwaway role in another actress's hands.
The main problem I had with the film is that David Bruckner does a great job with the building mystery. The house is constructed according to Caerdroia, which are actually traditional Welsh mazes made out of grass or some foliage usually on a hillside for what is assumed to have been ritual purposes. There is mystery about the house and its ritual patterns; the dream of the mirror-reversed house and Rebecca Hall coming across a partially completed house in the woods; the discovery of her husband's fixation on other women that look like her and his appearing to have killed them and/or been possessed by something that drove him to do so; and the revelation that the house is being haunted by some other entity that is not Owen.
[PLOT SPOILERS[ The great frustration of what up until then is three-quarters of a fairly good film is that it reaches an ending that fails to resolve any of these plot strands. There is no explanation of what the other entity haunting Rebecca Hall was, what the one possessing Owen was or what it was that he keeps saying he was trying to hold back. The mystery about the maze patterns, mirror-reversed architectural plans and the duplicate house in the woods is raised but at the end we have no clue how they relate to things. The Wikipedia summary for the film does a brave attempt to try and explain the plot revelations in a way that almost makes sense. On screen, it seems a whole lot more unnecessarily convoluted.
(Nominee for Best Actress (Rebecca Hall) at this site's Best of 2020 Awards).
---
Trailer here
---