---
Crew
Director – Mike Mendez, Screenplay – Dan Berk & Robert Olsen, Producers – Michael Thomas Slifkin, Jeff Spilman & Robert Yocum, Photography – Jan-Michael Losada, Makeup Effects – Robert Kurtzman's Creature Corps (Supervisor – Robert Kurtzman), Production Design – Dawn R. Ferry. Production Company – Burning Sky Films/Bottom Line Entertainment/Last Pictures.
Cast
Dolph Lundgren (Jebediah Woodley), Kristina Klebe (Agent Evelyn Pierce), Tony Bentley (Chief Marty Dunham), James Chalke (Pastor Erickson), Miles Doleac (Agent Deacon Shepherd), Michelle West (Amber), Michael Aaron Milligan (Frank), Toby Bronson (Officer Otis Willard), Randy Austin (Gabriel), Emily Brobet (Older Sister), Chloe Guidry (Younger Sister)
---
Plot
After a hunter picks up a talisman in the woods near Chicory Creek, Mississippi, he becomes possessed and goes home and kills his family, followed by his neighbours. When the husband of the neighbouring household kills the hunter, he too becomes possessed and kills the rest of his family. FBI agent Evelyn Pierce, who grew up in Chicory Creek, is sent in to investigate. At the same time as she arrives, so too does the strange Jebediah Woodley who insists he knows what is happening. However, when Jebediah says that he is a demon hunter and is hunting a demon that passes between bodies possessing the person that kills the previous host, Evelyn locks him up. However, subsequent investigation reveals what Woodley says to be true and Evelyn is forced to team up with him. A town hall meeting where they try to impart the truth of what is happening turns to chaos when the demon turns up and townspeople begin shooting at each other as the demon rapidly flips between bodies. Together Jebediah and Evelyn try to stop the demon where the only means of despatching it would appear to be shooting the host, followed by the person doing so killing themselves just as they become possessed.
---
Mike Mendez is a name who has been rising through the genre ranks over the last few years. Mendez first appeared as director of the horror film Killers (1996) and went onto other genre works such as Bimbo Movie Bash (1997), The Convent (2000), the horror documentary Masters of Horror (2002), The Gravedancers (2006), Big Ass Spider! (2013), Lavalantula (2015) and The Last Heist (2016), as well as producing the horror anthologies Tales of Halloween (2015) and Satanic Hispanics (2022) and directing various episodes, plus producing Unnatural (2016), Against the Night (2017), Snake Outta Compton (2018) and The Shed (2019). Co-writers Dan Berk and Robert Olsen also directed the thriller Body (2015), Stake Land II/The Stakelander (2016), Villains (2019) and the body snatchers film Significant Other (2022).
Don't Kill It feels like a supernatural version of The Hidden (1987), the immensely enjoyable 1980s hit with cops pursuing an alien parasite that was capable of hopping between host bodies. This proved a modest hit and spawned a number of copies such as the tv mini-series Something is Out There (1988) and the films Peacemaker (1990), the Hong Kong-made The Cat (1992) and Monolith (1994). This also quickly led to a number of horror copies with the likes of Shocker (1989), The First Power (1990), Judge and Jury (1996) and Guardian (2001), as well as the respectable A-budget Fallen (1998). Indeed, Dolph Lundgren previously went through one of these in The Minion/Fallen Knight (1998).
Don't Kill It hits its stride in its opening scenes as a hunter walks home, blows his own family away with a shotgun, finishes his neighbours off with meat clavers and by shoving their heads into boiling pots of hot water, before he himself is blown away by the man of the house who then becomes possessed and continues on to eliminate the rest of his family without interruption.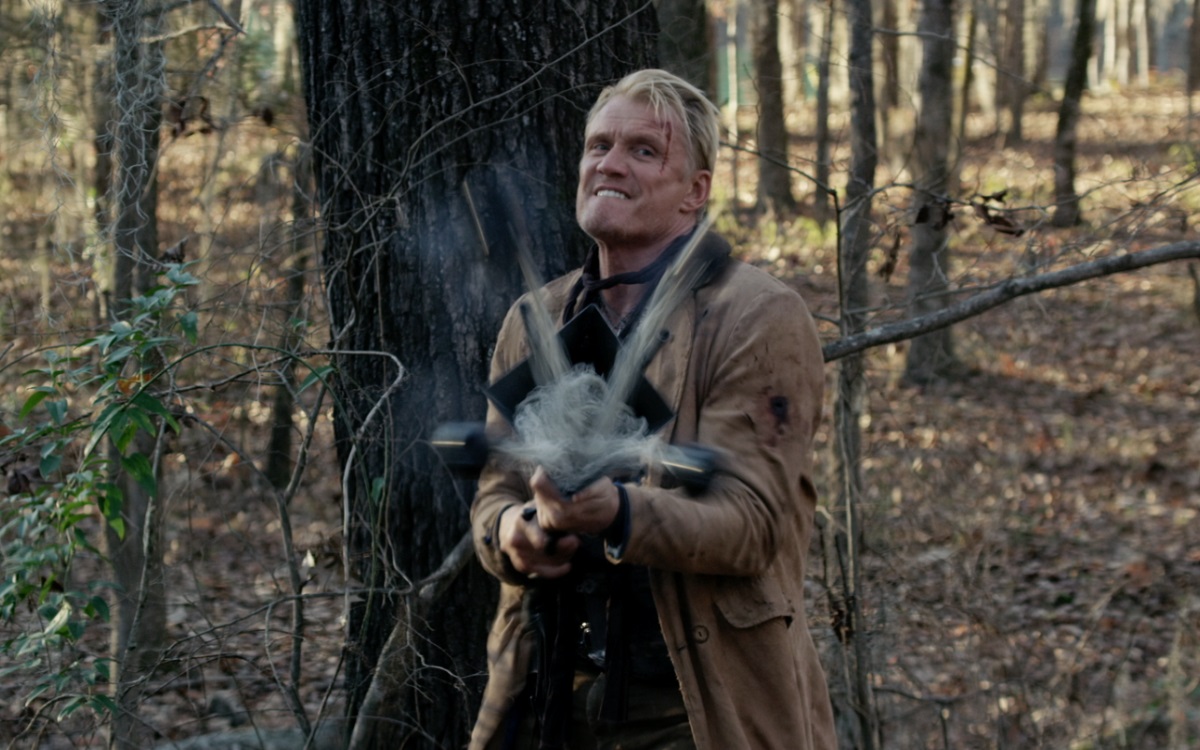 This is the sort of full tilt splatter and gore-drenched film we have not seen since the 1980s in the wake of films like The Evil Dead (1981), Re-Animator (1985) and Bad Taste (1988). This kind of gore-letting has been watered down in recent years and/or replaced by far less effective digital effects and so it is pleasingly welcome to see Mike Mendez going back to basics and relying on physical effects (for the most part) as provided by Robert Kurtzman (the K that used to be in KNB EFX).
The highlight of the film is the scene at the town hall meeting where the demon enters, locks the door and opens fire on the gathered townspeople, before they start shooting and kill it, it then jumps to other bodies and carries on shooting, before the blood-drenched fracas spills out into the streets and Dolph Lundgren tries to trace who is possessed. This is a film that takes a single premise – a demon that hops bodies to the person that kills its host – and keeps playing it out with logical regard. It also ends up being Mike Mendez's most enjoyable film to date.
The headlined name is Dolph Lundgren who hit his peak as an action star in a great many video-released films during the 80s and 90s. Lundgren has frequently been dismissed as incapable of acting but tends to be far better and play with far more of a sense of humour than many of his contemporaries such as Schwarzenegger, Stallone and Van Damme. (It helps that he also produced Don't Kill It). From his opening scene here where he rather hilariously enters a bar to twist the ear of a guy harassing a woman and force him to acknowledge the notion of consent to the point he walks into the sheriff's office, lights up an e-cigarette and puts his boots up on the desk and starts talking about demons, it is Lundgren stepping into a larger-than-life role with enormous panache, at which it must be said he suits the part perfectly.
(Nominee for Best Makeup Effects at this site's Best of 2016 Awards).
---
---