---
Crew
Anthology Concept – Brad Miska, Producers – Gary Binkow & Brad Miska. Production Company – The Collective/Bloody Disgusting.
Vicious Circles:-
Crew: Director/Visual Effects Supervisor – Marcel Sarmiento, Screenplay – T.J. Cimfel, Marcel Sarmiento & David White, Producers – Adam Hendricks & John Lang, Photography – Harris Charalambous, Visual Effects – Crafty Apes (Supervisors – Chris LeDoux & Tim LeDoux), Makeup Effects – Megan Areford, Production Design – Cindy Chao & Michele Yu.
Cast
Patrick Lawrie (Kev), Emilia Zoryan (Iris)
Dante the Great:-
Crew: Director/Screenplay/Visual Effects Supervisor – Gregg Bishop, Producers – Gregg Bishop, Dan Caudill, Stephen Caudill & Nils Onsager, Photography – George Feucht, Music – Kristopher Carter, Special Effects – Bob Shelley's Special Effects International Inc., Production Design – Molly Coffee. Production Company – Bishop Studios.
Cast: Justin Welborn (Dante the Great/John McMullen), Emmy Argo (Scarlett Kaye), Dan Caudill (Detective Gregory Hughes), John Curran (Blackstone), Michael Aaron Milligan (Clay)
Parallel Monsters:-
Crew: Director/Screenplay – Nacho Vigalondo, Producer – Nahikari Ipina, Photography – Jon D. Dominguez, Music – Anntona, Visual Effects – EFE-X, Makeup Effects – Oscar Del Monte & Nacho Diaz, Art Direction – Noe Cabanes. Production Company – Sayaka Producciones, SL.
Cast: Gustavo Salmeron (Alfonso), Marian Alvarez (Marta), Xavi Daura & Esteban Navarro (Young Boys)
Bonestorm:-
Crew: Directors – Justin Benson & Aaron Moorhead, Screenplay – Justin Benson, Producers – Justin Benson, Theo Brooks, David Lawson & Aaron Moorhead, Photography/Visual Effects Supervisor – Aaron Moorhead, Makeup Effects – Vincent Guastini Production Effects & Design Studio (Supervisor – Vincent Guastini), Production Design – Jason Fijal.
Cast: Nick Blanco (Danny), Chase Newton (Jason), Shane Bradey (Taylor – Camera Guy), Peter Villaba (Gas Money Kid), Alexandra Besore (Hag-like Woman)
---
Plot
Vicious Circles:- Kev has a new video camera and is taking every opportunity to film things with it. As police sirens come past outside, he runs out to see if he can find something to film, only for his girlfriend Iris to be abducted by an ice cream truck that the police are pursuing. Kev heads in frenetic pursuit filming everything as the ice cream truck leaving a wake of chaos and murder. Dante the Great:- Dante the Great, a stage magician who has wowed the entire world with his illusions, is arrested for murder. His assistant Scarlett comes to the investigating detective, offering them a videotape that shows the truth about Dante's tricks. The tape reveals that Dante was a nobody until he discovered a cape that could create incredible feats of magic for real – the only price being that it required a regular sacrifice of human blood. Parallel Monsters:- The scientist Alfonso completes his project – a device that opens a doorway into a parallel world. At the same time, his other self has completed an identical device in the mirror world. The two Alfonso's agree to pass through and explore the other's world for a brief period. However, as this world's Alfonso goes upstairs to greet his mirror wife Marta, he finds that there are substantial differences between the two worlds. Bonestorm:- A group of bored skateboarders searching for thrills cross the Mexican border into Tijuana. As they enjoy skating in a culvert, all the while filming themselves, they discover that it is an area of ritual ceremony. In disturbing it, they are then surrounded by hordes of zombies.
---
In recent years, there has been a new fad for horror anthologies that involve various directors of genre proclivity coming together to contribute segments. These have included the likes of Chillerama (2011), The Theatre Bizarre (2011), The ABCs of Death (2012) and sequels, The Profane Exhibit (2013), Tales of Halloween (2015), Grindsploitation (2016), Holidays (2016), XX (2017), The Field Guide to Evil (2018), Nightmare Cinema (2018) and Isolation (2021). (For a more detailed listing see Anthology Films).
The V/H/S series has enjoyed reasonable success amid this, beginning with V/H/S (2012) and followed by V/H/S/2 (2013) and subsequent to this V/H/S/94 (2021) and V/H/S/99 (2022). The gimmick that all the V/H/S films operate by is that they are anthologies made up of films shot in the Found Footage style. V/H/S Viral cuts down on the number of episodes – a total of four compared to the first film's six and the second film's five. The upside of this is that it gives the respective directors longer running times to tell their stories.
V/H/S Viral abandons the frame story that the other two films had about searching for an illicit videotape. (Apparently, a wraparound was filmed but was dropped to keep the running time tighter). In its place, we get Marcel Sarmiento's Vicious Circles used as a wraparound story. Sarmiento had previously made the non-genre Heavy Petting (2007) and the horror film Deadgirl (2008), as well as the D is for Dogfight segment of The ABCs of Death and subsequently the full-length Totem (2017) and Faceless (2021).
This has a surreal tone to it as the nominal hero (Patrick Lawrie) races through the streets on a bicycle after a mysterious ice cream truck that has abducted his girlfriend. His pursuit is interspersed with a series of vignettes where bystanders try to film the chase from a bridge, where a Latino street gang erupt in confrontation at a barbeque and where a sleazy videographer tries to make a sex tape with a girl in the backseat of a taxi, each ending with somebody killed. There is a particularly nasty scene where a guy pursuing on a bicycle with a camera mounted to his helmet has his feet gored to the bone as he is dragged along behind the ice cream truck. The segment reaches an eerily surreal ending as the hero eventually catches up with the ice cream truck.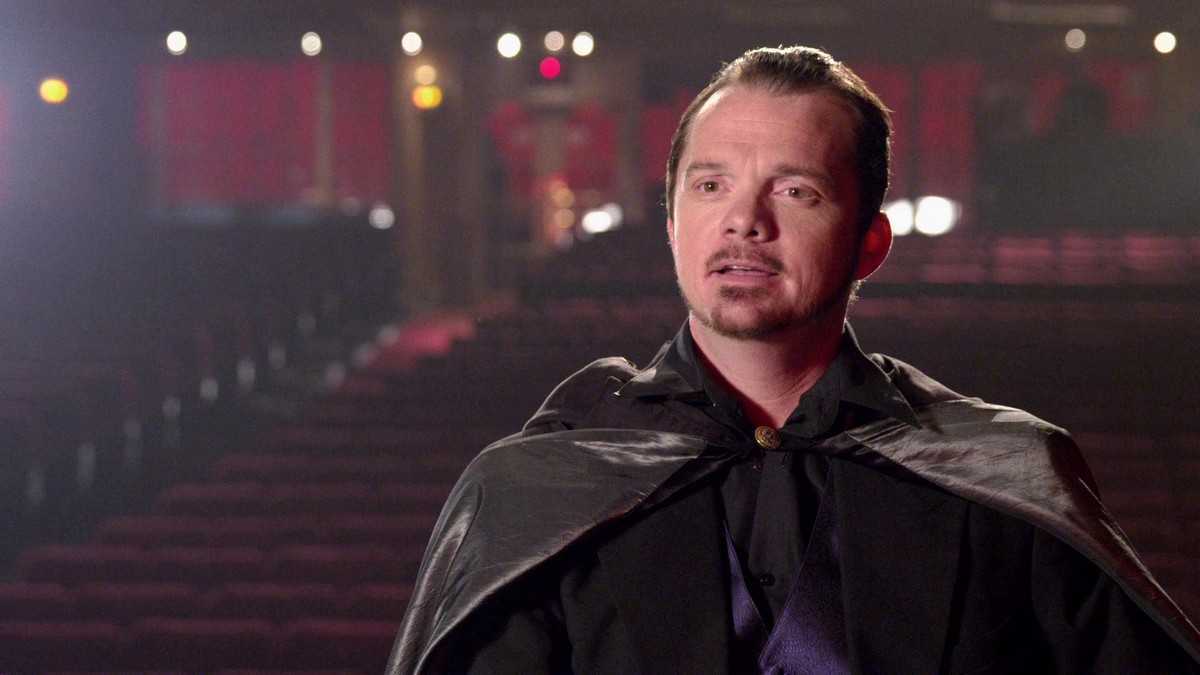 The first full segment is Dante the Magician from Gregg Bishop who had previously made The Other Side (2006), the zombie comedy Dance of the Dead (2008) and subsequently went on to make Siren (2016), which was expanded out of an episode from the first V/H/S film. I have always had a problem with the portrayal of stage magicians on film where the illusions produced seem banal when you know it is just cinematic cutting and editing at work. Most of these fail to cinematically conjure the wow factor you would get if these were being performed live – notable examples might be Lord of Illusions (1995), The Illusionist (2005), Next (2007) and Now You See Me (2013), the sole exception I can think of being The Prestige (2006).
Dante the Magician is one film that changes all of that as we see astonishing trick effects like Justin Welborn skinning a rabbit while it is still alive, abruptly levitating an audience and where attendees enter the theatre in New York and find they have exited in L.A. The episode reaches a dazzling climax with Welborn taking on a SWAT team, tossing them up against the walls and onto beds of nails, tearing them open to the skeleton, manifesting fireballs, teleporting around, even instantly exchanging costumes with a cop and letting the cop be shot by his colleague while wearing the cape, and with he and Emmy Argo fighting over the cape halfway up the wall. This is one segment that could easily have worked as a full-length film.
The second episode Parallel Monsters comes from Nacho Vigalondo, the Spanish director of the international festival hit of the time travel film Timecrimes (2007) and other works like Extraterrestrial (2011), Open Windows (2014) and Colossal (2016), as well as the A is for Armageddon segment of The ABCs of Death. Vigalondo initially gives us a science-fiction scenario as scientist Gustavo Salmeron opens up a portal to a parallel world and meets his mirror self who has simultaneously opened a portal in an identical laboratory there. You wonder where this strange premise is going as none of it seems to be horror.
Things start to get weird as the two men agree to explore the other's home – only for this world's Gustavo to discover his wedding portrait has been replaced by a picture of a pentacle and walk in on his wife (Marian Alvarez) with two other men in what is clearly going to be a group sex situation. We wonder if this is some kind of strange occult film before the segment starts to get realllly weird with images of the men developing glowing eyes, including a glowing-eyed mirror Gustavo standing over this world's Marian Alvarez with sinister intent, then the other men revealing giant monstrous dicks with teeth and the mirror wife that her womb and stomach is a gnashing mouth with fangs. None of this makes the slightest sense but you have to credit that Nacho Vigalondo pulls off a wonderfully twisted episode.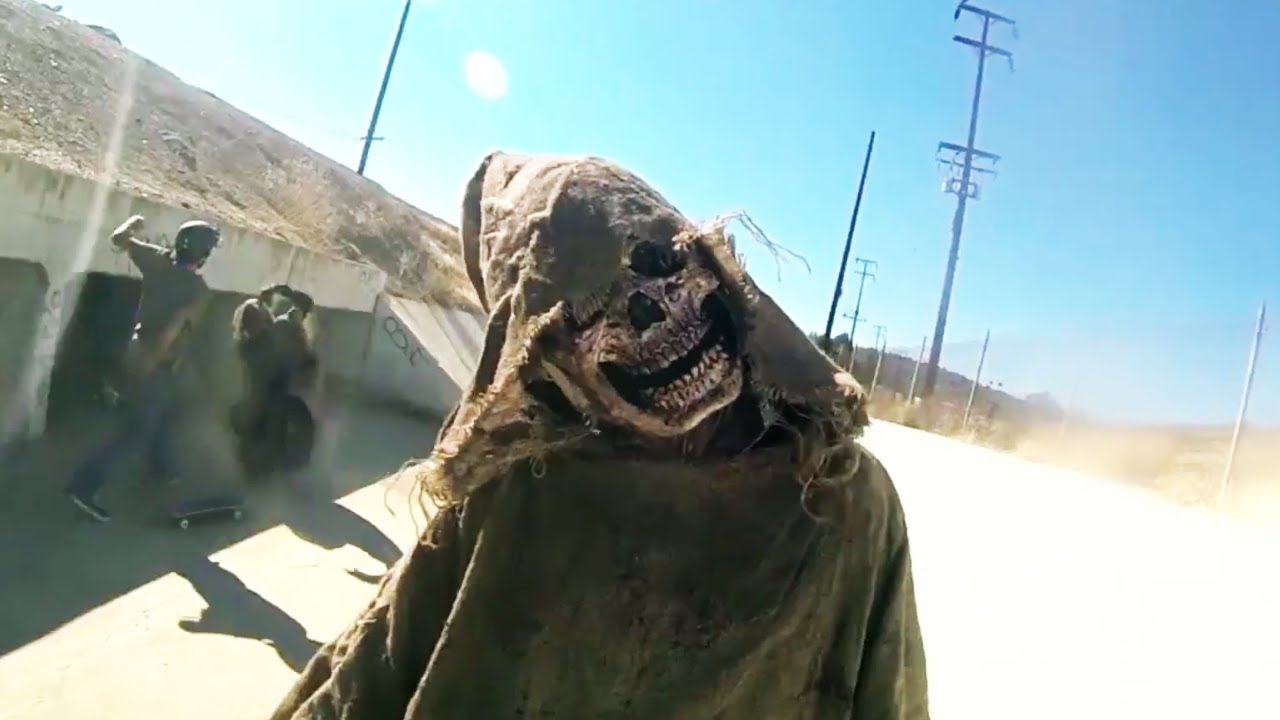 The final segment Bonestorm comes from Justin Benson and Aaron Moorhead, the co-directors of the interestingly strange backwoods horror Resolution (2012), the word of mouth hit of Spring (2014) and subsequently The Endless (2017), Synchronic (2019) and Something in the Dirt (2022). Benson and Moorhead are directors who like small accruing detail and character observation scenes. They take a surprisingly long time in the lead-in here following the trio of bored skateboarders as they play around and engage in stunts and petty troublemaking. These scenes are directed with a high degree of verisimilitude as though Benson and Moorhead had gone out and recruited real skaters and filmed them. When we eventually get south of the border and the zombie attack begins, this hits in with a considerable ferocity (and some highly accomplished makeup effects) with the skaters battering zombies with their boards, fists, handguns, anything they can in a raw handheld fight that goes on for nearly ten minutes. This drags you in so intensively that you reach the end of the piece exhausted.
There is nothing that you can fault in any of the segments. Any of these could stand among the very best episodes of any of the current crop of multi-director anthologies. And without a doubt this makes Viral into the best of the V/H/S series so far.
---
---