---
Chile. 2014.
Crew
Director/Screenplay – Guillermo Amoedo, Producers – Miguel Arsenio Llamas, Nicolas Lopez & Eli Roth, Photography – Chechu Graf, Music – Manuel Riviro, Visual Effects – Sobras Digital, Special Effects & Prosthetics – Lorena Milena, Production Design – Amparo Baeza. Production Company – Sobras International S.A..
Cast
Nicolas Duran (Peter), Critobal Tapia Montt (Martin), Luis Gnecco (Lieutenant De Luca), Ariel Levy (Caleb De Luca), Alessandra Guerzoni (Monica), Lorenzo Izzo (Ana Piole), Aaron Burns (Officer Harris), Pablo Vila (Dr Hill)
---
Plot
Young Peter answers the door to meet a stranger looking for an Ana Piole who used to live there. Later Peter is out spray-painting graffiti when he sees a trio of youths led by Caleb attack and stab the stranger. He calls a nearby police car but this is driven by Caleb's father, Lieutenant De Luca, who instead helps his son dispose of the body. Afterwards, Peter goes and helps the stranger and brings him home where he makes a full recovery in remarkable time. Caleb and his friends then come to silence Peter, leaving him badly burned. The stranger visits Peter in the hospital and drips his blood into Peter's wounds, allowing him to make a miraculous recovery. This brings De Luca after them, determined to both eliminate witnesses and obtain the secret of the stranger's blood.
---
The Stranger was the second directorial outing for Guillermo Amoedo, an Uruguayan-born director who is resident in Chile. Amoedo debuted with the SF film Return (2010) and has subsequently gone on to make The Inhabitant (2017). What boosted Amoedo's international profile was his collaboration on the scripts for Eli Roth's Chilean-shot films The Green Inferno (2013) and Knock Knock (2015), as well as writing the Roth-produced and starring Aftershock (2012). Roth has returned the favour and produces The Stranger, while Roth's wife Lorenzo Izzo (whom he met during the shooting of The Green Inferno) appears as the mysterious Ana Piole in the flashback scenes.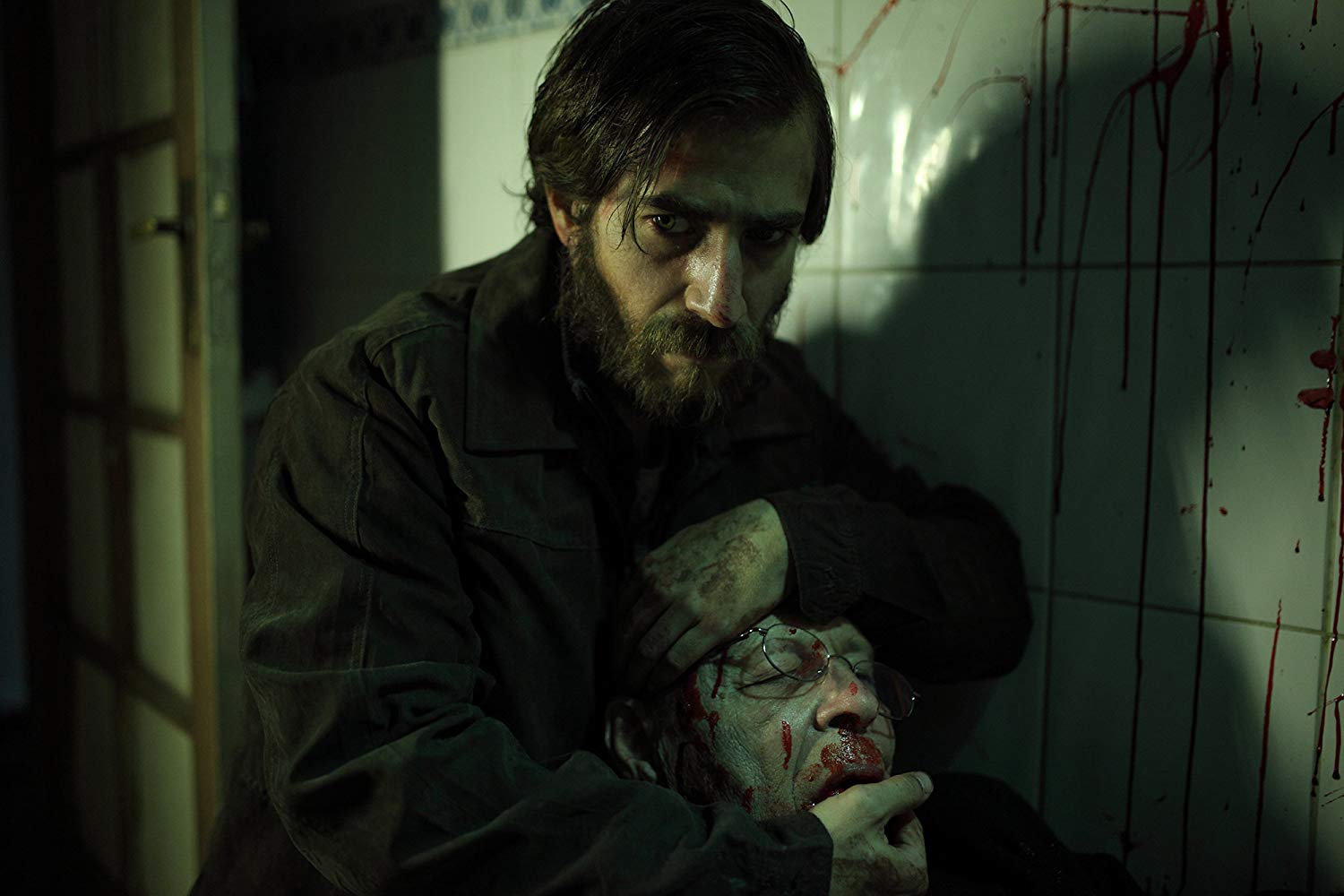 For half of the running time, the film leaves you in a state of wondering what is going on and who The Stranger is. I am probably spoiling a surprise in telling you that The Stranger is a vampire film. However, this is not a terribly interesting surprise and Guillermo Amoedo does little to make the mystery and ambiguities interesting. The film involves much running around and various things happening. None of these seem terribly interesting either. You have ceased to care or engage in any of the events well before the halfway point arrives.
The Stranger also comes with the pretence that it is set in America where all of the Chilean actors pretend to be Americans. It works passably but some of the accents and details seem off.
---
---