---
Crew
Director – Mark Waters, Screenplay – Daniel Waters, Based on the Novel by Richelle Mead, Producers – Susan Montford, Don Murphy, Deepak Nayar & Michael Preger, Photography – Tony Pierce-Roberts, Music – Rolfe Kent, Visual Effects – Prime Focus (Supervisor – Marc Jouveneau), Special Effects – Elements Special Effects (Supervisor – Nick Rideout), Production Design – Frank Walsh. Production Company – Reliance Entertainment/IM Global/Kintop Pictures/Studio G-10/Murphy-Montford Productions/Preger Entertainment.
Cast
Zoey Deutch (Rosemarie 'Rose' Hathaway), Lucy Fry (Vasilia 'Lissa' Dragomir), Danila Kozlovsky (Dimitri Belikov), Gabriel Byrne (Victor Dashkov), Dominic Sherwood (Christian Ozera), Sarah Hyland (Natalie Dashkov), Olga Kurylenko (Headmistress Kirova), Sami Gayle (Mia Rinaldi), Cameron Monaghan (Mason Ashford), Joely Richardson (Queen Tatiana), Claire Foy (Sonya Karp), Ashley Charles (Jesse Zeklos), Edward Holcroft (Aaron Drozdov), Ramon Tikaram (Mr Meisner)
---
Plot
Vasilia 'Lissa' Dragomir is a princess heir among the Moroi, a peaceful breed of vampire. She and her seventeen-year-old friend, the trainee Guardian and dhampir, half-human, half-vampire, Rosemarie 'Rose' Hathaway have fled St Vladimir's Academy where they were being schooled and gone into hiding in Oregon. They are now recaptured by the Guardians and brought back to St Vladimir's in Montana, not before coming under attack by Strigoi, a more vicious and predatory breed of vampire. They are regarded as unique because they have a telepathic bond, while Lissa also starts to demonstrate unusual magical powers. Slotting back into school life, Rose is attracted to her Guardian trainer Dimitri Belikov. At the same time, Lissa is attracted to Christian Ozera, an outsider whose parents were Strigoi. Rose then realises that somebody is targeting Lissa, leaving threats written in blood and the slaughtered bodies of small animals. As she digs deeper into what is happening, Rose discovers sinister forces gathering around them.
---
Ever since the massive success of the Harry Potter series, filmmakers have been searching for the next series of Young Adult books that will be the same sort of runaway success with audiences. There have been several others to hit that stratosphere such as the Twilight films and The Hunger Games (2012). Yet for every Harry Potter or Twilight film, there have been twice as many wannabes that have sought to break the same market but never gotten beyond adapting the first book in the series – see the likes of The Golden Compass (2007), The Seeker: The Dark is Rising (2007), Cirque du Freak: The Vampire's Assistant (2009), I Am Number Four (2011), Beautiful Creatures (2013), The Mortal Instruments: City of Bones (2013), The Adventurer: The Curse of the Midas Box (2014), The Giver (2014), Fallen (2016), The 5th Wave (2016), Maximum Ride (2016), The Darkest Minds (2018), Mortal Engines (2018),d Artemis Fowl (2020) and Chaos Walking (2021).
Vampire Academy is the latest entry in these Young Adult fantasy works. It is based on a series of books by American author Richelle Mead. These began with Vampire Academy (2007) and continued through Frostbite (2008), Shadow Kiss (2008), Blood Promise (2009), Spirit Bound (2010) and Last Sacrifice (2010). Mead also began a spinoff series featuring several of the supporting characters in Vampire Academy beginning with Bloodlines (2011) and runs to six books.
The book comes to the screen under director Mark Waters who first appeared with the acclaimed The House of Yes (1997). Waters has dabbled in a number of romantic comedies with High Heels (2004), Just Like Heaven (2005) and Ghosts of Girlfriends Past (2009), has made several teen girl films with the Lindsay Lohan vehicles Freaky Friday (2003) and Mean Girls (2004), as well as the children's film The Spiderwick Chronicles (2008), the Jim Carrey vehicle Mr Popper's Penguins (2011) and Bad Santa 2 (2016). A far more promising prospect is the name of Daniel Waters, Mark's older brother, who is known as the scriptwriter with the likes of Heathers (1989), The Adventures of Ford Fairlane (1990), Hudson Hawk (1991), Batman Returns (1992) and Demolition Man (1993), as well as the director of the quirkily appealing Sex and Death 101 (2007) that alas flopped upon release.
There is a lot of hate for Vampire Academy. The trailer for the film looked awful – the vampire film spun as a vehicle pitched to bitchy teen girls. Even worse was the poster that proudly proclaimed the legend "They Suck at School." The studio refused to hold any press previews – always a bad sign for a film. The overall reaction from every adult I spoke to beforehand was one of general ridicule. I cannot say any of the pre-release gave me the slightest enthusiasm for the film – I was expecting to write a review that went along the lines "Well, at least Vampire Academy ranks better than Voodoo Academy (2000), but that is hardly saying much."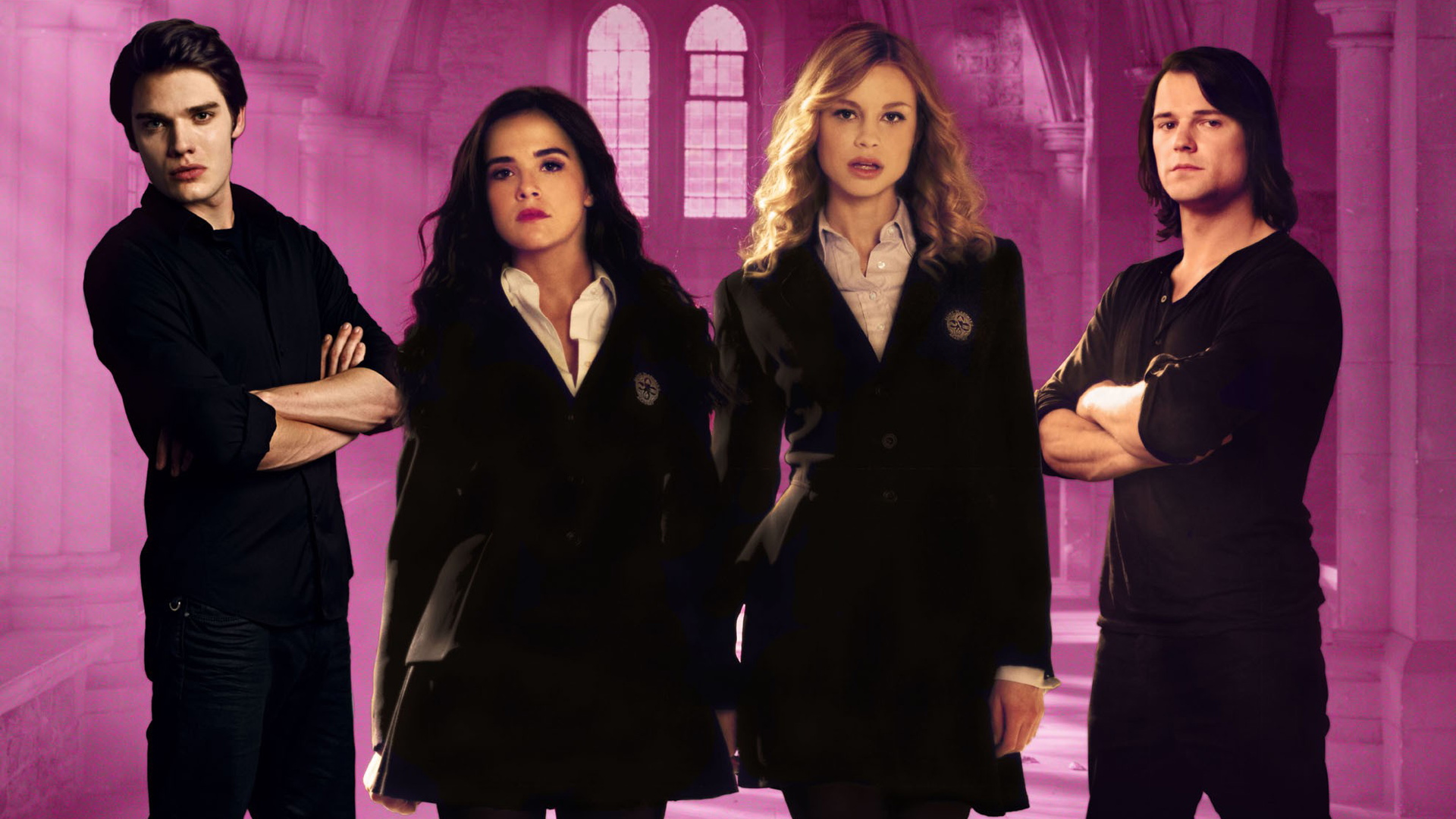 As the film opens, it starts to sink down towards all of the things that you are dreading. It seems to be conceived of as Twilight (2008) – teenage vampires that have been cast for their dreamy good looks more than their acting ability – by way of the Harry Potter series – their being placed in a boarding school setting for the supernaturally empowered. (Figuring that there is not that much to the idea of teenagers going to school to learn how to be vampires, the story outfits the characters with magical abilities so it can do a Harry Potter magic school-type thing as well). Over all of this is the bitchy, catty teen girls thing that was a facet of Mark Waters' Mean Girls. You also get switched off by some incredibly bad acting on display, most notably from Australian actress Lucy Fry who affects what must have been what somebody imagined a very posh British accent to be, which is overdone to the point it seems like a parody.
What we have is a far more honest vampire film for teenage girls than the Twilight series was. The Twilight films were a vampire story that was essentially about how an ordinary girl after some indecision finds the perfect, always attentive, hot-looking guy to settle down and make babies with. Beneath all its hyper-sexualised posturing, the message was the dreadfully conservative chastity movement one that said that a girl should deny all these hot guys that were wanting her, save herself and wait to find the perfect guy to settle down into a traditional marriage. Vampire Academy couldn't care about any of that. It's more like a bitchy high school drama where the school is stratified between cool and nerdy, girls are obsessed with hot looking guys and questions of who is dating who, who to go to the ball with, who is playing cruel pranks, of what can be gotten away with under the eyes of the teachers and so on.
The surprise is that despite itself Vampire Academy is halfway watchable. It takes a long time to get to the point where you feel like saying so. Daniel Waters' script is peppered with a constant sense of humour and battery of sardonic one-liners where you get the impression he went in determined to deflate the po-faced seriousness of the Twilight wannabe that the producers clearly were intending to make. Indeed, there is a constant run of snide jokes thrown in the direction of the Twilight series – Zoey Deutch lists the qualities of the moroi near the opening and pointedly adds "and no, they don't sparkle," while one character is dismissively noted as being someone "who writes Twilight fan-fiction." Most of the lines that Zoey Deutch gets – especially the scenes with the visit to the mall – come with a sarcastic amusement that makes the film go a long way further than it would otherwise. Even the ridiculous scene where the charm makes Zoey want to have sex with Danila Kozlovsky is made watchable through the wryly amused playing.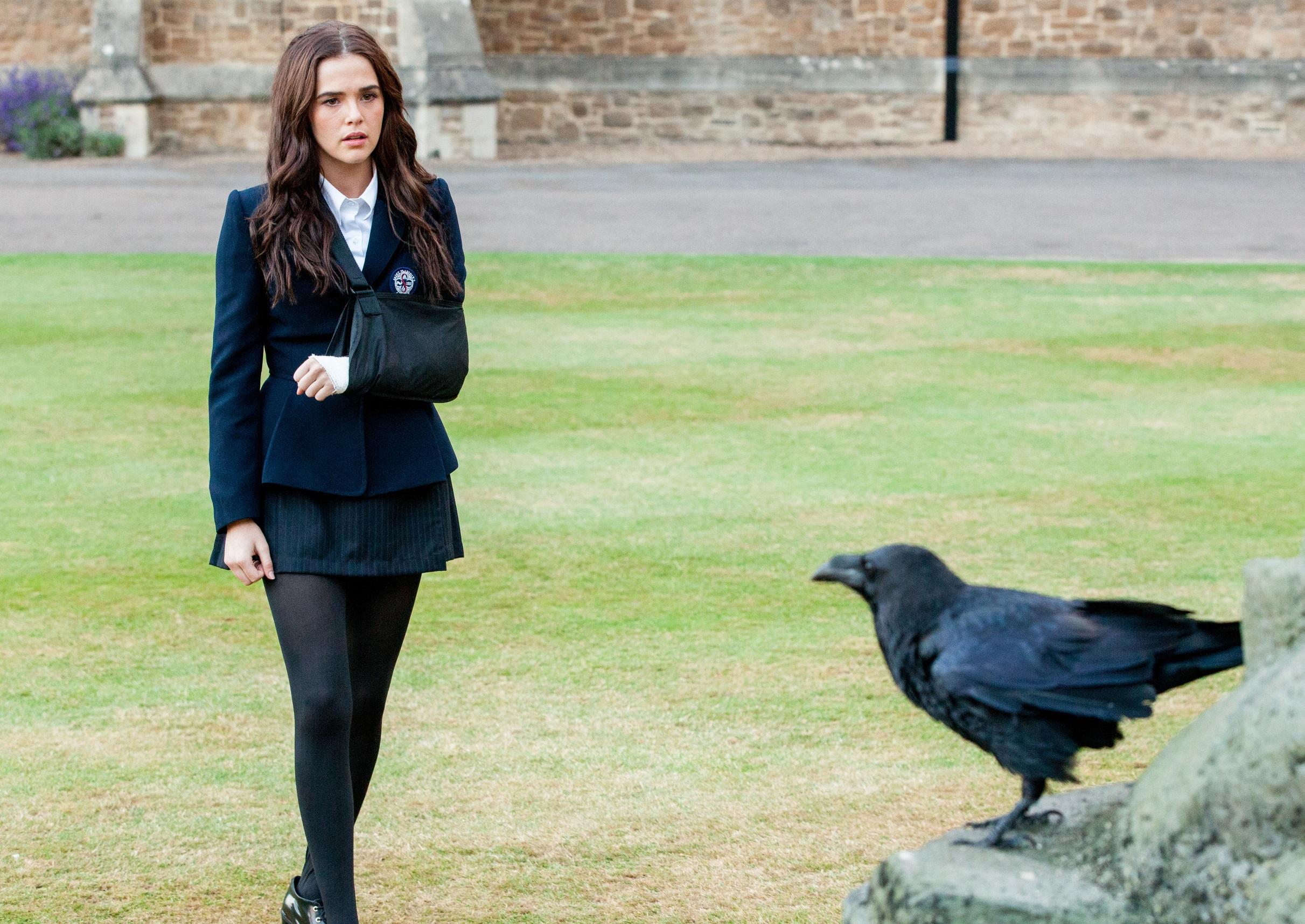 Zoey Deutch – the daughter of actress Lea Thompson and Howard Deutch, the director of 1980s films like Pretty in Pink (1986) and Some Kind of Wonderful (1987) and looking a dead ringer for a younger version of her mother – ends up being the film's ace in the hole. She seems the most on the ball actor present and gives the part just the right degree of sassy sarcasm, toughness and occasional vulnerability, making her clearly a name worth keeping an eye out for.
The main problem with Vampire Academy is that it is trying to compact a 300 page novel down into a 104 minute film. In order not to leave out any essential element or background character for the potential franchise that the producers were intending, little is trimmed, resulting in a very packed narrative. Not only is the film setting up a complex back mythology that involves three different races of vampires but also a system of magic and a lineage of vampire royalty. In between that, we are dealing with the various character backgrounds but also the introduction of the supporting characters and their relationships to the leads – I am still not sure which group some of the supporting characters like Mia, Mason and Jesse belong to.
The film opens abruptly in the midst of the two girls on the run in Oregon and it feels like an entire half-hour of backstory about what they are doing, why they fled the academy and why they are being hunted is missing. Frequently the film seems to skip from scene to scene so quickly that we never grasp what is happening – the scene where Zoey Deutch is taken over by the love charm happens so quickly that it seems to come abruptly left field. Even the Harry Potter films were feeling strained packing 700 page books into 2½ hour films; as it is, Vampire Academy rarely gets the opportunity to open up beyond its packed exposition to dramatically entertain.
The film/books were later remade as the tv series Vampire Academy (2022- ).
---
---