USA/Chile. 2012.
Crew
Director – Nicolas Lopez, Screenplay – Guillermo Amoedo, Nicolas Lopez & Eli Roth, Story – Nicolas Lopez & Eli Roth, Producers – Miguel Asensio Llamas, Brian Oliver & Eli Roth, Photography – Antonio Quercia, Music – Manuel Riveiro, Visual Effects Supervisor – Rodrigo Rojas Echaiz, Special Effects Supervisor – Patricio Aguilar, Makeup Effects – Felipe Figueroa, Production Design – Nelson Daniel. Production Company – Vertebra Films/Sobras International Pictures/Cross Creek Pictures
Cast
Eli Roth (Gringo), Nicolas Martinez (Pollo), Andrea Osvart (Monica), Lorenza Izzo (Kylie), Natasha Yarovenko (Irina), Ariel Levy (Ariel), Marcial Tagle (Firefighter), Ramon Llao (Ramon), Ignacia Allamand (Guide), Matias Lopez (Marito), Adrian Salgado (Bad Guy 1 – Adrian), Enrique Quiroz (Bad Guy 2 – Bairon), Orlando Alfaro (Bad Guy 3 – Cristofer), Patricio Strahovsky (Priest), Dayana Amigo (Bartender), Edgardo Bruna (Grumpy Operator), Eduardo Dominguez (Russell Dazzle)
---
Plot
Two American tourists, Ariel and a guy who has been nicknamed Gringo, joined by the charismatic local Pollo, are in Santiago, Chile to party. They meet up with three girls, Austrian sisters Kylie and Monica, and their Russian friend Irina, and persuade them to abandon their plans to leave the next day and come with them to Valparaiso. However, while they are in a nightclub there, the city is hit by an earthquake. There is mass panic during which Ariel has his hand severed while trying to free a bartender from under a collapsed shelf. They emerge into a panicked city and try to get Ariel to hospital. However, the earthquake has also caused the local jail to collapse and freed a gang of hardened criminals who pursue the group, determined to rape the girls and kill the rest of them.
---
Eli Roth needs no introduction as the cult director of films such as Cabin Fever (2002) and Hostel (2005), as well as an occasional actor in front of the camera, most notably in Quentin Tarantino's Inglourious Basterds (2009). Roth doesn't direct but his stamp is all over Aftershock – he co-writes the screenplay, help come up with the story, is a co-producer and plays the lead role.
What appears to be the case is that Roth travelled to Chile to make his cannibal film The Green Inferno (2013) and somewhere in the process became wound into making Aftershock – the films share the same writers, this film's director Nicolas Lopez is a producer on The Green Inferno and both films also have two leading cast members in common (Lorenza Izzo, Ariel Levy). Roth subsequently married Izzo and returned to Chile to direct his next film Knock Knock (2015), which he co-wrote with Lopez and used many of the same production personnel as here.
Surprisingly, Chilean director Nicolas Lopez has never directed a horror film prior to this. The nearest he has come to genre territory has been his second film Santos (2008) about a nerdy comic-book artist who has an alternate world life as a superhero.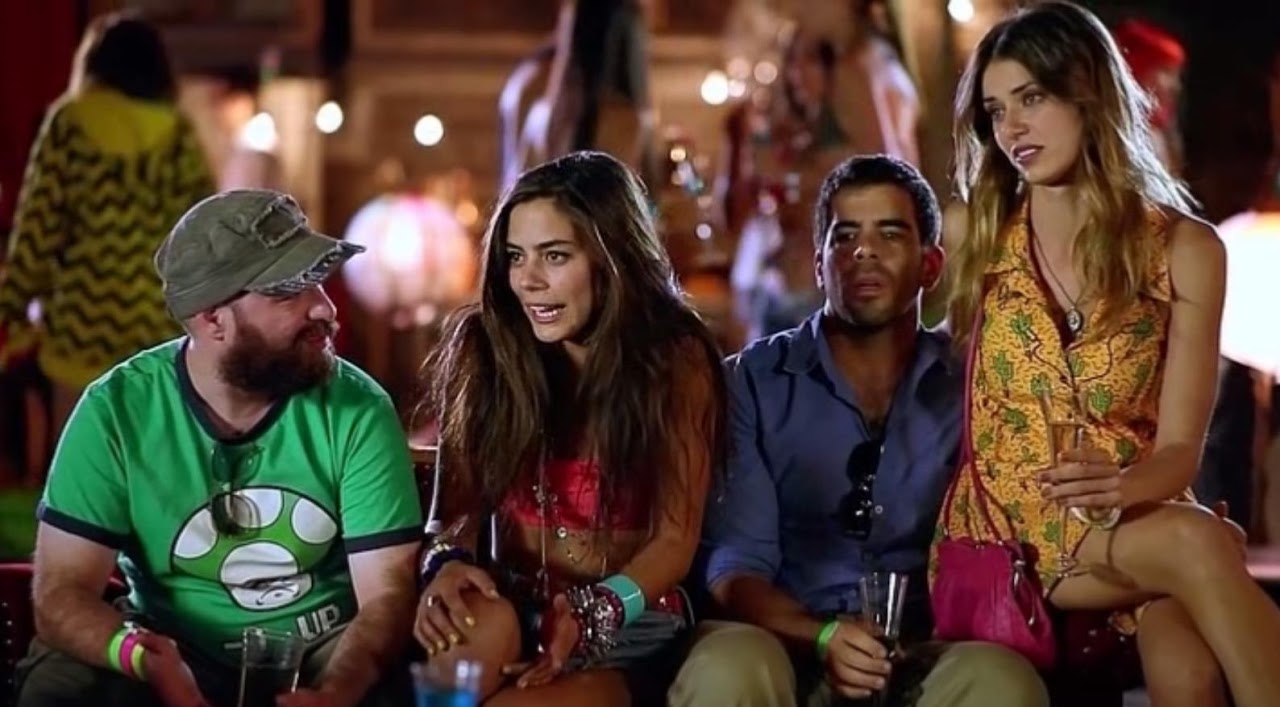 Aftershock starts well. The film could easily have given us the usual slasher movie complement or a bunch of people whose sole casting call is that they are good-looking. Instead, Nicolas Lopez gives us a sarcastically amusing sextet of characters with competing personalities – the guys travelling through the country's nightclub scene trying to get laid with varying degrees of success, the girls and their differing responses. Eli Roth has a certain loudmouth hotshot persona on screen and in interviews so it is amusing watching him deflate that as the square nerdy guy of the group. Much of the film is stolen by the entertainingly gregarious performance from tubby Nicolas Martinez.
Aftershock spends its first half-hour building up the characters in ways that seem promising. Alas, about the point that it gets to the horror scenes, it becomes substantially less interesting. In reality, it is less a horror film than a 1970s disaster movie such as The Poseidon Adventure (1972), Earthquake (1974) or The Towering Inferno (1974) that someone has tried to push into being a horror film. Where these films were usually about a cross-section of people struggling to survive in the aftermath of a disaster and their various soap operas, Aftershock substitutes shots of gored bodies and then in the latter third adds a bunch of escaped convicts trying to rape and murder the group. Nicolas Lopez gives us plentiful horror effects – a lady's head splattered by a bus as she emerges from a manhole cover, the blackly comedic scenes where Ariel Levy struggles to retrieve his severed hand, Eli Roth trapped under fallen masonry where he is tortured and set alight by the gang and so on.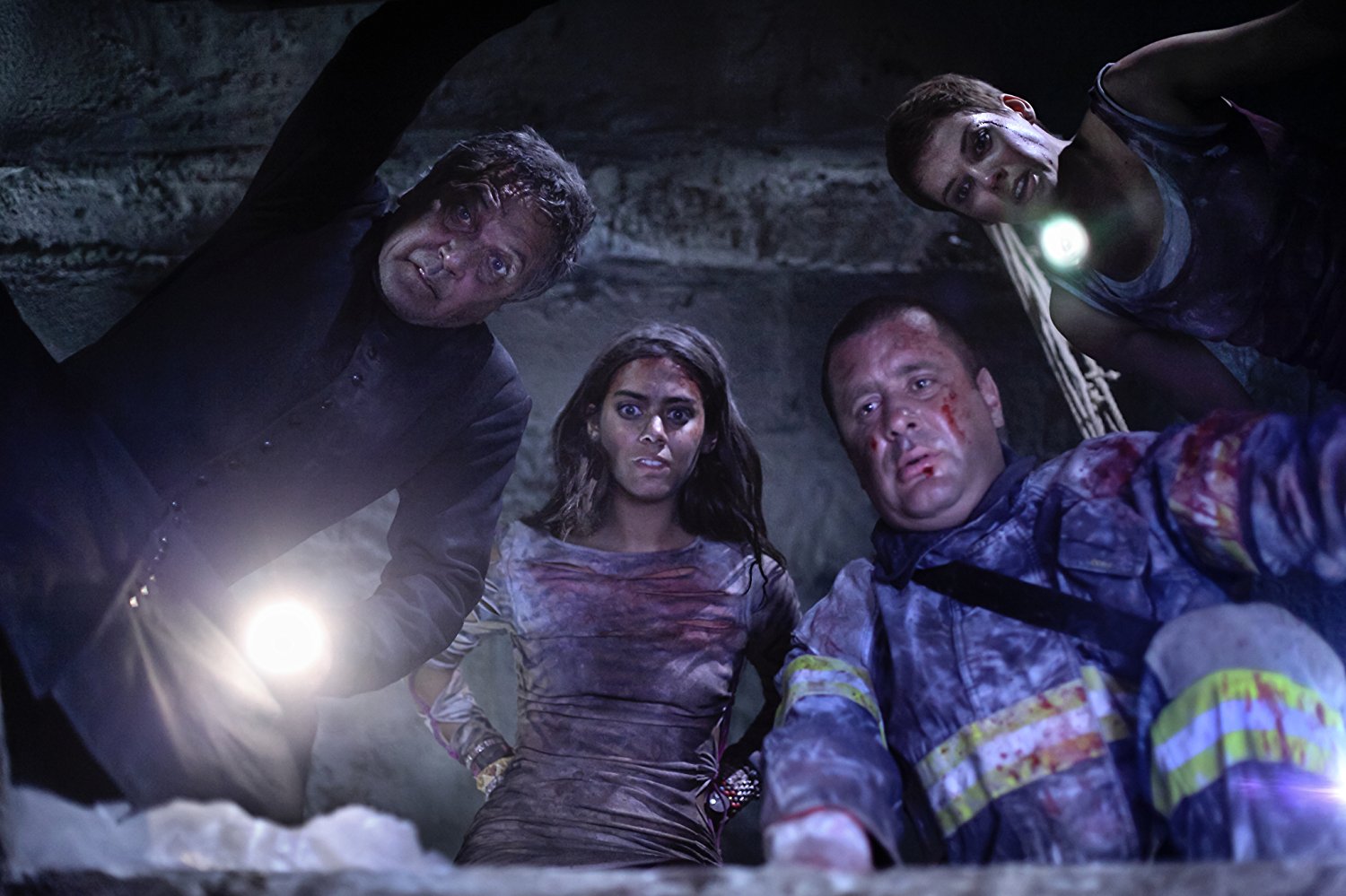 You can sort of slot Aftershock into the genre of tourist horror films that came out in the aftermath of Hostel. On the other hand, there feels something contrived out of it constantly trying to squeeze horror effects into a natural disaster scenario. Moreover, while the pitch for the film was clearly in the same vein as Hostel, Nicolas Lopez falls woefully short of ever achieving the brutal balls to the wall horror that has become Eli Roth's trademark. The scene where Roth's character is set on fire should have been horrific to watch but one switched off because it looked like too obvious a CGI effect.
The story consists of the characters being propelled from one situation to the next – collapsing nightclub, a collapsing cable car, Eli Roth pinned under a fallen statue, their taking refuge in a church, the gang torturing, raping and murdering various of them. About the point of [PLOT SPOILERS] Andrea Osvart stumbling through the catacombs and encountering the urban legend of the mummified nun babies and then escaping out to freedom on a beach, only in the last shot to turn and see the tsunami that everyone was worrying about earlier gathering over her, the film collapses under the absurdity of its constant contrivations.
---
Trailer here
---