---
USA/Chile. 2015.
Crew
Director – Eli Roth, Screenplay – Guillermo Amoedo, Nicolas Lopez & Eli Roth, Based on the Film Death Game Written by Anthony Overman & Michael Ronald Ross, Producers – Colleen Camp, Tim Degraye, Cassian Elwes, Miguel Asensio Llamas, Nicolas Lopez & Eli Roth, Photography – Antonio Quercia, Music – Manuel Riveiro, Visual Effects Supervisor – Rodrigo Rojas Echaiz, Visual Effects – Sobras Digital, Makeup Effects – Zaccony Producciones, Production Design – Marichi Palacios. Production Company – Camp Grey Productions/Dragonfly Entertainment/Sobras International Pictures/Elevated Films/Black Bear Pictures
Cast
Keanu Reeves (Evan), Lorenza Izzo (Genesis), Ana de Armas (Bell), Aaron Burns (Louis), Ignacia Allamand (Karen), Colleen Camp (Vivian), Daniel Baily (Jake), Megan Baily (Lisa)
---
Plot
Evan is happily married architect, living in a Hollywood home with wife Karen and their two children. Karen leaves for the long weekend with the children while Evan stays behind to complete a work deadline. He is interrupted by two girls, Genesis and Bell, who claim to be airhostesses lost on their way to a party. They ask to come in and dry off from the rain. The girls flirt with Evan and prove to be highly sexual in their talk. They persuade him to forget about his wife and join them in a threesome. In the morning, Evan wakes to find the girls running amok in the house. He tries to throw them out but they return and make him prisoner. Revealing that they are in fact underage girls and he is guilty of a felony in having sex with them, they proceed to torture him and wreak havoc around the home.
---
Eli Roth has become a solid favourite with horror audiences from the breakout hit of his first film Cabin Fever (2002). He consolidated this with Hostel (2005), which became the film at the forefront of the Torture Porn fad. Roth made the obligatory sequel Hostel Part II (2007) but then seemed to languish in greenlight limbo with various projects for the next few years. He did make the cannibal film The Green Inferno (2013), which premiered at the Toronto International Film Festival only to spend two years held up in distribution before finally obtaining a release ironically at the same time as Knock Knock, Roth's fifth directorial film, did a brief run in theatres. He next went on to the remake of Death Wish (2018) and the family film The House With a Clock in Its Walls (2018). Certainly, Roth has been prolific as a producer and in making acting appearances in other people's films (see below).
Roth went to Chile to shoot The Green Inferno and appears to have become invigorated by the experience. Not only did he meet and marry Lorenza Izzo, who has been the lead actresses in his last two films, Roth also met with his new collaborating partner Nicolas Lopez who produced The Green Inferno and co-writes/co-produces Knock Knock, while Roth co-wrote and appeared as the lead actor in Lopez's directorial outing Aftershock (2012) and produced the other co-writer Guillermo Amoedo's directorial effort The Stranger (2014). Roth has shot the whole of Knock Knock in Chile, except a few exteriors, where he and his cast make it look like it takes place in an average Hollywood home such that you do not know the difference until you read the end credits.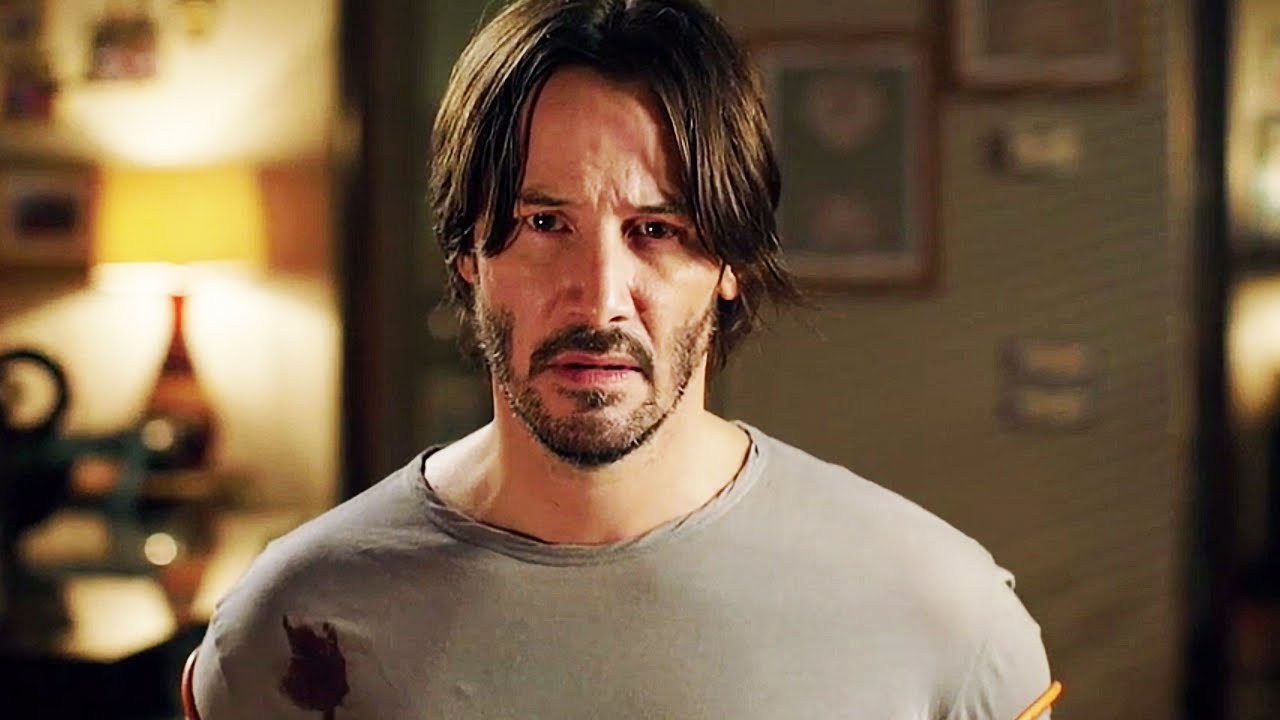 With Knock Knock, Roth remakes Death Game/The Seducers (1977), a largely forgotten film from the heyday of the American exploitation genre. In the original, Seymour Cassel played the lead male whose home was malevolently overrun by the two girls played by Sondra Locke and Colleen Camp. Both actresses are present on the remake – Locke and Camp both have producing roles, while Camp plays the bespectacled neighbour who walks in to find Keanu Reeves with the two girls.
Knock Knock starts very well. Roth charts out the banal and loving ordinariness of Keanu Reeves's home life and then proceeds to go amok with it. The two girls, Lorenza Izzo and Ana de Armas, have a sparkling vivaciousness once they enter the show. What Roth counts on doing is hitting you with their brazen and up-front talk about sex, which holds a considerable tease and in your face frankness. What we have resembles something of a sex-swapped version of Michael Haneke's gruelling Funny Games (1997), or its lesser English-language remake Funny Games US (2007), where two prep school boys proceeded to upturn an average couple's household and torture them. That maybe and something like a far more predatory version of Hard Candy (2005).
For all that it has a strong beginning, Knock Knock doesn't work. Maybe it was watching an incredibly stilted Keanu Reeves trying to play loose and be the average family man in the opening scenes or the lack of conviction he gives to the scenes where he is beseeching "please don't do it, girls," – or even just the bizarre sight of the guy who used to be regarded as a sex symbol trying to turn the girls down and pleading that he is over the hill – but the film rises and falls around its leading man.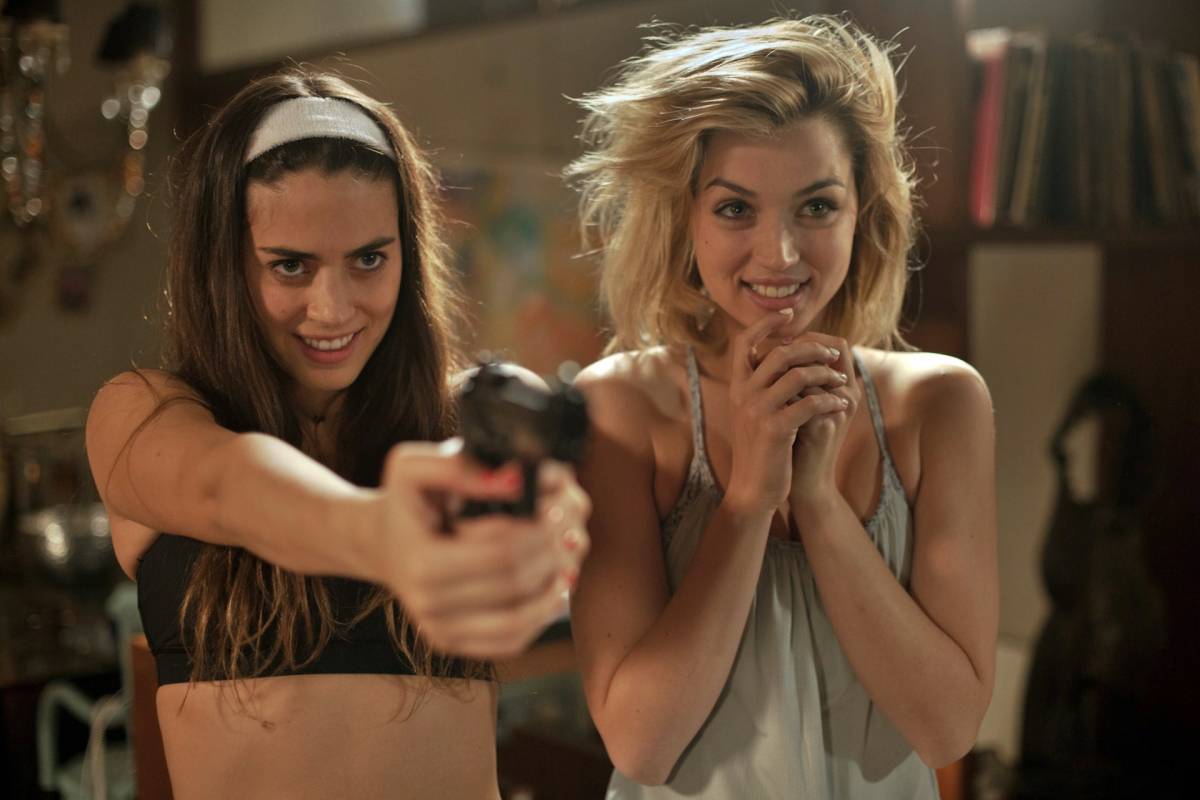 The main other problem is that Eli Roth hits the peak of the show about halfway in – an incredibly fucked-up scene with Keanu Reeves tied to the bed and Ana de Armas riding him wearing his daughter's school uniform going on about Daddy fantasies, followed by scenes where the girls inform him that they are both underage. Alas, Roth seems to then flounder about trying to find something to top this. Most of the rest of the film he hands over to the girls and appears to let them improvise various scenes running riot, torturing Keanu and trashing his house. With the scenes of them going amok with breakfast experiments, eating out of dog bowls, playing tv gameshows and so on, it all gets a bit manically scatty and Roth never finds his way back to the dark nastiness he conjures in the early scenes.
It is also a film that seems completely off the map in terms of sexual politics. I applaud Eli Roth for celebrating a sexuality that at initial face value seems fearlessly hedonistic. On the other hand, much of the film then seems set up to punish Keanu Reeves for straying from the straight and narrow. At the same time, the male-centric point-of-view seat we are placed in regards such a transgression as instantly forgettable and the girls as malicious tormentors – in much the same way as the politics in Fatal Attraction (1987) operated. The way the film culminates with Keanu being tortured, his life torn apart and punished for his unwittingly having an extramarital liaison with two crazed possibly underage girls, it seems to exist in the same sort of extreme headspace where embittered men's rights activists and people like Elliott Rodger regard themselves as a victimised and disempowered minority.
Eli Roth has also served as producer on 2001 Maniacs (2005), The Last Exorcism (2010), The Last Exorcism Part II (2013), The Sacrament (2013), Clown (2014), The Stranger (2014), The Man with the Iron Fists 2 (2015) and Haunt (2019), plus the tv series Hemlock Grove (2013-5). He wrote/produced Aftershock (2012), The Man with the Iron Fists (2012), the remake of Cabin Fever (2016) and the anthology tv series Urban Legends (2022- ). He has also appeared as an actor in Don't Look Up (2009), Quentin Tarantino's Inglourious Basterds (2009) and Piranha (2010).
---
---