---
Crew
Director – Maximilian Elfeldt, Screenplay – Michael Varrati, [Uncredited] Based on the Novel Dracula by Bram Stoker, Producer – David Michael Latt, Photography – Predrag Jocic, Music – Christopher Cano, Mark Shane Prather & Christopher Ridenhour, Visual Effects Supervisor – Glenn Campbell, Production Design – Ivan Cirovic. Production Company – The Asylum.
Cast
Christine Marsh Prouty (Amelia Van Helsing), Jake Herbert (Count Dracula), Ryan Harry Woodcock (Jonathan Harker), Michael Ironside (Dr Jack Seward), India Davies (Mina Murray), Stuart Packer (Captain Renfield), Ana Ilic (Lucy)
---
Plot
Detective Amelia Van Helsing investigates as women are found murdered. All the victims have red hair and are found drained of their blood with puncture marks at their neck. Amelia is baffled but rejects the supernatural suggestions that forensic specialist Jonathan Harker puts forward. Amelia's girlfriend Mina Murray has been given a promotion in her job where she is asked to find a property for Count Dracula. In her investigation, Amelia concludes that a vampire is at work and then realises that the vampire is Dracula. Dracula has been seeking the reincarnation of his lost love. He now fixates on Mina, believing that she is the one he seeks.
---
The Asylum is a company regularly produce low-budget films designed to copy the titles of big-budget releases and are released just as the other work comes out to capitalise on publicity and anticipated interest – something they call 'mockbusters'. The Asylum's mockbusters have included copycat titles such as The Da Vinci Treasure (2006), Snakes on a Train (2006), AVH: Alien vs Hunter (2007), The Hitchhiker (2007), I Am Omega (2007), Transmorphers (2007), Allan Quatermain and the Temple of Skulls (2008), The Day the Earth Stopped (2008), 100 Million BC (2008), Sunday School Musical (2008), The 18 Year Old Virgin (2009), Almighty Thor (2011), Battle of Los Angeles (2011), Abraham Lincoln vs. Zombies (2012) and Age of the Hobbits (2012). (For a more detailed listing see Mockbusters).
Sometimes amid these, The Asylum will rework classic stories that are in public domain – usually when a new film version comes out. See the likes of War of the Worlds (2005), King of the Lost World (2005), Journey to the Center of the Earth (2008), Sherlock Holmes (2009), 3 Musketeers (2011), Grimm's Snow White (2012), Jack the Giant Killer (2013), Hercules Reborn (2014), Sleeping Beauty (2014), In the Name of Ben Hur (2015) and King Arthur and the Knights of the Round Table (2017) – although there are also a number of times when this is not the case as with The Land That Time Forgot (2009) and Troy: The Odyssey (2017). It would appear that Dracula: The Original Living Vampire was intended as a mockbuster copy of Morbius (2022) – the title makes a lot more sense when you realise the original name of Marvel's Morbius comic-book was Morbius the Living Vampire.
Bram Stoker's Dracula (1897) has been filmed dozens of times (see below for these), while Dracula become an iconic character in the horror genre – see Dracula Films. That said, this is a version of Dracula that Bram Stoker would barely recognise. There are many plot elements and characters from the book present but they have been shuffled around and relocated in different places. Van Helsing becomes a detective rather than the chief monster hunter. In the book, Dr Seward is a psychiatrist and Jonathan Harker a lawyer, while here both become forensic experts; Renfield goes from an inmate in the Seward asylum to the chief of police. Moreover, in the book Van Helsing is the expert in occult matters who is brought in by Seward whereas here Van Helsing goes to consult Seward and Seward is the one who keeps suggesting occult solutions – there are even scenes here where Van Helsing dismisses these and is telling Seward to stop talking about the occult. The character of Seward – who is always pronounced either 'soo-word' or 'syou-word' – now becomes 'see-ward'.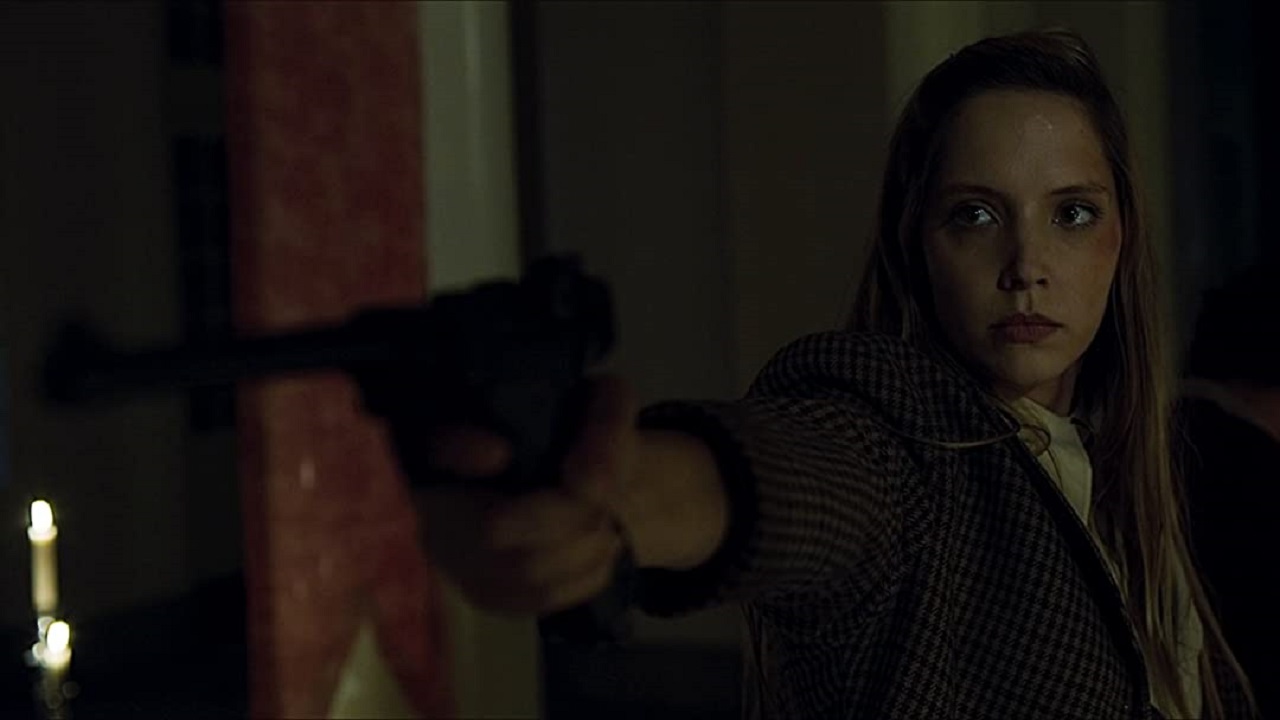 This is also one of the most wildly anachronistic films I have seen in some time. This is surely evident from the opening scene where Dracula (Jake Herbert) meets a woman and then puts the bite on her. Seeing her as a modern woman in skirt, pumps and red-dyed hair breaks any illusion that what we are watching is a period film. The term 'serial killer' is used close to a hundred years before it was coined. It is hard to even guess the time period the film takes place in – we hear but never see horses clip-clopping in the streets outside, while the interiors are a mix of electric and candle lighting. It is not clear if this is England – the accents are literally all over the map – and the locales of the book (that range between Transylvania and Whitby) seem to have been condensed to a single unspecified city (in actuality, location shooting in Belgrade) where Dracula's castle looms in the background.
And then there is the character of Amelia Van Helsing. These days it is regular practice to gender-flip characters in order to promote minority interests. We previously had a female Van Helsing in the BBC tv mini-series Dracula (2020) but this gives us not only a Van Helsing who is a woman but also in a lesbian relationship. However, this comes in ways that completely distort the story and further adds to the absurd anachronisms. Amelia is made a detective – it is not entirely clear if we are in England or not – but Scotland Yard did not have its first women detective until Lilian Wyles in 1932, although the Pinkertons earlier that that in the US. Moreover, Amelia is an open lesbian relationship, which is something that would have heavily disapproved by society and her peers in the Victorian era. While I am all supportive of strong woman characters and more LGBT characters, the way this is done here that is historically inauthentic. The film does offer an interesting spin to the old cliché of Dracula seeking Mina because she is the reincarnation of his lost love – the apparent reason he is targeting redheads – and then seducing her away from Amelia.
Maximilian Elfeldt had previously worked as a producer and even an actor at The Asylum. He made his directorial debut for them with Bachelor Night (2014) and went on to make the likes of Avengers Grimm: Time Wars (2018), End of the World (2018), Apocalypse of Ice (2020) and War of the Worlds: Annihilation (2021).
Other adaptations of Dracula are:– the uncredited classic German silent Nosferatu (1922); Dracula (1931), the classic Universal adaptation starring Bela Lugosi; the Spanish language version Dracula (1931) shot on the same sets as the Lugosi version starring Carlos Villarias; Hammer's classic Dracula/The Horror of Dracula (1958) with Christopher Lee; Dracula in Pakistan (1967), an uncredited remake of the Hammer film; Count Dracula (1970), a cheap continental production that also featured Lee; Dracula (1974), a cinematically-released tv movie starring Jack Palance; Count Dracula (1977), a BBC tv mini-series featuring Louis Jourdan; Dracula (1979), the lush romantic remake with Frank Langella; Werner Herzog's remake Nosferatu the Vampyre (1979) with Klaus Kinski; Francis Ford Coppola's visually ravishing Bram Stoker's Dracula (1992), featuring Gary Oldman; the modernised Italian-German Dracula (2002) starring Patrick Bergin; Guy Maddin's silent ballet adaptation Dracula: Pages from a Virgin's Diary (2002); Dracula (2006), the BBC tv adaptation starring Marc Warren; the low-budget modernised Dracula (2009); Dario Argento's Dracula (2012) with Thomas Kretschmann as Dracula; the low-budget Canadian Terror of Dracula (2012) with director Anthony D.P. Mann as Dracula; the tv series Dracula (2013-4) with Jonathan Rhys Meyers; the BBC mini-series Dracula (2020) starring Claes Bang; and Bram Stoker's Van Helsing (2021), which actually features no Dracula.
---
Trailer here
---