---
Crew
Director – James Roday, Screenplay – Todd Harthan & James Roday, Producers – Craig Chapman & Kerry Rock, Photography – Amanda Treyz, Music – Charlton Pettus & Curt Smith, Visual Effects – Barnstorm VFX (Supervisor – Lawson Deming), Makeup Effects – KNB EFX Group, Inc. (Supervisors – Howard Berger & Greg Nicotero), Production Design – Hugh Cummings. Production Company – Synchronicity Entertainment/Siren Productions/Bad Flan Films
Cast
Michael Weston (Anson), Jimmi Simpson (Stef), Sutton Foster (Kerry), Lily Cole (Mimi), Molly Ephraim (Cricket), Lothaire Bluteau (Yannick), Gabriel Luna (Hector), Gabourey Sidibe (Winketta), Ethan Sandler (Burt), Paul Rodriguez (Chuy), Sarah Silverman (Bethany Ghoulstein)
---
Plot
The staff are just preparing to close up at Raoul's restaurant when they are puzzled to find the doors won't open. Everybody is then made prisoner by the three remaining customers, brothers Anson and Stef and Stef's girlfriend Mimi. The three announce that they are intending to kill all of them and eat their flesh. The chef Yannick is chained up in the kitchen with a collar around his neck and forced to cook the meal. As the three play a series of games in which various of their captives are killed, the others try to get free.
---
Gravy is a feature length directorial debut for James Roday. Roday (born James Rodriguez) is better known as an actor. He appeared in a number of roles, his best known one being as the lead in the tv series Psych (2006-14), which he also produced as well as directed and wrote a number of episodes. Roday's most notable other venture into genre material was the screenplay for the werewolf film Skinwalkers (2006).
Gravy surprised the hell out of me. It received some middling to okay reviews so I wasn't expecting much when I sat down to watch. Instead, I was bowled over by the blackness of Roday's humour. The film hits in with a darkly menacing bite and never lets go until the end credits roll. The sheer deadpan with which Jimmi Simpson and Michael Weston sit back playing games, torturing the victims and then discussing the details of finer dining and cutting up the bodies with chef Lothaire Bluteau are devastating in their nonchalant understatement. Or Roday's habit of running light and boppy pop songs over scenes of violence to incredibly black effect.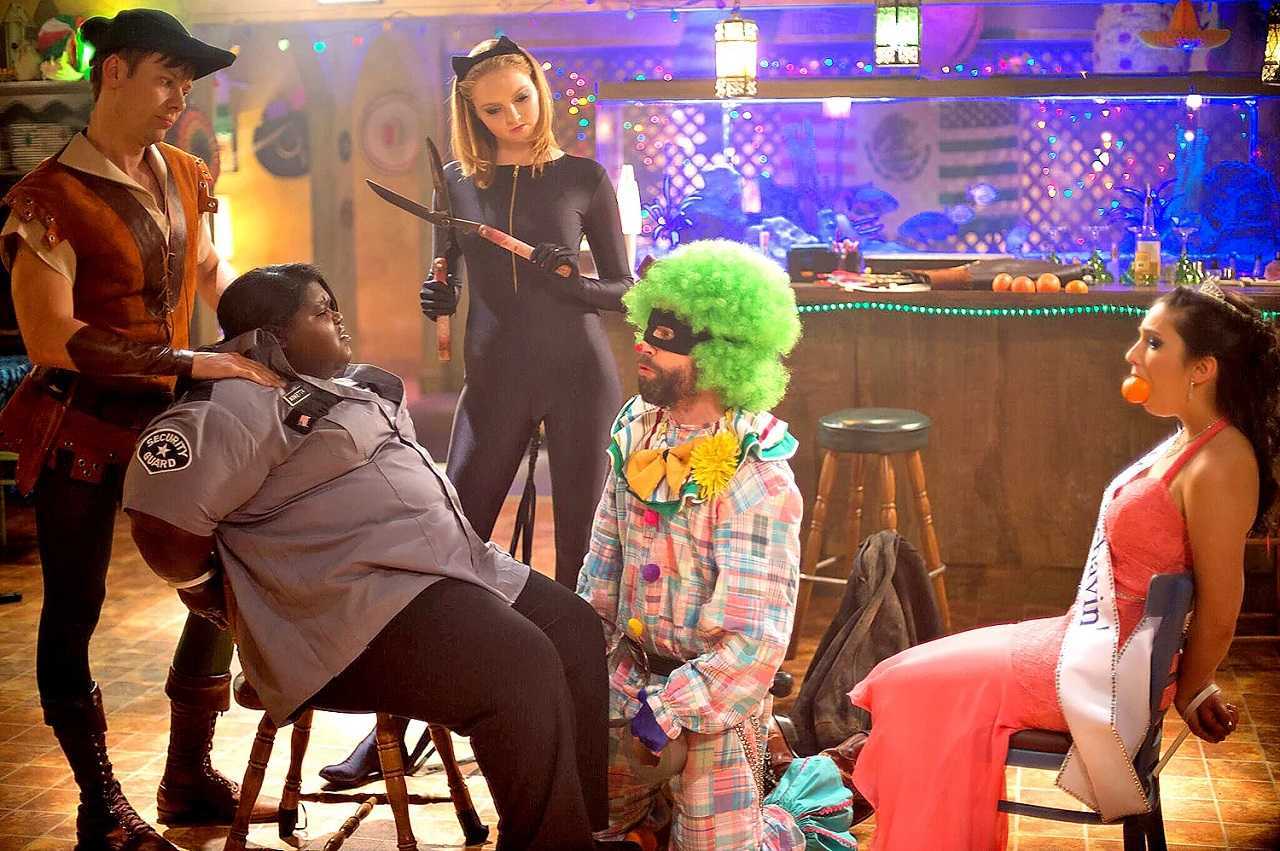 The scene as Sutton Foster tries to seduce Michael Weston and win his trust contains some superb pieces of nuance and tonal shift as he wavers between trusting her. Usually a film about psychos menacing people comes with the opportunity for the actors in question to go to deranged excesses but the underplaying and perfectly normal calm of Michael Weston and Jimmi Simpson makes for something quite unlike any film you have seen before.
Roday has a fantastic cast line-up on hand. Much of the show is stolen by Gabourey Sidibe who plays with a hard-headed and unfazed sass that completely owns every scene she is in. It is a genuine shame she ends up being silenced and then bumped off fairly soon into the show as she would have completely won it otherwise. Or maybe it is that she is such a strong performer that Roday decided to eliminate her to stop her distracting from the rest of the show. The other one who goes to town is Lily Cole. One has only seen Cole in roles as good girls or as the innocent teenage daughter in The Imaginarium of Doctor Parnassus (2009). She takes the opportunity here to play bad and goes for broke, relishing every moment she is on screen.
---
---