---
Crew
Director – Cirio H. Santiago, Screenplay – Howard R. Cohen, Producer – Robert E. Waters, Photography – John Araojo & Carding Remias, Music – Jaime Mendoza-Nava, Production Design – Ben Otico & Laida Lim Perez. Production Company – Cosa Nueva.
Cast
John Carradine (Richmond Reed), Bruce Fairbairn (Tom Buckley), Trey Wilson (Terry Wayne), Karen Stride (Cherish), Lenka Novak (Suzy), Katie Dolan (Marcy), Lex Winter (CPO Eddie Taylor), Vic Diaz (Pavo), Leo Martinez (Julio)
---
Plot
Two US Navy sailors Tom Buckley and Terry Wayne are on shore leave in Manila and looking to get laid. Fellow officer Eddie Taylor is set up with Cherish, a beautiful local girl he meets in a bar. She takes him back to her place – a mausoleum in the local cemetery. Waiting there is the aging vampire Richmond Reed and two other girls who proceed to drink Eddie's blood. In trying to find what happened to their friend, Tom and Terry also stumble into the lair of the vampire hookers.
---
Vampire Hookers has something to it that immediately sounds like the epitome of 1970s exploitation titles, while also signalling the dregs the genre was heading towards by the end of that decade. During this period, we had had various other vampire/sex film combinations with the likes of Dracula (The Dirty Old Man) (1969),, Dracula Sucks (1978), Dracula Blows His Cool (1979) and Dracula Exotica (1980).
Although viewing Vampire Hookers in this vein tends to make it seem a much more sleazy production than it is – which is certainly the reputation the film has today – where if you substituted a more innocuous title, it would simply be a regular B vampire movie of the period. There is one scene that goes on for the better part of ten minutes where Bruce Fairbairn romps with the three vampire women but this is shot with glossy, slow-motion tastefulness and never goes beyond seeing the three women topless.
Vampire Hookers was also one of the films to emerge from the great period of Filipino exploitation cinema – see the documentary Machete Maidens Unleashed! (2010) for a detailed charting of a history of the era. Director Cirio H. Santiago was one of the key figures in this Filipino exploitation genre, directing some 78 films between the 1950s and his death in 2008. These include classics of the genre such as TNT Jackson (1974), Cover Girls Murders (1975), The Muthers (1976), She Devils in Chains (1976), Hell Hole (1978) and Caged Fury (1983). Santiago was also responsible for a number of genre films, particularly in the arena of the post-holocaust film with the likes of Stryker (1983), Wheels of Fire (1985), Equalizer 2000 (1987), The Sisterhood (1988), Dune Warriors (1991) and Raiders of the Sun (1992), and other works like the time travel action/adventure film Future Hunters (1986), the rape-revenge film Naked Vengeance (1985), the monster movie Demon of Paradise (1987), the children's film Vulcan (1997) and the animated Aladdin and the Adventure of All Time (2000).
In the early scenes, Cirio H. Santiago takes us on a tour of life in Manila, introducing us to such local customs as the eating of balut, ladyboy bars and casual prostitution. The main switch-off during this time is that the two identification characters, sailors Bruce Fairbairn and Trey Wilson, are complete morons. Moreover, when the vampire element arrives, it never amounts to much of a threat. The film has the single location of the crypt and events seem to meander around there – various parties venturing into it, trying to escape, returning and so on. The film wanders back and forth between these locations without managing to find anything particularly interesting to get worked up about dramatically during its running time.
The production has managed to bring in legendary horror actor John Carradine. Carradine played Count Dracula in Universal's House of Frankenstein (1944) and House of Dracula (1945) and this was followed by a long four decade career slide into some of the most impoverished genre films ever made, including el cheapo efforts such as Billy the Kid Versus Dracula (1966), Hillbillys in a Haunted House (1967), Blood of Dracula's Castle (1969), Nocturna: Dracula's Granddaughter (1979) and various Al Adamson films. (In an odd piece of trivia, the vampire is named Richmond Reed, which is in fact Carradine's first two birth names).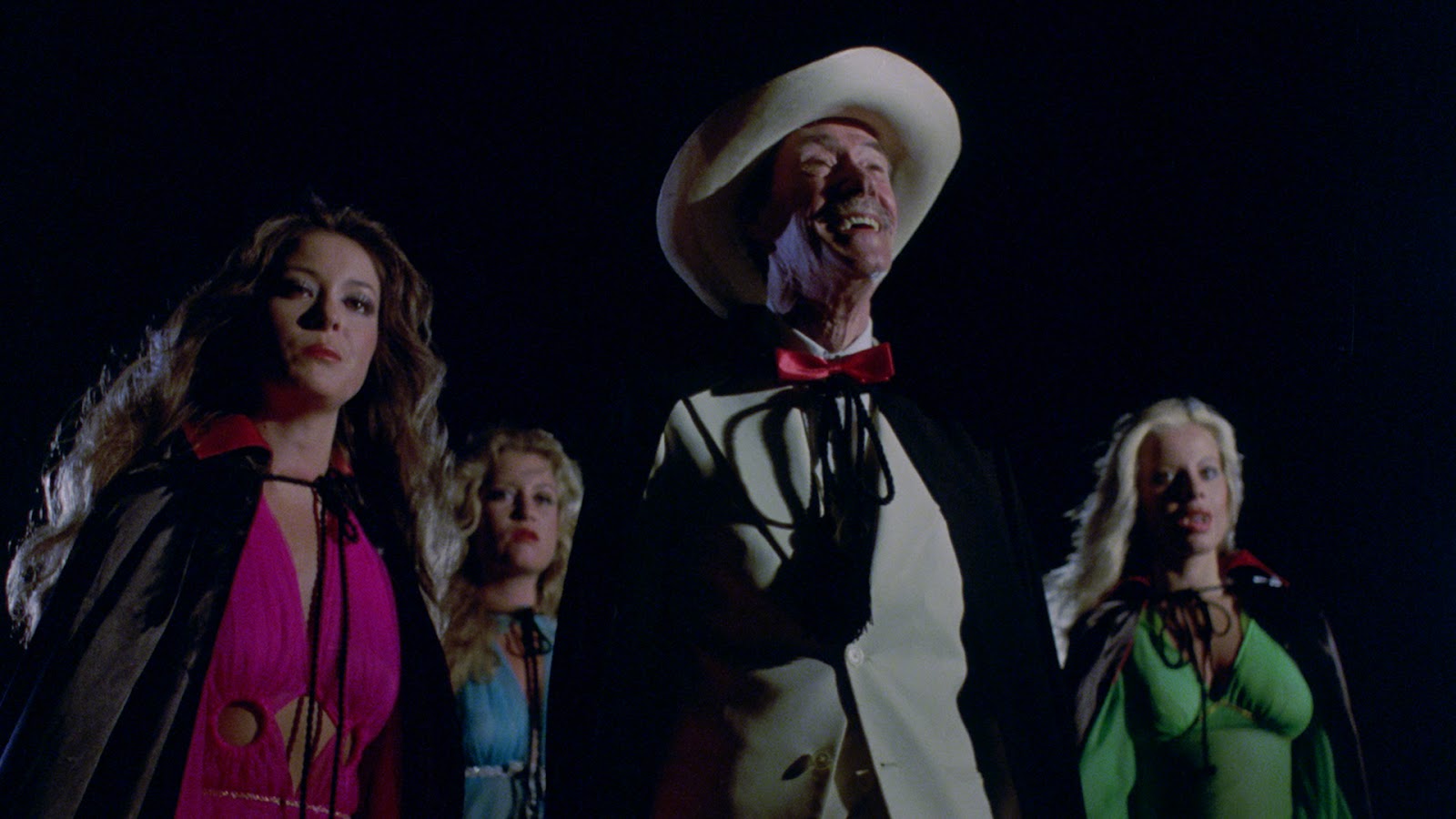 Carradine was in his seventies at this point and had considerable alcohol problems. Here he spends most of the film wandering around in a white suit and sometimes a giant matching white sombrero quoting Shakespeare and various poets. It is a rather incoherent and awful performance. You get the impression that Carradine didn't have much of a clue what was going on and just did his own thing, while Santiago figured that it was the only name star they had and kept everything he filmed in the final cut, even if it made no sense. Indeed, with some of Carradine's monologues about how he wished someone had devised something better than vodka to mix with blood, you suspect that Vampire Hookers might have been better off as a comedy.
Screenwriter Howard R. Cohen subsequently directed a number of films for Roger Corman with Saturday the 14th (1981), Space Raiders (1983), Saturday the 14th Strikes Back (1988), Time Trackers (1989), Deathstalker IV: Match of the Titans (1991) and Space Case (1992), as well as wrote scripts for several other Cirio H. Santiago films and even episodes of the animated series' The Care Bears (1985-8) and Rainbow Brite (1984-6).
---
---